Story highlightsWorld Cup begins in Russia ThursdayMessi, Ronaldo lead star-studded gamesRussia footing record fee Off-field tension a concern
(CNN)The Russia 2018 World Cup is loaded with fascinating plot lines on and off the pitch. Names like Cristiano Ronaldo, Lionel Messi and Mohamed Salah lead a chorus of superstars striving to be crowned the kings of football.
Five-time winner Brazil wants the trophy back, while Germany is trying to become the first repeat champion since 1962. Italy, the Netherlands and the United States are all watching from home, while World Cup first-timers Iceland and Panama look to make an impact. Follow @cnnsport The host nation, meanwhile, has emerged as perhaps the tournament's most controversial site since Argentina's military regime hosted in 1978.All sorts of questions have emerged ahead of the World Cup launch Thursday. Here's a look at some of the most intriguing ones:READ: Spain sacks coach after he takes Real Madrid jobRead MoreREAD: US-Mexico-Canada win 2026 World Cup bidNow or never for Messi and RonaldoWith Ronaldo at 33 and Messi turning 31 this month, there is a feeling that both superstars won't get a better chance to capture the one major title that has evaded them. True, this generation of elite athletes — from Rafael Nadal and Roger Federer, to Tom Brady and LeBron James — is changing the rules of longevity. But even if Messi and Ronaldo return for a farewell at Qatar 2022, the chances of either having a supporting cast of equal strength is low. Ronaldo's Portugal is ranked world No. 4 by FIFA, coming off the high of winning Euro 2016, and aided by the emergence of 23-year-old Manchester City midfielder Bernardo Silva. Messi's Argentina is just a notch behind at No. 5, returning strengthened after losing by an extra-time goal against Germany in the 2014 final. Messi will operate the attack with veteran marksmen Sergio Aguero and Gonzalo Higuain — both in their third World Cups — and emerging 24-year-old Paulo Dybala. A World Cup win for either Messi or Ronaldo could finally put to rest the debate of which of the two is the greatest ever. Or would it? READ: 11 moments that shook the World Cup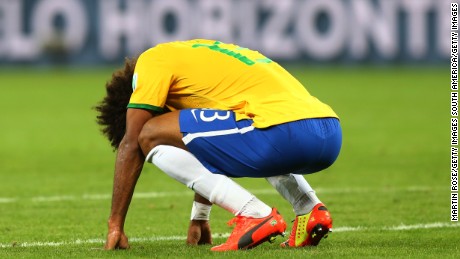 World Cup: Brazil needs to avoid another historical upset for redemption How do Germany and Brazil stack up? Defending champion Germany returns with coach Joachim Low and much of the same cast from the 2014 final — minus Philipp Lahm and Bastian Schweinsteiger. Replacing them as team leaders are Real Madrid's Toni Kroos and Paris Saint-Germain's Julian Draxler. Look for super-sub İlkay Gündoğan of Manchester City to make an impact. Brazil, meanwhile, brought in manager Tite to replace Dunga. Under his wing, Brazil is playing with renewed freedom and has not lost in two years. Neymar is fully fit and will be joined in attack by World Cup newcomers Gabriel Jesus and Philippe Coutinho, with Thiago Motta — suspended in that 7-1 debacle against Germany in 2014 — anchoring the back line. Twenty-five-year-old Roma goalkeeper Alisson Becker has been dubbed the "Messi of keepers" by a former coach. No pressure then. READ: Russia 2018 to be World Cup of technology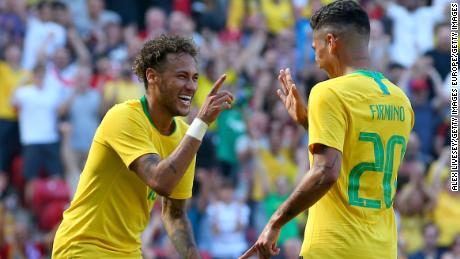 World Cup: Data says Brazil and Germany in the cards for Russia 2018What are the most intriguing group matches?Argentina vs. Iceland, June 16: Messi and co. will start their campaign against the pesky darlings of Euro 2016. Argentina would be wise not to look at Iceland as a tuneup for Croatia and Nigeria. Led by Everton's Gylfi Sigurdsson, the Icelanders will be looking to thunderclap their way back to another big upset after taking down England in the Euros. Germany vs. Mexico, June 17: Look for CONCACAF champion Mexico — led by a rejuvenated Javier Hernandez (West Ham) — to pose a bigger threat to FIFA World No. 1 Germany after getting rolled over 4-1 in last year's Confederations Cup.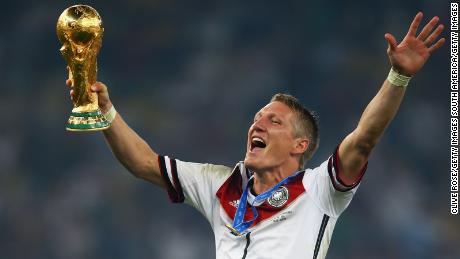 The secrets to Germany's World Cup successPortugal vs. Spain, June 20: It is rare to see two tournament favorites pitted in a group stage match. Spain will boast a veteran squad including David Silva (Manchester City), Diego Costa (Atletico Madrid) and Champions League bad boy Sergio Ramos (Real Madrid). Will Spain's captain Ramos be a little gentler covering Madrid teammate Cristiano Ronaldo? Don't count on it. Egypt vs. Saudi Arabia, June 25: On that note, if Salah is able to provide even 20 quality minutes for Egypt after that bruising collision with Ramos in the Champions League final, he'll give the Pharaohs a big moral lift.But this match has ample intrigue off the pitch. Saudi, playing in its fifth World Cup since 1994, and African giant Egypt are both strong candidates to qualify for Qatar 2022. One small issue: The two are allies in an aggressive economic blockade against the Gulf emirate. England vs. Belgium, June 28: Given this is the third group match for each team, one or both may have already qualified over Panama and Tunisia. But Premier League fans will tune in for the sheer star power representing the league, including Belgians Eden Hazard (Chelsea), Kevin de Bruyne (Manchester City) and Romelu Lukaku (Manchester United), against England's Harry Kane (Tottenham), Raheem Sterling (Manchester City) and Jamie Vardy (Leicester City). READ: And the winner of the 2018 World Cup will be …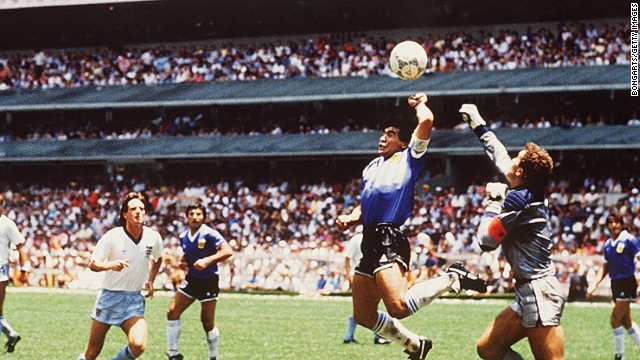 How Diego Maradona redefined football in the space of less than five minutesWhich young players could breakout in Russia? Just 19, France's Kylian Mbappé is one of the biggest names in world football — and no stranger to pressure. Moving for a reported fee of more than $215 million last summer to Paris Saint-Germain, the Parisian responded with a solid 21-goal, 16-assist campaign. Operating alongside the likes of Paul Pogba will allow him room to maneuver in Russia. Everyone knows about Salah, but 23-year-old Egyptian Mahmoud Hassan — a.k.a. Trézéguet — is a speedy winger coming off a 16-goal campaign in the Turkish League who may surprise foes.Hirving Lozano of Mexico notched 19 goals for PSV Eindhoven in the Dutch league. The pacy 22-year-old could create chaos for opponents if given the starting nod. Twenty-year-old Ismaila Sarr of Senegal has been making an impact in France's Ligue 1. The dynamic forward has scored two goals in 10 international appearances, but has now cracked his way into his country's starting lineup. Tottenham's Dele Alli is by no means a secret, but this could be his breakthrough moment on the international stage. The 22-year-old has scored just twice in 25 appearances for England but his near telepathic relationship with Spurs teammate Kane could prove crucial to his team's chances of success.READ: Your Country Needs You! What nationality means to the modern-day footballerWhat price the World Cup?Estimates for the total cost of hosting the World Cup range between $13.2 billion and $14 billion, according to Russian news reports. They include costs for building or refitting 12 new stadiums, modernizing 20 railway stations, repairing 178 kilometers of roads and expanding airports in the 11 host cities. The figures may seem high, and greatly exceed the $11 billion costs of Brazil's 2014 World Cup. But they are a drop in the ocean compared to Russia's cost of hosting the Sochi 2014 Winter Olympics. That total? $51 billion. READ: How Australia kept fit on 250,000 km World Cup journeyWhat are the biggest off-field talking points? It's difficult to say whether any World Cup has had this much controversy before a ball has even been kicked, although Qatar 2022 could be a contender.British-Russian tension is at a recent high following the poisoning of a former Russian spy and his daughter in England in March. Both countries have since expelled diplomats, while the UK Foreign Office has issued a travel warning to its citizens, citing "anti-British sentiment." The Foreign Office also flagged the potential for discriminatory behavior in Russia against minorities and the LGBT community, an ongoing concern raised by several players in the run-up to the tournament. Meanwhile, Britain is in no hurry to renew a visa for its highest-profile Russian resident — Chelsea owner Roman Abramovich. Fanning the flames, former UK prime minister David Cameron — a champion of England's losing 2018 World Cup bid — suggested in April that Russia won its bid illicitly. "We wanted to lead the world in great sporting events that bring people together," he told a group at think tank Chatham House. "Yet how did Russia end up winning the bid for the 2018 World Cup? I will let you fill in the blanks on that one."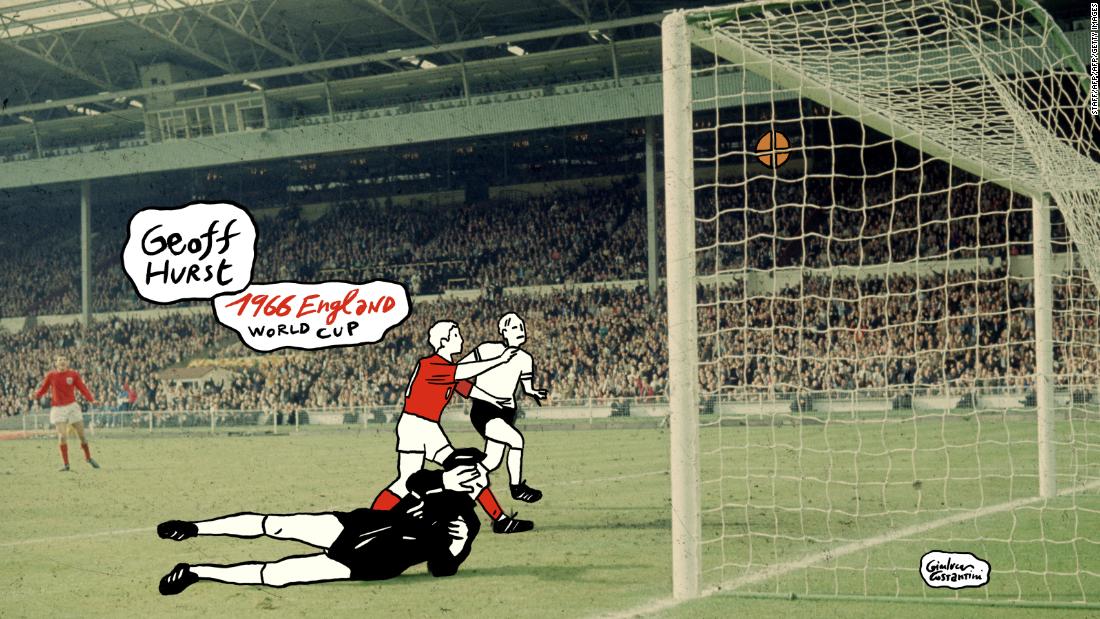 Photos: Key World Cup momentsGeoff Hurst, 1966 – Did it cross the line? With the scores between England and West Germany level at 2-2 in the 1966 World Cup final, striker Geoff Hurst's shot hit the crossbar and deflected downwards. At first a goal wasn't given, but then allowed after consultation between the referee and linesman. The game ended 4-2, securing England's first and only World Cup victory. Hide Caption 1 of 11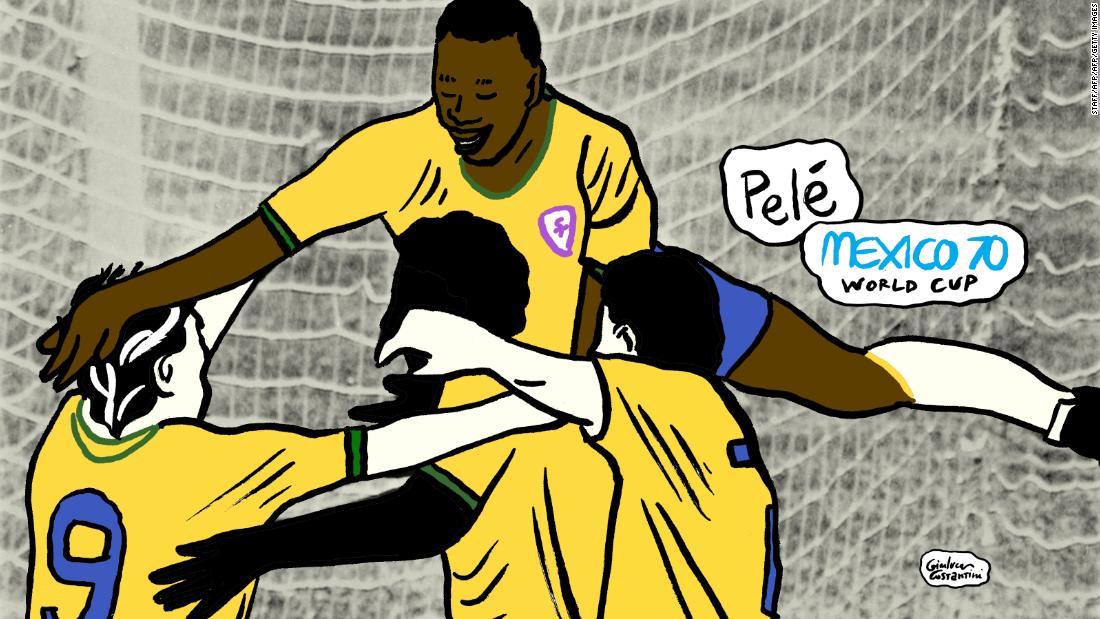 Photos: Key World Cup momentsPele, 1970 – Brazil's 100th World Cup goal, celebrated wildly by Pele, who jumped into the air with joy as his side took the lead in the final against Italy. The game ended 4-1 to Brazil — their third World Cup victory. Hide Caption 2 of 11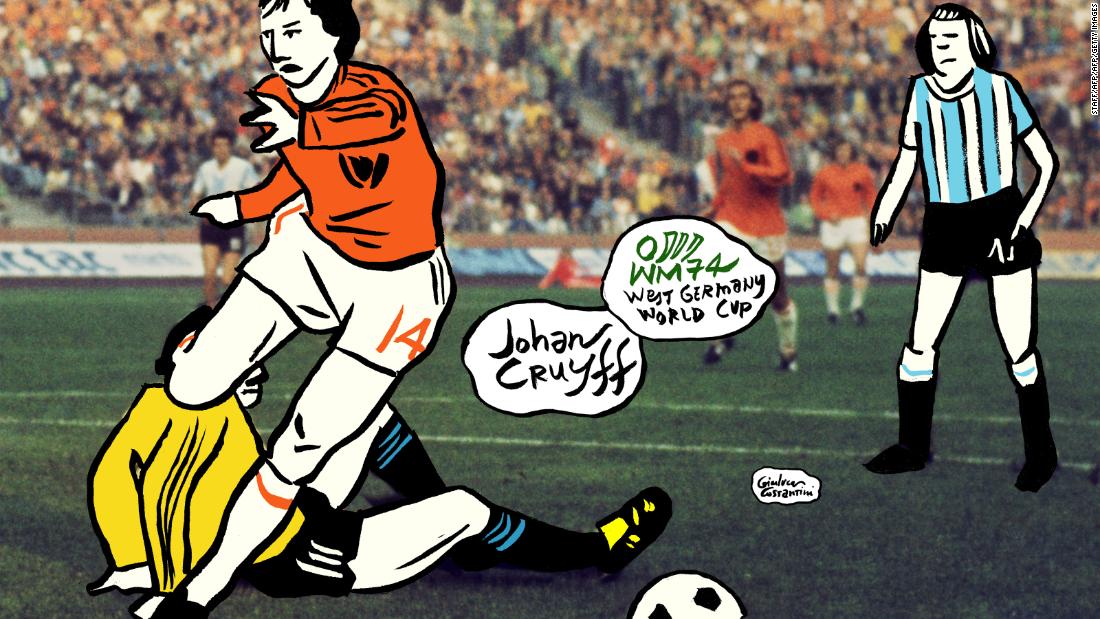 Photos: Key World Cup momentsDutch great Johan Cruyff scored three goals in the 1974 World Cup, twice against Argentina in the second round and then against Brazil in a 2-0 win that sent Holland through to the final.Hide Caption 3 of 11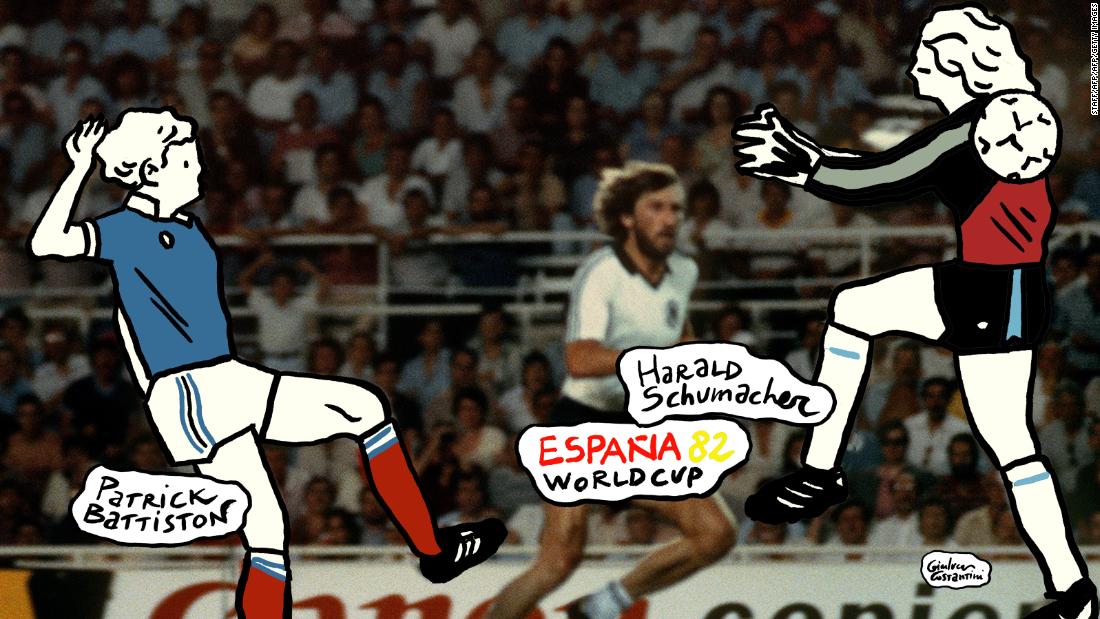 Photos: Key World Cup momentsHarald Schumacher, 1982 – An ugly moment. German goalkeeper Harald Schumacher clattered into France's Patrick Battiston, who was through on goal, knocking him unconscious at the 1982 semifinal in Spain. Schumacher was unmoved as his opponent was stretchered off the field. Hide Caption 4 of 11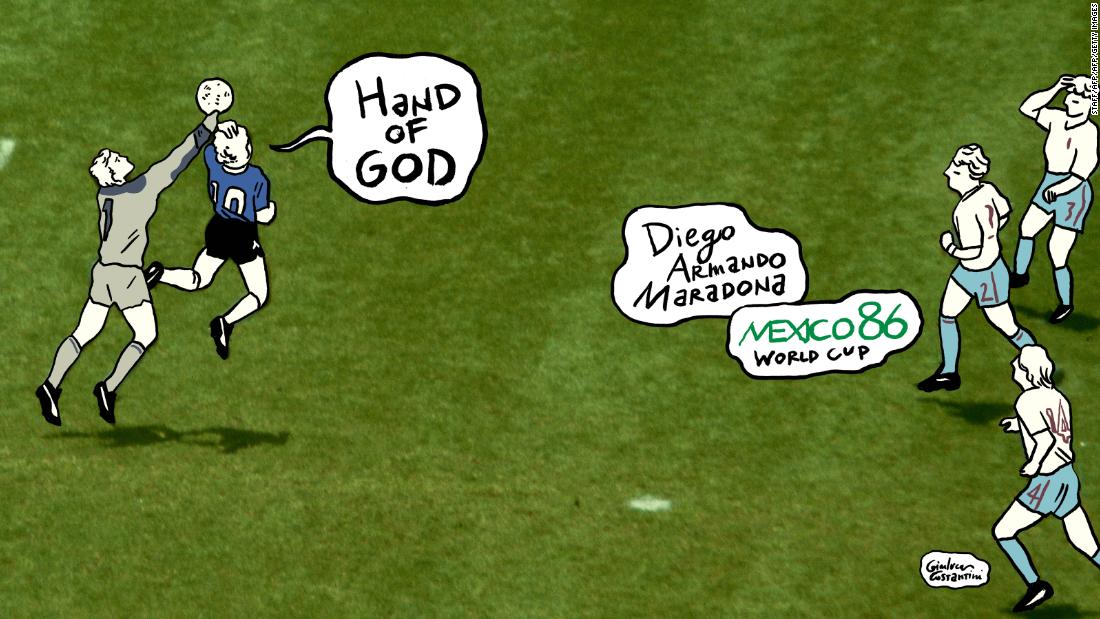 Photos: Key World Cup momentsDiego Maradona, 1986 – "The Hand of God" needs little introduction. England vs. Argentina, the quarterfinal of the 1986 World Cup in Mexico. A mis-hit clearance was heading into the hands of goalkeeper Peter Shilton, before a leaping Diego Maradona intercepted it with his hand, punching the ball into the net. The game ended 2-1, with Argentina going on to win the World Cup. Hide Caption 5 of 11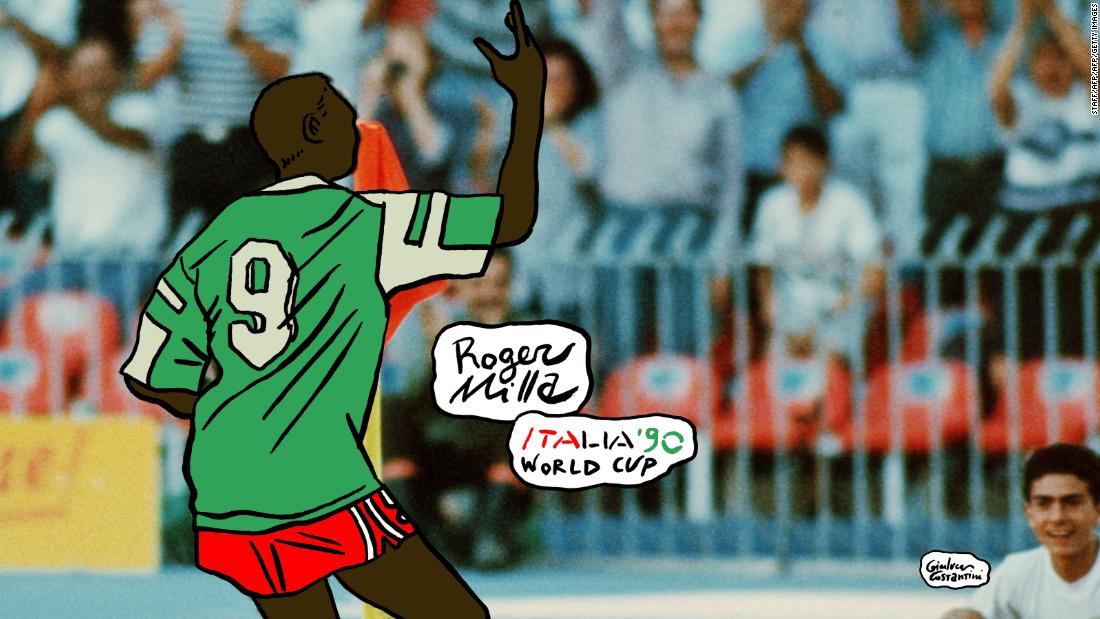 Photos: Key World Cup momentsRoger Milla, 1990 – One of the greatest ever World Cup celebrations. Roger Milla turned on the style at the 1990 World Cup in Italy, which saw his Cameroon team reach the quarterfinals — the furthest an Africa team has ever gone in the competition. Hide Caption 6 of 11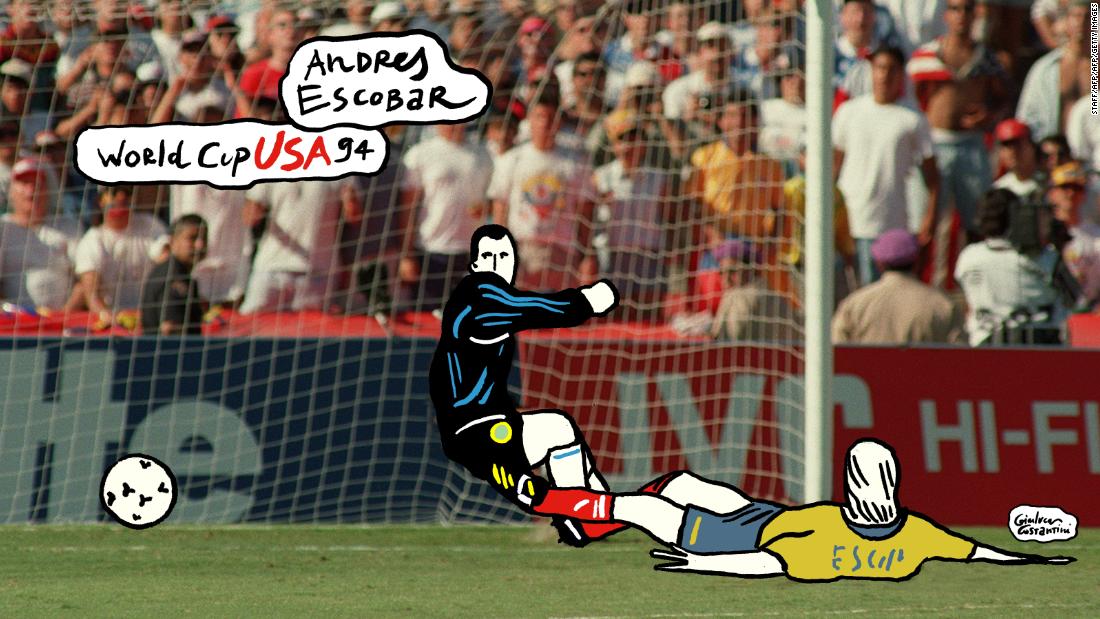 Photos: Key World Cup momentsAndres Escobar, 1994 – An own-goal by Colombia's Andres Escobar had tragic consequences. Less than a week after seeing his team eliminated from the competition due to his error, Escobar was shot dead on the streets of Medellin, a murder linked to drug lords who lost huge amounts of money on the result. Hide Caption 7 of 11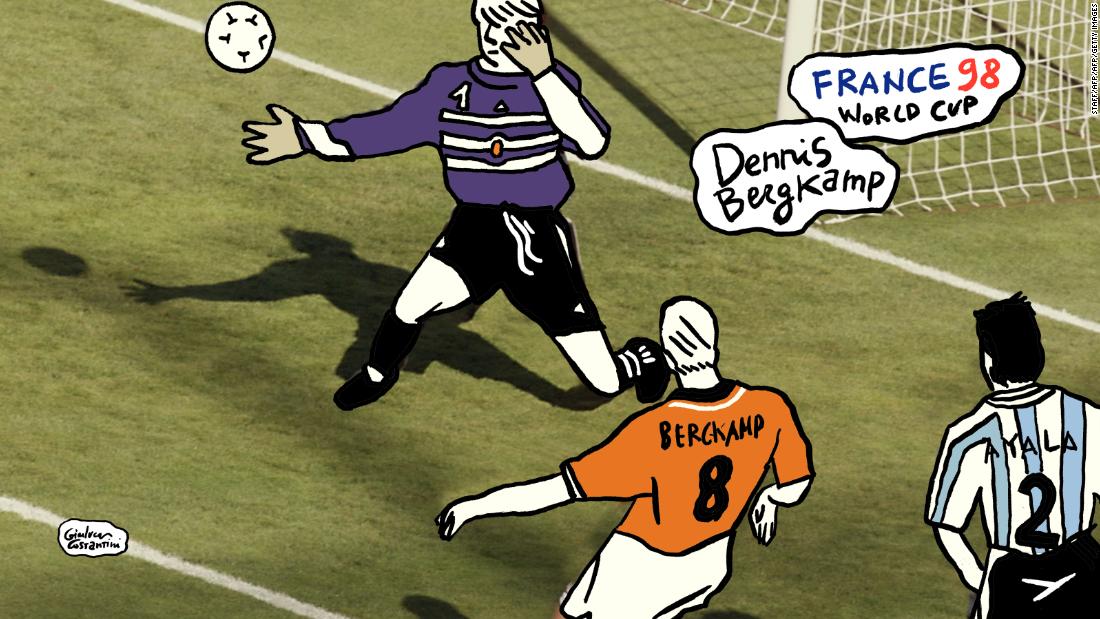 Photos: Key World Cup momentsA Dutch master at work … Dennis Bergkamp stops Frank de Boer's pass dead, transferring the ball to his left foot as he twists past Argentina's Roberto Ayala. His third touch, again with his right boot, flicks it past Carlos Roa, the keeper. Three perfect touches to take the ball from a speculative punt upfield to what remains one of the ultimate moments of skill ever displayed in a World Cup.Hide Caption 8 of 11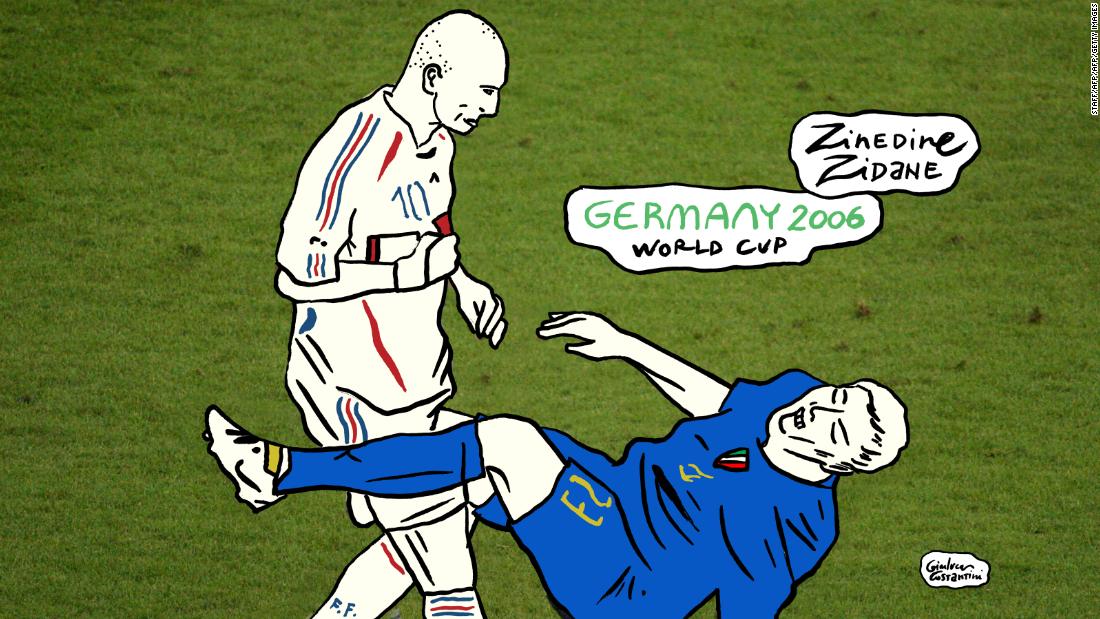 Photos: Key World Cup moments2006, Zinedine Zidane – A rush of blood to the head. With the 2006 World Cup final moving into extra-time, goalscorer Marco Materazzi muttered a few words to France legend Zinedine Zidane, who returned with a headbutt to the Italian's chest. In his last ever professional match, Zidane was red carded and Italy went on to win on penalties. Hide Caption 9 of 11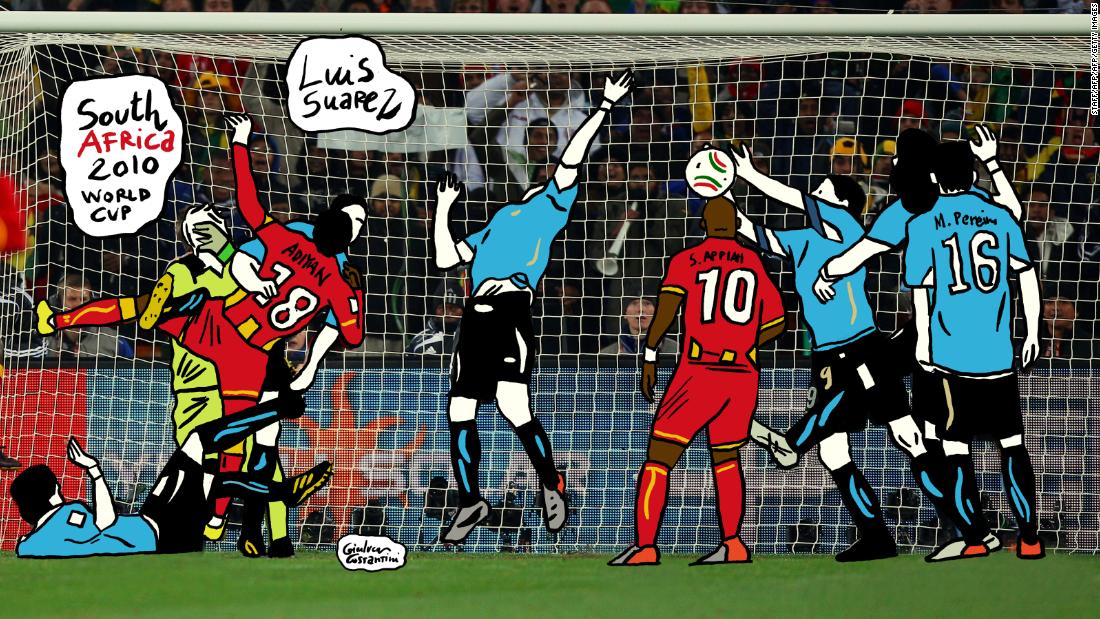 Photos: Key World Cup momentsLuis Suarez, 2010 – Another South American — this time Uruguayan Luis Suarez — another handball. This one, however, was less subtle. Suarez's hands prevented Ghana from bagging a winner in extra-time. He saw red, and Asamoah Gyan's whacked the resulting penalty against the bar. Uruguay went on to win on penalties. Hide Caption 10 of 11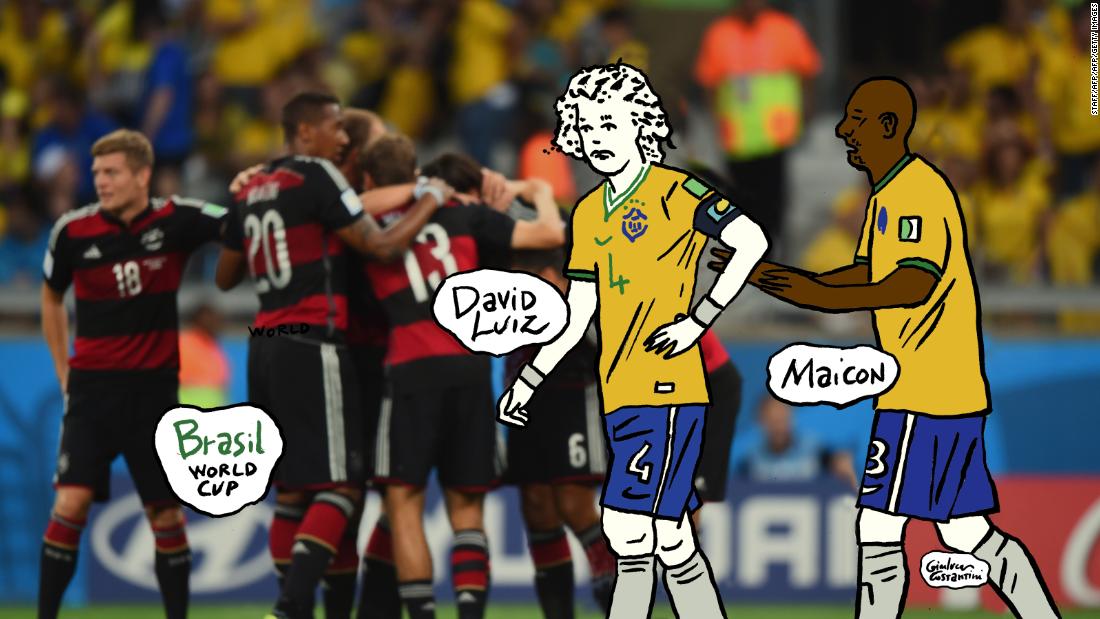 Photos: Key World Cup momentsBrazil vs. Germany, 2014 – One of the biggest humiliations the World Cup has ever seen. Brazil has struggled for form throughout the tournament, which was being played on home soil for the first time in 64 years, and met an impressive German side in the semifinals. But few could have predicted what was to follow: a 7-1 demolition by the visitors, who went on to lift the World Cup trophy. Hide Caption 11 of 11











Any other business? English pop star Robbie Williams will perform alongside Russian soprano Aida Garifullina half an hour before kickoff in the opening game between Russia and Saudi Arabia in Moscow's Luzhniki Stadium. Calling the invitation a "boyhood dream," Williams is urging fans "to party with us in Russia … for an unforgettable show."Brazilian 2002 World Cup winner Ronaldo — who scored 15 goals over three tournaments — will unveil the winner's trophy before the match. Which defining World Cup moment stands out for you? Have your say on our Facebook page or by tweeting @CNNSportRonaldo hopes to avoid witnessing another Brazil disappointment. He was on the pitch for Brazil's 3-0 loss to France in the 1998 final and watched the 7-1 semifinal meltdown against Germany as a fan four years ago."It was so strange," Ronaldo told CNN. "I cannot explain what happened that time, but football is great because you always have another opportunity to change history."
Source Link:
https://www.cnn.com/2018/06/13/football/world-cup-russia-preview-spt-intl/index.html
[-0.0823781]
Comments
comments