The Irish legal system is facing ridicule after a 17-year-old's underwear was used as evidence of consent during a rape trial resulting in the acquittal of a 27-year-old defendant.
According to the Irish Examiner, defense attorney Elizabeth O'Connell asked jurors at Cork Central Criminal Court last week to consider the teen had worn "a thong with a lace front."
"Does the evidence out-rule the possibility that she was attracted to the defendant and was open to meeting someone and being with someone?" O'Connell asked jurors during closing arguments.
"You have to look at the way she was dressed," she added.
News of O'Connell's remarks spread like wildfire on social media and gave birth to the hashtag #ThisIsNotConsent, which is being shared with photos of women's underwear.
Lacy but full or thong but not lacy,need someone to tell me which is less rapey… #ThisIsNotConsent pic.twitter.com/jiA61qF7gB
— maireos (@maireos) November 13, 2018
This is unbelievable seriously unbelievable. I thought we as a country were moving forward not backward. Who doesn't wear thongs?? #ThisIsNotConsent pic.twitter.com/OHU3PkjItE
— CathybAFC ?? (@Catblack04) November 14, 2018
Counsel for man acquitted of rape suggested jurors should reflect on underwear worn by the 17yo complainant. Following this wholly unacceptable comment, we are calling on our followers to post a picture of their thongs/knickers to support her with the hashtag #ThisIsNotConsent pic.twitter.com/ZkVU0GVAIN
— I Believe Her – Ireland (@ibelieveher_ire) November 10, 2018
The jury of eight men and four women heard from the defendant at trial. He reportedly testified he and the teen had been "attracted to one another" and she consented to sex.
Prosecutor Tom Creed argued a witness allegedly said the defendant had his hand on the teen's throat.
"She is quite clear she did not consent," Creed said in court. "She said she never had sexual intercourse before."
On Nov. 6, the jury deliberated an hour and a half before unanimously finding O'Connell's client not guilty.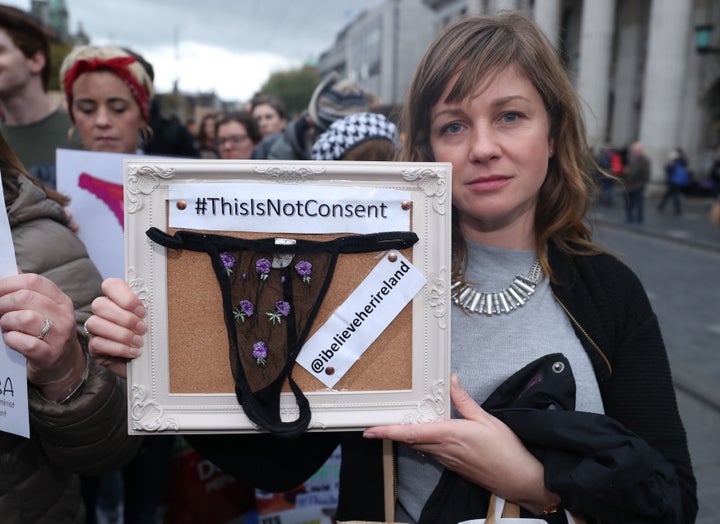 Niall Carson – PA Images via Getty Images People gather in Dublin for a protest in support of victims of sexual violence.
Although it's unclear whether the jury was influenced by the display of the underwear, at issue for many is the fact that Ireland has no specific law regarding whether such evidence should be used to impugn someone's character or virtue. As a result, jurors must weigh the value of such items as evidence.
Grace O'Malley Dunlop, chair of the National Women's Council of Ireland, said blame-the-victim trial tactics are a nightmare for rape survivors.
"No victim of rape or sexual assault brings it upon themselves," O'Malley Dunlop told The Irish Independent. "It is an act of violence and it is nothing to do with sex."
Noeline Blackwell, Chief Executive of the Dublin Rape Crisis Center, told The Independent, "These kinds of mythologies and stereotypes around rape come up again and again in court cases, because the defense to rape is that the sex was consensual."
WATCH: TD @RuthCoppingerTD held up a thong in the Dáil earlier protesting the use of the same tactics in a courtroom during a rape case in Cork pic.twitter.com/bfGAegWpkO
— Sean Defoe (@SeanDefoe) November 13, 2018
The defense tactic became a subject of contention at the Irish parliament chamber on Tuesday, The Irish Times reported.
Politician and parliament member Ruth Coppinger told officials clothing, fake tans and contraceptives "have recently been used to discredit women who had the bravery to go to court."
"The women of this country are getting a little weary at the routine victim-blaming going on in Irish courts, and the failure of lawmakers in this House to do anything about it," said Coppinger, who illustrated her point by holding up a black thong.
According to The Independent, the Law Reform Commission is conducting an examination of Ireland's legislation in the area of rape.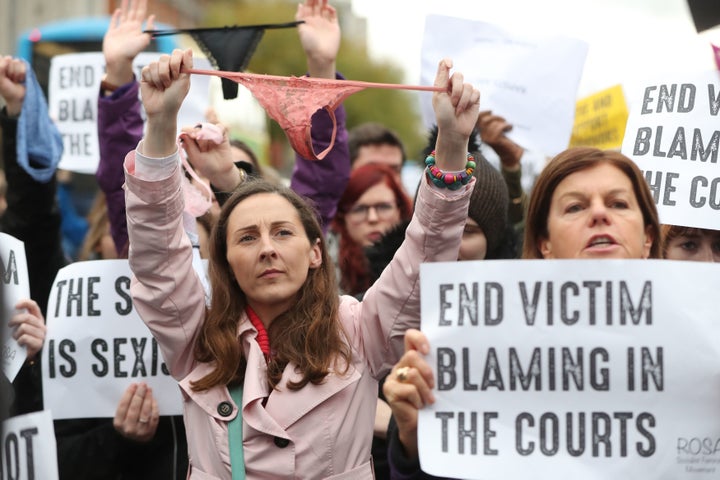 Niall Carson – PA Images via Getty Images People gather in Dublin for a protest in support of victims of sexual violence.
For some, that legislative review cannot come soon enough.
The feminist and pro-choice activist group ROSA has been organizing protests throughout Ireland in opposition to courtroom tactics that blame the alleged victim.
"We decided to call this rally not just specifically about this case, but … for an end to victim blaming in court," ROSA spokeswoman Fiona Ryan told The Independent. "The international solidarity that's been extended to these awful cases when they're exposed will go a long way towards pushing for genuine legal change."
I hear cameras cut away from me when I displayed this underwear in #Dáil. In courts victims can have their underwear passed around as evidence and it's within the rules, hence need to display in Dáil. Join protests tomorrow. In Dublin it's at Spire, 1pm.#dubw #ThisIsNotConsent pic.twitter.com/DvtaJL61qR
— Ruth Coppinger TD (@RuthCoppingerTD) November 13, 2018
Need help? Visit RAINN's National Sexual Assault Online Hotline or the National Sexual Violence Resource Center's website.
Send David Lohr an email or follow him on Facebook and Twitter.
RELATED COVERAGE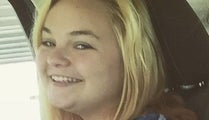 After Teen's Suicide, Family Says Police Mishandled Her Rape Investigation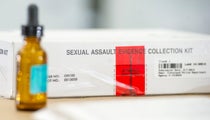 Washington State Has Nearly 6,500 Untested Rape Kits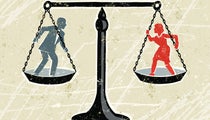 Here's The Awful Reality Of Being A Rape Victim In Criminal Trials Download
Source Link:
https://www.huffingtonpost.com/entry/rape-trial-thong-consent-ireland_us_5bec642be4b057089767d51d
[-0.788098]
Comments
comments