(CNN)The death and destruction wrought by Tropical Storm Florence has been punctuated with stories of bravery, generosity and resilience.
The massive storm's relentless rains continue to pound parts of the Carolinas, leaving at least eight people dead, wiping out electricity to 1 million customers and trapping residents in flooded homes.But the wrath of the storm that crashed ashore Friday in North Carolina as a Category 1 hurricane has been met with equally powerful acts of kindness, mercy and hope. There have been harrowing rescues, neighbors coming to the aid of neighbors, strangers donating money and opening their homes and numerous other acts of selflessness in the darkest moment. Here are some of those stories: Read More'It takes a special person'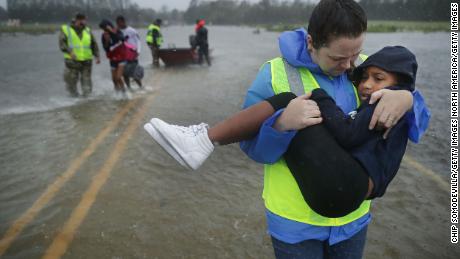 Volunteers from the Civilian Crisis Response Team rescue three children in James City, North Carolina.Annazette Riley-Cromartie her husband, three children and dog sought shelter from the storm in the attic of their home in James City, in eastern North Carolina. Then around midnight Thursday, water started pouring into the brick home. With water rising steadily, she said they took the children to a room and put them on the top bunk of a bed. Her husband heard cries for help outside the house. When he went to help, the flood waters were above his chest. Riley-Cromartie dialed 911. No one came. Fortunately, the volunteer Civilian Crisis Response Team from Indiana had arrived in North Carolina to help. Amber Hersel and other team members received a call around 4 a.m. Friday from the local fire department. Families were trapped in James City, about 100 miles northeast of Wilmington and just south of New Bern.A picture of Hersel carrying Riley-Cromartie's daughter went viral after the rescue mission. It was Hersel's first hurricane. "As you see the families that you're helping, you know it's all worth it," said. Said Riley-Cromartie, "It takes a special person to leave their own home and their own family to come all this way to help us."'That's why I got this thing'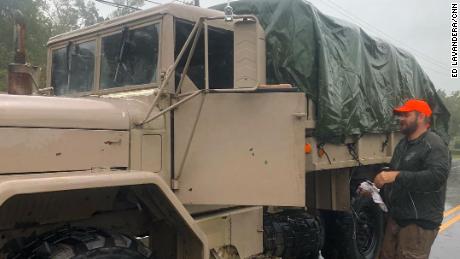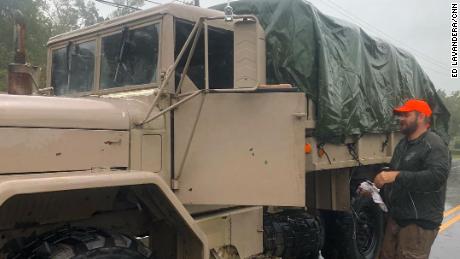 JUST WATCHEDEx-Marine rescues victims in military vehicleReplayMore Videos …MUST WATCH
Ex-Marine rescues victims in military vehicle 02:00The hulking military transport vehicle was scooped up at a government auction a decade ago. On Friday, a 47-year-old retired Marine named Jason Weinmann put it to good use in the riverfront city of New Bern near the North Carolina coast. He pulled 10 people out of flooded neighborhoods and delivered them to a shelter."That's why I got this thing," he said. "To use in times like this."Jennifer Morales, 20, was one of those evacuated, along with her husband and a son who turns 2 next month.
Over 100 volunteers unite to prevent flooding in North Carolina community The Morales family had three feet of water in their home. They called for help. It arrived 12 hours later."We didn't know where to go," Morales said.In New Bern, rescuers plucked more than 200 people from rising waters by midmorning Friday.As conditions allowed, swift-water rescue teams from out of state swooped in to assist local crews with evacuations.A team from Maryland assisted in about 40 rescues in New Bern starting Thursday, member Mitchell Rusland said.Some 100 people in the city need to be rescued, Mayor Dana Outlaw told CNN on Saturday.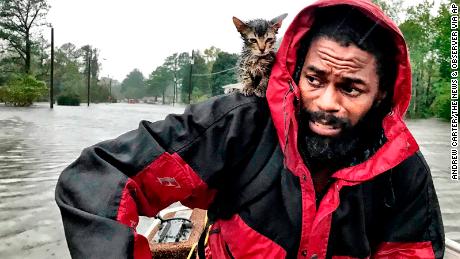 Robert Simmons Jr. and his kitten, Survivor, are rescued from floodwaters in New Bern.Among the volunteers arriving for them are members of the Cajun Navy, a volunteer rescue organization formed in the aftermath of Hurricane Katrina.The Cajun Navy in New Bern had received more than 500 calls for assistance, according to organizer Clyde Cain.Taylor Fontenot, the Texas captain of America's Cajun Navy, told CNN he hadn't slept since Wednesday morning.'We're all in this life together'
Source Link:
https://www.cnn.com/2018/09/15/us/hurricane-florence-rescues/index.html
[0.132111]
Comments
comments