This is the weekly edition of CNN's coronavirus newsletter. Look out for your roundup every Wednesday. If you haven't subscribed yet, sign up here.
The debate around whether booster shots of Covid-19 vaccines will be needed to maintain good protection against the disease has intensified this week after one of the leading manufacturers announced it was seeing waning immunity.
Pfizer and its partner BioNTech said evidence was building that people's immunity starts to decrease after they have been vaccinated. The companies pointed to real world data released by the Israel Ministry of Health, which showed that efficacy in preventing both infection and symptomatic disease has declined six months post-vaccination, although protection against serious illnesses and deaths remains very high. Pfizer said it was picking up its efforts to develop a booster dose that will protect people from variants, adding that it would soon publish data on a third dose of vaccine and submit it to the US Food and Drug Administration (FDA), European Medicines Agency (EMA) and other regulators. Other vaccine makers, including Moderna, AstraZeneca and Johnson & Johnson, also said they were investigating the potential use of boosters, although they have not released any data showing a decrease in immunity. But just hours after the Pfizer announcement, the FDA and US Centers for Disease Control and Prevention (CDC) pushed back. In an unprecedented joint statement, they emphasized that people who are fully vaccinated "do not need a booster shot at this time" and people who are unvaccinated should "get vaccinated as soon as possible to protect themselves and their community."The CDC said yesterday there was "no evidence yet that immunity is starting to wear off among people who got vaccinated against coronavirus early on." Similarly, the EMA has said it was "too early" to confirm whether a booster dose for coronavirus vaccines will be needed. Read MoreMeanwhile, the World Health Organization (WHO) has urged rich countries to hold off on giving third doses of coronavirus vaccines to their residents before people in other countries can even get their first doses. But some nations are already drawing up their booster plans. The UK, for example, said last month it may start rolling out a third dose to vulnerable people from September, in hopes this would prevent a winter spike in cases. The WHO said this is a dangerous approach, because it could divert doses from the developing world. "What part of 'this is a global crisis,' are we not getting? This is still a global crisis," said Dr. Michael Ryan, executive director with the WHO Health Emergencies Program. "There's some people who want to have their cake and eat it, then they make some more cake, and they want to eat that as well," he added. YOU ASKED. WE ANSWERED. Q: I am fully vaccinated. When should I still wear my mask?A: With the Delta variant on the rise, several local health officials have encouraged even the fully vaccinated to wear masks indoors. The World Health Organization has issued similar guidance, while the CDC has continued to say that vaccinated people do not need to wear masks under most circumstances.To clear up confusion about masking, we turned to CNN Medical Analyst Dr. Leana Wen for her thoughts. Wen said several factors are at play here, including your health and the vaccination status of those in your household. Immunocompromised people should be wearing a mask in all indoor settings where they could be exposed to unvaccinated people. The level of coronavirus infection and the rate of vaccination in your community is another important factor, Wen said."Risk is cumulative. If you have multiple encounters every day with unvaccinated people, and there is a high level of community transmission in your area, your chances of having a breakthrough infection after vaccination will increase. You can reduce that risk by wearing a mask in the highest risk settings," she said. Send your questions here. Are you a health care worker fighting Covid-19? Message us on WhatsApp about the challenges you're facing: +1 347-322-0415.TOP 3 READS OF THE WEEK Unvaccinated healthcare workers won't get paid in France As Europe struggles with a rising number of coronavirus cases caused by the Delta variant, several countries are making vaccinations compulsory for health care workers. France and Greece both announced new vaccine requirements this week, following in the footsteps of Italy, which made vaccinations compulsory for health employees in April. The UK government has previously said it will mandate shots for care home staff from October. France said those who refuse would be suspended without pay. But not all health care workers are happy with the move. In Italy, several court challenges launched by those who do not want to get vaccinated are being heard this week. In the UK, a petition against the plan to make vaccines compulsory has attracted more than 72,000 signatures.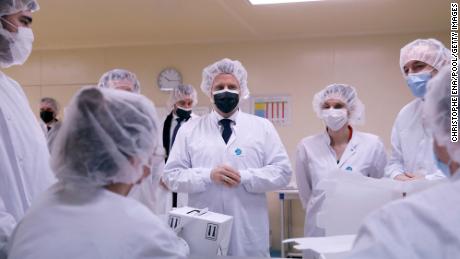 French President Emmanuel Macron talks to employees at a vaccine packaging plant. COVAX signs deal for 550 million Chinese Covid-19 vaccines amid questions over efficacy COVAX, the vaccine sharing scheme designed to help poorer countries access shots, has signed agreements with two Chinese pharmaceutical companies to buy more than half a billion of their Covid-19 vaccines by the first half of next year, Gavi, the global vaccine alliance, announced Monday. COVAX's rollout fell behind schedule earlier this year, after a coronavirus crisis in India meant the country's biggest vaccine manufacturer failed to deliver millions of shots on time, so the boost in supply is welcome news. However, the announcement also comes as Chinese vaccines face growing scrutiny over their efficacy. Both Sinopharm and Sinovac vaccines have been validated by WHO for emergency use, although trials so far show both have a lower efficacy against Covid-19 than their mRNA counterparts. Indonesia's epidemic might be even worse than it looksNearly half of Jakarta's residents may have contracted Covid-19, according to a health survey — more than 12 times the number of cases officially recorded in the Indonesian capital at the time when the research was carried out. This uptick in the city comes as Indonesia — the world's fourth most populous nation — faces a dire stage in its battle with the pandemic, recording tens of thousands of daily cases and up to 1,000 deaths a day nationwide in one of Asia's worst outbreaks. Hospitals across the country, notably on the island of Java — where Jakarta is located — have been pushed to the brink by the spread of the highly infectious Delta variant, with several cities including the capital placed under partial lockdown.TOP TIPThere is nothing quite like an alfresco workout, with its fresh air, changing scenery and much lower risk of coronavirus infection. But when temperatures soar, beware. Exercising in hot weather stresses your body, especially if the humidity is high.So if you are planning to head outside when the temperature is climbing, keep these tips in mind.LISTEN TO OUR PODCASTIt's been a challenging time to start a family: some had to halt fertility treatments during lockdown, while others re-evaluated whether to have children at all. For today's episode, CNN Chief Medical Correspondent Dr. Sanjay Gupta hands things over to CNN reporter Chloe Melas to talk about the journey of having kids, as well as her own personal story with infertility. Listen Now.
Source Link:
https://www.cnn.com/2021/07/14/world/coronavirus-newsletter-intl-14-07-21/index.html
Bad Request
Your browser sent a request that this server could not understand.
Size of a request header field exceeds server limit.
Comments
comments