London (CNN)An invitation to the wedding of Prince Harry and Meghan Markle has to be one of the most coveted of the year. But so far, little has been revealed about who their 600 guests in Windsor will be.
The May 19 wedding is a private, not state occasion, paid for by the royal family. This means political leaders don't have to be invited, so Harry and Meghan can pack St. George's Chapel with close friends and family.Many of the faces will be familiar — including the UK royals, celebrities and actors. But others will be less well known, including Markle's family and people who've become friends with the couple through their charitable work.Here's CNN's best guess at who might be on the guest list.Prince Harry's likely guests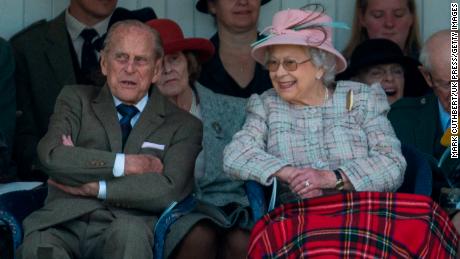 Queen Elizabeth II and Prince Philip attend the 2017 Braemar Highland Gathering in Braemar, Scotland.Read MoreThe royal family will be among the most closely watched guests on the day. Harry's grandmother, Queen Elizabeth II, will be accompanied by Prince Philip, who has recently undergone a hip operation.Also there will be Prince Charles and Camilla, Duchess of Cornwall. The occasion may bring back some memories — a wedding blessing was held for them at St. George's Chapel following their civil marriage ceremony in 2005.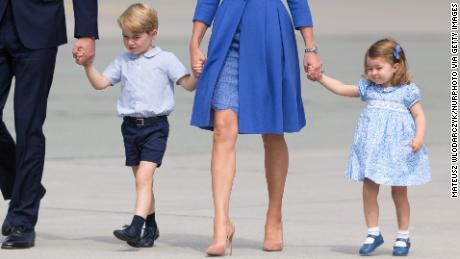 Princess Charlotte and Prince George with their parents in Warsaw, Poland, on 19 July 2017. It's not yet known if Prince William will act as best man — a role Harry fulfilled for his brother at his wedding in 2011. He and Catherine, Duchess of Cambridge, are expected to welcome a new addition to the family this month. Will their newborn be the youngest guest at the wedding? Their older children, Prince George and Princess Charlotte, may well play a part as a cute page boy and flower girl for the couple.Harry's uncle, Prince Andrew, is sure to be there but a question mark hangs over his ex-wife Sarah Ferguson, known as Fergie, who was not invited to Prince William's wedding. Their daughters Princess Beatrice and Princess Eugenie — who will herself marry fiance Jack Brooksbank in St. George's Chapel on October 12 — are expected to attend.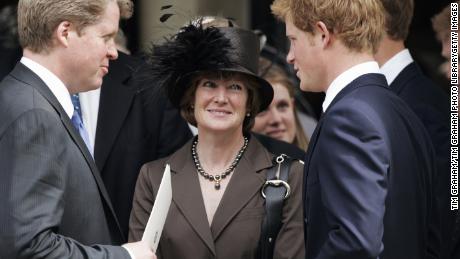 Charles, Earl Spencer, and Lady Sarah McCorquodale are greeted by Harry after the 10th anniversary memorial service for Diana in 2007.Relatives from his late mother Diana's side of the family are also likely to be present. They include his uncle, Earl Charles Spencer, and Diana's two sisters, Lady Sarah McCorquodale and Baroness Jane Fellowes.Harry is not expected to invite European royals as William did in 2011, when he and Kate packed Westminster Abbey with some 1,900 guests.
Prince Harry talks with Prince Seeiso of Lesotho at a fundraising polo match for their Sentebale charity in 2006 in Surrey, England.But one member of royalty who will almost certainly be there is Lesotho's Prince Seeiso. He and Harry founded the Sentebale charity together more than a decade ago to help some of the most vulnerable children in Lesotho and Botswana.Other friends of Harry's will also make up a chunk of the guest list.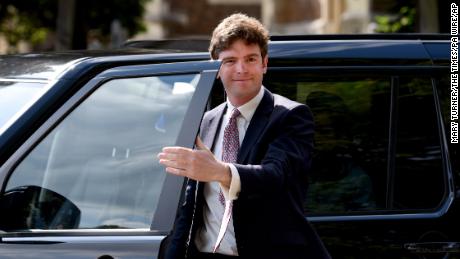 Godfather James Meade arrives for the christening of Princess Charlotte in July 2015.Among his and Prince William's closest companions are James Meade, Thomas van Straubenzee, Tom Inskip and Guy Pelly, a nightclub owner. Over the years they have been pictured carousing together in party spots in London and around the world.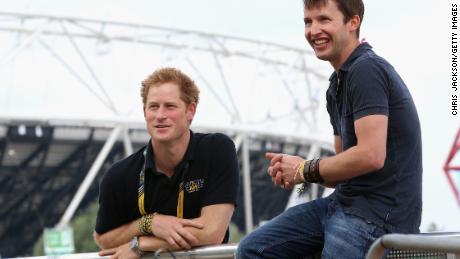 Prince Harry chats with singer James Blunt as he rehearses for the Invictus Games closing ceremony in London in 2014.Harry may also invite comrades from his days in the military, including at the Royal Military Academy Sandhurst and in Afghanistan. One of those is singer James Blunt, with whom Harry served in the British Army.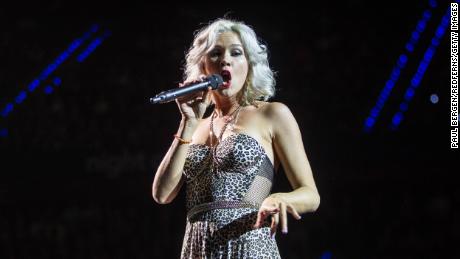 Soul singer Joss Stone performs in the Dutch city of Rotterdam last November.British soul singer Joss Stone is a longtime friend and likely invitee. She is an ambassador for Harry's Sentebale charity and has taken part in benefit performances for it in the past, including a 2016 concert at Kensington Palace.Adding to the celebrity count, Harry could invite British model and actress Cara Delevingne, who has reportedly been a good friend for years.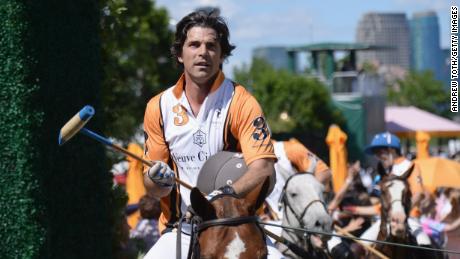 Nacho Figueras, seen at a polo match in New Jersey in 2017, is an ambassador for Sentebale.Another Sentebale ambassador who may well have received an invitation is Argentine polo player Ignacio "Nacho" Figueras. Figueras, who is also an author and the global face of Polo Ralph Lauren, has played in several Sentebale charity matches with Prince Harry around the world.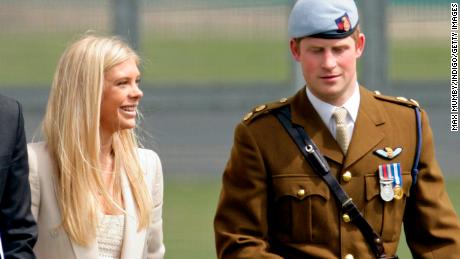 Chelsy Davy and Prince Harry attend his Army Air Corps pilots' course graduation ceremony in May 2010 in Andover, England.Prince Harry may well invite two of his exes: Chelsy Davy, his on-off girlfriend of several years from 2004, and aristocratic actress and model Cressida Bonas, his girlfriend from 2012 to 2014.Singer Ellie Goulding — whom Harry was also at one time rumored to be dating — has been named in the media as another possible invitee. Goulding performed at William and Kate's evening reception at Buckingham Palace, including the song for their first dance, she told Vanity Fair.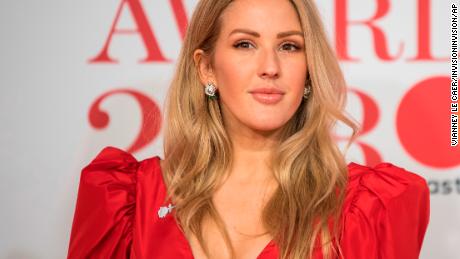 Ellie Goulding poses for photographers at the Brit Awards in London in February.It's possible that singer Sir Elton John will also make an appearance. He was a friend of Diana and famously performed a rewritten version of his song "Candle in the Wind" at her funeral in 1997. He was invited to William and Kate's wedding 14 years later.Celebrity couple David and Victoria Beckham were also at William and Kate's wedding and could score an invitation to Harry and Meghan's big day too. Asked by James Corden on "The Late Late Show" if she was going, Victoria stumbled over an answer before saying, "I don't know."Meghan Markle's likely guests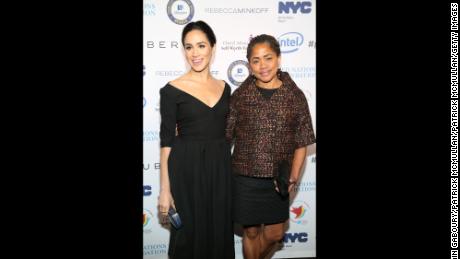 Meghan Markle and Doria Ragland are seen at a UN women's event in New York City in 2015.Markle's family is less accustomed to the spotlight than her fiance's. Her mother Doria Ragland, to whom Meghan has said she is very close, is expected to be at the ceremony, as is her father, Thomas Markle Sr.Her parents met at a Hollywood studio in the late 1970s where he was working as a lighting director and she was a temp. They split when Meghan was young, but she told Vanity Fair last year that they remained on good terms as she grew up and even took vacations together as a family.Meghan included her mother in a list of 10 women who had changed her life for Glamour magazine last year, when she described Ragland as both a free spirit and a nurturer. "We can just have so much fun together, and yet, I'll still find so much solace in her support. That duality coexists the same way it would in a best friend," she wrote.The bride-to-be has a number of close friends who are very likely to have received one of the precious gilded invitations.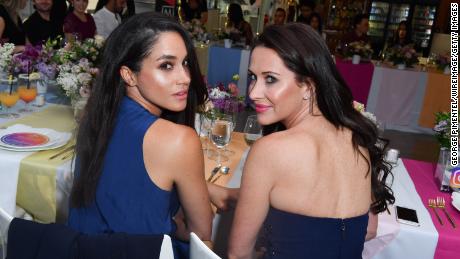 Meghan Markle and Jessica Mulroney attend the Instagram Dinner in Toronto, Canada, in 2016.One of those is Canadian stylist Jessica Mulroney, a longtime friend of Markle who, according to Vanity Fair, is helping her to plan the big event and may also be chosen as her matron of honor.Markle's friend from her days studying at Northwestern University, Lindsay Roth, is another likely invitee, especially since Markle was her maid of honor, according to People magazine. Roth told the magazine last year: "We're the kind of friends who can be 3,000 miles away and still be talking about or thinking the same thing, and even texting each other the same thing at the same time miles away."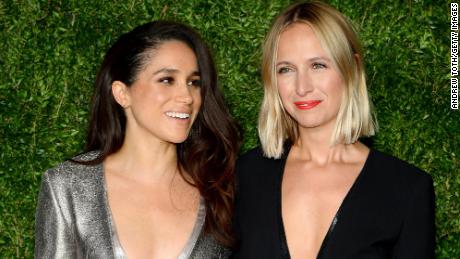 Markle and Misha Nonoo attend the 12th annual CFDA/Vogue Fashion Fund Awards in New York City in 2015.Another friend, Bahrain-born, London-raised fashion designer Misha Nonoo, is rumored by UK and US media to have been the matchmaker who brought Harry and Meghan together on their first date. She and Markle have reportedly holidayed together in the past and Meghan wore a shirt from her collection on her first public appearance with Harry at the Invictus Games last year.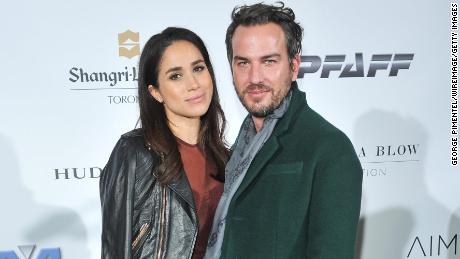 Meghan Markle and Markus Anderson attend an event in 2014 in Toronto, Canada. Other media rumors point to Markus Anderson, a consultant for the Soho House Group, which has private members' clubs around the world, as having made the all-important introduction between his good friend Meghan and Harry.Tennis superstar Serena Williams has been firm friends with Meghan for several years. "Her personality just shines," Williams told Vanity Fair for a cover story on Markle last year, adding that the actress had asked her for advice on dealing with aspects of life in the spotlight.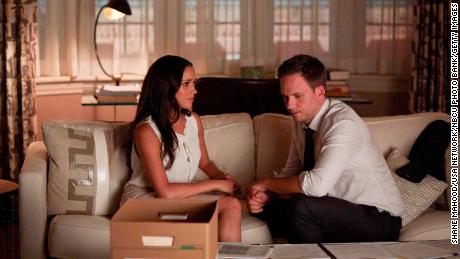 Markle as Rachel Zane and Patrick J. Adams as Michael Ross in an episode of "Suits."Of course, long before she met her prince, Meghan gained fame as an actress, playing ambitious paralegal Rachel Zane in the hit TV series "Suits" — and she has good friends from the long-running show who may well be at the wedding.Among them is Patrick J. Adams, who plays her love interest Mike Ross on the show. After the engagement was announced last November, Adams posted a touching message on Instagram.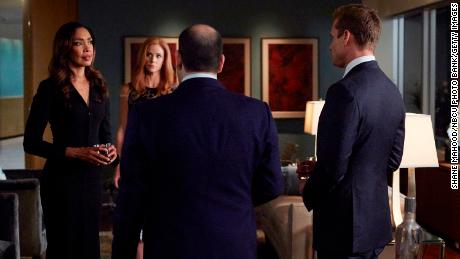 Gina Torres as Jessica Pearson, Sarah Rafferty as Donna Paulsen, and Gabriel Macht as Harvey Specter in "Suits."Other friends and former co-stars who may share the big day include Abigail Spencer, Sarah Rafferty, Gina Torres, Amanda Schull and Gabriel Macht. Asked why Harry was attracted to Markle, Spencer told Vanity Fair: "She's got warm elegance, though her style is hard to pin down. It's classy and timeless. When you're talking to her, you feel like you're the only person on the planet. And it's just wonderful to see her so in love."Another likely invitee is actress Janina Gavankar, perhaps best known for her roles in "True Blood" or "The Vampire Diaries." According to a post by Markle last year on her now-deleted Instagram account, they have been friends for over 15 years. Indian actress and Unicef Goodwill Ambassador Priyanka Chopra hasn't known Markle for as long but Instagram posts of the pair having fun together suggest she may make the guest list.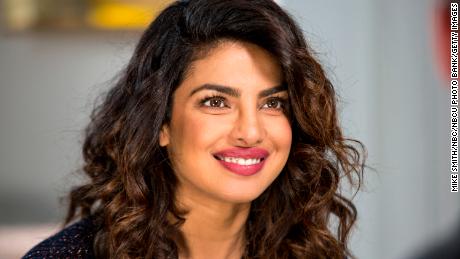 Priyanka Chopra is pictured on TV show "Sunday Today with Willie Geist" in February.UK media reports say British heiress and former "Made in Chelsea" star Millie Mackintosh has also become a good friend of Markle's while she's been based in London.Markle also previously posted pictures on Instagram of her hanging out with French fashion designer Roland Mouret. There's been speculation that he might be involved in designing her wedding dress, something that would surely earn him an invitation to the do.Of course, we now know some of those who won't be coming — including US President Donald Trump, Barack and Michelle Obama and UK Prime Minister Theresa May. But there are sure to be some surprises in store when the guests arrive on the day.
Source Link:
https://www.cnn.com/2018/04/21/europe/royal-wedding-harry-meghan-guest-list-intl/index.html
[0.600317]
Comments
comments