London (CNN)Think of "royalty" and an image of a starched and somber monarch might come to mind. Britain's Queen Elizabeth II, for example. Despite some recent glimpses of her famed sense of humor — including a mild joke aimed at Presidents Trump and Obama — she remains a paragon of predictability and poise.
But the country's young royals are doing things differently. And no one more so than Prince Harry, who is to wed Meghan Markle on May 19.It's not just his choice of bride that's royally unconventional. In a string of unprecedented interviews last year, Harry opened up about the burden of grief since his mother's death, revealed he'd seen a therapist after coming close to a breakdown and said he thinks no one in the royal family wants to be monarch.Chris Jackson, royal photographer for Getty Images, has been photographing the prince on official occasions for 14 years and says that, with Harry, "you never really know what to expect."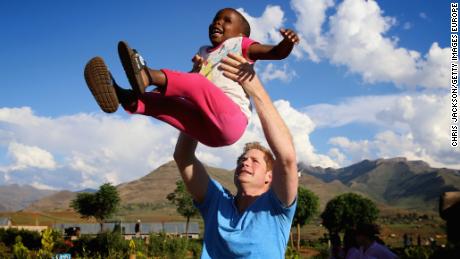 Prince Harry has a natural affinity with children, photographer Chris Jackson explains. "He connects with them in a very unique way and gets stuck in with whatever they're doing." "He is great fun to photograph, he's got a real passion and real energy," Jackson tells CNN. "(But) you've got to learn to always be ready… You learn to expect the unexpected."Read MoreThrough Jackson's images and unique insights, CNN looks at the prince's tumultuous life to date and asks: who is Meghan Markle's future husband?Related: Complete coverage of the Royal Wedding'There's still a lot of grief'Prince Henry Charles Albert David Windsor was born in London on September 15, 1984, a younger brother to William and, at the time, third in line to the throne. In many ways, Harry's childhood followed a familiar royal pattern. He attended private schools in London and Eton before training to be a soldier.But Harry's young years were marked by tragedy. A year after his parents' very public and acrimonious divorce, Harry's mother, Princess Diana, was killed along with her boyfriend Dodi Fayed in a car accident in Paris.Related: Princess Diana's death changed how Britons saw the royals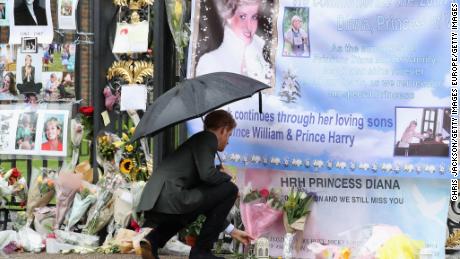 Harry looks at flowers and messages left as tributes to Princess Diana at Kensington Palace on August 30, 2017, the 20th anniversary of her death.The first time he cried from grief was at the funeral, Harry revealed last year in an ITV documentary marking 20 years since Diana's death. And perhaps just once since then, he added. "There's still a lot of grief that needs to be let out."In his youth, Harry earned the label of rebellious royal, facing accusations of underage drinking and cannabis use as a schoolboy, wearing a Nazi uniform to a costume party at 19 and partying nude in a Las Vegas hotel in 2012. In a candid interview with the Telegraph's Bryony Gordon last April, Harry alluded to those years, admitting that shutting down his emotions after his mother's death had a "serious effect" on his personal and working life."It was 20 years of not thinking about it and two years of total chaos," he said, adding that therapy helped him.Jackson sees a prince who is now enjoying the process of shaping his identity as a royal. "As his role has developed and changed to where he is today, he's embraced it," the photographer says. "He's very comfortable in his current role."Related: Rebel, soldier and activist – Prince Harry is the epitome of a modern royal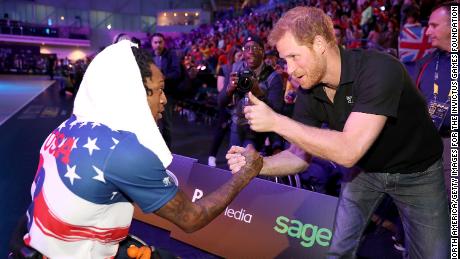 "Prince Harry today… sees his unique position as an opportunity to change things for the good," says Jackson. And the Invictus Games is one of those opportunities. Here, Harry is seen congratulating the US team after they won the Wheelchair Basketball gold at the 2017 Games in Toronto.A military manThe prince's years in the military — first as an army officer and later as an Apache helicopter pilot — have had a big influence on that role. At the time, military life was another way of numbing himself to the pain of his mother's death, Harry explained last year."The 10 years that I was in the army, I just sort of dug my head in the sand," he told ITV. "It was just white noise."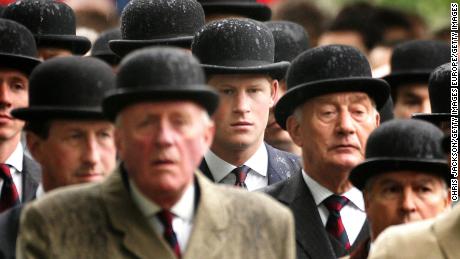 Harry at the Calvary Old Comrades Association Annual Parade in London in 2007. The significance of his military career is etched on the prince's face at every commemorative event and military parade he attends.But his experiences as a soldier also seem to have offered him a path to somewhere more positive. Witnessing war and the life-shattering impact it can have on soldiers and their families inspired Harry to launch the Invictus Games — an international multi-sport event for wounded, injured or sick members or veterans of the armed services — in 2014."Invictus has been one of his biggest achievements," says Jackson, who has photographed Harry at each of the three Games held so far, the most recent in Toronto, Canada, last year. "It certainly means a lot to everyone involved."And it means a lot to Harry too, Jackson explains. "He feels very relaxed and at home in that environment," he says. "The fact that he served as a helicopter pilot… commands a huge amount of respect from fellow soldiers. It gives him a sense of gravitas which he otherwise wouldn't have had."Related: Which countries still have a monarch?'He's breaking down barriers'The Invictus Games project wasn't Harry's first foray into charitable work. In 2006, he co-founded Sentebale, a charity that helps vulnerable children in the tiny southern African country of Lesotho. Following in his mother's footsteps, Harry campaigned to reduce the stigma around HIV and AIDS (famously taking a HIV test alongside pop star Rihanna during a trip to Barbados in 2016), while also co-running a mental health campaign with his brother and sister-in-law, and working to combat youth violence in the UK."It's been an organic process," says Jackson, referring to Harry's developing role since leaving the military. "There was no set pathway. He's had to come up with a lot of these ideas and do a lot of it on his own."Related: Royal wedding 2018: What we know so far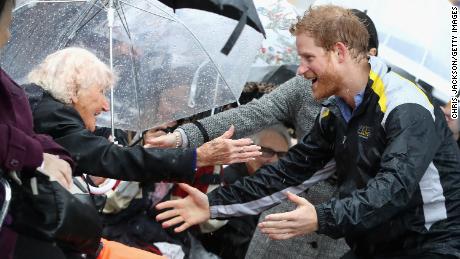 Harry first met an Australian woman named Daphne Dunne on a trip to Sydney in 2015. Back in the city last June, Harry spotted the 97-year-old in the crowd, Jackson explains. "It was the rainiest day, torrential," he recalls. "He rushed over to her in the rain, arms outstretched, and hugged her. It was such a sweet moment… She'd been waiting all day for him."Harry explained his motivation in the conversation with Bryony Gordon last year. "The privilege comes with a huge amount of responsibility," he said. "As long as we're this age and we're still interesting, we want to make as much of a difference as we can for the better."Jackson sees Harry as uniquely positioned to do that, given the "real warmth, real affinity" he brings with him to every public event. "He's breaking down barriers," Jackson says.The photographer has taken countless pictures of the prince giving spontaneous hugs and kisses, and notes wryly that "on more informal engagements, Harry keeps you on your toes."Children and adults alike respond to his natural approach, Jackson says . Some of his favorite pictures of the prince were taken in Lesotho as Harry spent time with the children being helped by Sentebale. "It's somewhere he feels very relaxed," says Jackson. "And kids certainly get excited about seeing him. He connects with them in a very unique way."Related: Why Harry and Meghan will be the best royal couple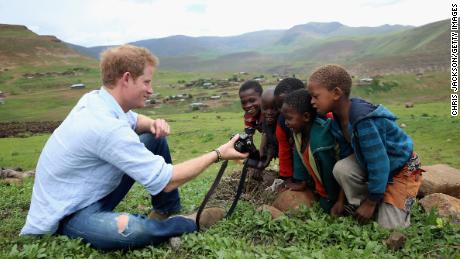 In one of Jackson's favorite pictures he has taken of the prince, Harry shows children in Lesotho a photo he has taken on his own camera. This was during a trip in December 2014.But it's not always fun and games, Jackson points out. Harry has been taking on more formal duties as the Queen steps back from public life, making official visits to countries including Singapore, Jamaica, Nepal, South Africa, New Zealand, Oman, Brazil and Estonia in the past few years alone."I always love going on a Prince Harry tour," says Jackson. "He's a very powerful ambassador for the UK around the world."That work will continue when Harry is a married man — he and Meghan plan to focus their energies on Commonwealth projects and the prince was recently made a Commonwealth Youth Ambassador.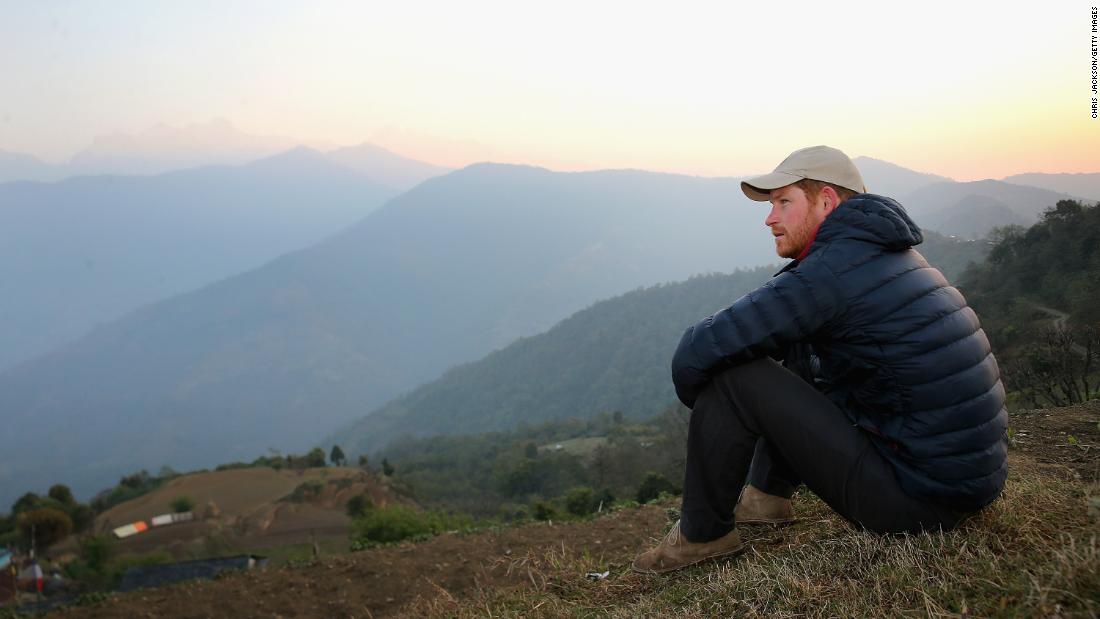 Photos: Prince Harry through the lens of Getty royal photographer Chris Jackson"Every picture has a back story," says Jackson. This one was shot in Nepal in 2016. "We were spending a night in a village up in the foothills and watching the sunrise. That was an amazing moment for me, and I'm sure it was for Prince Harry as well… A lot of the pictures are quite energetic and that's great, but this is more of a rarity and quite pensive." Leorani, Nepal, March 2016.Hide Caption 1 of 16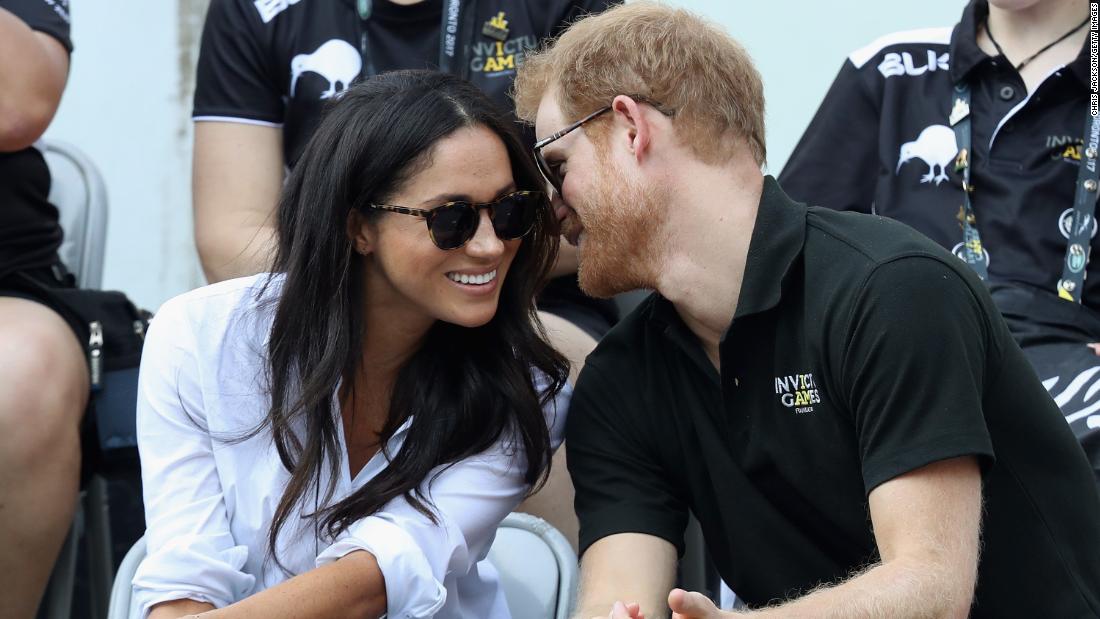 Photos: Prince Harry through the lens of Getty royal photographer Chris JacksonMeghan first appeared alongside Harry at the Invictus Games in Canada in September last year. "No one knew that was going to happen," Jackson says. "It was a nice surprise for everyone." Toronto, Canada, September 2017.Hide Caption 2 of 16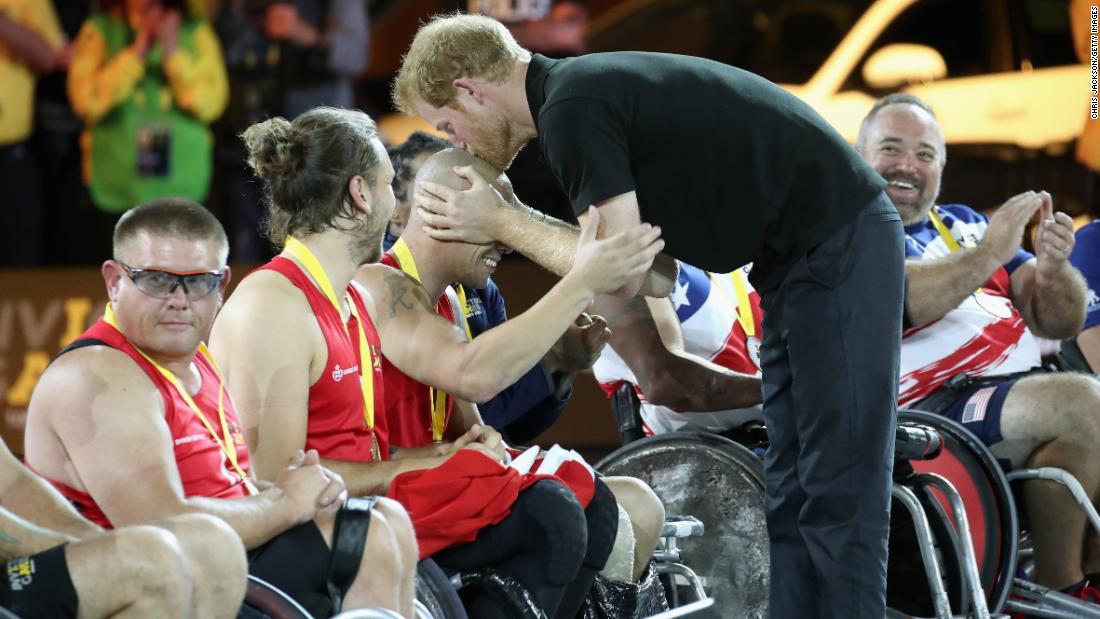 Photos: Prince Harry through the lens of Getty royal photographer Chris Jackson"Things happen quite quickly with Harry," says Jackson. After presenting a Norwegian wheelchair rugby player with a gold medal at last year's Invictus Games, Harry spontaneously kissed him on the head. "That was a great moment — and it makes a great picture," says Jackson. Toronto, Canada, September 2017.Hide Caption 3 of 16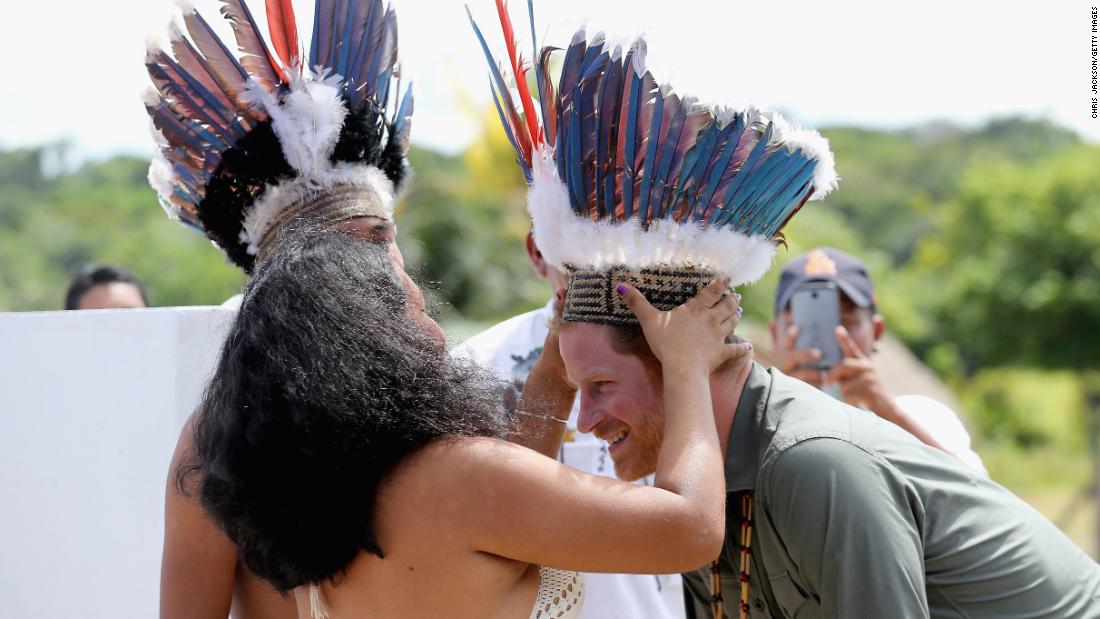 Photos: Prince Harry through the lens of Getty royal photographer Chris Jackson"I always love going on a Prince Harry tour," says Jackson. "There are elements of formality as well as more relaxed moments." Surama, Guyana, December 2016.Hide Caption 4 of 16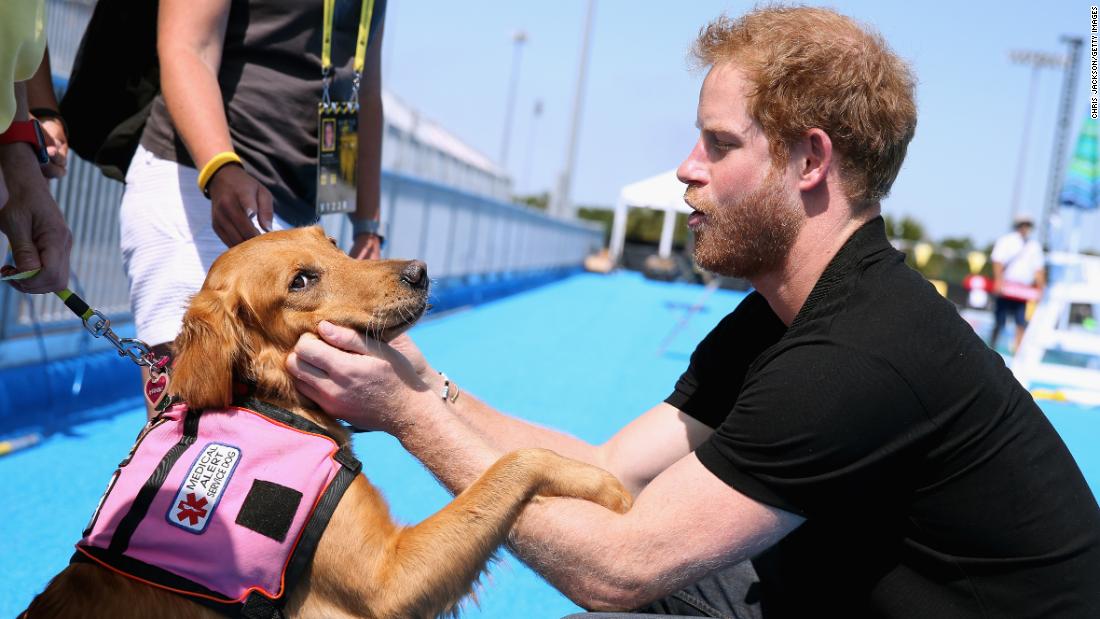 Photos: Prince Harry through the lens of Getty royal photographer Chris JacksonHarry meets medical alert dog Jasmine as he visits venues ahead of the opening of the 2016 Invictus Games. Orlando, US, May 2016. Hide Caption 5 of 16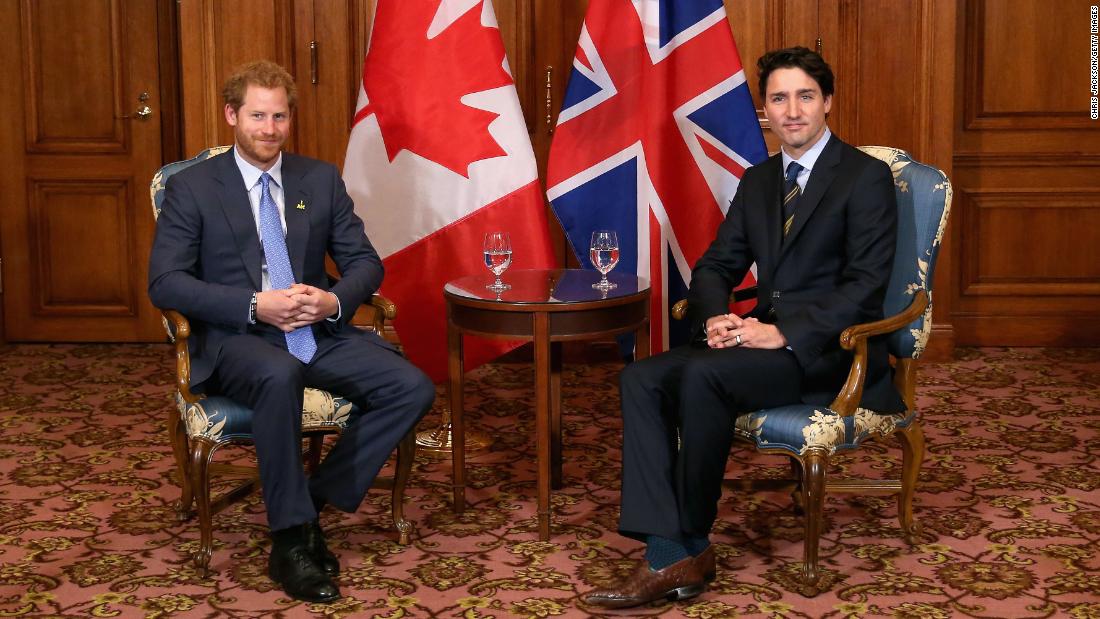 Photos: Prince Harry through the lens of Getty royal photographer Chris JacksonHarry posed with Canadian Prime Minister Justin Trudeau during a trip to Toronto in 2016. "Formality and ceremony are very much part of your job as a royal. It's not always relaxed," says Jackson. "(Harry) seems to have a strong bond with Trudeau. It was nice to photograph these two together." Toronto, Canada, May 2016.Hide Caption 6 of 16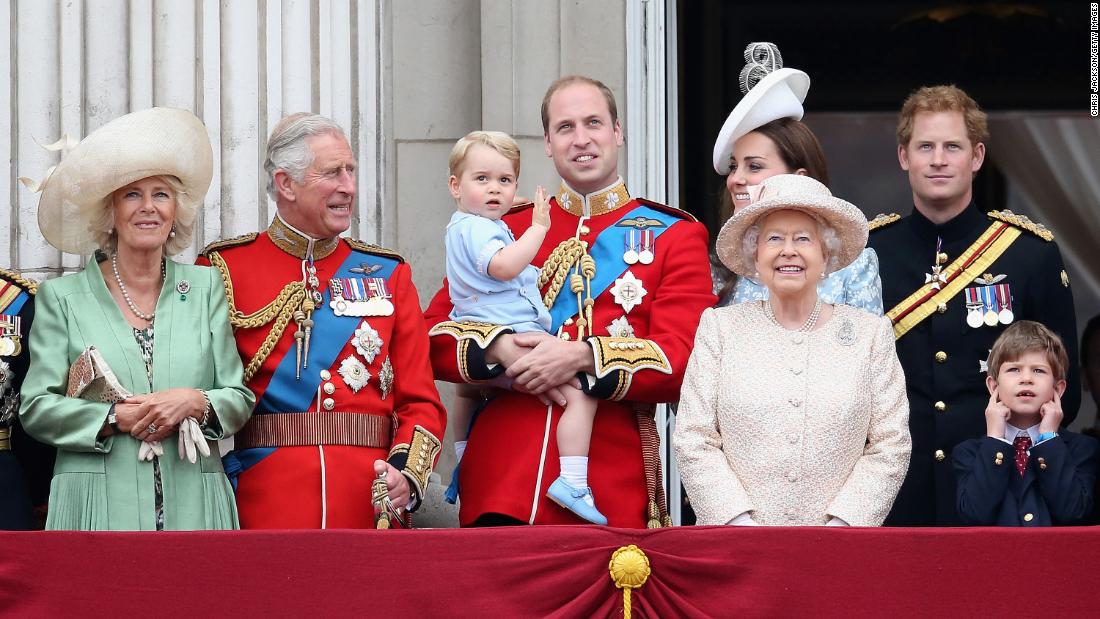 Photos: Prince Harry through the lens of Getty royal photographer Chris JacksonHarry (back right) watches the annual "Trooping the Colour" parade with other members of the royal family on the balcony of Buckingham Palace. "That's one of few times we see the whole royal family out on the balcony," says Jackson. "It's great to capture these relaxed moments." London, UK, June 2015.Hide Caption 7 of 16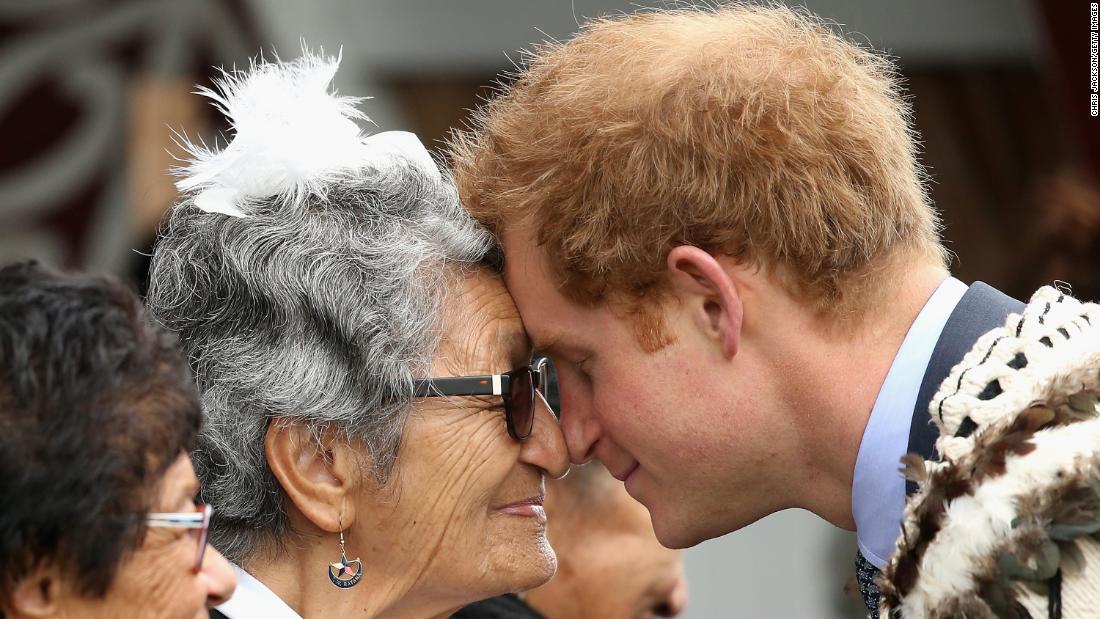 Photos: Prince Harry through the lens of Getty royal photographer Chris JacksonHarry performs a "hongi" (traditional Maori greeting) while on a trip to New Zealand. Wanganui, New Zealand, May 2015.Hide Caption 8 of 16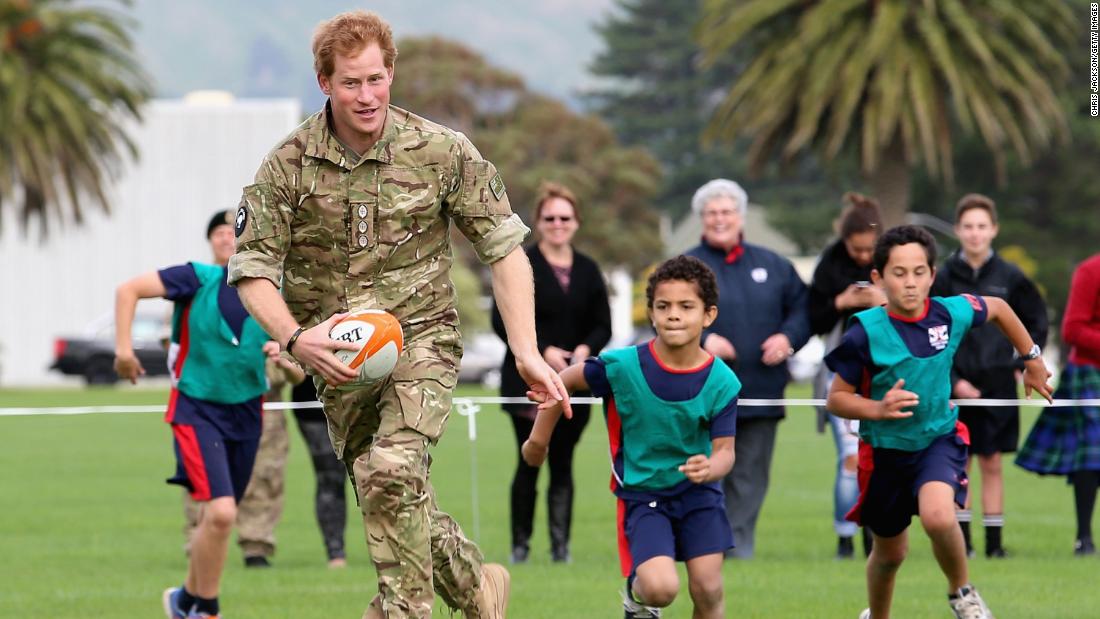 Photos: Prince Harry through the lens of Getty royal photographer Chris JacksonHarry plays touch rugby with schoolchildren during a trip to New Zealand. Palmerston North, New Zealand, May 2015.Hide Caption 9 of 16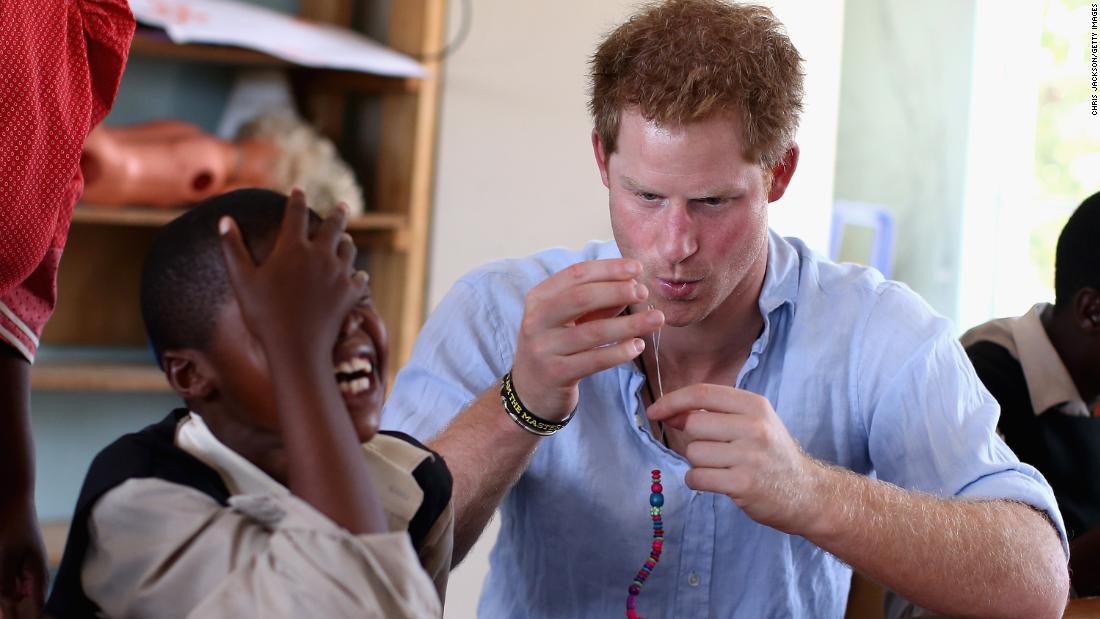 Photos: Prince Harry through the lens of Getty royal photographer Chris JacksonHarry "connects with (kids) in a very unique way," says Jackson. "He gets stuck in with whatever they're doing." On this occasion, the prince was visiting the Thuso Centre in Lesotho for children living with multiple disabilities. Butha-Buthe, Lesotho, December 2014.Hide Caption 10 of 16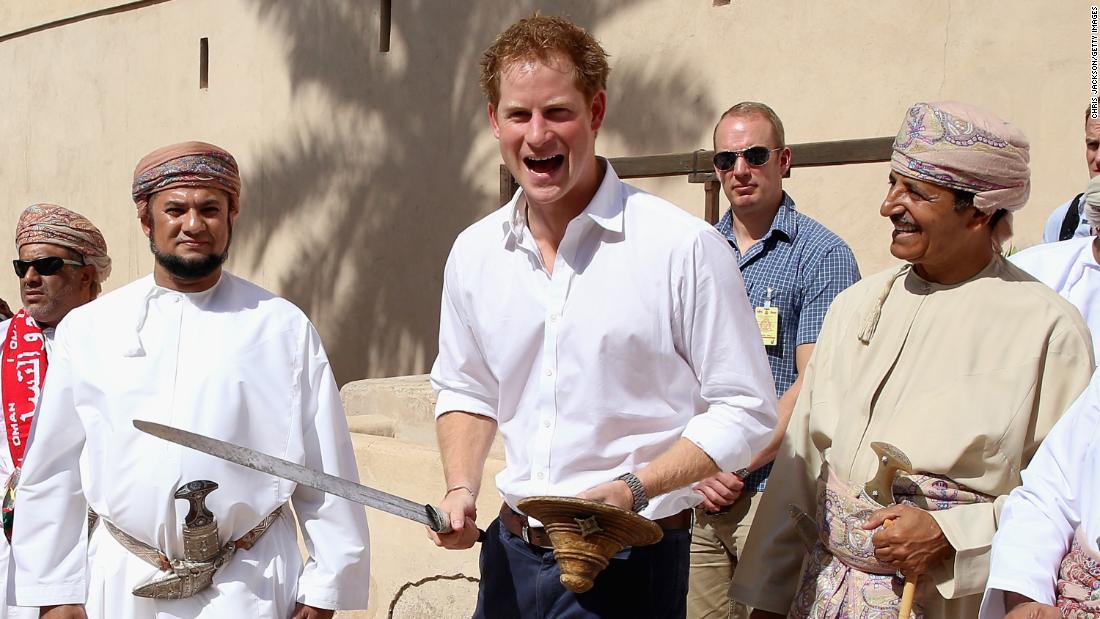 Photos: Prince Harry through the lens of Getty royal photographer Chris JacksonHarry was visiting Oman in 2014 when Jackson took this picture. "The chap was showing him a sword dance and offered him a sword and shield," he says. "He's got a real sense of humor and he's not just going to stand there. It makes a great picture and makes my job a lot easier." Muscat, Oman, November 2014.Hide Caption 11 of 16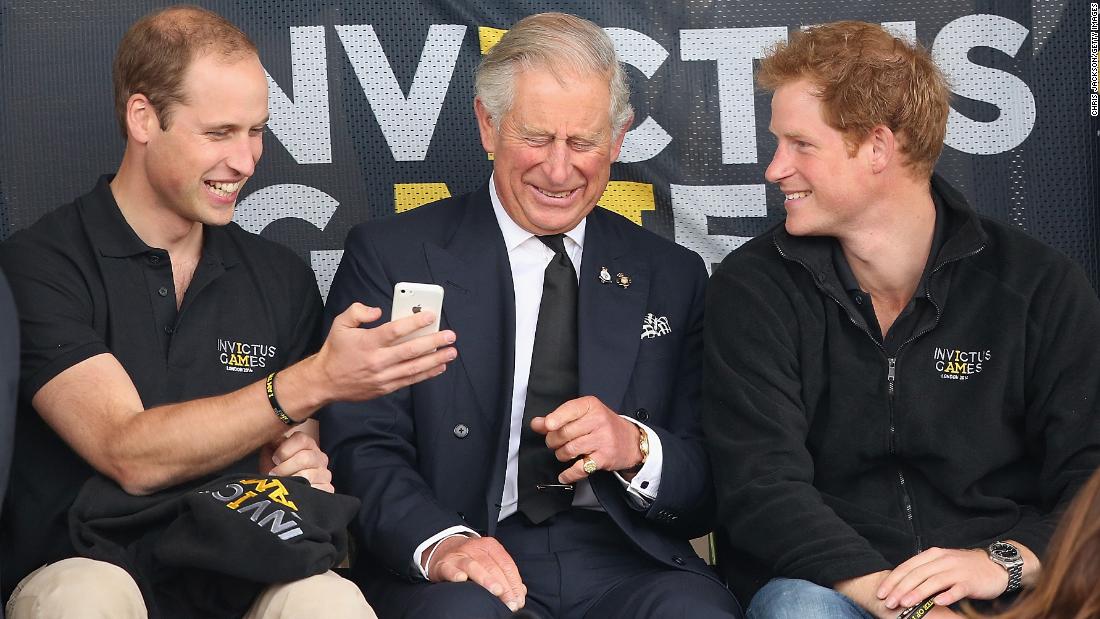 Photos: Prince Harry through the lens of Getty royal photographer Chris JacksonHarry and his older brother William share a joke with their father Charles during the Invictus Games in 2014. London, UK, September 2014. Hide Caption 12 of 16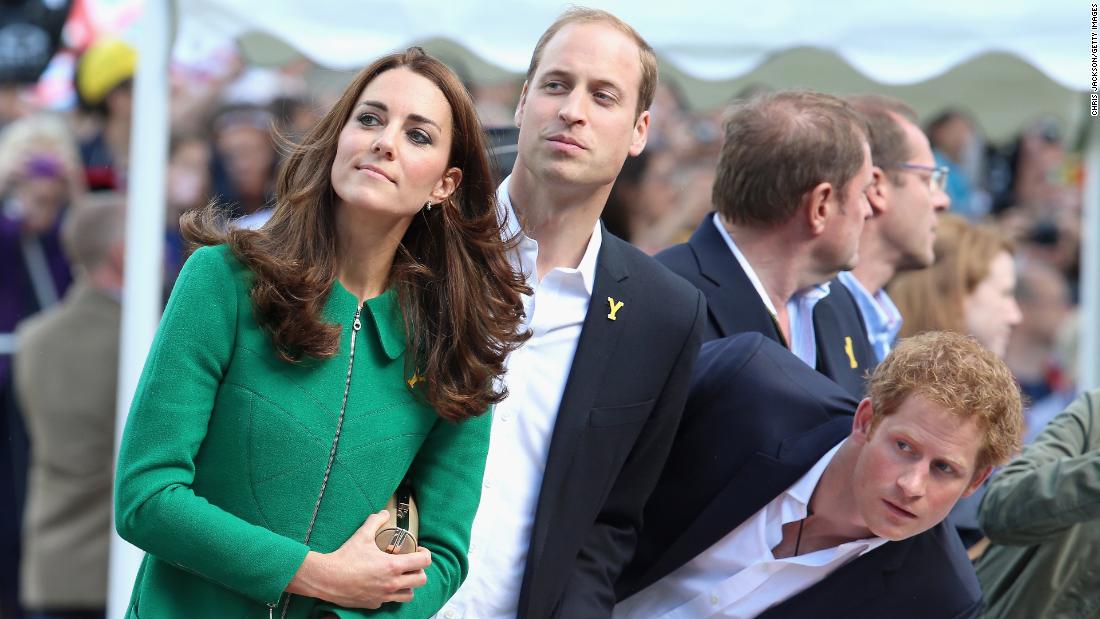 Photos: Prince Harry through the lens of Getty royal photographer Chris JacksonAlongside the Duke and Duchess of Cambridge, Prince Harry watches for the riders at the finish of the first stage of the 2014 Tour de France. The three young royals "seem to get on very well," says Jackson. Harrogate, UK, July 2014.Hide Caption 13 of 16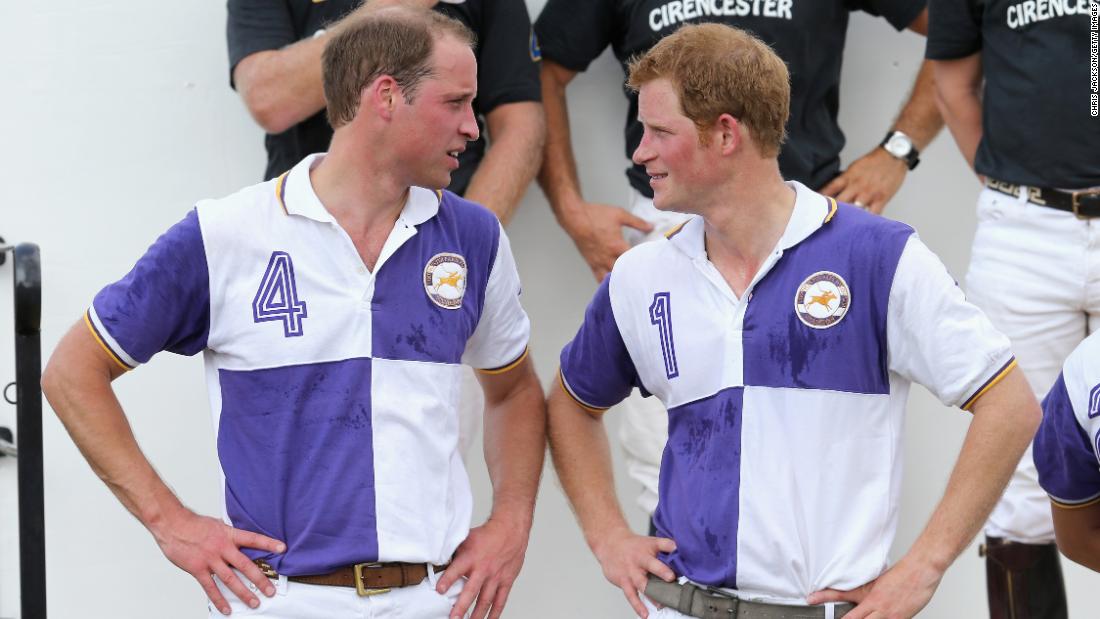 Photos: Prince Harry through the lens of Getty royal photographer Chris JacksonThere's a "huge amount of respect" between Harry and his older brother William, says Jackson. "From what I've seen, they work very closely." Cirencester, UK, July 2013.Hide Caption 14 of 16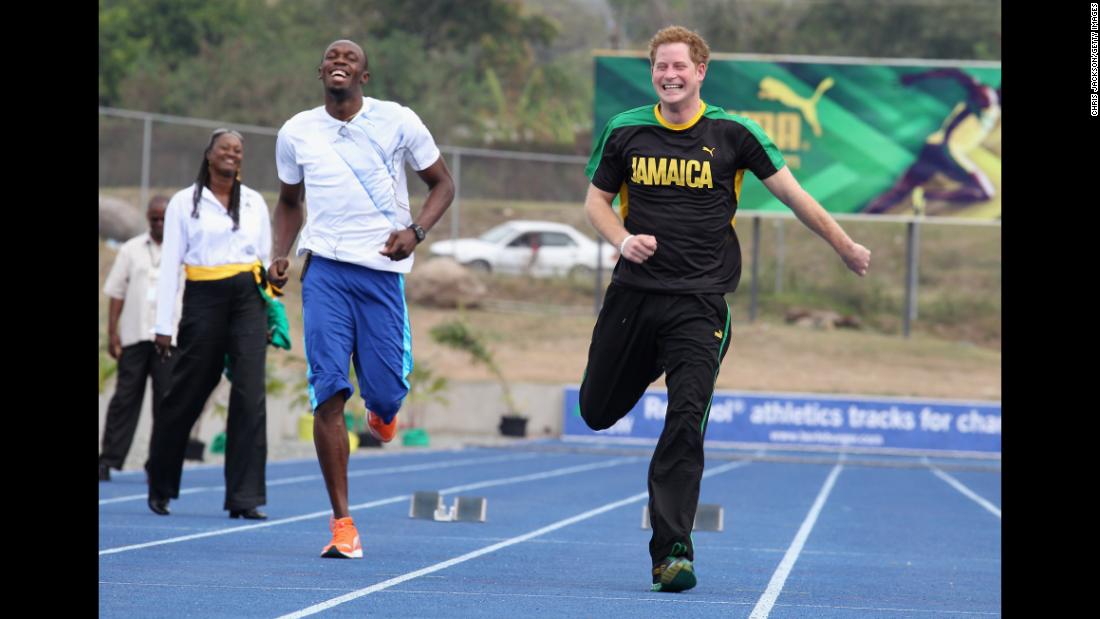 Photos: Prince Harry through the lens of Getty royal photographer Chris JacksonDuring a visit to Jamaica, Prince Harry challenged world-class sprinter Usain Bolt to a race. "I remember it so clearly," says Jackson. "Prince Harry sprinted off leaving Bolt trailing in his wake. That caught me by surprise… That's the kind of thing that happens with Harry. You've got to learn to always be ready." Kingston, Jamaica, March 2012.Hide Caption 15 of 16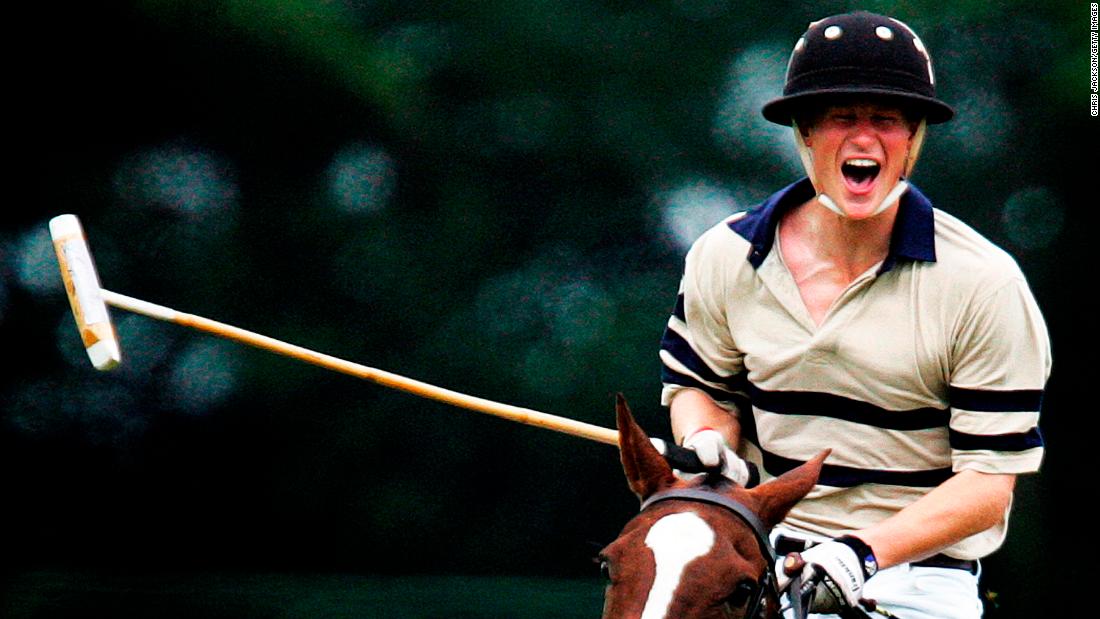 Photos: Prince Harry through the lens of Getty royal photographer Chris JacksonHarry has been a keen polo player for many years. This shot, one of Jackson's earliest as royal photographer for Getty Images, was taken during a match against Virginia State polo in 2005. Cirencester, UK, July 2005.Hide Caption 16 of 16
















'All the stars were aligned'Speaking on the day Harry and Meghan announced their engagement, the prince said it had been "hugely refreshing" to get to know — and to fall in love with — someone outside the bubble of royal life, someone who knew little about him.But that also meant a huge learning curve for his new girlfriend. Harry said the pair had had "some pretty frank conversations" about the life Meghan could be embarking on. "It's a big deal," he said. "It's not easy for anybody."As rumors of their relationship spread across the internet in late 2016, the couple was shocked by the hostility and harassment they faced. "I tried to warn (Meghan) as much as possible, but I think both of us were totally surprised by the reaction," admitted Harry in November. But since taking the unprecedented step to berate the press and social media trolls for a "wave of abuse," life has been smoother — and Harry is convinced he and Meghan can tackle anything together."We're a fantastic team," said Harry. "The fact that I fell in love with Meghan so incredibly quickly was confirmation to me that all the stars were aligned. Everything was just perfect.""Hopefully we'll start a family in the near future," he added later.Related: What Meghan Markle tells us about the modern British monarchy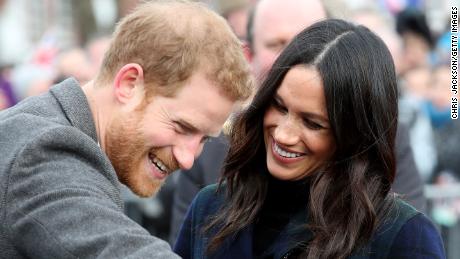 "(Harry) spent many years as a very successful solo royal," says Jackson. "Now we're seeing him with Meghan and they make a great team."Jackson sees the couple's closeness on every outing. "It's been great seeing the dynamic between them — they work really well together," he says, adding: "They clearly are very fond of each other."May 19 marks the start of a new chapter in Harry's life — and it's an important day for Jackson too. He hopes to be positioned outside the chapel on their wedding day, ready to capture the newlyweds "stepping out into the light for the first time as a married couple."No doubt Diana will be on the prince's mind that day. "It is days like today when I really miss having her around and I miss being able to share the happy news," he said in the engagement interview. But he's sure his mother would have approved of his choice of wife: "I think they'd be thick as thieves, without question… (she) would have probably been best friends with Meghan."
Source Link:
https://www.cnn.com/2018/04/28/europe/prince-harry-chris-jackson-intl/index.html
[0.471194]
Comments
comments