London (CNN Business)Since its $105 billion acquisition of SABMiller in 2016, Anheuser-Busch InBev (BUD) claims to produce close to one in every three beers brewed in the world today. But chief strategy and technology officer David Almeida says that until recently, the world's biggest beermaker — founded in the mid-19th century — was a low-tech business at risk of being left behind the times.
"We felt like we weren't really a possible subject of massive disruption, as tech companies are," he tells CNN Business. But Almeida says AB InBev — which owns brands such as Budweiser, Stella Artois and Corona — is now investing heavily in digital technologies.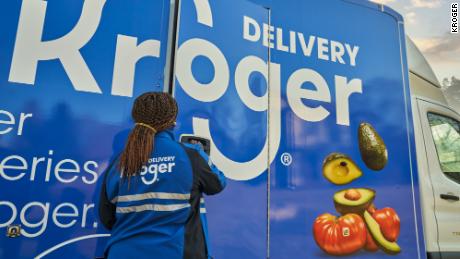 Here's Kroger's big bet to fight Amazon"The first thing we did when we started thinking about the transformation of our business was we went out to study the digital companies and spend time to understand what they were doing, why they were winning, why they were succeeding," Almeida says. He says the company's top executives spent weeks in the technology hubs of Palo Alto, California, and Shenzhen, China, in 2019 "really immersing ourselves in very advanced digital ecosystems." One result of those trips was the opening of a technology innovation center in Palo Alto, at the heart of Silicon Valley, dubbed "the Beer Garage."Silicon scoutingRead MoreAlmeida hopes that by setting up this hub in the center of the digital world, AB InBev can draw ideas from tech startups and scout new talent to hire. To encourage collaboration, it hosts "ideation sessions," where tech innovators and local students can pitch ideas to improve the business."The Beer Garage has been a visionary move from our company to try to create connections with digital leaders," says Almeida. "Not only digital leaders, but some of the people that are in these universities that are really trying to change the world and solve problems."Alongside the work at the Beer Garage, AB InBev has launched other projects to improve efficiency across the company, including a "virtual brewery" system it has developed in partnership with Microsoft (MSFT).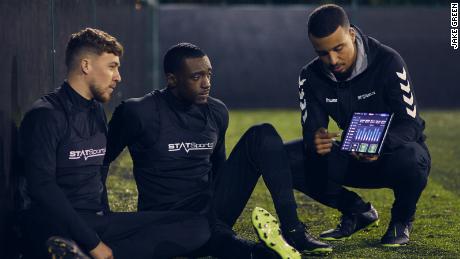 How wearable tech helped elite athletes through the pandemicCurrently being piloted at two breweries, this technology uses sensors placed around the facilities to recreate the production process in a computer generated "digital twin" of the site. This virtual brewery uses artificial intelligence to identify problems with variables like pressure or temperature, so they can be fixed in real time. While that project is on the cutting edge of emerging technology, the company's biggest focus is on helping to integrate more basic analytics into the operations of many of its customers — the bars, supermarkets and restaurants that sell its beer. Supporting retailers in the developing worldNew York headquartered Z-tech, a subsidiary of AB InBev, is helping these smaller business to gain a financial foothold in the digital world, especially in developing countries.AB InBev has 6 million small and medium-sized business clients, according to Z-tech CEO Francisco Prisco. In some South American countries, 40% of those businesses don't have a bank account. Z-tech uses simple financial technology platforms to provide them with digital bank accounts and access to credit.Already operating in six countries in Latin America, Z-tech and AB InBev are now looking to help clients in Africa and Europe digitize. "In terms of our business today, I think what got us here is not what's going to drive us forward," says Almeida. Ten years ago, the key was developing new routes to market and "making sure our products were available at the right price," he explains."I think the next wave of success is really going to come from companies that dominate data, AI and leverage technology to create value," Almeida adds. "I think that's a skillset that we're really building to really drive value for our business."
Source Link:
https://www.cnn.com/2021/05/04/business/anheuser-busch-beer-garage-digital-technology-spc-intl/index.html
[0.475163,"positive"]
Comments
comments