A version of this story appeared in the June 24 edition of CNN's Coronavirus: Fact vs. Fiction newsletter. Sign up here to receive the need-to-know headlines every weekday.
(CNN)Dr. Anthony Fauci, testifying to Congress with other US health officials on Tuesday, said that a "disturbing surge of infections" made clear that the coronavirus is "not going to disappear," countering President Donald Trump's suggestion that the pandemic was "fading away."
Fauci warned that the next couple of weeks are going to be "critical" to controlling the spread of Covid-19, and preventing a dangerous situation from unfolding later this year. If the US doesn't get a handle on the pandemic by the fall, "you're essentially chasing after a forest fire," Fauci said.His testimony comes as more than half of the country is recording an uptick in new cases. Among the 25 states seeing a spike is Texas, where a Houston children's hospital has started admitting adult patients to cope with a sharp increase in Covid-19 cases. America's mismanagement of the crisis, and continued struggle to contain it, isn't going unnoticed elsewhere. Read MoreThe European Union warned yesterday that it might bar visitors from America, in what would be a major embarrassment for Trump. But even as Trump's top health advisers say the coronavirus has driven America to its knees and the EU mulls blocking American travelers, the President is still ignoring the threat, Stephen Collinson writes. In Arizona, another state where infections are spiraling, Trump addressed a mostly mask-free audience at a campaign rally yesterday, delighting crowds by reciting a racist name for the virus: "Kung flu." Officials there declined to enforce local requirements mandating face coverings, and crowds largely ignored social distancing. YOU ASKED. WE ANSWEREDQ: Could we see our progress reversed, and could we be forced to shut down again, if cases get out of control? A: In response to this question, posed by California Congresswoman Nanette Diaz Barragán during Tuesday's House Energy and Commerce Committee hearing, Dr. Fauci said states with widening outbreaks may not need to shut down again, as many did in March, but will need to consider halting or rolling back reopenings."I wouldn't necessarily say an absolute shutdown, lockdown, but if someone is going from gateway to phase one to phase two and they get into trouble in phase two, they may need to go back to phase one," Fauci said, pointing to Texas, Arizona and Florida as states with a "serious problem" that might need to consider such measures. "I don't think they necessarily need to go back to lockdown."The "gateway" requirements that Fauci is referring to — laid out by the Centers for Disease Control and Prevention as part of its phased reopening guidelines — include positive signals like two weeks of decreasing daily new cases and falling emergency department visits.Send your questions here. Are you a health care worker fighting Covid-19? Message us on WhatsApp about the challenges you're facing: +1 347-322-0415. WHAT'S IMPORTANT TODAYSurge in cases shows pandemic won't go away soonLarge parts of the world are emerging from months of coronavirus lockdown, but a surge in global Covid-19 cases shows that the pandemic won't be over any time soon, Angela Dewan and Amy Woodyatt write. Global cases are rising at record levels, many of them in Latin America and Asia, in countries that never really got a grip on the virus, such as Brazil, Mexico and India. Elsewhere, countries that have made good progress in slowing or containing the virus — including Germany, South Korea and Australia –new spikes in case numbers highlight just how fragile the post-lockdown environment can be. Welcome to the whack-a-mole stage of coronavirusGermany is back in crisis mode. The country is trying to stop a new outbreak from turning into a full-blown second wave of infections, after hundreds of people working at a meat processing plant in the western state of North-Rhine Westphalia became ill. It's a serious situation, but the German government isn't rushing to reintroduce the kind of strict nationwide lockdown measures it used to fight the virus earlier this year.Instead, public health officials are hoping they will be able to contain the outbreak by introducing more nuanced local measures and going all in on testing and contact tracing. It's a glimpse at what the new normal might look like — a perpetual game of whack-a-mole in which authorities race to contain the virus as it pops up in new places, Ivana Kottasová writes. Where people haven't heard of Covid-19Hundreds of thousands of people trapped near fierce fighting in Myanmar's far west may know nothing of Covid-19 thanks to a year-long internet shutdown, according to rights groups. Last June, the Myanmar government, led by State Counselor Aung San Suu Kyi, cut internet access to nine townships in the area due to concerns that it was being used to inflame clashes between the Myanmar military and insurgents.Human Rights Watch and Amnesty International say the extended shutdown is putting lives at risk, not only because it's preventing people from reporting possible human rights abuses — but because it has cut them off from public health campaigns about the coronavirus pandemic.80% of people in this indigenous village have coronavirus symptomsDeep in the heart of Peru's central Amazon, the indigenous Shipibo people have for thousands of years lived off the land, thrived as healers, and defended their territory against loggers and other foreign invaders that threatened their very existence. But they have a powerful new foe that shows little mercy: Covid-19.In the remote Shipibo village of Caimito, 80% of the community has shown symptoms of coronavirus, according to local nurse Elias Magin. The nearest hospital is an eight-hour boat ride away. ON OUR RADAR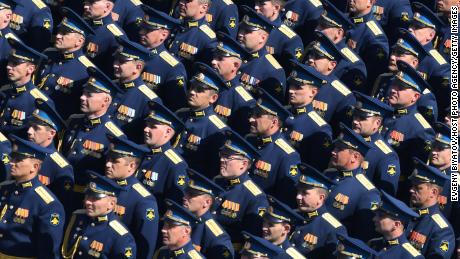 Parade formations before the Victory Day parade in Moscow's Red Square.Russia has reopened from its lockdown just in time to revel in a rescheduled Victory Day parade, marking the 75th anniversary of the end of World War II in Europe. Video of the festivities showed soldiers unmasked, and not socially distanced. Brazil's President Jair Bolsonaro has been ordered by a federal judge in Brasilia to wear a face mask in public or face a fine: $386 per day. Brazil's attorney general's office is already looking to "reverse" the decision. Mexican doctors are baffled after a set of premature triplets tested positive for Covid-19 — even though neither parents have the disease. China recorded seven new cases of Covid-19 in Beijing on Tuesday — the lowest number of daily new cases since a wholesale food market in the capital was shut down after becoming the center of a new outbreak. Ten players on Pakistan's national men's cricket team have been diagnosed with Covid-19 — more than one-third of the squad. Novak Djokovic, the beleaguered world No. 1 tennis star, has tested positive for Covid-19 amid the Adria Tour fiasco.TOP TIPSThe WHO is urging women who have contracted — or are suspected of contracting — coronavirus to continue breastfeeding their babies or young children, saying that the benefits "substantially outweigh the potential risks for transmission" of the virus. How WHO came to its conclusion: Researchers reviewed studies that included mothers with suspected or confirmed Covid-19 and their babies or young children. They found that other infections breastfeeding protects against pose a much bigger risk to babies and children than the coronavirus. TODAY'S PODCAST"South Korea has been through this before." — CNN reporter Paula Hancocks in Seoul.South Korea has been widely praised as a Covid-19 success story. CNN's Chief Medical Correspondent Dr. Sanjay Gupta looks at how the country has learned to live with the virus, along with a second wave. Listen Now.
Source Link:
https://www.cnn.com/2020/06/24/world/coronavirus-newsletter-06-24-20-intl/index.html
Bad Request
Your browser sent a request that this server could not understand.
Size of a request header field exceeds server limit.
Comments
comments