A version of this story appeared in the December 23 edition of CNN's Coronavirus: Fact vs. Fiction newsletter. Sign up here to receive the need-to-know headlines every weekday.
(CNN)The coronavirus has now reached the last untouched corner of the world.
Antarctica, until recently the last coronavirus-free continent, has recorded its first Covid-19 cases after 36 people working on a remote Chilean research base tested positive for the virus, according to a statement by the Chilean Army. The outbreak at the General Bernardo O'Higgins Riquelme Base was confirmed just days after at least three people tested positive for Covid-19 on a military vessel that had been supplying logistical support to the base between November 27 and December 10.The news is a reminder that governments cannot let their guards down, at least not until most of the world gets vaccinated.Taiwan is another reminder of this, having just recorded its first locally-transmitted case of the coronavirus since April. Read MoreThe island has had one of the most successful pandemic responses in the world. It has restricted access for foreigners and put in place effective tracing and testing programs. Those found breaching the measures can face severe punishment. Earlier this month, a man was fined $3,500 by Taiwanese authorities after breaching quarantine for only 8 seconds.But even the strict rules didn't prevent the new infection, which ended a 255-day run without a single case of local transmission, underscoring the difficulties in controlling the virus even in areas where it has been largely stamped out.YOU ASKED. WE ANSWERED.Q: Is the new coronavirus strain more dangerous for kids?A: A: There is no evidence as of now to suggest that the new variant is more deadly, according to the World Health Organization, the US Centers for Disease Control and Prevention and the the UK's New and Emerging Respiratory Virus Threats Advisory Group (NERVTAG). However, there are some suggestions the new variant might be more infectious for younger people. According to the WHO, most cases from whom this variant has been identified have occurred in people under 60 years of age."There is a hint is that [the variant] … has a higher propensity to infect children," scientist Neil Ferguson, a member of NERVTAG, said, though he cautioned that more data was needed. Another NERVTAG member, Wendy Barclay, said earlier strains of the virus may have had a "harder time" getting into human cells using a receptor called ACE2. Adults, who have a lot of this receptor in their noses and throats, are "easy targets" compared to children. But under this hypothesis, a virus that can more readily use this receptor to enter cells may make children just as susceptible to the virus as adults, she said.Severe illness due to Covid-19 is still relatively rare for children.WHAT'S IMPORTANT TODAYTrump throws Covid relief bill in doubt by asking Congress to amend itPresident Donald Trump said yesterday he is asking for changes to the coronavirus relief bill passed by Congress, leaving the future of the $900 billion stimulus in doubt."I'm asking Congress to amend this bill and increase the ridiculously low $600 to $2000 or $4000 per couple," Trump said in a video released on Twitter. Trump's extraordinary position could threaten to torpedo a carefully drafted bill which his own administration helped negotiate — a move that could lead to a government shutdown and send the economy into a tailspin if he carried through with a veto. Three centuries of smallpox mortality data shows how epidemics lingerAs many people around the globe contemplate what their lives might look like after the pandemic, new analysis of nearly three centuries of smallpox data might provide some insight. The research, published on Monday, shows repeated smallpox epidemics in London.So while social distancing, quarantines and masks may become less vital by the second half of 2021, the history of smallpox, and many of the historical outbreaks the researchers have studied, shows that Covid-19 can certainly stick around, ebbing and flowing for the foreseeable future.France reopens UK border — with conditions France has agreed to reopen its border with the UK, after closing it on Sunday night due to fears over a new variant of the coronavirus. French nationals, British residents of France and truck-drivers can now enter France, but only if they can show proof that they've tested negative for Covid-19 in the previous 72 hours.Thousands of trucks and other vehicles have been stranded for days on the English side of the border, unable to cross the Channel into France. UK officials have said it could take days more to get everyone tested and clear the backlog.The UK has been cut off from much of the rest of the world after the new and potentially more contagious coronavirus strain emerged there. The new variant has already spread beyond the UK. Researchers think it likely arrived in the US in mid-November, and that many people in the US could already be infected.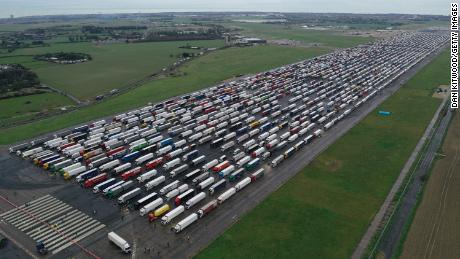 Trucks on the runway at Manston airport are waiting for the border to reopen.ON OUR RADARDr. Anthony Fauci, US health secretary Alex Azar, and National Institutes of Health director Dr. Francis Collins received their first doses of Moderna's Covid-19 vaccine yesterday. British royals have been accused of breaking coronavirus regulations during a family outing.Every country has vaccine skeptics. In Russia, doctors are in their ranks.South Carolina governor Henry McMaster has tested positive for Covid-19. Doctors were caught on camera celebrating the arrival of the coronavirus vaccine.A Singaporean traveler has become the first to use a digital Covid-19 health certificate to cross an international border.TOP TIPSIn this long and difficult year, pandemic fatigue has caught up with so many people who just want to be with their loved ones during the holiday season.CNN medical analyst and emergency physician Dr. Leana Wen shares her guidance on how to get together safely with loved ones between now and New Year's Day, and addresses pressing questions about how the vaccine affects our behaviors — along with what to make of this new coronavirus variant in the United Kingdom.FACTS vs FICTION PODCASTJoin CNN Chief Medical Correspondent Dr. Sanjay Gupta for the latest news about the coronavirus. He'll make sense of the headlines, speak with the experts and give you all the information you need to stay safe and healthy. Listen now.
Source Link:
http://cnn.it/34Eb4v4
Bad Request
Your browser sent a request that this server could not understand.
Size of a request header field exceeds server limit.
Comments
comments