A version of this story appeared in the June 16 edition of CNN's Coronavirus: Fact vs. Fiction newsletter. Sign up here to receive the need-to-know headlines every weekday.
(CNN)China is seeing its most serious spike of the coronavirus in months, ratcheting up fears of a potential second wave in the country where the global pandemic began.
More than 100 cases have been recorded following a flare-up at Xinfadi, Beijing's sprawling wholesale food market, which was shut down over the weekend. But the market's sheer size, and the amount of people who frequent it, has heightened concerns of the outbreak spreading. Authorities in Beijing have locked down 29 residential communities, had more than 30,000 restaurants disinfected and tightened outbound travel as the latest outbreak continued to spread.After 50 days without any considerable local transmission recorded in China, the new cluster is a "significant event," the World Health Organization has said. And it's a reminder to other countries that the pandemic is far from over. It's a reality that the US is beginning to grapple with, amid an uptick in cases in states across the south, west and southwest — regions that began lifting restrictions earlier than others. A coronavirus model is now forecasting there will be more than 201,000 deaths in America by October 1. Read MoreWhile a combination of summer weather and a relative return to normalcy may be lulling the country into complacency, remember this: Thousands are infected and hundreds are dying in America every day.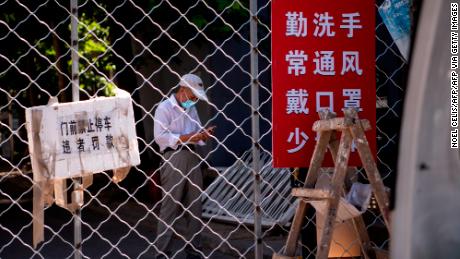 A resident awaits a delivery in a neighborhood under lockdown in Beijing.YOU ASKED. WE ANSWEREDQ: How long will we have to keep social distancing? A: Probably for several months. But you might have to do it "over and over again," since the outbreak could come in waves. Research by the Imperial College in Great Britain "would suggest you have to institute these kinds of measures for five months, very vigorously," said Dr. Celine Gounder, an infectious disease specialist at Bellevue Hospital Center."And then you may be able to relax for a period. And then you would re-institute as the cases go up again. But we're basically looking at doing this over and over and over again, even after a five-month period of strict social distancing, in order to curb cases until we have a vaccine."Send your questions here. Are you a health care worker fighting Covid-19? Message us on WhatsApp about the challenges you're facing: +1 347-322-0415. WHAT'S IMPORTANT TODAYWho is getting the coronavirus in America?New numbers released by the US Centers for Disease Control and Prevention offer a comprehensive picture of who in America has been diagnosed with Covid-19 and how they fared. The latest figures confirm that older people, minorities and those with preexisting health conditions are at the highest risk of death. And a new study suggests that about one in five people around the world could have an increased risk of getting severely ill from Covid-19 because they have an underlying health condition — and the risk varies by age. FDA revokes authorization of drug Trump toutedThe Food and Drug Administration has revoked its emergency use authorization for the drugs hydroxychloroquine — which President Donald Trump has promoted and claimed to have used himself — and chloroquine for the treatment of Covid-19. After reviewing the current research available on the drugs, the FDA determined that they do not meet "the statutory criteria" for emergency use authorization as they are unlikely to be effective in treating Covid-19 based on the latest scientific evidence, the agency noted on its website Monday.'We were very lucky that nobody died'At the height of the pandemic, a group of asylum seekers were moved to a converted hotel in a small, rural Irish town. Then they started testing positive for Covid-19. Asylum seekers, human rights campaigners and legal experts say the pandemic has put a spotlight on structural problems that have long existed in Ireland's asylum system. Against the backdrop of Covid-19, the often crowded, poor conditions have become that much more apparent.Bolsonaro tells Brazilians to inspect hospitals themselvesBrazil's attorney general has called for an investigation into several invasions of hospitals in the country, after its President called on Brazilians to inspect the conditions of medical wards treating Covid-19 patients. In a Facebook Live last week, President Jair Bolsonaro claimed that local politicians might be inflating data on the number of deaths from the coronavirus to receive more money and to blame his government for an increase in the resulting death toll. Following his remarks, several state deputies entered a Covid-19 field hospital in São Paulo and took pictures of the facility and patients without authorization.ON OUR RADARTrump's plan to hold a rally in Tulsa on Saturday seems like a "terrible" idea in the time of Covid-19, Erin Bromage, an associate professor of biology at the University of Massachusetts Dartmouth, told CNN on Monday night. Democratic Minnesota Rep. Ilhan Omar's father has died from complications from Covid-19, the Congresswoman announced on Monday. Idaho will pay jobless residents $1,500 to lure them back to work and off federally enhanced unemployment benefits. Several Dallas Cowboys and Houston Texans players have tested positive for the coronavirus.A baffling condition called Multi-Inflammatory Syndrome in Children (MIS-C) started showing up in kids about three weeks after the peak of the pandemic in New York passed through, new research shows. Mexico is conducting a safety review of Canadian health policies and procedures before allowing any more temporary workers to travel to the country to work in the agricultural sector. New Zealand reported two new cases after more than three weeks of reporting no new infections. The two patients are both women from the same family who arrived in the country from the UK. Researchers will begin human trials of a UK government-funded Covid-19 vaccine. Starting this week, 300 healthy participants between the ages of 18 and 70 will receive two doses. TOP TIPSPets might not infect people with the coronavirus, but their owners still need to protect them, the US FDA cautioned in a new YouTube video. "Though it doesn't seem like animals can give you the virus, it appears you can give it to them. So if you're sick, avoid direct contact with your pets. If possible, have someone else care for them until you're well again," the FDA says in the video.A small number of cats and dogs have become infected in several countries, including the United States, after coming into contact with people with Covid-19. Housecats, as well as big cats in zoos, have been found to be infected with the virus, as well as farmed minks in the Netherlands.The FDA advises avoiding dog parks and other crowded public places, but, if you can't, the six-foot rule should apply to leashed pets, as well as to other people.TODAY'S PODCAST"People may be most contagious right before they start to show symptoms." — CNN'S Chief Medical Correspondent Dr. Sanjay GuptaYou can still spread the virus, even if you don't appear to have symptoms. Gupta clears up confusion about what constitutes asymptomatic infection. Listen Now.
Source Link:
https://www.cnn.com/2020/06/16/world/coronavirus-newsletter-06-16-20-intl/index.html
Bad Request
Your browser sent a request that this server could not understand.
Size of a request header field exceeds server limit.
Comments
comments