A version of this story appeared in the July 21 edition of CNN's Coronavirus: Fact vs. Fiction newsletter. Sign up here to receive the need-to-know headlines every weekday.
(CNN)The race for a coronavirus vaccine is heating up.
Three competing developers released encouraging results from early trials in humans on Monday. All asserted that their vaccines induced strong immune responses with no serious side effects. But the scientists cautioned that antibody responses in patients ranged, and that more research was needed. The next hurdle: Proving that any of the vaccines can effectively protect against SARS-CoV-2 infection and establish lasting immunity (something developers suggested might require a second dose).Two of the developers — a partnership between the University of Oxford and AstraZeneca, and a Chinese company, CanSino Biologics — published their findings in British medical journal The Lancet, while a joint venture by drugmaker Pfizer and German company BioNTech posted results online in a pre-print paper that has not yet been peer-reviewed.The Oxford study analyzed a few hundred participants. Of those, the 10 patients who received two doses seemed to show the most promising immune response.Read MoreThe Oxford-AstraZeneca vaccine — among the most highly-anticipated efforts — was the first to enter Phase III trials, which are currently underway in the United Kingdom, Brazil and South Africa. Vaccine development normally takes years, but that timetable is being dramatically compressed to meet the urgent need, as the coronavirus death toll climbs. There are currently 24 vaccines in human trials around the world, and more than 140 are in the pre-clinical trial stage. Some experts are calling for so-called human challenge trials — immunizing volunteers and then deliberately infecting them — to help speed up the process even more. But even with these drastic measures, some health experts have warned that a vaccine may not be the silver bullet for eradicating the disease, as it almost certainly won't be 100% effective for everyone — and not everyone will take it.As the race for a cure rumbles on, North Korea says it is entering the fray, even though it hasn't reported any cases (something experts are skeptical about). Just don't expect it to take the lead anytime soon. YOU ASKED. WE ANSWEREDQ: Are people immune from the coronavirus if they've already had it?A: It remains unclear if those already infected with the virus are immune to any reinfection. Additionally, it's unknown how long any sort of immunity would last.It's currently impossible to know from an antibody test whether someone is immune to the coronavirus, according to Dr. Celine Gounder, an epidemiologist at New York University. "All you can say from an antibody test is that somebody has been exposed," Gounder told CNN. "You can't really say anything about immunity."In April, the World Health Organization warned against the creation of immunity passports suggested by some governments, noting that "no study has evaluated whether the presence of antibodies to SARS-CoV-2 confers immunity to subsequent infection by this virus in humans." During a briefing in late April, the Infectious Diseases Society of America warned that those previously infected shouldn't assume they have immunity from the virus.Send your questions here. Are you a health care worker fighting Covid-19? Message us on WhatsApp about the challenges you're facing: +1 347-322-0415. WHAT'S IMPORTANT TODAYEU leaders agree on landmark stimulus plan After almost five days of fraught discussions, European Union leaders have agreed on a 750 billion euro (almost $858 billion) stimulus plan to help fund Europe's recovery from the coronavirus crisis. The EU is battling a savage recession triggered by the pandemic, and the hardest-hit countries like Italy and Spain urgently need fresh economic relief. The deal will focus on providing funding across three pillars: creating reforms to help businesses rebound from the pandemic, rolling out new measures to reform economies over the long haul, and investing to help protect from "future crises" via hundreds of billions of dollars in grants and loans to member states. The agreement came after days of deadlock and deep divisions over the overall size of the recovery fund, how much assistance should be given as grants or loans, and the conditions that should be attached. Trump's coronavirus briefings are back onPresident Donald Trump took a pair of steps Monday that seemed to offer quiet acknowledgment that the coronavirus strategy he has adopted for the past several weeks — to largely ignore the pandemic — has wounded him politically and failed to contain the raging crisis. In the Oval Office for a meeting with lawmakers, Trump announced he would soon resume regular public briefings, which he discontinued in April, declaring them a waste of time. And for the first time he publicly encouraged his followers to wear masks, writing on Twitter that "many people say that it is Patriotic" to take the step public health experts have been advocating for months. The moves came a day after Trump falsely claimed the US had "the best mortality rate" in the world. For the record, there is no measure by which that is true.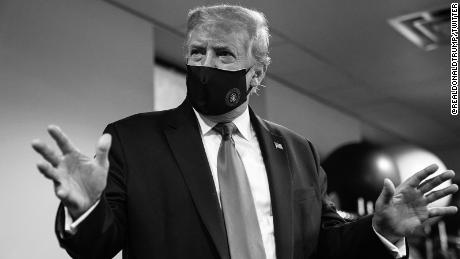 President Donald Trump posted this photo of himself wearing a mask to his official Twitter account. Where did $380 billion in PPP money go?The Paycheck Protection Program (PPP), which has approved $521 billion to help small businesses keep workers on their payrolls through low-interest, forgivable loans, has been a central pillar of the federal government's economic response to the Covid-19 pandemic. But it has also come under intense scrutiny since the Small Business Administration disclosed that the loans had been doled out not only to mom-and-pop businesses but also to billionaires like Kanye West, large chain restaurants and Washington lawmakers. Use this database to see where the money went. Meanwhile, America's next economic recovery package is in limbo, as Senate Republicans push back against key White House priorities attached to it — including whether to include a payroll tax cut, ramp up funding for coronavirus testing and tie additional money for schools to reopening. As the rift widens, top administration officials have moved behind the scenes to shore up the split within the party. The surge is realFor anyone still wondering whether this surge in new Covid-19 cases is real — or if it just looks that way due to increased testing — a Trump administration official put that question to rest Monday. "There is no question we are having a surge right now," said Adm. Brett Giroir, the US assistant secretary of health who's leading the administration's Covid-19 testing efforts. More Americans are testing positive for coronavirus all over the US at record-breaking numbers and the surge is slowing down testing. Labs across the country are now facing what seems like an almost "infinite" demand, one expert said. Results can now take up to two weeks — up from its previous one-week estimate just days ago. To help combat the spread of the virus, at least three mayors have mentioned reverting back to tighter measures, and nearly 40 states have some type of mask requirement in place. Masks, experts have said, are one of the most powerful tools to prevent further infections.ON OUR RADARTens of thousands of people in the Indian state of Assam have been displaced by severe flooding, triggered by unrelenting monsoon rains, heaping misery on the already pandemic-stricken region. A "wartime" state has been declared in the capital of Xinjiang, home to China's persecuted Muslim-majority Uyghur ethnic group, as authorities implement sweeping measures to stem a spike in Covid-19 cases. When the Netherlands introduced lockdown measures in mid-March, Amsterdam's Red Light District transformed into a ghost town overnight. Now the city's mayor is suggesting a "prostitution hotel" plan to permanently uproot it. The Bahamian government is banning travelers from the US and other countries where coronavirus cases are surging in an effort to prevent further spread of the virus in the Caribbean nation. The virus continues to rage through Latin America, with Brazil surpassing 2 million cases, Colombia topping 200,000 and Argentina marking a new daily record for deaths. Climate activist Greta Thunberg announced on Twitter on Monday that she would donate 100,000 euros ($114,000) to combat the spread of Covid-19 in the Brazilian Amazon. When the coronavirus crisis began to spiral in the US, major retailers like Amazon and Rite Aid introduced hazard pay — rewarding key workers for doing dangerous jobs. The hazard hasn't gone away, but the extra pay is stopping.TOP TIPSMany physicians and nurses are having to reuse N95 masks due to shortages. So what's the best way to sterilize them? Peter Tsai, a Taiwanese American scientist who invented the synthetic fabric used to make N95 respirators, recently came out of retirement to work on an answer to this exact question.The best method, he found, was keeping the masks in 160-degree dry heat for 30 minutes, which can be feasibly done by hanging them in an oven. But that's not his preferred method: He recommends buying seven N95 masks and rotating them, using a new one each day. After using one mask, he hangs it in an isolated spot and doesn't use it again for seven days, so any bacteria it catches become inactive.N95 respirators are the most effective face covering, but the US Centers for Disease Control and Prevention warns against the public purchasing them, because it could risk an even more acute shortage for healthcare workers. But you can use Tsai's same rotating technique with cloth masks. TODAY'S PODCAST"I really hope that by trying to explain some of this and for people to start understanding the biology of vaccines, that it will make them less hesitant and more likely to join us in trying to establish this community immunity that we're looking for, what people call herd immunity." — Dr. Barney Graham, NIH deputy director As a series of vaccine trials show promising preliminary results, Dr. Sanjay Gupta spoke with Dr. Barney Graham, the deputy director of the Vaccine Research Center at the National Institutes of Health, about the science behind vaccines and how they work. Listen Now.
Source Link:
https://www.cnn.com/2020/07/21/world/coronavirus-newsletter-07-21-20-intl/index.html
Bad Request
Your browser sent a request that this server could not understand.
Size of a request header field exceeds server limit.
Comments
comments