A version of this story appeared in the September 24 edition of CNN's Coronavirus: Fact vs. Fiction newsletter. Sign up here to receive the need-to-know headlines every weekday.
(CNN)The pandemic could have been the decisive moment in the fight against climate change — an opportunity for leaders to bail out the environment and pivot the planet toward a greener future.
Instead, CNN has found that some of the biggest fossil fuel-producing countries are injecting taxpayer money into propping up polluting industries. And exclusive new data shows these decisions are taking the world a step closer to a climate catastrophe."This is the one chance that we have," said professor Niklas Höhne, founding partner at the NewClimate Institute, a climate think tank, and co-author of an upcoming study from the Climate Action Tracker shared with CNN.The research shows that the world is running well behind its already insufficient targets of limiting global warming to below 2 degrees Celsius above pre-industrial levels and pursuing efforts to limit it to 1.5 degrees.The United Nations says it is necessary to phase out fossil fuels to stop catastrophic man-made climate change. But getting rid of them is going to be hard. Below, we look at four parts of the world once again turning to fossil fuels to help salvage their economies.Read MoreYOU ASKED. WE ANSWEREDQ: Did coronavirus lockdowns put a lasting dent in our collective carbon footprint?A: The short answer: No. Global greenhouse gas emissions have fallen due to coronavirus lockdowns and current economic downturn means future emissions are projected to be slightly lower. But the recent decline won't have any real impact on long-term climate change, according to exclusive data from the Climate Action Tracker. Global emissions are still higher than nations promised under international agreements. And much higher than they need to be to limit catastrophic climate change.Send your questions here. Are you a health care worker fighting Covid-19? Message us on WhatsApp about the challenges you're facing: +1 347-322-0415. WHERE THE CLIMATE CRISIS AND CORONAVIRUS CONVERGEPoland is spending $35 million to buy up unwanted coal to relieve an industry "shaken by the pandemic"Civil engineer Piotr Pupin has been working at the Turów lignite mine in southwestern Poland for the past 19 years. And just like his father did, he hopes to continue working there until it's time to retire.He's got a problem. While the open pit mine holds enough coal to continue operations until 2044, its current permit is set to expire in just six years. And because of the climate crisis, there's plenty of opposition in the European Union to further extensions.But Poland is fiercely resisting the calls for a rapid phaseout of coal. The country is the only EU member state refusing to pledge carbon neutrality by 2050.And now, the Polish government is propping up the increasingly uneconomical industry by buying up unwanted coal and banning imports of cheaper coal.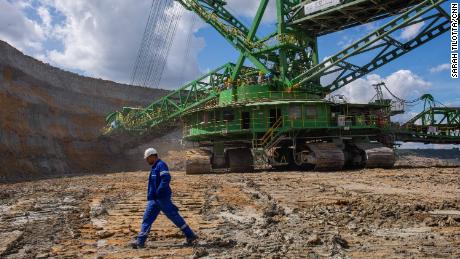 The Turów lignite mine in southwestern Poland.In Canada, the province of Alberta is investing $1.1 billion into a new oil pipeline, deemed "essential" for economic recoveryShawn "Big John" McDonald was born and raised on the Kikino Metis settlement in Alberta, a piece of land set aside for the local aboriginal population. He got into the oil and gas industry straight after school. For McDonald, developing the area's oil sands is a logical continuation of his ancestors' traditions — and a way to support the community's interests.The local government in Alberta agrees with McDonald. It is now pumping money into the oil and gas sector, hoping to speed up the recovery from the coronavirus crisis. It has invested 1.5 billion Canadian dollars ($1.1 billion) in the Keystone XL pipeline — an investment it says will support the economy and create 7,000 jobs. But critics of the choice say the decision to pour taxpayers' money into the project ignores the impacts of climate change already being experienced in Alberta, as well as Canada's commitments to reach net-zero emissions by 2050.Australia's Queensland is fast-tracking a new coal mine to help the state "bounce back from the impacts of Covid-19″There's a saying about Australians and coal: To find out what people think, you need to draw a horizontal line across the country, somewhere just north of Sydney. For those who live above the line, coal equals the economy and jobs. For those below it, it's all about climate change.Australia is the world's second biggest coal exporter after Indonesia, and Queensland in particular relies heavily on the resources sector. When the economy suffered a major hit because of the pandemic this spring, the Queensland government quickly stepped in to provide relief for the all-important sector. The package included rent waivers, new exploration incentives and the capping and waiving of charges and fees. Then, in June, the state government decided to fast-track a new coal mine in the Bowen Basin, a 1.5 billion Australian dollar ($1.1 billion) project.Plans for the new mine have been met with criticism by climate groups, who say they make an "absolute mockery" of its pledges to limit coal mining because of climate change.India is opening up dozens of coal mines to the private sector to "turn the Covid-19 crisis into an opportunity"The dense jungles of Hasdeo Arand, in India's central Chhattisgarh state, are home to endangered species and the Gondi, one of India's original indigenous tribes. It is also the site of an estimated 5 billion metric tons of coal, which the mining industry is keen to tap into.The Gondis' long fight to save the forest, and their way of life, from destruction has just gotten more complicated.With the aim of making India "self-reliant," boosting the economy wrecked by the coronavirus pandemic and getting thousands of people back to work, Indian Prime Minister Narendra Modi announced in June that 41 new "coal blocks" across five states would be opened up to commercial mining.While five sensitive mining locations in the Hasdeo Arand were eventually withdrawn from Modi's list, the threat to the forest hasn't subsided. And the push for more coal mining also has the potential to divert India from its global commitments to reduce emissions at a time where the country is reeling from extreme weather and water shortages linked to the climate crisis.ON OUR RADARJohnson & Johnson's one-dose coronavirus vaccine has become the fourth to enter phase 3 trials in the US. Dr. Anthony Fauci says a "large proportion" of the US will not be vaccinated for Covid-19 this year. President Donald Trump claimed that the White House can overrule the US Food and Drug Administration's attempt to toughen guidelines for a vaccine. The CDC said thousands of commercial flight passengers may have been exposed to Covid-19 since the start of 2020. Prime Minister Justin Trudeau declared Wednesday that a second wave is already underway in most of Canada. The United Kingdom is considering "human challenge trials" — testing vaccines on volunteers deliberately infected with Covid-19. France placed restrictions on bars and restaurants following a surge in cases. Modi has asked states in India to reduce Covid-19 restrictions and focus on restarting the economy. Israel has announced a significant tightening of restrictions during its second general lockdown, including strict limits on protests and prayer groups and a wider closure of places of work. TODAY'S TOP TIPIn the wars against the coronavirus and the climate crisis, we have met the enemy and the enemy is us. Such is the sentiment of virologists and climatologists alike as they point out how much the pandemic can teach us about the fight for the survival of life on Earth. Bill Weir, CNN Chief Climate Correspondent, has these 5 takeaways: Science denial can be deadlyThe search for a cure is global but your chances of survival are localIndividual behavior saves lives but can't fix the problemHumanity is capable of fast, sweeping changesIn the age of "threat multipliers," the health of your body depends on the health of the planet now more than everTODAY'S PODCAST"Even as horrible as this pandemic is, this is an opportunity to build back stronger and better and smarter and more efficient and, you know, put that investment in preparedness." — Maria Van Kerkhove, epidemiologistWhat's it like to lead the whole world in the battle against the pandemic? CNN Chief Medical Correspondent Dr. Sanjay Gupta speaks with Van Kerkhove, the World Health Organization's technical lead on Covid-19. Listen Now.
Source Link:
https://www.cnn.com/2020/09/24/world/coronavirus-newsletter-09-24-20-intl/index.html
Bad Request
Your browser sent a request that this server could not understand.
Size of a request header field exceeds server limit.
Comments
comments