A version of this story appeared in the September 10 edition of CNN's Coronavirus: Fact vs. Fiction newsletter. Sign up here to receive the need-to-know headlines every weekday.
(CNN)President Donald Trump knew in February that Covid-19 was deadly, but intentionally downplayed the threat, he said, to avoid a panic.
Speaking to journalist Bob Woodward, Trump admitted he knew weeks before the first confirmed US coronavirus death that the virus was dangerous, airborne, highly contagious and "more deadly than even your strenuous flus." "I wanted to always play it down. I still like playing it down, because I don't want to create a panic," Trump told Woodward on March 19, according to the reporter's new book "Rage."In a series of interviews with Woodward, Trump revealed that he had a surprising level of detail about the threat of the virus earlier than previously known. Trump's admissions are in stark contrast to his frequent public comments at the time insisting that the virus was "going to disappear" and "all work out fine." The revelations by Woodward have sparked an intense reaction. Democratic presidential nominee Joe Biden said it was "disgusting" and "almost criminal" that the President knew of the serious risks and then downplayed them. Read MoreNew Jersey Gov. Phil Murphy said that he would have taken earlier and more drastic action to curb the pandemic if officials had known the risks.Trump responded yesterday, defending his reaction to the pandemic and confirming he did not want to create a panic. "The fact is I'm a cheerleader for this country. I love our country," Trump said at a White House event. "And I don't want people to be frightened. I don't want to create panic, as you say, and certainly I'm not going to drive this country or the world into a frenzy. We want to show confidence. We want to show strength." Woodward's book, however, highlights how the President took all of the credit and none of the responsibility for his actions related to the pandemic, which has infected 6 million Americans and killed more than 185,000 people in the US. "The virus has nothing to do with me," Trump told Woodward in their final interview in July. "It's not my fault. It's — China let the damn virus out."YOU ASKED. WE ANSWEREDQ: Is it true a vaccine could be approved and sent out before it's fully tested?A: Not exactly. It's possible the Food and Drug Administration (FDA) could give an emergency use authorization — not an approval — for an experimental Covid-19 vaccine before its Phase 3 trial is complete.At least three coronavirus vaccines are in Phase 3 clinical trials in the United States. Phase 3 is often the last phase of vaccine development, when thousands of volunteers are injected and monitored to further check for safety and efficacy.But the independent Data and Safety Monitoring Board could stop a trial early if the interim results are overwhelmingly positive and board members deem the vaccine safe and effective. In that case, researchers would have "a moral obligation" to end the trial early and speed up the process to give the vaccine to millions, Dr. Anthony Fauci told Kaiser Health News."If you look at the projection, of the enrollment (of trial participants) and the kinds of things you'll need to get a decision about whether the vaccine is safe and effective, most of us project that that's going to be by November, December, by the end of the year," Fauci told CNN."Could this be earlier? Sure," he said. "That's unlikely, (but) not impossible."Send your questions here. Are you a health care worker fighting Covid-19? Message us on WhatsApp about the challenges you're facing: +1 347-322-0415. WHAT'S IMPORTANT TODAYA Covid-19 drug rationed in US is plentiful elsewhereA CNN investigation into remdesivir, the drug known to work against Covid-19, has found that doctors in several developing countries report ample supplies of the drug, while US patients have faced shortages — even it is made by a US pharmaceutical company and was developed with the help of US taxpayer money.A July survey of 131 hospitals by the American Society of Health-System Pharmacists showed that nearly one-third reported that they hadn't received enough remdesivir to treat all of their Covid-19 patients who met the guidelines for the drug. The drug costs $2,340 for a five-day course of treatment, and US hospitals don't purchase it directly the way they do other drugs. Because there isn't enough to go around, the Health Department arranges for remdesivir to be shipped regularly to hospitals. Several companies in other countries make generic remdesivir, including Beximco Pharmaceuticals in Bangladesh. But only Gilead Sciences, which has been given emergency use authorization by the FDA, is allowed to sell remdesivir in the US. There are no generics, and Gilead has no competition.Thousands are quarantined or isolated at University of TennesseeUniversity of Tennessee has been forced to adopt "drastic measures" after Covid-19 surged on the Knoxville campus. The institution had 600 active cases as of Monday, according to Chancellor Donde Plowman. "We now have 2,112 people in quarantine or self-isolation. Of these, 1,939 are students, split nearly equally between on-campus and off-campus residence," Plowman said.The chancellor also expressed frustration about reckless behavior — such as "fraternity leaders communicating to houses how to have parties and avoid being caught, avoid the police" — by a small portion of students. University of Tennessee is far from alone in battling outbreaks. Across the country, colleges and universities have reported more than 37,000 coronavirus cases from all 50 states.Indigenous pageant queens are not held back by Covid-19The Navajo Nation, spanning more than 27,000 square miles across parts of Arizona, Utah and New Mexico, had at one point some of the highest Covid-19 infection rates per capita in the US. Regular weekend lockdowns and nightly curfews have since helped flattened its curve, but authorities are not easing restrictions yet. The incidence of virus cases among American Indians and Alaska Natives has been 3.5 times higher than among White people, according to the US Centers for Disease Control and Prevention.The pandemic has also led indigenous pageant queens or tribal ambassadors like Miss Navajo Nation Shaandiin Parrish to redefine their duties. While the majority have been unable to travel, these young women have sewn hundreds of face masks, launched online campaigns to increase census participation after it was hampered by the pandemic, and secured school supplies for thousands of children.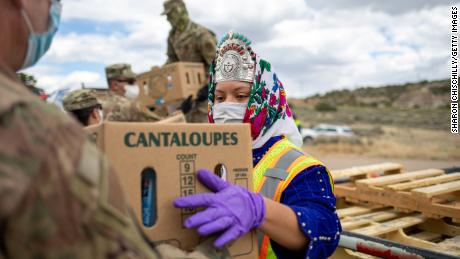 Miss Navajo Nation Shaandiin Parrish grabs a box filled with food and other supplies to distribute to Navajo families.ON OUR RADARAstraZeneca denied reports that its vaccine trial was paused because of a case of transverse myelitis — a rare inflammatory condition of the spinal cord. Church leader who called Covid-19 "God's punishment" for same-sex marriage tests positive. Venezuelan health workers are now getting cash bonuses — but accepting the gift puts them at the center of a political stand-off with global implications.A 28-year-old school teacher died of coronavirus complications a week into the start of term in South Carolina. New York City restaurants will be allowed to resume indoor dining, with strict restrictions.Hannah Ernst, 15, lost her grandfather to coronavirus. She's now drawing virus victims from all around the world. The US federal government said it plans to stop limiting arrivals from certain countries to just 15 airports. The owners of hundreds of New York City indoor fitness studios are suing Mayor Bill de Blasio for barring them from reopening their businesses. TOP TIPSSuicide Prevention Day: How to help someone who might be suicidalAround the world, close to 800,000 people are dying annually from suicide. The World Health Organization estimates a global suicide rate of one death every 40 seconds.Read through the list of the potential warning signs and find ways to help someone who may be intending to end their life. And if you or someone you know might be at risk of suicide, here are ways to help:Call 1-800-273-8255 to reach the National Suicide Prevention Lifeline. It provides free and confidential support 24 hours a day, seven days a week for people in suicidal crisis or distress. You can learn more about its services here, including its guide on what to do if you see suicidal language on social media. For support outside the US, a worldwide directory of resources and international hotlines is provided by the International Association for Suicide Prevention. You can also turn to Befrienders Worldwide.TODAY'S PODCAST"What the government did was put out guidelines immediately and they were about social distancing and they were about handwashing … and they said, do this. And the Swedish culture is such that they do it." — Max Foster, CNN anchor and correspondentIn the early days of the pandemic, Sweden chose against mandating a lockdown and did not require citizens to wear masks. Some have questioned if that decision was an attempt to achieve herd immunity. CNN anchor and correspondent Max Foster has spent time in Sweden and joins CNN Chief Medical Correspondent Dr. Sanjay Gupta to discuss the country's unique strategy for fighting the virus. Listen Now.
Source Link:
https://cnn.it/3bNCnW6
Bad Request
Your browser sent a request that this server could not understand.
Size of a request header field exceeds server limit.
Comments
comments