A version of this story appeared in the November 12 edition of CNN's Coronavirus: Fact vs. Fiction newsletter. Sign up here to receive the need-to-know headlines every weekday.
(CNN)The glowing lights of arcade machines flash across a silent room. A small carousel stands idly by, its colorful horses frozen in time. Gone are the sounds of buzzers, ringers, and skee balls at Peter Piper Pizza. Instead, a man paces around dousing the room with disinfectant spray.
At a church across town, a trumpeter plays through a tiny hole in his surgical mask, while bishop Mark Seitz walks down the aisle to hold mass before empty pews. This bishop is taping the service to air on Univision, so his parishioners don't put themselves at risk, Ashley Killough and Omar Jimenez report.These are some of the many scenes from El Paso, Texas, now under lockdown amid a surging Covid-19 outbreak. As of Wednesday, the county reported 29,118 active cases, meaning close to 1 in 30 people have recently tested positive. Pockets of the city feel ghostly as the normally vibrant culture here returns to what so much of the US experienced this past spring: closed storefronts, overwhelmed hospitals and mobile morgues.The tragedy unfolding in El Paso is a microcosm of the explosion of cases nationwide. On Wednesday, there were at least 1,893 American deaths from the virus, according to Johns Hopkins University — the highest daily death toll since early May. The US has topped 100,000 daily infections for at least nine days in a row and more patients than ever before — more than 65,000 — are in hospitals with the disease. Doctors fear health services will be swamped within weeks. Instead of taking charge, US President Donald Trump has disappeared inside the White House, saying nothing on camera about the pandemic since he baselessly claimed a week ago that the election was being stolen from him by President-elect Joe Biden, Stephen Collinson writes. Read MoreIn an interview with Yahoo Finance, one of Biden's coronavirus advisors, Dr. Michael Osterholm, warned that a period of "Covid hell" awaits the US in the coming weeks. Osterholm suggested a 4-6 week nationwide lockdown and called for the government to pay everyone's wages during that time. "If we did that, we could drive the numbers down, like they have done in Asia, like they did in New Zealand and Australia," he said. YOU ASKED. WE ANSWEREDQ: Why do people get pandemic fatigue?A: One explanation for it comes down to two important predictors of health behaviors: Perceived susceptibility: There have been millions of Covid-19 cases in the US. But all those people still add up to less than 3% of the country's total population. This can reduce perceived susceptibility — which is how likely you think you will get the disease.Perceived severity: As doctors learned more about the coronavirus and treatment methods improved, the death rate in the US also dropped. In May, 6% of diagnosed cases proved fatal, while less than 3% are today. This improvement can reduce perceived severity — which means if you do get it, how bad do you think it will be?People look at trends like these and let themselves be lulled into believing they're less susceptible to Covid-19 or that the disease's severity isn't that bad. With cases on the rise, the opposite is true. Send your questions here. Are you a health care worker fighting Covid-19? Message us on WhatsApp about the challenges you're facing: +1 347-322-0415.WHAT'S IMPORTANT TODAYModerna will know if its vaccine works by end of month Moderna has finished accumulating data for a first analysis of its Covid-19 vaccine and expects to have an announcement on the vaccine's efficacy by the end of the month, the company said yesterday. In order for Moderna's vaccine to be considered for authorization by the US Food and Drug Administration, at least 53 study participants needed to become ill with Covid-19.Meanwhile Russia said that an early analysis of data from its Sputnik V vaccine suggests it is 92% effective. The interim analysis came after researchers identified 20 Covid-19 cases among Phase 3 trial participants who received the vaccine or a placebo, according to a news release. Some scientists are urging caution, noting that the data is far from conclusive."And Brazilian trials of China's CoronaVac vaccine will resume, after testing was temporarily stopped following the death of a volunteer by suicide. UK becomes first European nation to pass 50,000 deathsThe UK became the first country in Europe to pass 50,000 Covid-19 deaths on Wednesday, the same day Spain reported more than 40,000 Covid-19 deaths since the pandemic began. Italy topped one million Covid-19 cases yesterday as images emerged of suspected Covid-19 patients being treated with emergency oxygen inside their cars while waiting to be admitted into a hospital in Naples.Cases are also surging in Sweden, which banned alcohol sales after 10 p.m. in a bid to control infections. "Unfortunately, it looks like we are going into darker times both across the world, in Europe and Sweden in terms of the spread of the disease," Prime Minister Stefan Löfven said. New Delhi sees record cases as Modi wins India's first coronavirus election India's capital New Delhi saw a record daily increase of 8,593 new Covid-19 infections on Thursday, a rise attributed to people defying social distancing rules and bad air pollution in the past week or so.New Delhi's high court has criticized the regional government's decision to ease more restrictions and called for it to impose a city-wide mask mandate. It comes as Indian Prime Minister Narendra Modi claimed victory in Bihar, one of poorest states in the country, in the first major state election during the pandemic. This is in spite of Bihar suffering from high rates of joblessness, which were compounded by Modi's abrupt lockdown announcement in the spring.ON OUR RADAR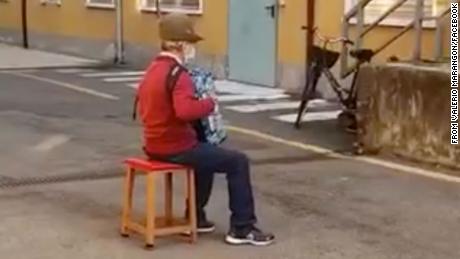 Stefano Bozzini played his wife's favorite songs in a touching moment that went viral.An 81-year-old Italian man couldn't visit his wife in hospital because of Covid restrictions, so he serenaded her from the street.Covid-19 can spread quickly among active military members and recruits — and two new reports detail how this has happened in some past outbreaks. New York's governor is limiting indoor or outdoor gatherings at private homes to 10 people as Covid-19 cases rise.Robots are joining the fight against Covid-19 in India, helping connect patients to their loved ones and assisting healthcare workers on the frontlines. A Covid-19 scare is unfolding aboard the first Caribbean cruise ship to resume sailing since the pandemic began.CNN's Selina Wang quarantined in Beijing, Tokyo and Hong Kong while holidaying and working in the pandemic. Here's what she learned.TODAY'S PODCAST"We had no positive cases for probably two months. And then mid-September, all of a sudden, it hit again." — Dr. Tom Dean, a family physician in Wessington Springs, South DakotaSouth Dakota has had one of the worst recent spikes of Covid-19 cases in the country, with the positivity rate now climbing above 50%. And still, the state has never instituted a mask mandate or full lockdown. CNN's Chief Medical Correspondent Dr. Sanjay Gupta investigates. Listen Now.
Source Link:
https://cnn.it/3lt6ztt
Bad Request
Your browser sent a request that this server could not understand.
Size of a request header field exceeds server limit.
Comments
comments