A version of this story appeared in the June 29 edition of CNN's Coronavirus: Fact vs. Fiction newsletter. Sign up here to receive the need-to-know headlines every weekday.
(CNN)More than 500,000 people have died, and 10 million people have been sickened by the coronavirus pandemic — a global crisis that has left few places untouched.
The dual, desperate milestones come as countries around the world attempt to combat new outbreaks, while also trying to recover economically from crippling lockdowns.The death toll has risen rapidly since the World Health Organization declared Covid-19 a pandemic in March. A month later, fatalities passed 100,000. In May, the toll topped 250,000. Now that number has doubled in less than two months. The United States is disproportionately fueling that rise. It accounts for a quarter of all infections and fatalities, despite only constituting about 4% of the global population. Thirty-six states are reporting a rise in positive coronavirus cases, and only two are currently seeing a decline in cases: Connecticut and Rhode Island. The recent surge in infections is taking place in the American South and West, forcing governors to pause phased reopening plans and re-evaluate social distancing rules, including mask guidance.Read MoreOther countries across the globe are seeing new spikes in cases too. A Chinese province near Beijing has locked down amid a small increase in infections. India has broken its record number of cases eight days in a row. An Australian state is weighing stay-at-home orders. The UK government may impose its first localized lockdown, on the city of Leicester. Israel's health minister is already warning of a second wave. And Colombia has recorded its highest daily death toll in nearly a month.Against the backdrop of widening outbreaks, European Union ambassadors are meeting today to finalize advice on which countries' travelers should be banned from the bloc, amid fears that summer tourism will create new hotspots. Among those who may be blocked: Americans. With the July 4 holiday weekend fast approaching, concerns over travel and fears of a repeat of scenes on Memorial Day — when thousands flocked to bars and parties — are causing some states to preemptively close beaches and rethink celebrations. And some people aren't happy about it.YOU ASKED. WE ANSWEREDQ: Do masks protect you from getting infected? A: White House Coronavirus Response Coordinator Dr. Deborah Birx said Sunday there is "scientific evidence that masks both keep you from infecting others but may also partially protect you from getting infected." Officials have mentioned this possibility before, but it has not been a point of emphasis for the administration's health experts in their public comments.The US Food and Drug Administration's guidance on personal protective equipment says that while masks may be effective in blocking splashes and large-particle droplets, a face mask, by design, does not filter or block very small particles in the air that may be transmitted by coughs or sneezes.Surgical masks also do not provide complete protection from germs and other contaminants because of the loose fit between the surface of the mask and your face.Send your questions here. Are you a health care worker fighting Covid-19? Message us on WhatsApp about the challenges you're facing: +1 347-322-0415. WHAT'S IMPORTANT TODAY'Window is closing' to get coronavirus under controlHealth and Human Services Secretary Alex Azar warned Sunday that the "window is closing" for the United States to get the coronavirus pandemic under control, as confirmed cases surge across the country and some states face record numbers of hospitalizations. Azar denied that the rise in cases was due to states reopening too soon. He said "inappropriate individual behavior" had enabled the spread of the virus. A vaccine may not produce herd immunityDr. Anthony Fauci says he would "settle" for a Covid-19 vaccine that's 70% to 75% effective, but that this incomplete protection, coupled with the fact that many Americans say they won't get a coronavirus vaccine, makes it "unlikely" that the US will achieve sufficient levels of immunity to quell the outbreak. Herd immunity is when a sufficient proportion of a population is immune to an infectious disease, either through prior illness or vaccination, so that spread from person to person is unlikely.A CNN poll last month found one-third of Americans said they would not try to get vaccinated against Covid, even if the vaccine is cheap and widely available. Pence encourages Americans to wear masksUS Vice President Mike Pence has encouraged Americans to wear masks, but again deferred to local ordinances for requirements during a visit to Texas, which has become a major Covid-19 hotspot in recent weeks. In the same briefing, Dr. Deborah Birx urged all Texans to wear masks, irrespective of guidelines.Pence, who has previously flouted mask policies, donned a face covering at a "Celebrate Freedom Rally" at the First Baptist Church in Dallas. But the messaging at the event was far from clear: A choir of more than 100 people performed without masks.Meanwhile in Washington, lawmakers are calling for clearer guidance on masks. One leading Republican senator said it would "help" if Trump wore a mask. House Speaker Nancy Pelosi has also urged Trump to wear a mask, saying that she believes a federal mandate on mask wearing is "long overdue" and that the US Centers for Disease Control and Prevention did not require it because they did not want to "offend the President.""[T]he President should be an example, real men wear masks, be an example to the country, and wear the mask," she said.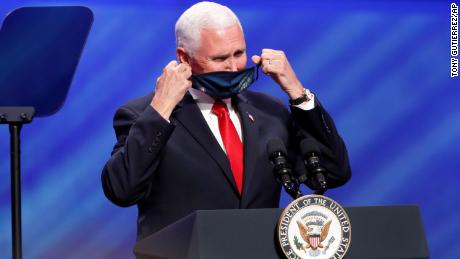 Vice President Mike Pence removes his mask to speak at the First Baptist Church Dallas during a rally on Sunday. ON OUR RADARMexico City is set to begin a gradual reopening process on Monday, as cases there continue to rise. Rio de Janeiro is allowing the public to attend stadiums to watch soccer matches of the local Carioca Championship, despite surging infections and protests from players. A "significant proportion" of Covid-19 patients will develop post-traumatic stress disorder (PTSD), a United Kingdom-based group has warned.Face masks are set to become mandatory in Iran starting next week in areas at risk of increased coronavirus infections. This teen invented a watch that warns you about touching your face so you don't catch coronavirus.A volunteer "sewing squad" has distributed more than 55,000 masks to vulnerable communities across the US in three months. They're not slowing down. A Starbucks barista received nearly $80,000 in tips after being singled out for refusing to serve a customer not wearing a mask.TOP TIPSWith the summer travel season in full swing and the Fourth of July fast approaching, many Americans are weighing whether to take road trips. But as the number of Covid-19 cases continues to spike in many states, it's important to consider the risks. The first question to ask yourself: Fly or drive? If you need to stay in a hotel more than a night, you may want to fly instead of drive. But driving does offer you a lot of flexibility and control — from who you're coming into contact with, to what food you can bring with you. Another thing to keep in mind: Where you're going and what quarantine rules they have in place. Check out all our tips, plus a list of what gear you might want to bring in a "go bag" — from wipes to masks and gloves. TODAY'S PODCAST"Literally anyone can be affected by the coronavirus, just like literally anyone can be affected by AIDS." — Brandon Tensley, CNN culture and politics writerAs Pride month comes to a close, we reflect on 40 years ago when the world lived through another epidemic that was characterized by misinformation and government inaction: The AIDS crisis. CNN Chief Medical Correspondent Dr. Sanjay Gupta looks at the lessons from the AIDS epidemic which could help America better manage Covid-19 today. Listen Now.
Source Link:
https://www.cnn.com/2020/06/29/world/coronavirus-newsletter-06-29-20-intl/index.html
Bad Request
Your browser sent a request that this server could not understand.
Size of a request header field exceeds server limit.
Comments
comments