A version of this story appeared in the June 15 edition of CNN's Coronavirus: Fact vs. Fiction newsletter. Sign up here to receive the need-to-know headlines every weekday.
(CNN)On the first weekend after New York state lifted its lockdown, social media feeds were filled with videos and reports of residents ignoring social distancing rules and partying in the streets.
Throngs of people, most without masks, gathered along St. Mark's Place, three blocks lined with bars and restaurants in Manhattan's Lower East Side, to drink, dance and listen to live music. "Don't make me come down there," New York Gov. Andrew Cuomo tweeted, sharing a video of the scene, which looked more akin to New Orleans during Mardi Gras than New York City amid a pandemic. Cuomo warned that violations of Covid-19 restrictions could cause the state to roll back its reopening. It's an outcome no one wants, but could become a harsh reality: a second wave of shutdowns. Repeat lockdowns aren't just possible — they've already happened elsewhere, in places like Hong Kong, Singapore, and now, Beijing. Read MoreAs the US and China grapple with new coronavirus outbreaks, fears are growing that secondary stay-at-home orders could be even more damaging than the first — sending businesses already flirting with bankruptcy over the edge. While investors grapple with that reality, US stock futures and Asian markets plunged today, signaling that global stocks are headed for another volatile week.YOU ASKED. WE ANSWEREDQ: What can we learn from how other countries handled coronavirus? A: Singapore was initially praised for its clampdown on the virus. Even people who had no symptoms but tested positive had to be hospitalized until they tested negative. But economically the city-state also had a more relaxed attitude compared to other countries, allowing businesses, churches, restaurants and schools to stay open during its first wave of the virus. And some communities were overlooked by government testing. The number of cases shot up, and the country suffered a strong second wave of coronavirus. So how did Singapore go from having a model coronavirus response, to another outbreak? James Griffiths explains. Send your questions here. Are you a health care worker fighting Covid-19? Message us on WhatsApp about the challenges you're facing: +1 347-322-0415. WHAT'S IMPORTANT TODAYMasks promote "freedom" (and safety)The US Surgeon General on Sunday urged people to wear face coverings, saying they're important to slow the spread of coronavirus and reopen the economy. "Some feel face coverings infringe on their freedom of choice — but if more wear them, we'll have MORE freedom to go out," Dr. Jerome Adams said on Twitter. That guidance goes for people attending the President's upcoming campaign rally too, a top Trump administration official has said. "People must observe the safety guidelines. OK — must. The social distancing must be observed. Face coverings in key places must be observed," White House economic adviser Larry Kudlow told CNN's Jake Tapper on "State of the Union." Europe reopens its borders for summerA number of European countries, including Germany and France, are lifting border restrictions for their continental neighbors who are wishing to make non-essential journeys or visit tourist hotspots. The move comes three months after coronavirus lockdown measures went into force across the EU, and as many countries there seem to have brought outbreaks under control.Wondering where else you might be able to escape to this summer? CNN Travel has this guide to international destinations that are reopening. Boris Johnson's lockdown gamble The UK is taking tentative steps in its slow emergence from lockdown, allowing non-essential shops to reopen, along with some public spaces like zoos and theme parks, in England.It's impossible to overstate just how important it is that this all goes well for Prime Minister Boris Johnson, whose slow — and at times confused — pandemic response has been attacked across the political spectrum. The worst-case scenario is that unlocking leads to a second wave of infections, resulting in more deaths and the country being locked down again. It will be very hard to sell this to a public which, despite largely obeying measures since March, has the highest death rate in Europe, Luke McGee writes.Beijing adopts "wartime" measuresBeijing is reintroducing strict lockdown measures and rolling out mass testing after a fresh cluster of coronavirus cases emerged from the city's largest wholesale food market, sparking fears of a resurgence of the deadly outbreak. The sudden re-emergence of the virus in China's capital, previously considered among the country's safest cities, has raised the prospect of further waves of infections and the possible reintroduction of the types of sweeping lockdowns that had previously brought much of the country to a halt.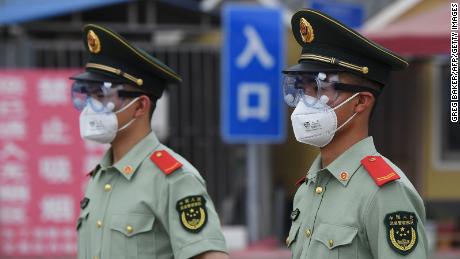 Paramilitary police officers guard the closed Xinfadi market in Beijing.ON OUR RADARA Chinese company says its experimental Covid-19 vaccine caused the body to produce antibodies. Sinovac Biotech is testing more than 700 volunteers in an accelerated trial. New research from Japan suggests that many coronavirus clusters outside of hospitals may have been started by people who are younger than 40 or don't feel sick. The findings offer insight into who might be driving transmission of the virus. The Brazilian health ministry reported 17,110 new cases on Sunday, bringing the country's total to 867,624. Brazil is Latin America's hardest-hit country, and one of the few large nations where Covid-19 infections, and death rates, are still rising.Guatemala has declared a state of "maximum alert" in four administrative regions, as coronavirus cases there surge. Millions of schoolchildren had their lives disrupted by the pandemic. But students are finding a surprising upside to online learning: No more bullying. And in lighter news, Hong Kong Disneyland, which was closed for five months due to Covid-19, is ready to reopen. TOP TIPSMasks are now mandatory in many public places, but if you're a parent, you may have found your kids are unwilling to wear them.Children can be more reluctant because they're more sensitive to new things than adults are, said Christopher Willard, a psychiatry lecturer at Harvard Medical School. "There's also the weird psychological aspect of not being able to see their own face or other people's faces and facial expressions," which can hinder their feelings of comfort or safety, he said. To ease their fears, try buying or making masks with fun designs on them. Or have your child customize their own masks by drawing on them. It's also important to set a good example by wearing a mask yourself. Show your children your own mask, and let them know that by wearing one, they'll be just like Mom or Dad.TODAY'S PODCAST"Unless this disease is tackled everywhere, then there's going to be danger everywhere." — David Miliband, CEO International Rescue Committee.Ahead of World Refugee Day on June 20, CNN's Chief Medical Correspondent Dr. Sanjay Gupta turns to Bex Wright, who covers the Rohingya refugee crisis for CNN, and David Miliband to discuss how the world's most vulnerable populations are dealing with the pandemic. Listen Now.
Source Link:
https://www.cnn.com/2020/06/15/world/coronavirus-newsletter-06-15-20-intl/index.html
Bad Request
Your browser sent a request that this server could not understand.
Size of a request header field exceeds server limit.
Comments
comments