A version of this story appeared in the June 12 edition of CNN's Coronavirus: Fact vs. Fiction newsletter. Sign up here to receive the need-to-know headlines every weekday.
(CNN)Want to rally for Trump? You've got to sign a coronavirus liability waiver first.
Attendees of the President's upcoming rally in Tulsa, Oklahoma, must agree not to sue the campaign if they contract the virus. The disclaimer states that they "voluntarily assume all risks related to exposure to COVID-19 and agree not to hold Donald J. Trump for President, Inc. … liable for any illness or injury." Waivers like these are likely to become a regular part of American life as the country continues to reopen and the coronavirus remains a threat, Catherine Sharkey, a professor at New York University School of Law, says. But they only offer a base level of protection.The rally announcement comes as cases are on the rise in nearly half of US states, where lockdowns have lifted and people have begun returning to normal life. Experts say the uptick shows some Americans are not adhering to social distancing, or wearing face coverings, as recommended by the World Health Organization (WHO). "Covid's not taking a summer vacation," Dr. William Schaffner told CNN, urging people to be "careful" rather than "carefree" to avoid an increase in cases. Otherwise, we could see another spike in infections this autumn.Read MoreYOU ASKED. WE ANSWEREDQ: Is a bad Covid-19 autumn a done deal?A: The short answer: No. But people have to be proactive, experts say. "It really does depend on what we do from here," said Dr. Mark McClellan, the former US Food and Drug Administration Commissioner, adding that he is concerned about the recent rise in Covid-19 cases in a number of states. McClellan told CNN that local leaders should watch hospitalization numbers carefully as they are a good measure of the pandemic. There is often a lag behind the actual transmission of the virus, by about 10 days or more, so steps to slow re-openings need to be taken swiftly if there are signs of a surge.Send your questions here. Are you a health care worker fighting Covid-19? Message us on WhatsApp about the challenges you're facing: +1 347-322-0415. WHAT'S IMPORTANT TODAYGlobal markets stabilize after coronavirus fears spark Wall Street sell-offGlobal stocks were mixed Friday after fears of a sharp increase in coronavirus cases produced the worst day for US markets since March.US stocks were hammered on Thursday as fears about a surge in infections and a somber economic outlook from the US Federal Reserve forced investors to confront risks that had been pushed aside during the huge market rally that has taken place since lockdowns went into force.In Yemen's Aden, Covid-19 death rates could exceed wartime fatalities Ghasan Saleh starts digging graves at the break of dawn to prepare for the dead bodies that will come in droves. Two men in white hazmat suits appear atop an approaching pickup truck. They hastily drop a corpse into a hole and cover it with dirt.In Aden, the seat of power of the UN-recognized government in war-torn Yemen, local medical authorities say that death rates are soaring, despite a relative lull in a war that has ravaged the country, Sarah El Sirgany and Sam Kiley write. Existing polio vaccine could help protect against coronavirusAs the world races to produce an effective Covid-19 vaccine, some experts are turning their attention to a polio immunization as a way to provide temporary protection against coronavirus. There is plenty of evidence that existing inoculations, such as polio vaccines, protect children against a wide range of infections and it's worth trying them out against the coronavirus, a team of experts wrote in Science magazine Thursday.Cases accelerate in Latin America, AfricaCountries in Latin America and the Caribbean have recorded more than 1.5 million combined Covid-19 cases as of Thursday evening, according to Johns Hopkins University. Meanwhile, the number of cases in Africa has doubled in less than 20 days and the WHO is warning of a shortage of test kits. 'Graves' dug on Rio's Copacabana beach to protest pandemic handling Brazilian activists have dug 100 symbolic graves on Rio's Copacabana Beach, in protest over the country's response to the Covid-19 outbreak, which has left more than 40,000 people dead.President Jair Bolsonaro has denied accusations that he tried to downplay the current coronavirus situation in the country by not reporting cumulative data.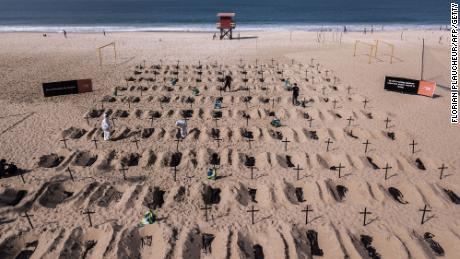 Activists from the Brazilian NGO Rio de Paz dig mock graves on Copacabana beach.ON OUR RADARAs museums and cultural institutions around the globe work to document the pandemic for future generations, these are the images that people have shared of this pivotal moment in history. The death of a single mother in the Philippines, who was trying to get a bus home during the country's lockdown, has led to widespread anger online, and prompted the government to look into how it treats stranded workers.India has overtaken the UK to become the fourth worst-affected country from Covid-19.British Airways, Easyjet and Ryanair have launched legal action against the UK government's quarantine rules, which require anyone coming into the country to self-isolate for 14-days. Miss going through security, waiting in long lines and boarding a plane? One Taiwanese airport is offering "pretend to go abroad" tours while people wait to travel again. Even Queen Elizabeth II is making video calls. The 94-year-old British monarch conducted her first-ever virtual conference, speaking with her daughter Princess Anne and a group of carers. The Maldives, where some lucky honeymooners were stranded at luxury resorts amid lockdowns, will reopen to all visitors next month with no restrictions. TOP TIPS"Masks really work," Dr. Christopher Murray, director of the Institute for Health Metrics and Evaluation at the University of Washington, says. But even though masks provide about 50% protection, only 40% of Americans are wearing them, he said. And he predicts that number will slip even further. Social distancing works, he added, but people will steadily continue to widen their circle of contacts. "Those are two things that are really within the control of people," Murray said. His team's model now projects that 169,890 people will die from Covid-19 in the US by October 1. Daily deaths will likely decrease through June and July, but the country likely will see a sharp rise in deaths in September, the model projects.TODAY'S PODCAST"What we need here is guidance on how to live our lives with this new deadly virus that isn't going anywhere for some time." — Julia Marcus, infectious disease epidemiologist As states begin to reopen and social distancing rules are relaxed, how do we decide what is safe to do and what isn't? CNN's Chief Medical Correspondent Dr. Sanjay Gupta speaks to experts about quarantine fatigue and why we need guidelines for socializing safely. Listen Now.
Source Link:
https://cnn.it/2BXCNLv
Bad Request
Your browser sent a request that this server could not understand.
Size of a request header field exceeds server limit.
Comments
comments