A version of this story appeared in the August 14 edition of CNN's Coronavirus: Fact vs. Fiction newsletter. Sign up here to receive the need-to-know headlines every weekday.
(CNN)The psychological impact of the pandemic is coming into sharper focus.
A new survey from the US Centers for Disease Control and Prevention (CDC) found that almost 41% of respondents in the US are struggling with mental health issues due to the outbreak and the measures to contain it."You can conclusively say the adults are not alright in America," Dr. Ken Duckworth, chief medical officer of the National Alliance on Mental Illness, who was not involved in the study, told CNN. "We are in August, and this is a biopsy of almost 6,000 people from June," he said. "There's a mental health crisis resulting from this pandemic."The survey results follow what former First Lady Michelle Obama said in her podcast last week when she shared that she's suffering from "low-grade depression" due to the pandemic, race relations in the US, and the political strife surrounding all of it.The virus has infected more than 5.2 million nationwide and killed more than 167,000 people — a figure that is expected to shoot up in the next three weeks to a projected 188,982, according to a forecast by the CDC.Read MoreAccording to new research, each death causes a ripple effect in families for years, with many losing important sources of financial, social, and caregiving support. If 190,000 Americans die from Covid-19 complications by the end of August, the study suggests 1.7 million Americans will be grieving close family members, according to Judith Graham, from Kaiser Health News. It is especially acute among Black families, who have been disproportionately impacted by the outbreak."The vast scale of Covid-19 bereavement has the potential to lower educational achievement among youth, disrupt marriages, and lead to poorer physical and mental health across all age groups," the authors of the study write. Issues that will be compounded by America's fragile jobs market recovery, which appears to be losing steam as infections rise and federal funds dry up.The solution? Don't rush a reopening and control the virus, said the US's top infectious disease expert, who warned on Thursday that another lockdown could be devastating not just for the economy — but for Americans' medical and psychological health."There's projections that if you stay shut down, the number of deaths unrelated to Covid will go up… the number of suicides, overdoses, family issues, such as child abuse and things like that, they all go up," Dr. Anthony Fauci told actor Matthew McConaughey in an interview on Instagram. With no vaccine or coordinated strategy on fighting the outbreak in sight, the buck appears to stop at average Americans. Presumptive Democratic nominee Joe Biden drew Donald Trump's ire on Thursday by calling for a mask mandate throughout the US "for the next three months as a minimum." He said that wearing masks "is going to get our kids back to school sooner and safer" and would "get our businesses back long-term." "Look, this is America. Be a patriot," Biden said in a message directed at those resistant to wearing masks. "Protect your fellow citizens. Step up. Do the right thing."YOU ASKED. WE ANSWEREDQ: Can I catch the coronavirus from food?A: Health experts say there's no evidence the coronavirus can be transmitted through food.You might have seen reports this week that Chinese authorities said a surface sample from a batch of frozen chicken wings imported from Brazil tested positive for coronavirus.But don't panic. Yes, the virus was detected on the food product in the Chinese city of Shenzhen, according to a statement from the municipal government. Officials did not name the brand.But test results for people who might have had contact with the chicken wings have so far come back negative, the statement said."This really is respiratory, person-to-person," Dr. Ian Williams, chief of the Outbreak Response and Prevention Branch of the US Centers for Disease Control and Prevention, which investigates foodborne and waterborne illnesses told CNN. "At this point there is no evidence really pointing us towards food (or) food service as ways that are driving the epidemic." Send your questions here. Are you a health care worker fighting Covid-19? Message us on WhatsApp about the challenges you're facing: +1 347-322-0415. WHAT'S IMPORTANT TODAYThe race for a Covid-19 vaccineFour years is the fastest time a vaccine has been developed. This year, scientists are attempting to do it under one, CNN's Eliza Mackintosh, Gianluca Mezzofiore, and Katie Polglase report on the high stakes scramble to create a coronavirus immunization. A vaccine must go through multiple stages before being greenlit for use. An initial research and development stage is followed by a series of pre-clinical and clinical trials (consisting of three phases), and typically each step can take two years or more to complete.American biotechnology firm Moderna was the first in the world to kick off human trials on March 16. In recent months, countries like Russia and China have been pushing forward vaccines before their efficacy has been proven in Phase 3 trials. The hustle has also turned into a game of geopolitical point-scoring. Russian officials in Moscow offered to help Operation Warp Speed (OWS), the US multi-agency body set up to accelerate access to effective Covid-19 vaccines and treatments. To which the US said no, Matthew Chance, Zahra Ullah and Vivian Salama reports. "There is a general sense of mistrust of Russia on the American side and we believe that technologies — including vaccine, testing and treatments — are not being adopted in US because of that mistrust," one senior Russian official told CNN.Concerns mount about Trump trying to undermine election Mail-in ballots are seen as a necessary step in the face of the pandemic during the upcoming November US election. Nearly 60% of voters showed up on election day in 2016, waited in long lines, used communal pens, and touched the same voting machines — all dangerous moves in the coronavirus era.A record number of voters are expected to cast their ballots by mail this fall amid the pandemic. But Trump has relentlessly attacked voting by mail, falsely claiming that the practice leads to mass fraud. Trump said Thursday that he opposes additional funding for the Postal Service because he doesn't want to see it used for mail-in voting this November. However, he later said at a news conference that he would not veto a bill that included the funding. According to an order by a federal judge in Pennsylvania, his campaign and the Republican Party now have until Friday to produce evidence of vote-by-mail fraud. Meanwhile, the US Postal Service plans to remove hundreds of high-volume mail-processing machines from facilities across the country, leading some postal workers to fear they may have less capacity to process mail during election season. Young people linked to second surge in EuropeSpain, France, Greece, and Germany are among the countries that have seen worrying spikes in new Covid-19 cases, a consequence of going back to relative normality after months of lockdowns, CNN's Ivana Kottasová reportsData from various European agencies now shows that the new infection clusters are linked to younger people, who are venturing out into bars, restaurants, raves and other public places. And it is unlike the first surge in spring, where the virus hit the elderly the hardest and with deadlier consequences. This comes as the UK government removes France, Malta, and the Netherlands, Monaco, Turks & Caicos from its list of travel corridors as cases spike up again in those countries. It deals a fresh blow to Europe's beleaguered summer travel season, where early signs show that attempts to restart travel and draw tourists back to its most visited regions are failing. Millions of jobs at risk and chances of a quick economic recovery are now reduced, according to CNN's Hanna Ziady.Deaths during Covid-19 surge in New York City recall the peak of 1918 pandemicHistory is repeating itself, a new study has found, which says deaths in New York City in the early part of the Covid-19 pandemic were comparable to fatalities in the city at the peak of what's considered the deadliest pandemic to date — the flu pandemic of 1918.In fact, the relative increase in deaths during the early period of the Covid-19 pandemic was substantially greater than during the peak of the 1918 pandemic, according to the study published Thursday in JAMA Network Open."If you think about it, Covid-19's a bigger shock to our health care system today because we have usually just a lower death rate than we did in 1918. So Covid-19 is a bigger change from norms for us than the 1918 flu was," said the study's co-author Dr. Jeremy Faust, an emergency physician at Brigham and Women's Hospital and is an instructor at Harvard Medical School.Faust said by comparing the first two months of the pandemic in New York to the worst two months of the epidemic in New York 100 years ago, the Covid-19 period had over 70% as many deaths per capita. ON OUR RADAR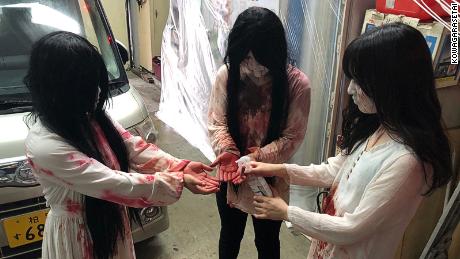 The haunted house drive-in is located in a covered parking garage in downtown Tokyo.South Korea reported more than 100 new daily cases for the first time since April 1, and authorities are concerned about multiple clusters from churches, door-to-door sales companies, markets and schools in Gyeonggi province.Public health advisers sent a letter to the US government, saying they are "extremely concerned" and "troubled" by the Trump administration's decision to change how hospitals report Covid-19 data.A Japanese company has created an attraction that follows social distancing guidelines yet remains absolutely terrifying — a drive-in haunted house.The number of doctors dying in India due to the country's spiraling outbreak is a cause of major concern, the Indian Medical Association said in a letter to Prime Minister Narendra Modi. Almost 200 doctors have died across India due to the virus.Showbusiness has come to a standstill in Las Vegas due to the pandemic, and entertainers are fearing the worst. From striptease acts to musical residencies to variety shows, entertainment in the city has gone dark.TOP TIPSGet a flu shot this fallThis year, it's "more important than ever to get a flu shot because we will almost certainly face the double whammy of flu season coinciding the same time as surging cases of COVID-19," emergency room physician Dr. Leana Wen said.And a flu/coronavirus double whammy could be disastrous if it overwhelms the healthcare system. An estimated 410,000 to 740,000 Americans were hospitalized with the flu this past flu season, from October to April, according to the CDC.Wen said the flu shot is about 40% to 60% effective. But even if you do get the flu after having been vaccinated, the flu shot "still reduces your chance of having severe effects from the flu."You also want to avoid having a personal double whammy of getting both the flu and Covid-19.TODAY'S PODCAST"It's kind of like being at boot camp with a smile." — Gregg Popovich, coach of the San Antonio SpursIn today's episode, Dr. Sanjay Gupta speaks to the coach about life inside a NBA bubble facility in Orlando, where players are isolated and tested regularly. Listen Now.
Source Link:
https://www.cnn.com/2020/08/14/world/coronavirus-newsletter-08-14-20-intl/index.html
Bad Request
Your browser sent a request that this server could not understand.
Size of a request header field exceeds server limit.
Comments
comments