Sign up to get our new weekly column as a newsletter. We're looking back at the strongest, smartest opinion takes of the week from CNN and other outlets.
(CNN)It was a powerful television moment: the ex-US ambassador to Ukraine, Marie Yovanovitch, listening to a snippet from a rough transcript of President Donald Trump — the man who ousted her — predicting to a foreign leader, "She's going to go through some things."
"It sounded like a threat," Yovanovitch testified during her public hearing before the House Intelligence Committee Friday. Then to top it, Committee Chairman Rep. Adam Schiff read aloud a fresh Trump attack on Yovanovitch, tweeted in the midst of her testimony: "Everywhere Marie Yovanovitch went turned bad," Trump wrote. "She started off in Somalia, how did that go?…" Asked about the tweet, the veteran ambassador, who worked for 33 years in the State Department, responded, "It's very intimidating." "Let's be clear: his tweet was terrible," Republican strategist Doug Heye wrote. "It was also nonsensical. To blame Ambassador Yovanovich for the 1990s troubles in Somalia, where she served as a foreign service officer, not ambassador, is so preposterous it can be dismissed out of hand." Read More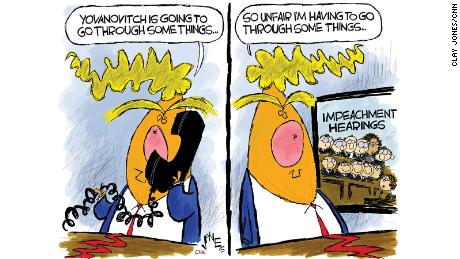 Frida Ghitis summed up Yovanovich's role: "An American hero, attacked by an American president; removed from her post not because she failed to do her job but because she was doing it too well. As a result of Trump's actions, American policy went from supporting anti-corruption efforts to combating them. And for whose benefit?" Friday's hearing, which took place as Trump ally Roger Stone was being convicted in a Washington courthouse of lying to Congress, capped the first week of public sessions on the House Democrats' impeachment inquiry. On Wednesday, Bill Taylor, who now serves as America's leading diplomat in Ukraine, described what he called a "highly irregular" Ukraine policy channel operating in parallel to the traditional State Department structure. It was led by Trump lawyer Rudy Giuliani and included US Ambassador to the EU Gordon Sondland, special envoy Kurt Volker and Energy Secretary Rick Perry — referred to by Schiff as "The Three Amigos."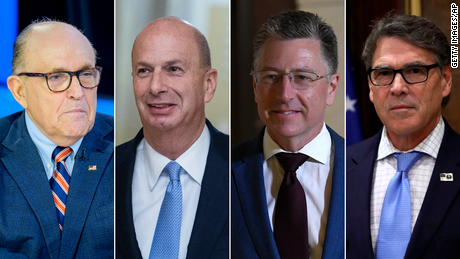 Joe Lockhart wrote, "It's almost impossible to dispute that there was a deal on the table that would trade the release of aid to Ukraine for Ukrainian investigations that would help Trump win the next election." Not that outlandishRepublicans offered a variety of defenses for Trump, but the rhetorical height came when GOP counsel Steve Castor asked Taylor, "In fairness, this irregular channel of diplomacy, it's not as outlandish as it could be. Is that correct?"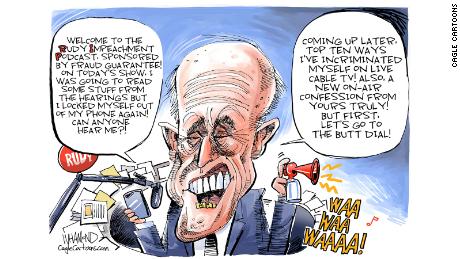 Paul Begala wrote that none of the Republican defenses made sense. "What we heard — and saw — was the death of the Republican Party's commitment to truth, principle, dignity and the Constitution," Begala argued. "Here's what we did not hear Republicans say today: 'Donald Trump is innocent.' 'President Trump would never leverage lifesaving, taxpayer-funded military aid to extort and bribe an ally.'" Scott Jennings argued that Trump deserves credit for the lethal military aid now being provided to Ukraine, a step that President Barack Obama resisted. "Democrats want to toss out an American president for a brief delay in military aid to Ukraine under Trump, who is actually providing the Ukrainians with lethal aid — including sniper rifles, rocket launchers and Javelin anti-tank missiles — to combat the Russians." Republicans made much of the fact that none of the first three witnesses had any direct contact with Trump. Asha Rangappa wrote, "This, of course, only underscores the necessity of having former National Security Advisor John Bolton and Chief of Staff Mick Mulvaney — both of whom who have firsthand knowledge of Trump's intentions towards Ukraine — testify. Trump, however, has blocked both from providing testimony, undercutting Republicans' implication that their testimony would exonerate the President." Another line of defense from right-leaning media outlets, after Wednesday's first hearing with Taylor and a top State Department official overseeing Ukraine, George Kent, was that the hearing was "boring" and wouldn't engage ordinary Americans' interest. The argument did not surprise Nicole Hemmer: "Fox News, which for the past three years has been working as a propaganda arm of the administration has to find a way to undermine the evidence that the hearings will expose the American people to in the coming days."Other takes on impeachment: • Dean Obeidallah: Since Republicans want Hunter Biden to testify, Democrats should call Ivanka Trump• Julian Zelizer: Forget about the predicted backlash against Democrats• Samantha Vinograd: If the price is right, anyone can meet President Trump • Michael D'Antonio: Trump is a victim of his own impulses • Paul Callan: Unlike Trump Ukraine scandal, no one died at Watergate• Aaron David Miller and Richard Sokolsky: Marie Yovanovitch got smeared. Where was Mike Pompeo?What divides us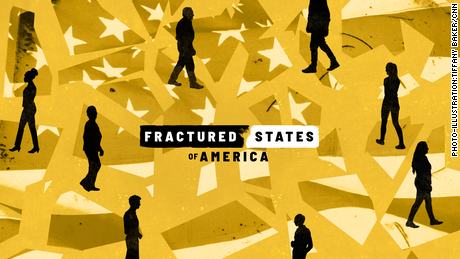 In Utah, a man skipped his stepdaughter's wedding. In Boston, a Trump supporter is afraid to wear his MAGA hat. In the Tampa area, an independent put a "no politics" sign on his office door to warn co-workers. In North Carolina, a Republican concludes, "Political debate right now is a blood sport." For the last six months, CNN Opinion's Yaffa Fredrick has led a team exploring the "Fractured States of America." Their special report will continue for the next two weeks. Fredrick found, "In 2019, there's only one thing that unites us: just how divided we think we are. In fact, according to the Public Religion Research Institute, 91% of Americans feel we are polarized — and 74% feel we are extremely polarized." Division is producing stress, raising fears of violence and poisoning politics. Nearly 800 readers sent their own stories of the toll division takes. Among them: Teresina Adams of Las Vegas, who wrote, "I have purposely stayed off of social media because I was starting to hate people that I have loved for years…It's sad how far each side has gone to the left and right. I truly believe that we need to stop and listen to each other. Everyone is so busy trying to get it right all of the time that we are getting it wrong most of the time." If you're dreading the idea of discussing politics at your Thanksgiving dinner, the series includes an interactive guide to minimizing the angst. If you want to know how accurately you can size up the views of people on the other side of the political spectrum, take a "perception gap" quiz. "Healing our divided nation is the defining challenge of our time," said John Avlon, kicking off a week of reports on CNN's New Day about the problem. Tribalism is a natural component of our human nature, wrote SE Cupp, but constructing a political world in which partisan impulses dominate all is a huge mistake: "If our political identities are how we build our own individual community, how we weed out friends from foes, how we judge each other above all other things, the logical conclusion is an America that sees politics as religion, that justifies intolerance and exclusion as virtue and righteousness, that rationalizes patently bad behavior in the name of a cause." The fate of Venice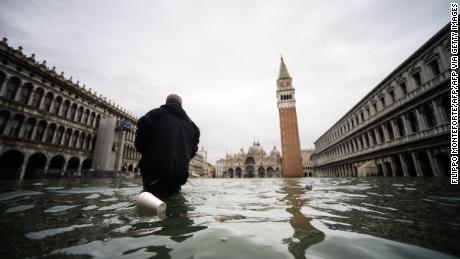 David Perry, who has lived in Venice and written about it as a historian, shared the widespread concern over its fate as flooding reached historic levels. "From its founding in the Early Middle Ages, Venice has had a fraught relationship with the sea, dependent on it for food and trade, protected from the mainland by the waters of the lagoon, yet always threatened by changing environmental conditions. Today, though, wind and water lash the palaces and churches with alarming frequency," Perry wrote. The sole hope, he noted, is that the risk of losing its cultural treasures will prompt world leaders to get serious about fighting climate change and the accompanying rise in sea levels. "Could the rising waters that imperil Venice prompt some sort of shift in mentality in those who have the power to help?"Join the crowdJust when the field of candidates running for president as Democrats was starting to shrink, two new ones jumped in: Michael Bloomberg and Deval Patrick. And Hillary Clinton said that she was under "enormous" pressure to join them (although so far, she hasn't announced any plans to do so). SE Cupp suggested that Clinton should stay out. "The process is working just fine, despite the anxieties of Democratic donors who believe a late entrant like Hillary Clinton or Michael Bloomberg is needed to save Democratic voters from themselves. But Clinton, especially, isn't the answer."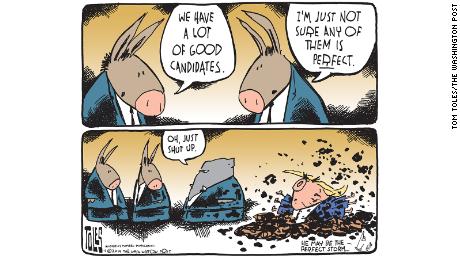 In a CNN town hall, former Vice President Joe Biden spoke movingly about overcoming loss in his own life and helping those who are struggling. "He's a comforting figure," wrote Jill Filipovic, "especially in a time when the world seems topsy-turvy and we have a president who has steered America so far away from our ideals. President Trump breaks things — norms, the rules of American democracy, possibly even laws (though he denies this) — while Biden promises to patch it all up." But that's not enough, she argued. "We need someone who will fight not just to right the ship, but to set it on a better course. Biden made clear in his town hall performance that he just doesn't have his eyes on any particular horizon." Get our free weekly newsletter
Sign up for CNN Opinion's new newsletter.
Join us on Twitter and Facebook
Looking in-depth at the results of the election this month, former Rep. Charlie Dent, examined the implosion of support for his fellow Republicans in the suburbs of his home state. "The lesson learned from Pennsylvania, which went for Donald Trump in 2016, is the same as for the rest of the country," wrote Dent, a Republican. "As a result of his election and performance in office, the suburbs are nearly completely gone for the Republican Party." The college crunch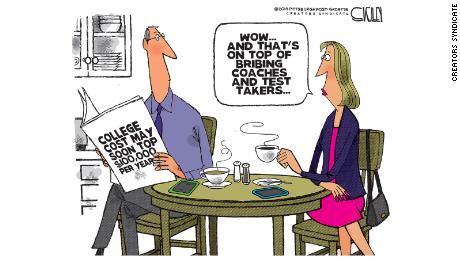 Private colleges are reckoning with a coming demographic disaster: a shrinking student pool that may accelerate the closing and restructuring of campuses. Steven L. Isenberg and John MacIntosh wrote, "any competitive industry with over-capacity, fixed assets (for example, campuses) and semi-fixed costs (such as staff) quickly faces hard choices and difficult finances. In an attempt to attract the shrinking pool of students, colleges are already cutting prices, spending more on enrollment strategies, investing in new facilities and chasing 'in demand' programs (for example, coding). While these decisions may be rational for individual schools, they are not collectively sustainable." They urged college leaders to be realistic and to plan for disruptive change, easing the burden on students. "There is still time for at-risk colleges to transform themselves, rather than wait to hit the wall or be preemptively shut down by skittish regulators."Don't miss• Anushay Hossain: Nikki Haley's political chess move on Trump• Clara Bingham: 50 years ago a march against the president made a big difference • LZ Granderson: Robyn Crawford deserves to speak her truth about Whitney Houston• Nadine Jolie Courtney: How I became an all-American Muslim girl • Frida Ghitis: Bolivia's blunt message to leaders drunk on power • Tammy Duckworth: It's been 15 years since my 'alive day'And…What saves this season of 'The Crown'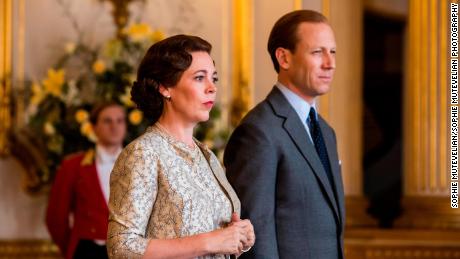 Olivia Colman and Tobias Menzies in 'The Crown'In real life, Queen Elizabeth has never countenanced the idea of stepping down from her throne in favor of Prince Charles. But in the world of entertainment, Claire Foy has handed the role of the queen over to Olivia Colman, for the new season of "The Crown."And Colman's performance in the Netflix series is "luminous," wrote Kate Maltby. "If there's a touch here of some of her previous characters, it's in her characteristic trick of letting human bitterness, venality or self-pity slip through her teeth for a half-second, every once in a while, before decency, politeness and a desperate, lonely desire to be liked shutter back down over her surface." The rest of the cast is strong, noted Maltby, who found some issues with the scripts, though she admired this line delivered by the fictional queen: "Doing nothing is exactly what we do. And bide our time.""Colman's Queen Elizabeth is conventional enough to accept the gendered expectations of a mid-century British woman and royal enough to seize whatever limited power that offers as her due … This queen does nothing, magnificently."
Source Link:
https://www.cnn.com/2019/11/17/opinions/what-rudy-and-the-three-amigos-were-up-to-opinion-column/index.html
{"message":"Something went wrong with the request."}
Comments
comments