(CNN)It was 2017, and Simon Wheatcroft was about to run the New York City Marathon solo. That might not sound like a big deal — over 50,000 people run it every year on their own. But Wheatcroft is registered blind.
Wheatcroft was the first blind person to attempt to run the race by himself. Usually, blind runners compete tethered to a sighted running guide. But instead, Wheatcroft wore a Wayband on his wrist — a device that uses super-precise GPS to direct the wearer with small vibrations.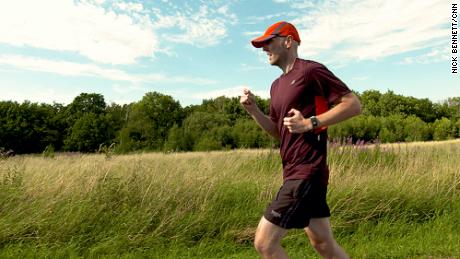 Simon Wheatcroft started running near his home in Doncaster, England, in 2010.The marathon started well but around mile 16, the GPS signal was lost, says Wheatcroft. He was forced to complete the last 10 miles with support. While the race might not have gone the way he wanted, the Wayband helped him navigate the course — and it could be transformative for the blind community.The 38-year-old from Doncaster, England, has been developing the technology with New York-based startup WearWorks, acting as both advisor and guinea pig for the company. He says it enables users to "travel independently and discreetly" without audio instructions, which could help those with visual impairments explore unfamiliar places by themselves. Read MoreFrom zero to 100Wheatcroft was born with retinitis pigmentosa, a rare genetic eye disorder. Doctors discovered he had the disease during a routine eye checkup when he was 13. By 17, he was registered blind, and in his early 20s he lost "functional vision," he says.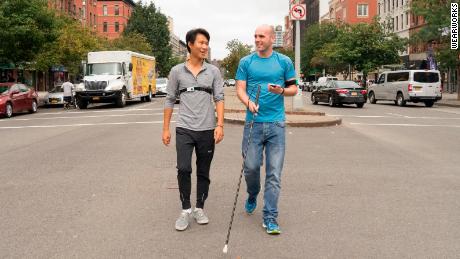 WearWorks co-founder Kevin Yoo (left) and Simon Wheatcroft (right) test out the Wayband.For Wheatcroft and many blind people, mobility is one of the most "challenging points," he says. He sought a tech solution — and that's what got him into running. Wheatcroft started jogging on a football pitch behind his home in 2010. The following year, he ran his first race: a 100-mile ultramarathon in the Cotswolds.Wheatcroft couldn't run the full course, but it didn't put him off. Since then, he has stacked up an impressive running resume. He was chosen as a torchbearer for the 2012 London Olympics; in 2014, he ran 250 miles from Boston to New York City; he was the first blind person to attempt the 155-mile 4 Deserts Marathon in Namibia solo in 2016; and he has run the New York City Marathon three times.
The Wayband connects to a phone app and uses vibrations to keep wearers on track.Wheatcroft relies on technology when he runs. He started with the Runkeeper app, a GPS tracker that shares distance markers and pace via audio. Later, he worked with IBM to develop a corrective navigation system that keeps runners on track with a sound when they stray left or right.In 2016, Wheatcroft started collaborating with WearWorks to create the Wayband. A "haptic" device, which transmits information through touch, it keeps the user on a set path by programming the route as a "virtual corridor." If the user steps out of this space, the Wayband vibrates to let them know they're off-track. Using haptics for navigation gives a better experience, says Wheatcroft. By using his sense of touch for navigation, he can pay more attention to the environment around him — including other people, or potential dangers like cars — with his sense of hearing.WearWorks has spent the last three years fine-tuning the technology, says the company's co-founder Kevin Yoo, and the product is going to market in 2021. More mobility for blind peopleAccording to the World Health Organization (WHO), 2.2 billion people around the world live with visual impairments or blindness. Vision loss restricts a person's independence and mobility, and can limit their opportunities to work and socialize. Research indicates that in the US, only 44% of blind people of working age are employed, compared to 79% of those without disabilities. But studies show that assistive aids including guide dogs and long canes can improve independence and mobility. The Wayband can provide an additional resource for people navigating unfamiliar places, says Wheatcroft: "It's been really nice to give that extra level of independence."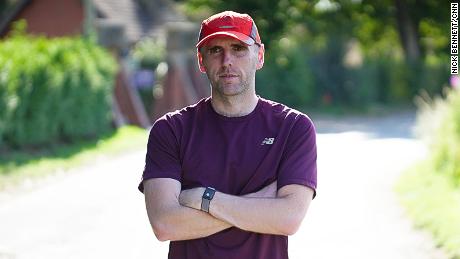 Simon Wheatcroft has literally run into obstacles — but it hasn't put him off extreme adventure sport.WearWorks emphasizes that right now, the technology should only be used in conjunction with other aids, but it hopes to improve GPS accuracy in the future, which could enable the device to be used on its own.For now, Wheatcroft has taken a step back from his "riskier endeavors" to focus on his family and new job as a computer science teacher, but he's still thinking about the future of mobility technology. "I would love to row across the Atlantic," he says, adding that a solo triathlon also appeals. "What technologies could I create that enable either of those challenges?" Smart technology is his primary driver, he says. "The endurance is definitely secondary. I enjoy the mindset that comes with endurance, but it's the technology that I truly love."
Source Link:
https://www.cnn.com/2020/09/02/app-tech-section/simon-wheatcroft-wayband-tech-for-good-spc-intl/index.html
[-0.607505,"negative"]
Comments
comments