(CNN)The United States combined with the armed forces of the United Kingdom and France early Saturday to carry out airstrikes against the chemical weapons facilities maintained by the regime of Syria. Here are some of the weapons they used:
UK Tornado fighters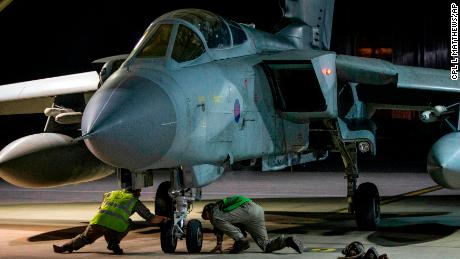 An RAF Tornado taxis into its hangar after landing at Britain Royal Air Force base in Akrotiri, Cyprus, after a Syria strike mission, April 14, 2018.Britain contributed four Tornado fighter jets armed with Storm Shadow cruise missiles to the operation, the UK's Ministry of Defense said.The jets took off from RAF Akrotiri, the Royal Air Force base on Cyprus in the eastern Mediterranean and targeted a Syrian chemical weapons site in Homs, the British Ministry of Defense said.The twin-engine Tornado GR4 is the UK's main ground-attack aircraft, and they were armed with Storm Shadow missiles, an air-launched weapon that carries a 400 kilogram (900 pound) warhead as far as 400 kilometers (250 miles). That means the Tornadoes will not have been required to fly far, and would not have needed to cross into Syrian airspace to launch their strikes. Read MoreFrench Rafale jets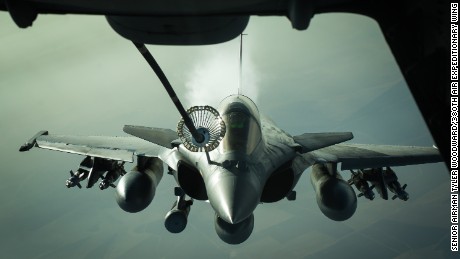 A French Dassault Rafale receives fuel from a KC-10 tanker in 2016. The office of French President Emmanuel Macron posted video on Twitter of its Rafale fighter jets taking off for the Syria mission.
Décollage, cette nuit, des forces armées françaises qui interviennent contre l'arsenal chimique clandestin du régime syrien. Déclaration du Président de la République @EmmanuelMacron : https://t.co/HNSK0FmZIO pic.twitter.com/DEAW7R50aC
— Élysée (@Elysee) April 14, 2018 The French defense minister, Florence Parly, said the jets flew from bases in France. Like the British Tornado, the twin-engine Rafale could be armed with Storm Shadow missiles that can fly for more than 250 miles.This means jets could strike without having to fly over Syria and avoid anti-aircraft defenses.US B-1 bombers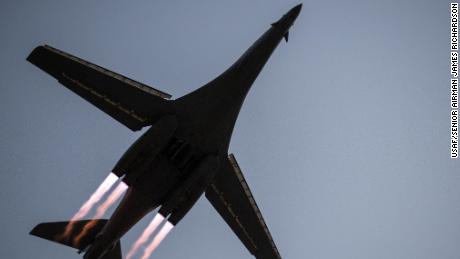 A B-1B Lancer takes off from Al Udeid Air Base, Qatar, in 2015.A US defense official said the US Air Force used B-1B bombers in the Syria strike.Syria strikes related coverage
Live blog: Latest developmentsUS and allies launch Syria strikesWhat we know and don't know After Syria strikes, now what?
Source Link:
https://www.cnn.com/2018/04/14/politics/syria-airstrikes-weapons-used-intl/index.html
[-0.588007]
Comments
comments