Aisha Oyebode is a co-founder of the BringBackOurGirls movement and CEO of the Murtala Muhammed Foundation. She is also the co-author of an upcoming book, 'The Daughters of Chibok,'. Audu Bulama Bukarti is a human rights lawyer who works as an analyst at the Tony Blair Institute for Global Change.Both are studying a Ph.D. with a focus on Boko Haram. They have written this commentary to mark the five year anniversary of the Chibok kidnappings. The views expressed in the commentary are theirs alone.
(CNN)On 14 April 2014, Boko Haram, the violent extremist group operating in the Lake Chad region, abducted 276 girls from their school dormitory in north-eastern Nigeria– an incident that catapulted the group to global attention.
Astonishingly, 57 of the girls managed to escape en route, but the group would eventually confine 219 of them in Nigeria's vast Sambisa forest, its base since 2009. The administration of Nigeria's President Jonathan initially denied the atrocity had happened, which fed the outrage from which the #BringBackOurGirls movement was born. A resistance led by Nigerian women and fuelled by social media, the campaign brought unprecedented international attention to the girls' plight. The world rallied; the Archbishop of Canterbury flew to Abuja to pray for the girls and their families, while Pakistani activist Malala Yousafzai called them her "sisters." Then US first lady Michelle Obama, said she saw her "own daughters" in them and Hollywood stars lent their voices to the movement. Read MoreOut of the 219 girls stolen by Boko Haram, 107 have so far made it home: four of them by Nigerian military/ para-military intervention, and 21 of them were initially released in October 2016 after negotiations between the Buhari administration and Boko Haram, 82 more would later be freed in May 2017.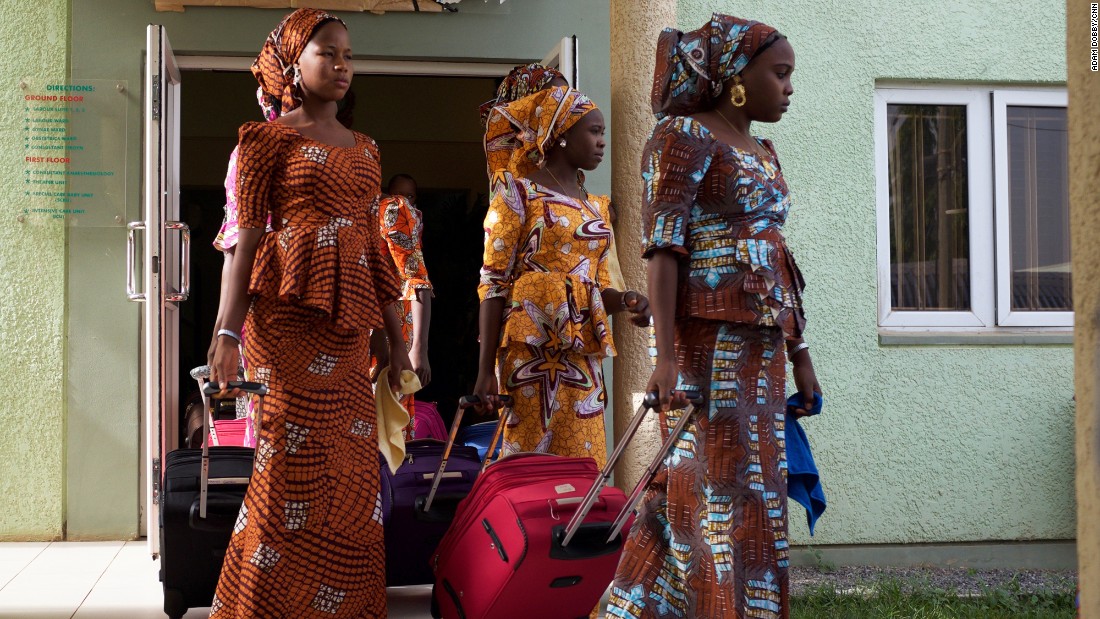 Photos: Chibok girls and the journey homeThe girls leave accommodations in Abuja on Friday en route to the airport to begin the six-hour journey home to Chibok after being held captive by Boko Haram militants for nearly three years. Hide Caption 1 of 11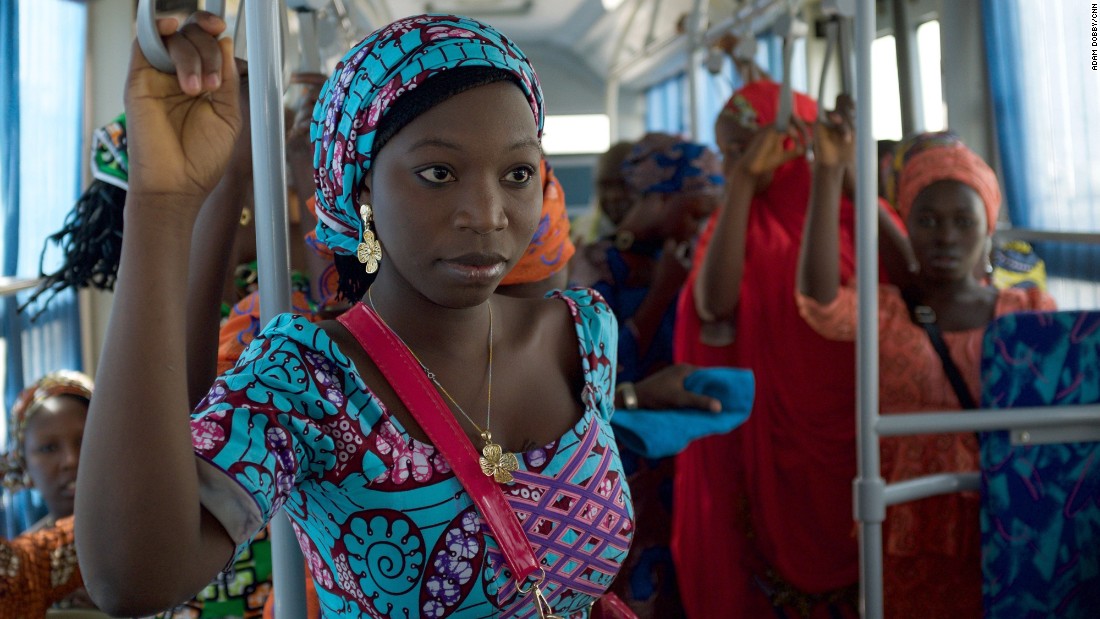 Photos: Chibok girls and the journey homeThe girls ride on a bus in Abuja on their way to the airport in the first leg of their journey home. Hide Caption 2 of 11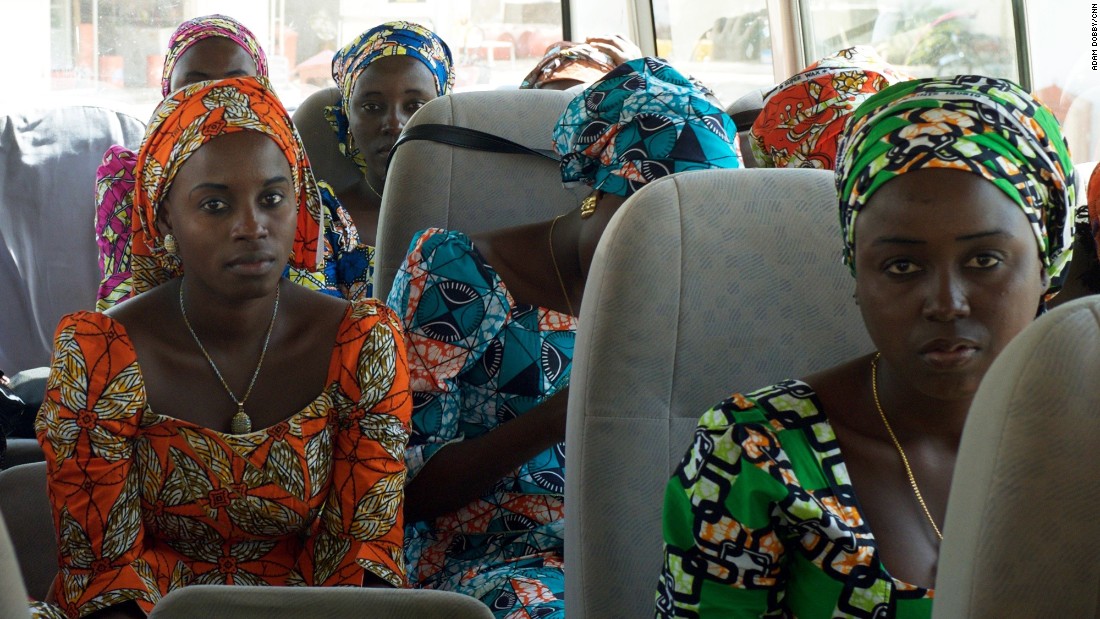 Photos: Chibok girls and the journey homeAfter the flight from Abuja to Yola, the girls take a bus to Chibok. It's been nearly three years since they've seen their families.Hide Caption 3 of 11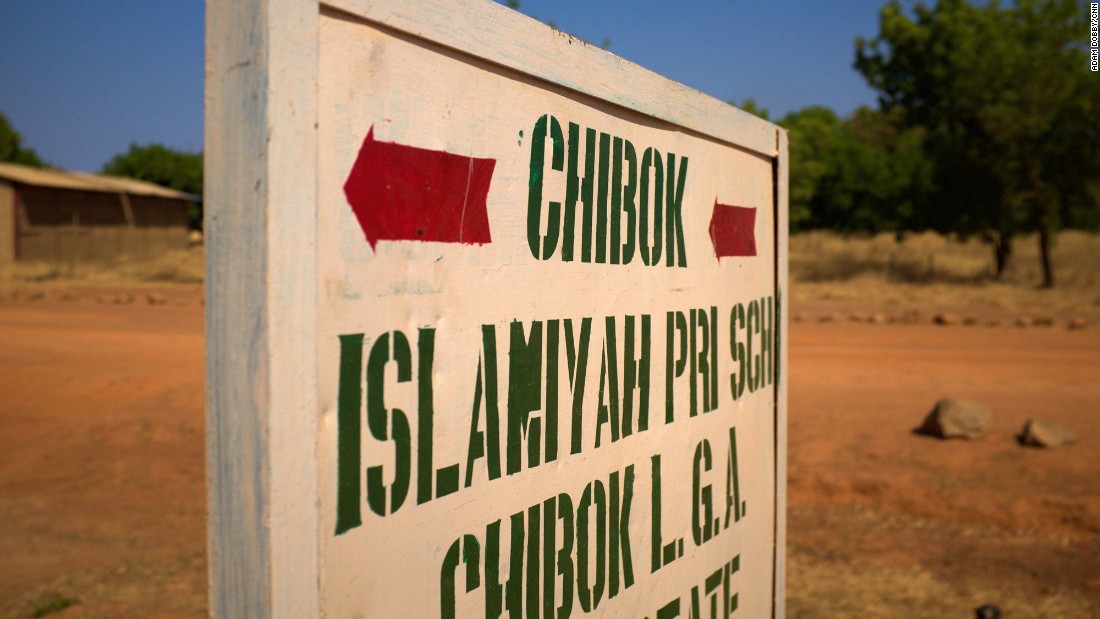 Photos: Chibok girls and the journey homeA sign on the outskirts of Chibok. The April 2014 kidnapping from a boarding school in the town sparked global outrage and fueled the social media campaign #BringBackOurGirls.Hide Caption 4 of 11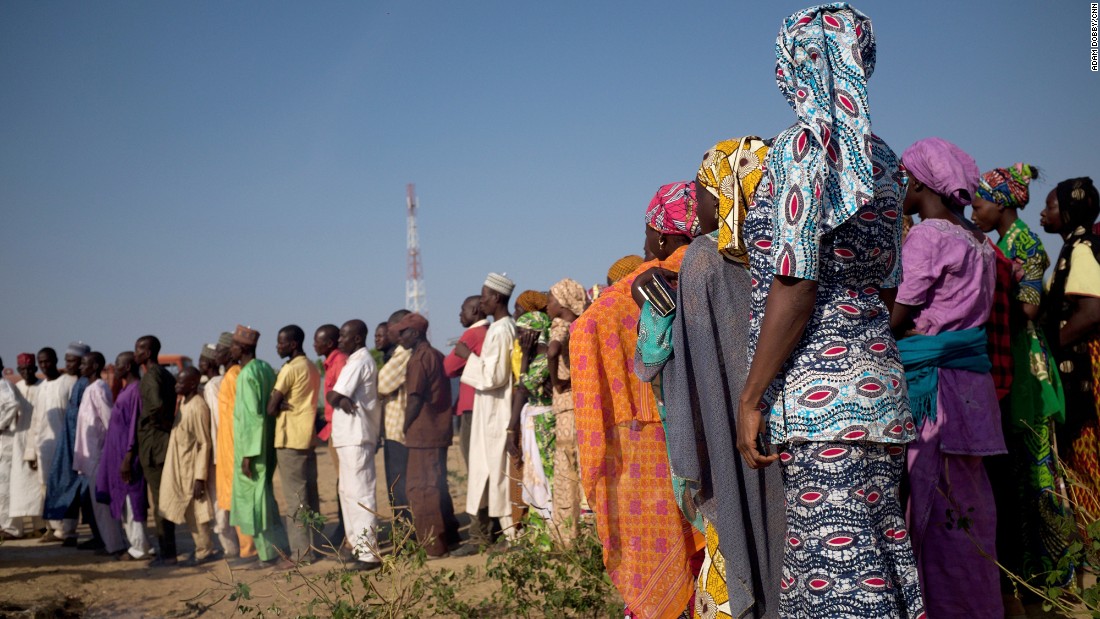 Photos: Chibok girls and the journey homeFamily members line up on Friday to await the arrival of the girls, who were teenagers when they were taken but are now young women.Hide Caption 5 of 11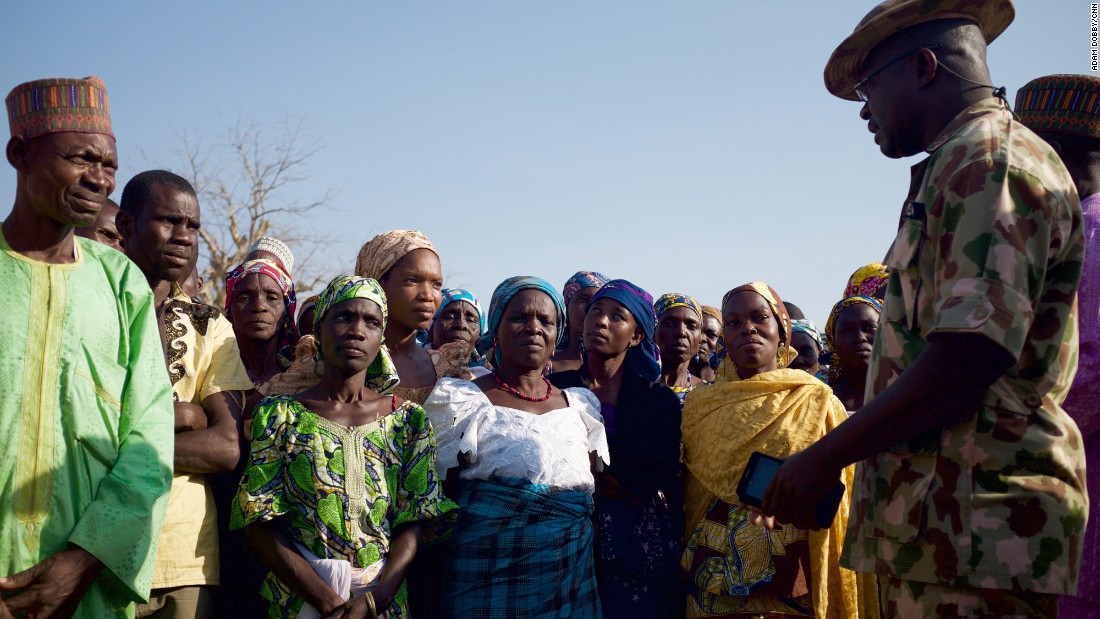 Photos: Chibok girls and the journey homeA military commander briefs family members on security concerns because the country's fight against Boko Haram continues in and around Chibok. Hide Caption 6 of 11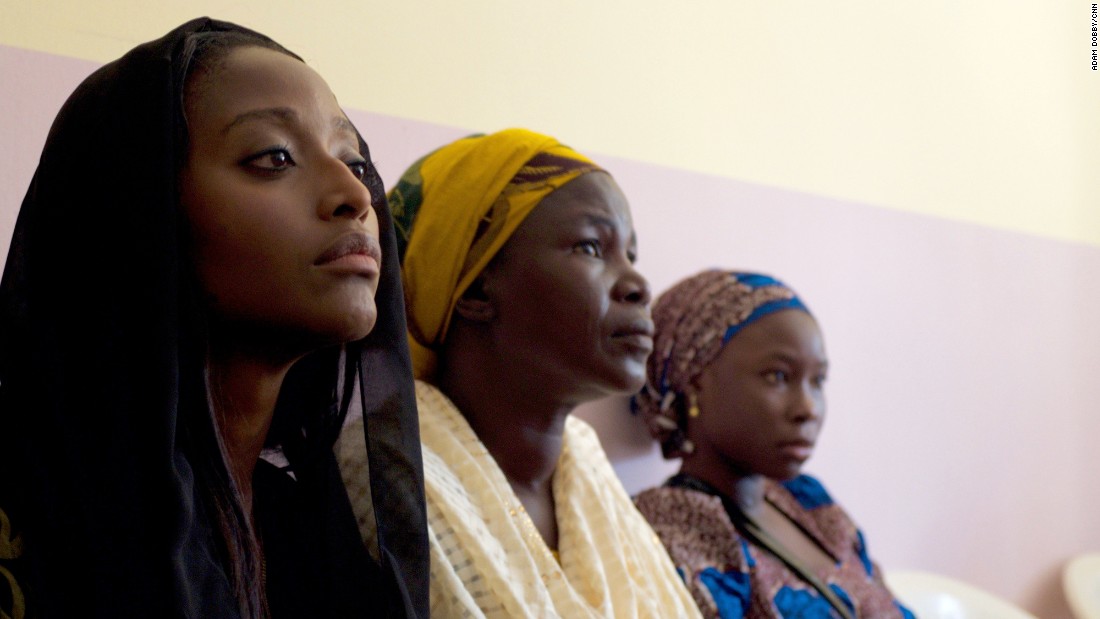 Photos: Chibok girls and the journey homeDuring the security briefing, CNN's Isha Sesay sits next to a mother of girl who has yet to be released by Boko Haram. Close to 200 girls are still unaccounted for. Hide Caption 7 of 11
Photos: Chibok girls and the journey homeA family member, holding an infant, enters the security compound to be reunited with her loved one.Hide Caption 8 of 11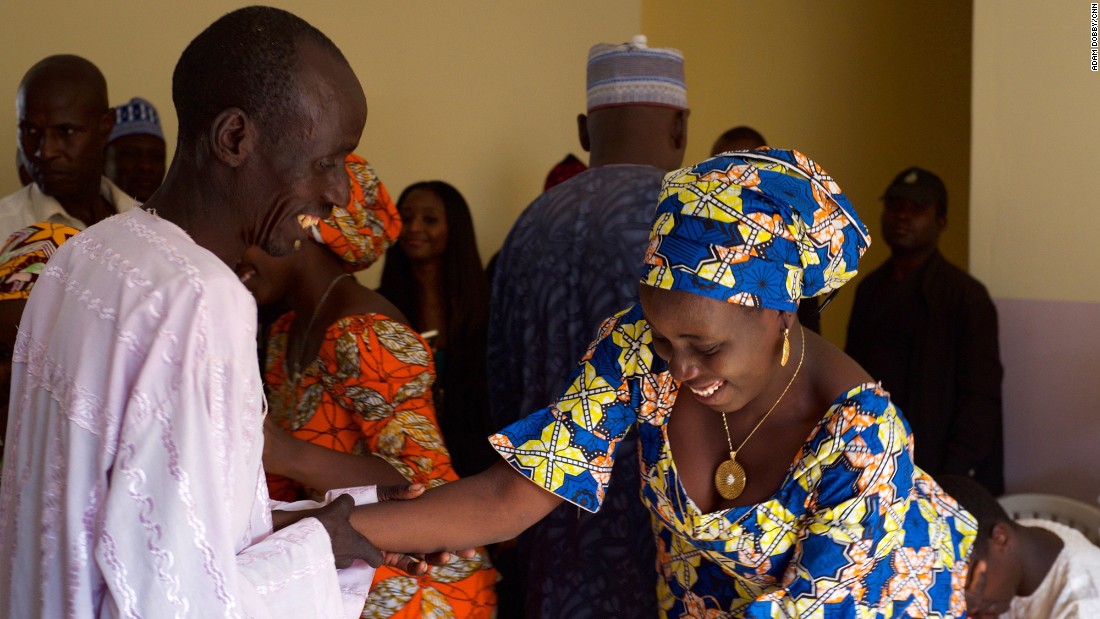 Photos: Chibok girls and the journey homeA father greets his daughter after she arrived with 20 other freed Chibok girls.Hide Caption 9 of 11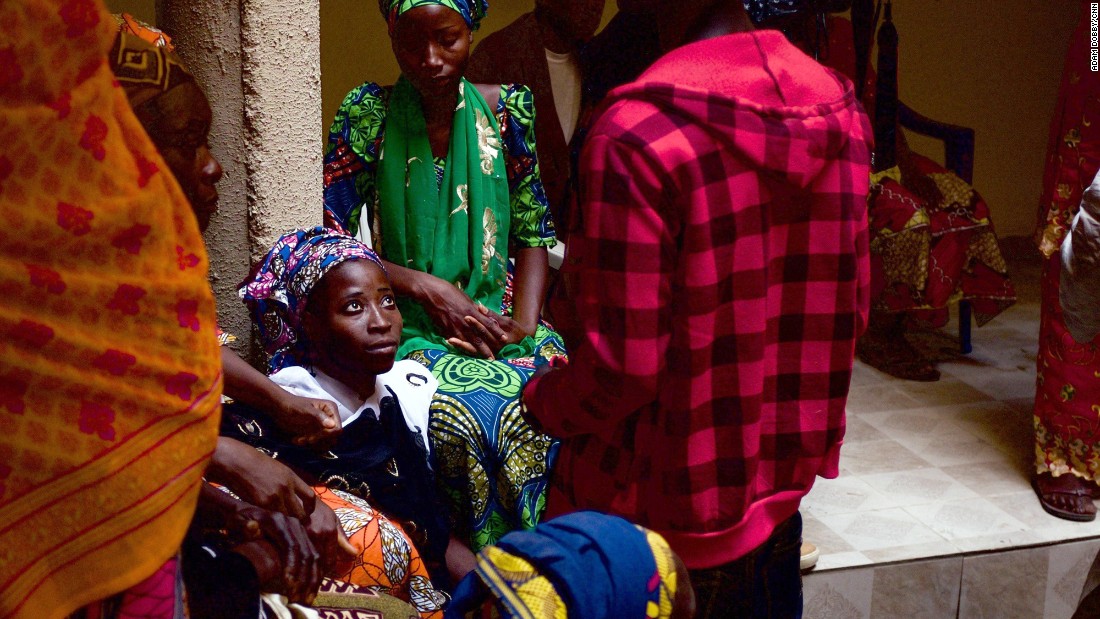 Photos: Chibok girls and the journey homeA young woman reunites with her brother on Friday.Hide Caption 10 of 11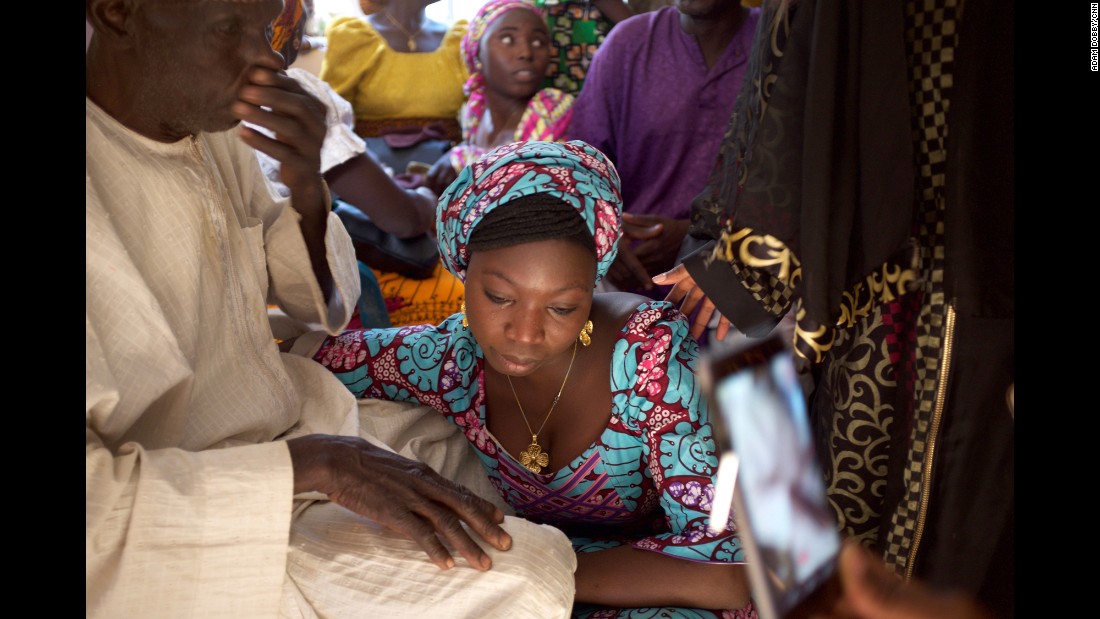 Photos: Chibok girls and the journey homeRebecca Mallum is greeted by her father, who she saw shortly after she was released 10 weeks ago. This is the first time she has seen the rest of her family. Hide Caption 11 of 11











Since then, nothing more has been heard of the remaining 112 young women and five years on, the Chibok girls are no longer newsworthy. Governments have changed, memories have faded, and new priorities set. The Chibok girls who in 2014 were poster-children of globalized outrage are now faint memories, consigned to the fringes of concern and relegated to the bottom of the agenda. It was a reassuring moment for both the girls and their parents when President Buhari stated in his inaugural address on May 29, 2015: "We cannot claim to have defeated Boko Haram without rescuing the Chibok girls and all other innocent persons held hostage by insurgents." In Abuja, Nigeria's capital and seat of political power, the initial promising negotiations have long since stalled. The diminished interest and lack of public outrage over the Chibok girls is dramatized by the undulating fortunes of their parents since 2014. Yana Galang's daughter Rifkatu was 16 when she was taken and is one of the 112 still missing, the last time we spoke she asked the most important and as yet unanswered question: "How could the world forget our children if they truly saw in them their own daughters or sisters?" She reinforces that it is completely different for a mother. From her clothes to her cooking pots, everything around Yana reminds her of Rifkatu who she last saw when she went to school to write her final year school examinations five years ago.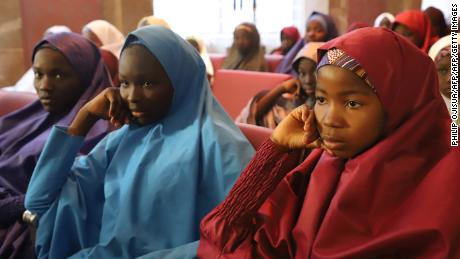 UNICEF: Boko Haram has kidnapped more than 1000 children in NigeriaRifkatu was snatched from high school just before graduation, at a time when her mother thought the hardest part of her work was "almost done." Her memories pervade her mother's being, even in public places. The other day, Galang heard Rifkatu's favorite song from a passing vehicle, "instantly, tears started pouring from my eyes," she says. The stark injustice of it all however for Yana is reflected in the divergence in the fortunes of those whose daughters have been returned to them and those who still pine for theirs, which threatens to fracture her community, if it has not already. She tells of the stigmatization of their daughters still in captivity as "bad girls" who chose to stay with Boko Haram, reflecting the group's public narrative that the remaining girls elected to stay with them. "We are social pariahs," she complained as she fights back more tears of frustration.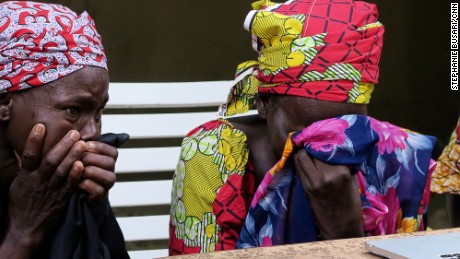 For these mothers, the pain which started five years ago is as excruciating as ever and the memories as fresh as when the heart-breaking news of this extreme act of misogyny was first broken. They feel forgotten by a country and a world that vowed to stand with them till the end. For the next few decades, Nigeria must not only confront the challenge of reconstructing communities but rebuild trust with victims and also address the residual and deep communal trauma. Nigeria's Vice President was a special guest recently at the 25th national commemoration of the Rwandan genocide, where, despite challenges, significant progress has been made in sowing the seed of national unity and love in a country that faced one of the worst horrors in modern history. Abuja can and should learn lessons from the experience in Kigali. Five years on, Nigeria and the international community must renew their efforts to reunite these girls and every person in the grip of Boko Haram with their families. The Buhari administration has demonstrated its strong commitment towards this goal and should put it on the agenda for the reported dialogue between the government and the group. Five years ago, the world was united in horror and outrage but has since fallen silent. We do not know the fate of these 112 young women, and the ugly truth is that not all may have survived. But we owe it to them, to Yana and all their families to work together to set them free.
Source Link:
https://www.cnn.com/2019/04/14/opinions/nigeria-chibok-girls-five-years-on/index.html
[-0.678641]
Comments
comments