(CNN)The "Sleeping Giant" narrative is an enticing one when it comes to rugby in the United States.
With a population of 330 million — just under the combined populations of the top 10 ranked nations in world rugby— and a rich sporting pedigree to boot, the Eagles are seemingly poised to soar to the sport's summit.But there are some within the inner sanctum of USA Rugby– the game's governing body in the US — who are uncomfortable with such rhetoric. "To be honest, I've never really bought into the 'Sleeping Giant' analogy," says Blaine Scully, captain of the US men's national team who will be leading his nation in its eighth World Cup in Japan."I think it serves as a distraction. It diminishes the work of the people who are at the coalface of the sport today."Read MoreCoach Gary Gold, the South African who has managed clubs in England, France, Japan and South Africa, and who served as an assistant coach of the Springboks — South Africa's national team — between 2008 and 2011, is in sync with his skipper."We don't like it and we don't use it in our team talks," Gold tells CNN. "We have a long way to go before we can consider ourselves a giant. "Teams like South Africa, New Zealand, England, Ireland — those are giants. Even Fiji and Japan are streets ahead of us. But that doesn't mean we're not ambitious to join them. There's just a long way to go."
Blaine Scully trains ahead of USA's Rugby World Cup game against England. However, USA Rugby CEO Ross Young is more prepared to embrace the narrative."The giant has woken up," he says. "It's just stumbling around a bit. Once we get going, we're confident we can be a force. We have all the raw ingredients needed."READ: Uruguay beats Fiji to win first World Cup game for 16 yearsRugby finds its feet — then fades awayThe first recorded game of rugby in the US took place in 1874 when Harvard University faced Montreal's McGill University, the game ending 3-0 in Harvard's favor. In these early days, according to Young, it was elite universities that were the most enthusiastic adopters of rugby and an All-American team was formed at the start of the 20th century. A narrow loss to Australia in 1912 stirred a developing love for the game, but ambitions were quashed as a 13-try rout by New Zealand soon followed. "The only conclusion is that we have not yet learned how to play rugby," the San Francisco Post lamented at the time. "It is still a foreign game."In 1920, the American Professional Football Association — later known as the National Football League — was founded with 10 teams from four different states. The league provided structure for player recruitment and development as it took its nascent steps towards the multi-billion dollar behemoth that the NFL is today.By contrast, rugby remained amateur. A team representing the USA won Olympic golds at the 1920 and 1924 Games, beating France on both occasions. That, however, was the last time — until the inclusion of sevens in 2016 — that rugby was included on the Olympic roster. It would also be USA's final test match for another 52 years.READ: Samoa escapes double red card as it rallies to win against Russia"American culture has always valued context," says Young, who is British and previously served as the general manager of the Rugby World Cup for the 2003, 2007 and 2011 tournaments."Global prestige, the chance to make your fortune, these are the things that motivate Americans. Without a professional league, and without the chance to dominate at the Olympics or the World Cup, the game hardly stood a chance."Gradually, rugby faded into obscurity.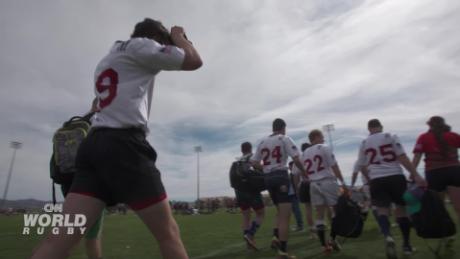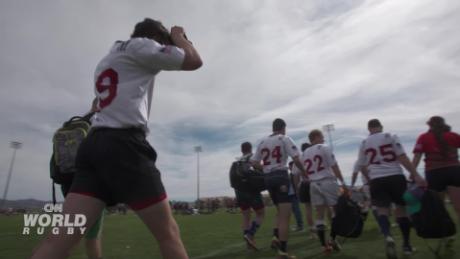 JUST WATCHEDThis Jewish rugby team is changing the gameReplayMore Videos …MUST WATCH
This Jewish rugby team is changing the game 02:20″There was a perception that existed for decades, in some ways it still exists, that rugby was a sport for athletic guys who didn't have the motivation to become professionals in other sports," Young continues. "These guys played hard on the field, liked to get muddy, but were really in it for the chance to wheel a keg to the after-party. One of our challenges in waking the giant up is to change this perception."READ: Meet the musical fan group confronting apartheid's legacy'Education process'Scully, who has played for Leicester Tigers in England and Cardiff Blues in Wales, is unperturbed by the stigma attached to his sport. When asked if he ever feels patronized, the 31-year-old fullback was measured."It's an education process," he says. "People don't know what they don't know and so rely on shorthand and cliches."It's easy to say that rugby is not a serious sport in the US because it is compared to the NFL or NBA. People have their perceptions but you can't get emotional about it. You just have to put in the work."Part of that work has been aided by the foundation of the United States Rugby Players Association (USRPA) in 2016.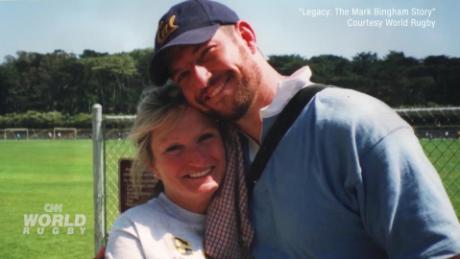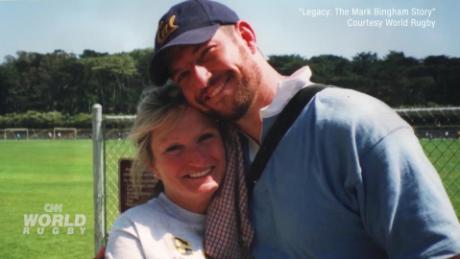 JUST WATCHEDThe 9/11 hero whose legacy lives on through rugbyReplayMore Videos …MUST WATCH
The 9/11 hero whose legacy lives on through rugby 02:36As chairman, Scully presides over the organization that represents the interests of American players from all four national teams — the women's and men's 15 and seven-a-side teams. "It was a big part in our maturation process as an organization," says Scully. In 2018, the inaugural season of Major League Rugby (MLR) took place with seven teams. This year that number increased to nine."It is crucial having a healthy domestic league to feed the national team," Gold says. "It creates new fans, breeds a rugby culture, shows interested athletes that there is a home for their talent. Of course it's early days but the signs are good."READ: Wales shakes off controversial preparation to beat Georgia View this post on Instagram
2️⃣2️⃣5️⃣ – Former All Blacks captain Richie McCaw tops the Rugby World Cup tackle count. . . . #rwc #rwc19 #rugbyworldcup #richiemccaw #allblacks #rugby #instarugby #rugbygram #japan2019
The size of the USA remains a barrier. Despite the Seattle Seawolves and the Houston SaberCats competing in the same conference, there is over 2,000 miles between them."It is an extremely costly and time consuming endeavor getting everyone together for a camp," Gold explains."This is a challenge that I did not encounter in the other countries I've previously coached. But it adds to the challenge. I'm excited to be here. The feeling in the camp is that we are on the cusp of something very special."Scully expanded on this point: "We feel a duty to the generations that will come after us. We want to leave rugby in this country in a better place than when we left it. One day I want to be able to look back on my career and say, 'I played a role in this. I helped USA gain the respect of the rugby world.'"World Cup opportunityThe USA's 15-a-side team is arguably a few steps behind the country's other national sides. The women's 15s team is ranked fourth in the world, while both the men's and women's sevens sides are strong contenders for medals in Tokyo next year."We're taking inspiration from our brother and sister teams," Scully says. "They have done tremendously well and the more success they achieve, the better it is for the entire organization. We're ready to do our part."USA has been drawn in a tough group alongside England, France, Argentina and Tonga. READ: England begins World Cup campaign with battling victory over TongaEngland, the Eagles' first opponent on Thursday, will prove a stern challenge and coach Eddie Jones has already ruffled a few feathers by saying the USA will play like "15 Donald Trumps."A group stage exit is likely for Gold's side, with the game against Tonga providing the best chance of a victory.But a positive showing against strong opposition will force the rest of the rugby world to take note. It might even inspire new fans on the home front where the giant is starting to finds its feet.
Source Link:
https://www.cnn.com/2019/09/25/sport/usa-rugby-world-cup-japan-2019-spt-intl/index.html
[0.580515]
Comments
comments