Jerusalem (CNN)Bassam Aramin didn't think he'd ever see the picture again.
In it, he sports a dark black coat with a light blue collar peaking out underneath, and looks out over the ramparts of Jerusalem's Old City. The image first appeared in a June 2016 video titled "Our Power is our Pain," which tells the story of his daughter: 10-year-old Abir, killed by an Israeli border guard in 2007.The video was produced by Parents Circle, an Israeli-Palestinian organization that brings together families who have lost loved ones in the conflict, which Aramin joined shortly after his daughter's death. Before this year, roughly 30% of Parents Circle's funding came from USAID to the West Bank and Gaza—but that funding was cut in February, when the Trump administration ended all aid to the Palestinians as part of its attempt to pressure the Palestinian Authority to the negotiating table.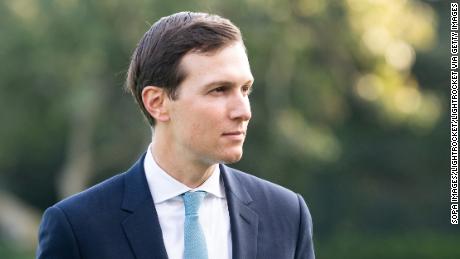 Jared Kushner's peace plan is dead on arrivalThen Aramin's picture popped up in perhaps the least likely of places: White House promotional materials.When the White House unveiled the economic part of its Middle East peace plan, dubbed "Peace to Prosperity," Aramin was astounded to find himself on page 34, gazing over the same Old City ramparts in the same jacket, under the headline "Enhancing Palestinian Governance Through Institution Building."Read MoreThe Trump administration was using a picture of a program it had financially crippled just months earlier, in order to promote its own controversial economic plan for the Palestinians."We were surprised to see our photos used in such a document that is explaining the 'Deal of the Century' which is rejected by the Palestinian people," Aramin told CNN. "No one asked for our permission to use our photos."Aramin was not the only one. In at least eight different instances in the economic plan document and website, the White House appears to have used images lifted directly from USAID programs that it defunded.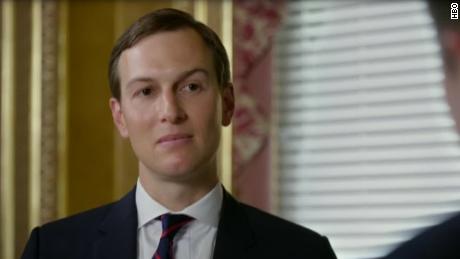 Jared Kushner, US peace team face credibility test in BahrainOn page six of the economic plan, Osama Abu Al-Rub is seen in a picture lifting a box of strawberries from his car into a market. Behind him is a fruit and vegetable stand with bananas and peppers. The same scene plays out in a video titled "The West Bank Strawberry King" from October 8, 2015. The video, produced by USAID, was part of its "Extreme Possibilities" series, designed to show the benefits to the Palestinian economy of helping farmers.On the website for the economic plan, an image of a child drinking water from a faucet is identical to an image from another USAID-produced video called "USAID: Partnering in Palestinian Progress."Joel Braunold, the Executive Director of the Alliance for Middle East Peace, a coalition of NGOs in the region, was the first to notice the images. His work meant he was intimately familiar with USAID and its programs, and he knew many of the people in the programs."These were successful ongoing programs that were doing the hard, slow, long work to transform the Israeli-Palestinian conflict which the Trump administration cut off, and then literally ripped off by taking the imagery to promote the programs and then putting in as material for this document," Braunold told CNN."It's pretty galling for a community that has sacrificed so much trying to build the peace and reconciliation we're all looking for to be abused in this manner."The White House declined to comment on the record for this story when contacted by CNN.Robi Damelin, a Parents Circle spokeswoman who appears in the USAID video alongside Bassam Aramin, ripped the Trump administration's peace team in an op-ed in the Israeli daily Ha'aretz newspaper.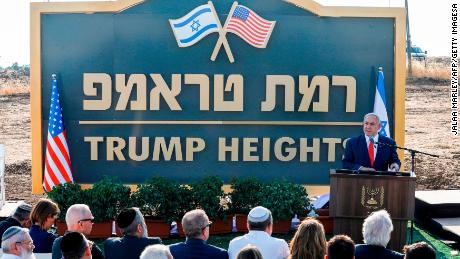 Israel announces new Golan Heights settlement named 'Trump Heights'"Now comes the most cynical and cruel abuse of these two people and their organization. Jared Kushner is using them as a pawn by displaying their pictures to illustrate and unveil his 'Economy First' plan for Mideast peace. He did not ask their permission, which would not have been granted. We as an organization have nothing to do with this plan and resent the use of our pictures," wrote Damelin, whose son was killed by a Palestinian sniper.The final images in the "Peace to Prosperity" document show four young school girls standing together. They are all wearing their school uniform — blue and white-striped dresses with white trim around the neck. They are the uniforms of UNRWA schools — the United Nations agency in charge of Palestinian refugees.In September 2018, the Trump administration also cut its funding to UNRWA, ending some $350 million a year to the agency, which offers education, health care, social services and emergency response.The four girls, each with a purple or pink backpack, are smiling at the camera.
Source Link:
https://www.cnn.com/2019/06/24/middleeast/usaid-images-peace-plan-intl/index.html
[-0.632911]
Comments
comments