(CNN)The US Navy sailed a warship within 12 nautical miles of two contested islands in the South China Sea Wednesday, part of what it calls a "Freedom of Navigation Operation."
The guided-missile destroyer USS Wayne E. Meyer "sailed within 12 nautical miles of Fiery Cross and Mischief Reef in order to challenge excessive maritime claims and preserve access to the waterways as governed by international law," US Navy Cdr. Reann Mommsen, a spokesperson for the US 7th Fleet, told CNN in a statement. "The United States will fly, sail and operate wherever international law allows," she said, adding that freedom of navigation operations "are not about any one country, nor are they about making political statements."The US has long accused China of installing military facilities on man-made islands at Fiery Cross and Mischief Reef.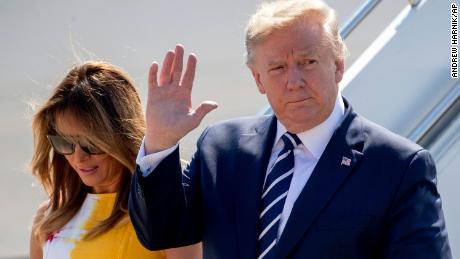 Trump claims he has 'absolute right' to order US companies out of China under 1977 lawWashington and Beijing remain locked in a trade dispute that has involved the leveling of tariffs and has roiled the world's financial markets.Read MoreA US defense official told CNN that a Chinese military vessel followed the US warship during the operation, adding that all interactions were safe and professional.On Monday the Pentagon issued a statement saying it "is greatly concerned by China's continued efforts to violate the rules-based international order throughout the Indo-Pacific," saying that China had "resumed its coercive interference in Vietnam's longstanding oil and gas activities in the South China Sea.""China will not win the trust of its neighbors nor the respect of the international community by maintaining its bullying tactics," the statement added. Chinese officials have also denied the US Navy's request to visit Qingdao Port, Mommsen told CNN, a move that comes after Beijing similarly rejected two port visits by American warships to Hong Kong.
Source Link:
https://www.cnn.com/2019/08/28/politics/us-navy-south-china-sea/index.html
[-0.630998]
Comments
comments