The U.S. and Japan agreed to boost the readiness of marine forces stationed on Okinawa, as well as provide them with anti-ship missiles and other advanced weaponry by 2025.
The Wednesday report is the latest development in Japan's recent bump in militarization. The country will boost its military spending by 40% and seeks to obtain missiles that could be used to "counterstrike" China or North Korea in the event of a missile attack.
Japanese Prime Minister Fumio Kishida has sought to strengthen the U.S.-Japan relationship in the face of increased aggression from North Korea and China's burgeoning threats to seize Taiwan.
"This is about Japan essentially aligning with the United States, in many ways like a NATO ally," a senior Biden administration official told the Washington Post. "Japan is substantially improving its capacity, but also providing more capacity for the United States. This reflects a Japan that is much less ambivalent, a Japan that is prepared to play a more substantial role in its own defense."
NORTH KOREA REPORTEDLY FIRES 130 ARTILLERY ROUNDS, VIOLATING INTER-KOREAN AGREEMENT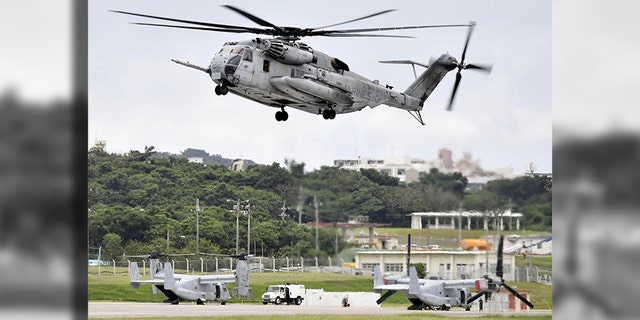 U.S. Forces' CH53E helicopter in Ginowan, Okinawa. (Ryosuke Uematsu/Kyodo News via AP)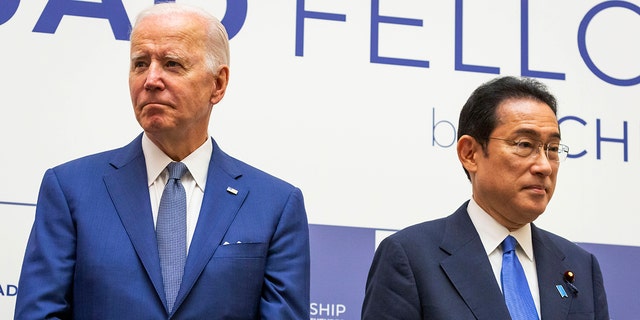 U.S. President Joe Biden, left, and Japanese Prime Minister Fumio Kishida attend the Japan-U.S.-Australia-India Fellowship Founding Celebration event in Tokyo Tuesday, May 24, 2022. (Yuichi Yamazaki/Pool Photo via AP) (Yuichi Yamazaki/Pool Photo via AP)
North Korea threatened to take "bold military steps" against Japan in December after Kishida detailed plans to ramp up military spending.
North Korea has long attacked Japan for the atrocities it committed throughout Asia prior to and during the world wars. The country now argues Japan seeks a return to its colonial ambitions through its alliance with the U.S.
AIR FORCE TO END BASIC TRAINING 'BEAST WEEK' IN FAVOR OF 36-HOUR FIELD TRAINING
"Japan's foolish attempt to satiate its black-hearted greed – the building up of its military invasion capability with the pretext of a legitimate exercise of self-defense rights – cannot be justified and tolerated," a foreign ministry spokesman told state media.
North Korea fired dozens of missiles in 2022, even going so far as to fire one over Japan itself.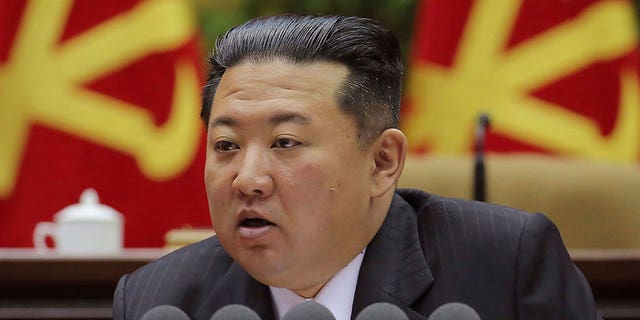 In this photo provided by the North Korean government, North Korean leader Kim Jong Un attends at a meeting of the Workers' Party of Korea in Pyongyang, North Korea on Feb. 28, 2022. "KCNA" which is the abbreviation for Korean Central News Agency. (Korean Central News Agency/Korea News Service via AP)
Meanwhile, China continues to hold unprecedented military drills simulating an invasion of Taiwan. The drills first came in response to former House Speaker Nancy Pelosi's visit to the self-governed island in August, but the live-fire exercises have continued for months.
CLICK HERE TO GET THE FOX NEWS APP
U.S. efforts to provide military aid to Taiwan have been somewhat stymied due to the ongoing war in Ukraine, however, which has sucked up tens of billions in lethal aid already.
Anders Hagstrom is a reporter with Fox News Digital covering national politics and major breaking news events. Send tips to [email protected], or on Twitter: @Hagstrom_Anders.
Source Link:
https://www.foxnews.com/us/us-japan-place-anti-ship-missiles-okinawa-rising-china-tensions
Comments
comments