(CNN)Tasked with photographing one of the world's most elusive big cats, you trek deep into the lush jungle of Southeast Asia and set up a camera trap. Back at base camp, you methodically comb through the images it captures, identifying monkeys, otters and finally, what you've been searching for: the mysterious clouded leopard.
All this, without having to leave the comfort of your own home.A new mobile game, "Unseen Empire," turns one of the largest-ever wildlife camera trap studies into a playable experience. The idea is that by letting players take on the role of a researcher in a real scientific study, the game helps people to better understand conservation science.In the past few decades, we have seen a 68% decline in wildlife species. But when it comes to funding conservation, there is an estimated shortfall of up to $824 billion per year in what is needed to reverse the decline in biodiversity by 2030, according to a recent report.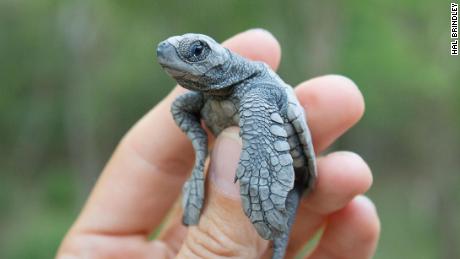 Fake 'decoy' eggs are being used to track turtle poachingGautam Shah, the American founder of Kenya-based Internet of Elephants, the company behind "Unseen Empire," believes conservation awareness campaigns have failed to keep up with the times and need to modernize.Read MoreAfter 20 years as an IT consultant, Shah left his job in 2013 and combined his professional background with his passion for wildlife. Internet of Elephants creates games and digital experiences based on scientific research, that aim to engage people who may not have a previous interest in wildlife conservation.By tapping into the mass gaming market — there are 2.8 billion video gamers globally — he hopes to capture and inspire a new audience. 6 million photographsUnseen Empire is based on an ongoing, decade-long camera trap study by professor David Macdonald and his team at the Wildlife Conservation Research Unit (WildCRU) at the University of Oxford.The initial research was conducted in Southeast Asia, looking at the elusive clouded leopards. Little is known about these regal creatures, but with an estimated population of 10,000, the clouded leopard is considered vulnerable due to deforestation and poaching. The forests of Southeast Asia are disappearing faster than anywhere else in the world, due to urbanization, illegal logging and land clearing for agricultural production.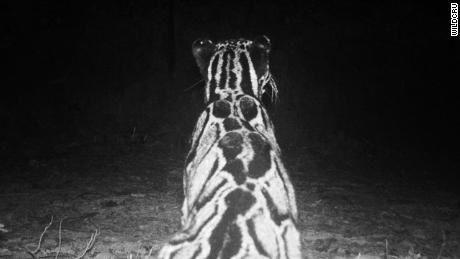 A camera trap image of the rare clouded leopard.The study has captured 6 million camera trap photographs — including more than 250 animal species — to understand the clouded leopard's habitat. The research tries to understand how biodiversity conservation and human development might influence environmental policy. Raising awarenessThe hope is that games such as Unseen Empire can provide new ways for people to engage with endangered animals. "If you don't have any encounter or experience with elements of nature, then what motivation can you have to take a personal interest in it?" says Macdonald. "I think that detail of understanding brings a greater investment in wanting to see a good outcome."The game uses real photographs from the study and allows players to identify species within this rapidly degrading environment. "Of course, everyone loves gorgeous photography but there's something just incredibly raw and real about capturing these animal's entirely candid moments," says Shah.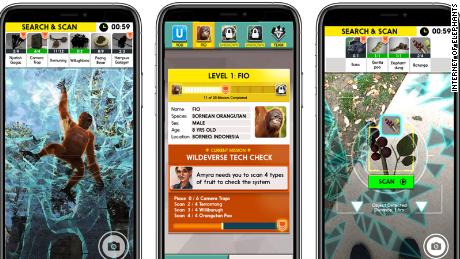 Dubbed the "Pokémon Go of wildlife," another Internet of Elephants game, "Wildeverse," uses augmented reality to tell a story about safeguarding apes in Borneo and the Congo.Shah hopes to expand the game to include wildlife camera trap research from around the world.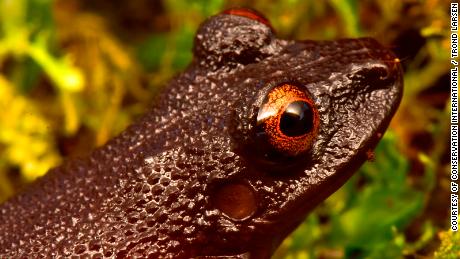 20 new species found, and lost wildlife rediscovered, in the Bolivian AndesWhile the game is free and does not generate revenue or donations (its development was funded through a grant), Shah hopes it will cultivate awareness and encourage people to make consumer choices that are better for the environment. In the long-term, he hopes it will encourage people to donate to conservation groups and by increasing public awareness, influence policy."I would like to think that engagement with this game … will lead to a feeling of value, which will affect how they think about nature," says Macdonald. "So, in that sense, we'd like to be part of a revolution on how people view the role of humanity, alongside the wider environment."
Source Link:
https://www.cnn.com/2021/07/26/world/unseen-empire-camera-trap-game-spc-intl/index.html
[0,"neutral"]
Comments
comments