Tijuana, Mexico (CNN)Busloads of Central American migrants arrived in this Mexican border city on Tuesday. And more are coming.
But it will likely be days before members of the group — which organizers say is about 600 people in total — head to the US-Mexico border to turn themselves in and ask for asylum.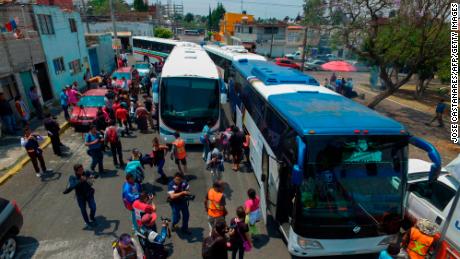 The migrant caravan is still coming. Trump says don't let them inThey're part of a caravan that convened at Mexico's southern border weeks ago, then trekked through the country as part of an annual pilgrimage organized to bring light to the plights of migrants.A large number of people in this year's caravan are from Honduras. Among the reasons they've given CNN for fleeing the country: widespread gang violence, domestic violence, poverty, political repression after a contested presidential election and discrimination against the transgender community.US officials have already made it clear they're skeptical of the migrants' motives, warning that anyone with an invalid claim will be swiftly deported and that anyone who tries to cross the border illegally will face prosecution.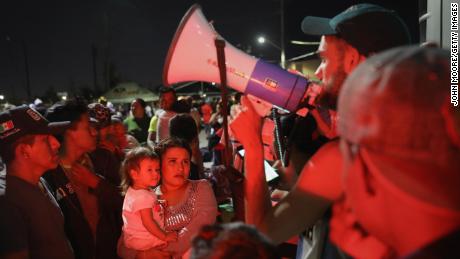 Migrants in the caravan wait for buses to take them from Hermosillo, Mexico, to the next stop on their journey.Read MoreMigrants say they have no choiceAt the outset, about 1,200 migrants from Central America were part of the caravan. But some individuals and smaller groups have split off along the way. Some sought asylum in Mexico, saying the risk of trying to make it in the United States wasn't worth it.The members of the caravan arriving in Tijuana say they're well aware of the risks, but decided to continue the journey because they had no other choice.Angry tweets from US President Donald Trump didn't sway them. Neither did the deployment of National Guard troops."I understand that we may not be welcomed by all," a 38-year-old woman from El Salvador told CNN on Tuesday. "But I don't have an option. If I stay in El Salvador, I'm going to be killed."A 34-year-old friend of hers, who also asked not to be named out of fear for her safety, put it more bluntly."If they send me back," she said, "they might as well send me to the grave."Their journey spurred a tweetstorm This year's caravan first drew Trump's ire shortly after a Fox News segment about the group aired earlier this month.
Border Patrol Agents are not allowed to properly do their job at the Border because of ridiculous liberal (Democrat) laws like Catch & Release. Getting more dangerous. "Caravans" coming. Republicans must go to Nuclear Option to pass tough laws NOW. NO MORE DACA DEAL!
— Donald J. Trump (@realDonaldTrump) April 1, 2018 By the end of that week, Trump had ordered National Guard troops to deploy to the border in a memo warning of a security crisis there.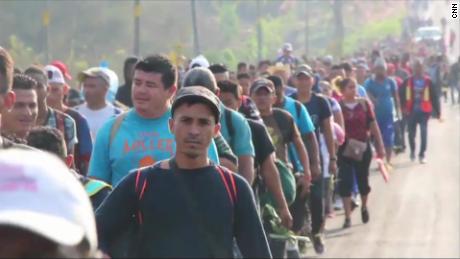 This US-bound migrant caravan sparked a Trump tweetstormWhile political pressure over the caravan mounted north of the border, in Mexico the migrants continued their journey. For weeks, they've been passing through different parts of the country in a trek billed as part activist march, part humanitarian mission.Sometimes they stowed away aboard freight trains. Sometimes they rode chartered buses. Sometimes they walked, carrying crosses and protest signs.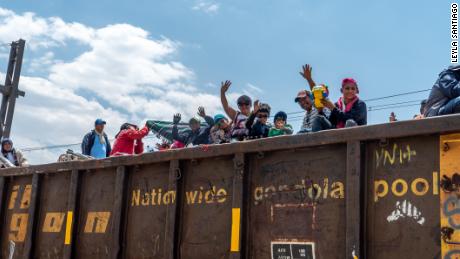 Caravan of migrants climbs freight train for the next leg of the journeyAll along the way, they maintained they pose no threat to the country where they hope to find refuge."We are not bringing any guns," 32-year-old Karen Gallo told CNN from the Mexican city of Puebla."There are no jobs, no justice, no laws in Honduras," she said.What will happen at the border?It's legal for immigrants to turn themselves in to authorities and ask for asylum. But in recent days, US officials have issued a number of statements warning the approaching caravan, suggesting that even though authorities will evaluate any asylum claims once the caravan arrives, they're eyeing migrants in this group with suspicion, not welcoming them with open arms.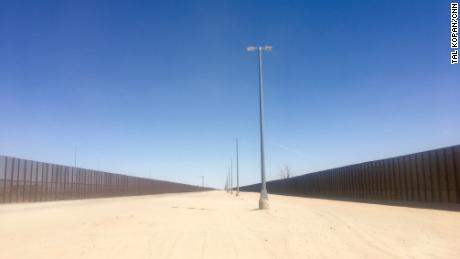 Snapshots from the US-Mexico border"These individuals — and their smugglers — ignored the willingness of the Mexican government to allow them to stay in Mexico," US Attorney General Jeff Sessions said in a statement on Monday. "Let today's message be clear: Our nation has the most generous immigration system in the world, but this is a deliberate attempt to undermine our laws and overwhelm our system. There is no right to demand entry without justification. Smugglers and traffickers and those who lie or commit fraud will be prosecuted to the fullest extent of the law."Those who turn themselves in and ask for asylum may end up behind bars while officials evaluate their claims "efficiently and expeditiously," Homeland Security Secretary Kirstjen Nielsen said. And those who don't have a valid claim, she said, will be swiftly deported.Trump once again weighed in on Twitter, saying he had instructed his head of Homeland Security "not to let these large Caravans of people into our Country."
Despite the Democrat inspired laws on Sanctuary Cities and the Border being so bad and one sided, I have instructed the Secretary of Homeland Security not to let these large Caravans of people into our Country. It is a disgrace. We are the only Country in the World so naive! WALL
— Donald J. Trump (@realDonaldTrump) April 23, 2018 Rep. Zoe Lofgren, the top Democrat on the House subcommittee on immigration, accused Trump of using the caravan to stir up hatred. "People who have a legitimate fear of persecution, under US law have a right to present their case," Lofgren told reporters Monday. "That's not a violation of immigration law. That's a part of immigration law."
Source Link:
https://www.cnn.com/2018/04/24/americas/caravan-tijuana/index.html
[-0.725228]
Comments
comments