(CNN)Ukrainians are set to head to polling stations Sunday as the country votes in the second round of national elections.
Television comedian and political newbie Volodymyr Zelensky is on track to cause a political upset, with recent polls suggesting an overwhelming victory over incumbent Petro Poroshenko. Zelensky's entry in the presidential race came as a surprise, given that he is perhaps best known for his role in the Ukrainian comedy series "Servant of the People" as an out-of-luck schoolteacher who abruptly becomes president of Ukraine. Despite his bid being initially dismissed as a protest vote and a joke, art may become reality after the 41-year-old challenger found support from an electorate tired of corruption and oligarchy.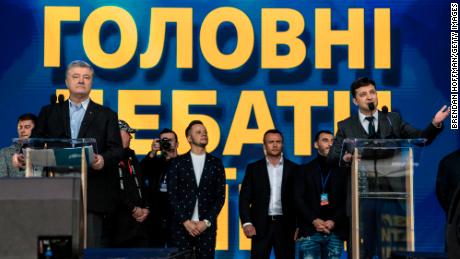 Ukrainian President Petro Poroshenko, left, holds a debate with his electoral opponent Volodymyr Zelenskiy, right, at Olympiskiy Stadium on Friday in Kiev, Ukraine. Zelensky triumphed in the first round of voting April 1, receiving more than 30% of votes cast while Poroshenko, 53, came in second with 16% of the vote. Read MorePoroshenko — a billionaire businessman known for his ownership of chocolate manufacturer Roshen — came to power in the aftermath of the 2013 pro-Western Maidan protests. He has since pursued a pro-European agenda despite opposition from Russia, first outlining a program of social and economic reforms that he said were aimed at preparing his country to apply for European Union membership in 2020.Yet his term has been plagued by suggestions of mass corruption and a flagging economy. Ukraine is one of Europe's poorest countries, with a growing number of people emigrating for better economic opportunities.In a bid to win over voters, Poroshenko ran on a militant patriotic platform and portrayed himself as a tough guy who could stand up to Russian counterpart Vladimir Putin. "He personally, and the country he leads, are the biggest threat to Ukraine and to its every citizen," Poroshenko said about Putin in a Facebook post ahead of the vote. But it may be too little, too late for Ukrainians exhausted from a five-year proxy war with Russia.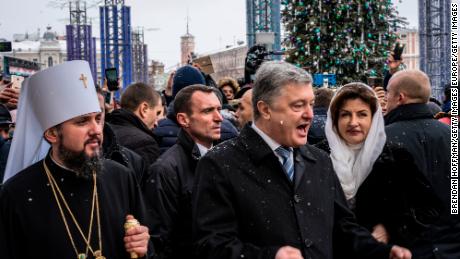 Ukraine's President is running against — Vladimir PutinUkraine and Russia have been locked in a long-simmer conflict since the annexation of the Black Sea peninsula of Crimea by Russia in 2014. The conflict has claimed almost 13,000 lives, with at least 3,321 civilian deaths, according to the United Nations.In November, tensions with Moscow flared once again after Russia seized three Ukrainian navy ships and detained 24 sailors in the Kerch Strait, a strategic waterway. Poroshenko's government responded by imposing martial law and warning of impending Russian invasion.Zelensky has run an unconventional campaign light on policies, prompting questions over how the political newcomer will steer the country out of its current challenges. However, Zelensky has surrounded himself with reform-minded technocrats to make up his team of advisers. Chief among them are former finance minister Oleksandr Danylyuk; former economic development and trade minister Aivaras Abromavicius; and lawmaker and anti-corruption campaigner Sergii Leshchenko.
Ukraine President takes drug test before debating comedian in 70,000-seat stadiumFriday, the presidential contenders were given a last opportunity to appeal to voters during a rowdy debate at a football stadium in Kiev. "I'm not a politician," Zelensky told Poroshenko in front of a crowd of thousands, Reuters reported. "I'm just an ordinary person who has come to break the system. I'm the result of your mistakes and promises."Positioning himself in front of a Ukrainian flag, the incumbent hit back at Zelensky's lack of political experience. "You'd be a weak head of state who would be unable to defend yourself from Putin's blows," Poroshenko said. "I don't believe that Mr Volodymyr dreams of handing over Ukraine, of dragging Ukraine back into the Russian empire, but Putin has such a dream."
Source Link:
https://www.cnn.com/2019/04/21/europe/ukraine-elections-intl/index.html
[-0.710533]
Comments
comments