(CNN)A British heterosexual couple who objected to the "patriarchal" institution of marriage have won a legal claim for discrimination because civil partnerships are only available to same-sex couples.
The UK Supreme Court ruled in favor of the couple, Charles Keidan, 41, and Rebecca Steinfeld, 37, who argued the law on civil partnerships was incompatible with the European Convention on Human Rights.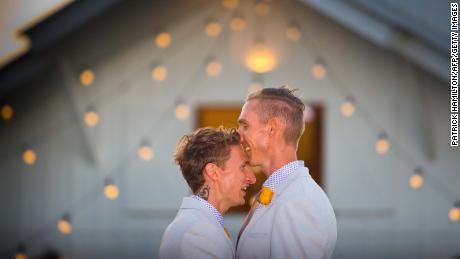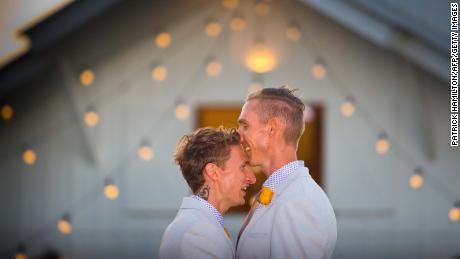 JUST WATCHEDJoy at first same-sex weddings in AustraliaReplayMore Videos …MUST WATCH
Joy at first same-sex weddings in Australia 00:52Announcing the decision, unanimously agreed by all five justices, Lord Kerr noted that the UK government did not attempt to justify the different treatment for same-sex and heterosexual couples. "To the contrary, it accepts that the difference cannot be justified," he said.Civil partnerships in the UK were created in 2004 to enable same-sex couples to have their relationships legally recognized. The law gave couples almost exactly the same legal rights as civil marriage, save for a ban on on using religious texts in the commitment ceremony. Same-sex couples have been able to marry in England, Wales and Scotland since 2014. But the law on civil partnerships was not changed, allowing gay couples to choose between a civil partnership or civil marriage. Keidan and Steinfeld argued the law was therefore discriminatory.Read MoreDuring the hearing, their barrister Karon Monaghan QC told the court they have "deep-rooted and genuine ideological objections to marriage" and were "not alone" in their views," the Press Association reported.She added that matrimony was "historically heteronormative and patriarchal" and the couple's objections were "not frivolous."
JUST WATCHEDSCOTUS won't hear same-sex wedding flower caseReplayMore Videos …MUST WATCH
SCOTUS won't hear same-sex wedding flower case 01:32The couple's legal bid was previously defeated at the Court of Appeal in February last year, but they were later given the green light for this week's Supreme Court hearing.Wednesday's ruling does not automatically give heterosexual couples the right to enter into civil partnerships, but it puts pressure on the UK government to to change the law.
Source Link:
https://www.cnn.com/2018/06/27/uk/heterosexual-couple-civil-partnership-ruling-intl/index.html
[0.66009]
Comments
comments