Washington, DC (CNN)With pressure mounting on its business, Uber decided to take a well-worn page from the Big Tech playbook: hold a flashy press event.
On Thursday, a procession of Uber (UBER) executives presented new features — and one celebrity chef partnership — that the company hopes will delight customers, much in the same vein as events held by tech giants like Apple (AAPL) and Google (GOOGL). Uber CEO Dara Khosrowshahi even trotted out a new favorite slogan for the company. Uber, he said, wants to be the "operating system for everyday life."But the actual announcements at the event may be too incremental to turn around a company facing a long and daunting list of problems, including record losses, multiple rounds of layoffs, continued scrutiny over passenger safety, potentially existential regulatory threats and a stock price that is hovering near an all-time low. Uber (UBER) executives described new rider perks, transit integrations and sustainability efforts. The company touted tweaks to help drivers predict future earnings at a time when many drivers — and Uber's home state — are pushing for it to recognize them as employees with full benefits. And it talked up safety features such as texting 911, reporting incidents during rides, real-time ID check and ride verification, even as it's yet to release its long-awaited safety transparency report, which it has warned investors about.Khosrowshahi also showed off what he described as "the next generation of the Uber app," with more integration of its food delivery and micromobility services. Read More"It's lipstick on several pigs at once," said David Kirsch, a University of Maryland business professor. "I'm trying to figure out what magic do they think they're invoking by putting these things into a single app."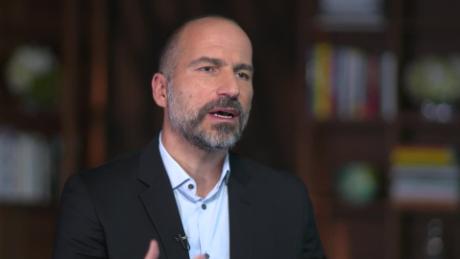 Uber CEO says business is 'absolutely sustainable' after losing $5 billion in three monthsUber reported burning through a staggering $5.2 billion in the three months ending in June, its largest quarterly loss ever. Even when setting aside losses for stock compensation associated with its May initial public offering, Uber still lost about 50% more than the same period the year before.The company's stock is now down by nearly a third from its IPO price in May. On Thursday, Uber closed down slightly, following the event. Gad Allon, a professor at the University of Pennsylvania's Wharton Business School, described Uber's announcements as focusing on small issues when big challenges remain unresolved. "I don't see any of them as game-changers," said Allon, who called Uber the biggest business experiment ever, for pursuing rapid global growth fueled by endless red ink. "More and more players joined that bandwagon, but it wasn't clear the horizon was ever profitable," he said.
Uber is trying everything to make bikes and scooters a profitable business Uber's tried to focus on bright spots Thursday, such as an exclusive food delivery partnership with the fast casual restaurant Sweetgreen and a partnership with Rachael Ray to deliver her recipes in 10 cities for 10 weeks. But as with its core ride-hailing business, concerns remain about how much Uber is relying on subsidies to earn market share with food deliveries. "It doesn't look like Uber is primed to take food delivery over, at least not profitably," said Tasha Keeney, an analyst at Ark Invest, who believes the company's valuation needs to be cut in half from its IPO value. Likewise, Kirsh noted that it's not burdensome for Uber users to switch to another app, such as Grubhub, for the features Uber is now better integrating in its app.Unsurprisingly, some close to Uber argue the updates unveiled at the event could have a meaningful impact on the business.Keith Chen, a business professor at UCLA and former Uber employee, likened Uber Pass — a new service that offers savings like ride protection and no fees on Uber Eats deliveries in some cities — to Amazon Prime, the popular loyalty program that offers customers free shipping and other perks. He described Pass as the type of incremental update that could help Uber differentiate itself from its competitors such as Lyft, which doesn't offer food delivery. Chen also thinks that Uber's announcement of expanding its rewards program to include food delivery will be helpful. He sees Uber's profitability in some markets as proof that it can make money more broadly."There's clearly a path toward profitability by trying to provide this service across verticals their competitors can't match," Chen said. "But I wouldn't call it revolutionary. It's one more step in that direction."
Source Link:
https://www.cnn.com/2019/09/28/tech/uber-event-analysis/index.html
[0.339897]
Comments
comments