One of President Donald Trump's top foreign policy priorities became a reality on Monday as the U.S. embassy in Israel officially relocated to Jerusalem, while only a few miles away in Gaza, Israeli forces killed dozens of Palestinian protesters and wounded hundreds more.
The embassy move marks one of Trump's most controversial and momentous foreign policy decisions to date ― both Israelis and Palestinians claim Jerusalem, but Israel has controlled the city since 1967. Although past presidents contemplated moving the American embassy out of Tel Aviv, Trump has been the first to act on it, declaring Jerusalem the capital of Israel in December.
A 250-person U.S. delegation, consisting of presidential advisers Ivanka Trump and Jared Kushner, Treasury Secretary Steve Mnuchin, Deputy Secretary of State John Sullivan, and some evangelical pastors and Republican politicians, traveled to Israel to commemorate the opening.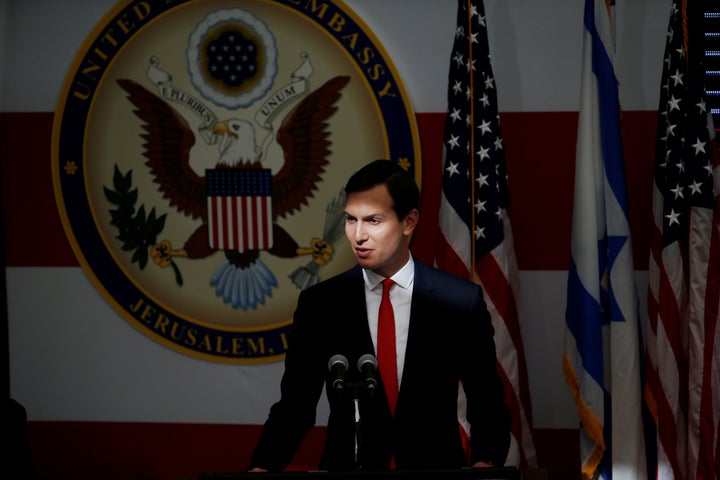 Ronen Zvulun/Reuters Jared Kushner referred to the protesters along the Gaza border as "part of the problem and not part of the solution."
"Our greatest hope is for peace," said Trump, addressing the audience via a video recording from the White House. "The United States remains fully committed to a lasting peace agreement and we continue to support the status quo at Jerusalem's holy sites."
He extended a "hand in friendship" to the Israelis, the Palestinians and all of their neighbors.
The president also tweeted about the event Monday morning.
Big day for Israel. Congratulations!
— Donald J. Trump (@realDonaldTrump) May 14, 2018
Kushner, whom Trump tapped to lead Israeli-Palestinian peace negotiations, hailed the embassy move as an opportunity for all sides to coexist peacefully.
"We believe, it is possible for both sides to gain more than they give ― so that all people can live in peace ― safe from danger, free from fear, and able to pursue their dreams," he said in a speech.
While attendees toasted the historic opening, thousands of protesters clashed with Israeli forces in Gaza. At least 40 Palestinian protesters were killed and hundreds more were injured, the Gaza Health Ministry said. Groups of protesters also marched from the West Bank into Jerusalem in the hours preceding the ceremony.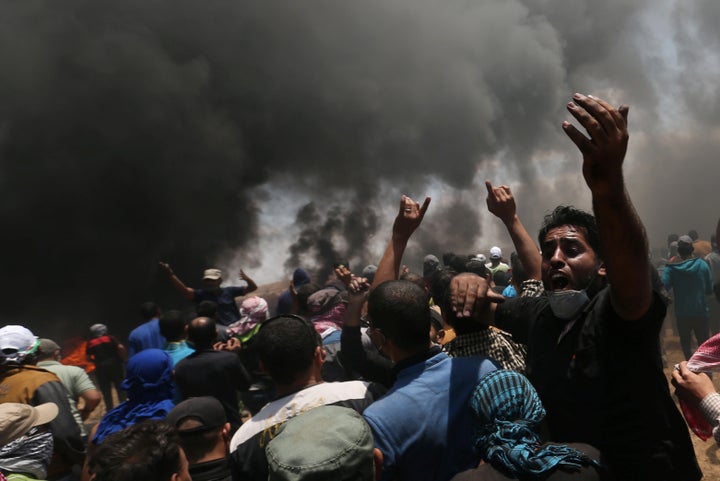 Ibraheem Abu Mustafa/Reuters Palestinians protest along the Israel-Gaza border, where Israeli forces killed dozens.
The protests represent the culmination of six weeks of deadly demonstrations along the Gaza border as Palestinians demand a right of return to their land.
Kushner referred to those "provoking violence" as being "part of the problem and not part of the solution."
Widespread international condemnation is expected following the embassy opening. Most United Nations members don't recognize Israel's sovereignty over East Jerusalem, arguing instead that the city should possess international status. For decades, U.S. policy has stated that Israelis and Palestinians should negotiate the city's status among themselves, and the status of the city is key in peace negotiations.
This is a developing story. Please check back for updates.
Source Link:
https://www.huffingtonpost.com/entry/us-embassy-jerusalem-opens-doors_us_5af965eae4b0e57cd9fb673d
[-0.0647736]
Comments
comments