Tokyo (CNN)One of Japan's largest airports was swamped and a tanker crashed into a bridge as the strongest typhoon to make landfall in Japan in 25 years hit the country's southern prefectures Tuesday, causing storm surges and lashing buildings with heavy wind and rain.
At least one man died in Higashiomi City after the warehouse he was working in collapsed, police in Shiga told CNN.Typhoon Jebi landed with "very strong" force in Tokushima prefecture in the early afternoon, the strongest typhoon to hit the country since 1993, said Akihiro Kikuchi, from Japan's Meteorological Agency.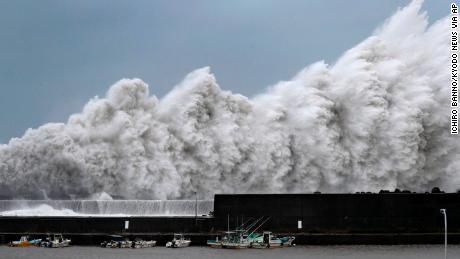 High waves hit breakwaters at a port in Aki, Kochi prefecture, in western Japan.Coast Guard spokesman Keita Sakai said an 89-meter-long tanker, the Houunmaru, had been pushed by the strong typhoon winds from its anchorage at sea into the bridge connecting Kansai Airport with the mainland.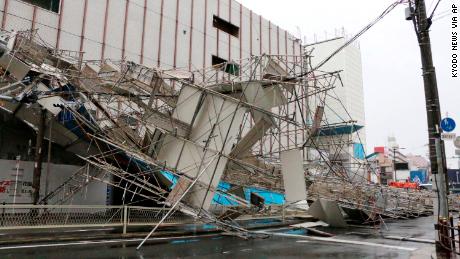 Building scaffolding lays collapsed after a powerful typhoon hit Osaka, in western Japan.Images from state broadcaster NHK showed the bridge of the ship embedded in the structure. Read MoreEleven crew members were on board, but no one was injured in the incident, Sakai said. The typhoon's center made landfall again near the coastal city of Kobe at around 2 p.m. (1 a.m. ET).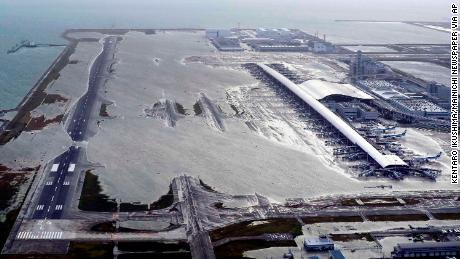 Kansai International Airport is partly inundated following a powerful typhoon in Izumisano, in Japan's Osaka prefecture.Hundreds of domestic flights were canceled, along with international flights from Kansai Airport in Osaka.Both runways were closed and later swamped with storm surges that caused record tides in Osaka Bay. Water was also rising near Kobe, the Meteorological Agency said.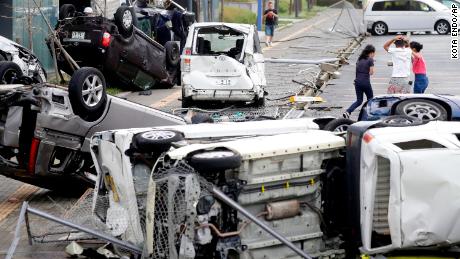 Overturned cars are seen on the street following a powerful typhoon in Osaka, in western Japan.Flight cancellations also affected Itami Airport in Osaka and Chubu Centrair International Airport in Nagoya. Social media users posted videos that showed the force of the storm.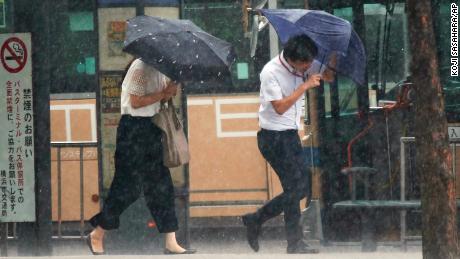 Pedestrians try to hold their umbrellas while struggling with strong winds in Yokohama, near Tokyo.As the typhoon continued to batter Japan's main island of Honshu, nine cities and towns issued compulsory evacuation orders. A further 53 issued non-compulsory evacuation orders.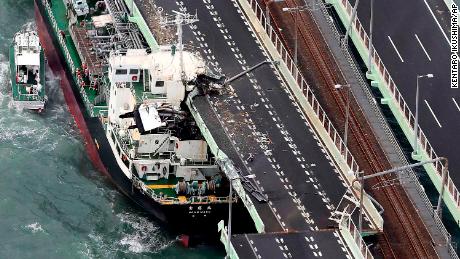 A tanker rests after slamming into the side of an Osaka bridge that connects the airport to the mainland, damaging part of the bridge and the vessel.Towns and cities in the prefectures of Gifu, Aichi, Kyoto, Osaka, Hyogo, Nara and Wakayama on Honshu, along with Tokushima, Kagawa and Kochi on the island of Shikoku have been affected. Almost 14,000 residents have been moved to around 5,000 refuge zones, mostly town halls and school gyms, according to the Fire and Disaster Management Agency.
橋の上のトラック横転した pic.twitter.com/v0km3igKYk
— てて子 (@08030229j) September 4, 2018 Before it made landfall, the storm had sustained winds of 140 kilometers per hour (87 mph) and gusts of 165 kmh (102 mph), the equivalent of a Category 1 Atlantic hurricane.
Yamato deliver dude should NOT be working in these conditions #typhoon #Jebi #Japan #weather #storm pic.twitter.com/ZkkS7rTBxD
— James Reynolds (@EarthUncutTV) September 4, 2018 There is a significant threat of widespread flooding. Jebi has dumped more than 500 millimeters (nearly 20 inches) of rain in some areas and is likely to produce between 150 and 300 millimeters of rain in many locations. Jebi comes just weeks after Typhoon Cimaron moved over the same region.
Source Link:
https://www.cnn.com/2018/09/04/asia/japan-typhoon-jebi-intl/index.html
[-0.524349]
Comments
comments