President Donald Trump's commemoration of the Sept. 11, 2001, terrorist attacks didn't exactly go smoothly.
Early in the day, he was roasted on Twitter for a strangely exclamatory tweet simply noting the passage of time:
17 years since September 11th!
— Donald J. Trump (@realDonaldTrump) September 11, 2018
It didn't get much better from there.
As he arrived at a memorial ceremony in Pennsylvania, he greeted supporters with a double fist pump: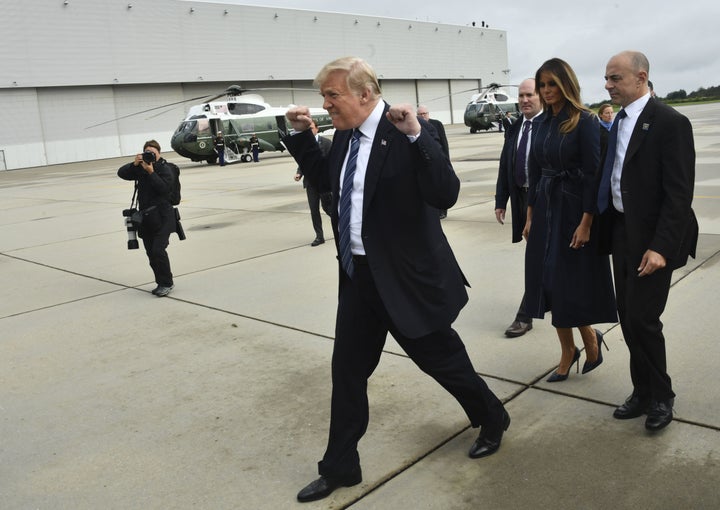 NICHOLAS KAMM via Getty Images
A second image showed Trump giving a thumbs-up as he arrived at the Flight 93 National Memorial's visitor center:
It got worse pic.twitter.com/AkZ9kuc484
— Daniel Balsz (@dbalsz) September 11, 2018
And in a third image, tweeted by Trump, the president claimed he was departing the White House for the memorial service.
But sharp-eyed viewers noted that he appeared to have recycled an old image.
Present in the photo are former White House Communications Director Hope Hicks, who left in the spring, as well as Omarosa Manigault Newman, the former aide fired last year who has since written a tell-all book about her time in the administration:
Departing Washington, D.C. to attend a Flight 93 September 11th Memorial Service in Shanksville, Pennsylvania with Melania. #NeverForget pic.twitter.com/O2sFUeRqeb
— Donald J. Trump (@realDonaldTrump) September 11, 2018
Twitter users weren't impressed with the images the president projected on a day normally reserved for solemn reflection:
YEEEEEEAAAAAH! 9/11! We're gonna mourn this tragedy TO THE MAX! pic.twitter.com/NCfBuoFVJv
— Patton Oswalt (@pattonoswalt) September 11, 2018
what a raging embarrassment https://t.co/d9V9OLCKJ6
— christine teigen (@chrissyteigen) September 11, 2018
Trump arrives at a 9/11 memorial service in Shanksville PA to kick ass, take names, and show 'em who's boss. MAGA, no collusion, lock her up! Photo by Doug Mills of NYT, dying inside by Melania and John Kelly. pic.twitter.com/mWMeaLeETN
— Steve Silberman (@stevesilberman) September 11, 2018
— Tim Hutch (@smakweasle) September 11, 2018
— CheesyEarthGirl (@cheesyearthgirl) September 11, 2018
This is not an exclamation point day. This is not a fist pump day. You sully the solemnity of this day. History will not be kind to you. But we will #NeverForget those who lost their lives and those who gave so much to help so many on that day, and the days that came after.
— Stephanie Tittle (@VarahnTet) September 11, 2018
This is why he's not invited to funerals. pic.twitter.com/O9LA1MEKDh
— Randi Mayem Singer (@rmayemsinger) September 11, 2018
He is a deeply perverted man. https://t.co/uD7trBpeAO
— Lawrence O'Donnell (@Lawrence) September 11, 2018
Look closer pic.twitter.com/Scdix68zAC
— Mike Holden #FBPE (@MikeHolden42) September 11, 2018
We do the BEST MOURNING!
— Harry Shearer (@theharryshearer) September 12, 2018
I've never been as excited for anything as Trump is for 9/11 https://t.co/gmuuHuZFin
— Jess Dweck (@TheDweck) September 11, 2018
— Acyn Torabi (@Acyn) September 11, 2018
10 years after conservative media freaked out because the obamas did a fist bump at a 2008 rally, here's trump fist-pumping as he arrives at a 9/11 commemoration https://t.co/N5q52kIEcx
— David Mack (@davidmackau) September 11, 2018
My son's response pic.twitter.com/RPuQNBAeKQ
— Donna (@HazDaKatz) September 11, 2018
— Joey Jojo Jr Shabadoo (@lsrgk) September 11, 2018
When I say 9, you say 11! 9! https://t.co/6T73Lr14lf
— pourmecoffee (@pourmecoffee) September 11, 2018
— Mark Birch (@therealbirchy) September 11, 2018
I like Melania's outfit, which is all I'm gonna say about this. https://t.co/m3jeJgioda
— Matt Pearce ? (@mattdpearce) September 11, 2018 Download
Source Link:
https://www.huffingtonpost.com/entry/donald-trump-arrival-fist-pump-9-11-memorial_us_5b987025e4b0cf7b00448690
[-0.396604]
Comments
comments