Michael D'Antonio is the author of the book "Never Enough: Donald Trump and the Pursuit of Success" and co-author, with Peter Eisner, of the book "High Crimes: The Corruption, Impunity, and Impeachment of Donald Trump." The opinions expressed in this commentary are his own. View more opinion on CNN.
(CNN)Remember all those scenes of the Capitol rioters giving police officers group hugs? How about those photos of the insurrectionists planting big kisses on their cheeks? No? Oh. Maybe that's because they are a figment of Donald Trump's imagination.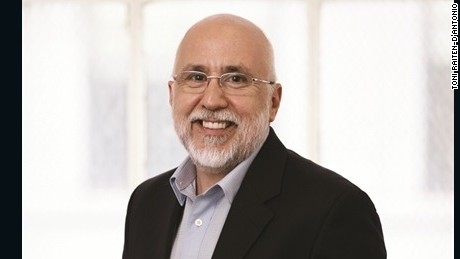 Michael D'AntonioWhen Trump called into Fox News on Thursday night and tried to rewrite history, he proved himself to be the same old liar we knew as president. Describing the events of January 6, which led to the deaths of five people, Trump said, "It was zero threat, right from the start, it was zero threat. Look, they went in, they shouldn't have done it. Some of them went in, and they are hugging and kissing the police and the guards, you know, they had great relationships."While one officer appeared to pose for a selfie with a rioter and others opened the barricades to allow the mob to enter the grounds of the US Capitol, many Capitol and DC Metro police officers also risked their lives and engaged in hand-to-hand combat trying to protect the lawmakers who were certifying the results of the 2020 election inside. During the melee, some officers were beaten and sprayed with chemicals. At least 138 sustained injuries including burns, concussions and rib fractures. Capitol Police Officer Brian Sicknick died from injuries sustained during the attack, and two others later died by suicide.The horrendous attacks were not about "great relationships." But after years of deception, it's no big surprise that Trump is at it again. What's remarkable is just how effective his lies have been, especially when it comes to his insistence that the 2020 election was "stolen" due to widespread fraud. This is the very lie that prompted Trump supporters to storm the Capitol on January 6. And this lie is what Republicans in Georgia used to justify sweeping new voting restrictions signed into law on Thursday.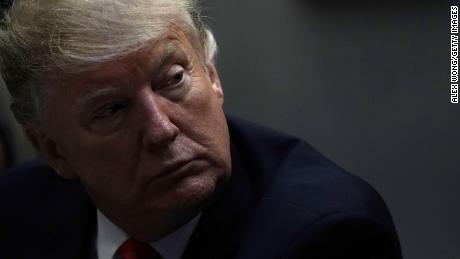 Opinion: Trump's major problem in Georgia election probeGeorgia Gov. Brian Kemp, who is up for reelection in 2022, said, "There's no doubt there were many alarming issues with how the [2020] election was handled, and those problems, understandably, led to a crisis of confidence here in Georgia." But that statement is no more true than Trump's report of rioters kissing cops at the Capitol. Read MoreThe 2020 election ran smoothly in Georgia but for Donald Trump's repeated falsehoods about being cheated. He then proceeded to phone state officials, imploring them to "find 11,780" votes so he could overcome Biden's margin of victory. Trump also used his bully pulpit to sow doubts about the election in many states by spreading falsehoods and baseless claims about voting machines made by a firm called Dominion Voting Systems. (The company has since filed defamation lawsuits against Fox News and a number of other Trump allies.)It was, to borrow Kemp's word, "alarming" that Trump repeated lies to contest the election, especially when officials in his own administration said it was the most secure in US history.The trick of creating a problem or magnifying a minor issue into some major concern in order to stoke fear and accumulate power is an old political ploy. It was used in the 1950s by Sen. Joe McCarthy to scare Americans about "subversives," and more recently by former Republican Sen. Rick Santorum, who warned that marriage would "disintegrate" if same-sex marriage became legal.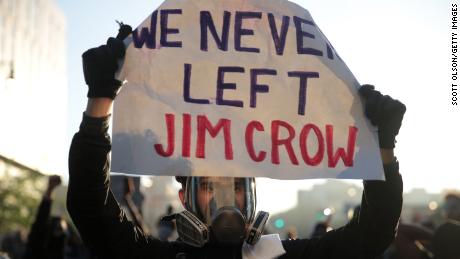 What Jim Crow looks like in 2021Although few admit to playing this game, occasionally someone lets the cat out of the bag. Decades ago, in an interview with American journalist Peter Eisner, former Panamanian dictator Manuel Noriega put it this way: "In order to solve a problem, you first have to create the problem." Trump did it in 2016 by sowing a fear of immigrants — and planning to build a wall. He highlighted crime, poverty and a broken government before claiming, "I alone can fix it." In 2020, Trump created the problem of voter fraud. When he failed to implement his desired solution — serving a second term as President — Republicans in Georgia swooped in to devise their own: restrictions on voting. The state's new law imposes new voter ID requirements for absentee ballots, limits the use of ballot drop boxes, and makes it a crime to give food and water to voters in line. It's not a great look for Republicans in the state to take such swift action after the special election in Georgia, which delivered a narrow majority for Democrats in the Senate, was largely credited to Stacey Abrams, the 2018 Democratic gubernatorial candidate who spent a decade building the political infrastructure there to increase turnout among Black, Latino and Asian voters. It must be said that the GOP has only won the popular vote once in the last eight presidential elections. The Republican Party also faces a serious problem with suburban women and younger voters who represent the future of politics. By trying to suppress the vote, it seems Republicans are more interested in creating obstacles for Democrats than they are in worthwhile ideas or policies that will win over undecided voters. This is shortsighted and self-defeating. Get our free weekly newsletter
Sign up for CNN Opinion's new newsletter.
Join us on Twitter and Facebook
It's possible that GOP leaders are so focused on the short term that they believe voter restrictions will tip the scales in their favor during the 2022 midterm elections. Here they might consider the possibility that enacting a new law isn't always the end of things. In 2015, political hell broke loose after Indiana Gov. Mike Pence, Trump's future vice president, signed a law infringing on the rights of gay, lesbian, and transgender Americans. Citizens protested and boycotts caused business leaders to demand revisions. The normally staid Indianapolis Star published a huge frontpage headline that read "Fix This Now." The Star, which endorsed Pence for governor in 2012, was adamant that changes be made and revisions to the law were completed post haste. Voters in Georgia and other states that are slated to adopt voter restriction laws might consider that episode as members of the Republican Party continue to push Trump's "big lie."
Source Link:
https://www.cnn.com/2021/03/27/opinions/trump-big-lie-georgia-republicans-voting-restrictions-dantonio/index.html
Bad Request
Your browser sent a request that this server could not understand.
Size of a request header field exceeds server limit.
Comments
comments