Bill McGowan is the founder and CEO of Clarity Media Group, a global communications coaching firm based in New York. He is the author of "Pitch Perfect: How to Say It Right the First Time, Every Time." Follow him on Twitter @BillMcGowan22. Juliana Silva is a strategic communications adviser at Clarity. The views expressed in this commentary are solely those of the author. View more opinion articles on CNN.
(CNN)If the Las Vegas oddsmakers were handicapping the upcoming Presidential debates, they might be inclined to favor President Donald Trump to win — and Trump has only himself to blame for that.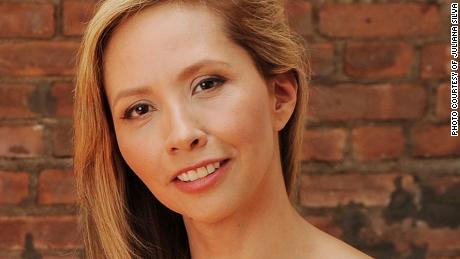 Juliana Silva
After weeks of ham-handed attempts at convincing the electorate that Joe Biden is a doddering fool, Trump has put himself in an impossible situation. He has committed the amateurish political mistake of lowering the bar on his opponent's performance to floor level. A low bar is easy to step over. Just ask the twice-elected George W. Bush. Only now, at the 11th hour, is Trump trying to climb out of the hole he's dug for himself by claiming that he assumes Biden, the former Vice President, will "do great" in the debates. So, barring any major cognitive meltdown, Biden should at the very least be able to debate Trump to a draw. That's bad news for Trump, who can ill afford these debates being a wash. Trump is like the heavyweight boxer heading into the bout's final round trailing on points, as virtually every national poll has confirmed. So, he has been throwing political haymakers for weeks. He will likely intensify that strategy during the debates. Read MoreIn boxing, a haymaker is a wildly thrown punch, delivered in desperation. If it connects, it can immediately and completely change the outcome of a fight. Most often it doesn't. Trump has been throwing every haymaker he can think of, suggesting that Biden is drugged up, that he's senile, that his administration will be dispatching poor people to terrorize the suburbs, that he is "against God," that he's a puppet for a Marxist cabal that will destroy America, and so on. Trump is on the ropes, trailing Biden on favorability, trust and confidence in seeing the country through the pandemic — and campaign cash. And, perhaps most crushingly, he was even behind in convention ratings, with Biden's speech drawing more viewers, according to Nielsen.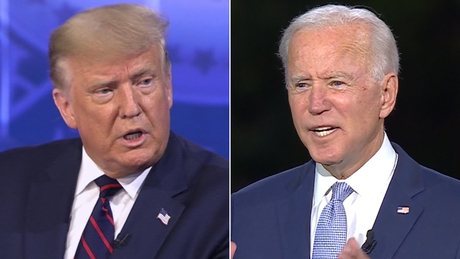 Debate coach: The best debate advice Joe Biden will ever getAs Trump's niece, Mary Trump, has observed, "He's grasping at straws." Not too long ago, Trump was the Teflon candidate. Even numerous indictments of his former associates and advisers, and allegations of sexual misconduct from a long list of women (he vigorously denies them all) haven't been able to put a debilitating dent in him. But as we head into the debates, it appears that Biden suddenly is besting him in the non-stick department. That leaves Trump in a bind. He has tried all of his anti-Biden material in advance, and the audience hasn't bought it. Like some second-rate comic, Trump is telling the same jokes from 2016: that he's the Washington outsider, his opponent is a swamp creature, it should be the 1950's all over again and the election is rigged. Four years ago, these attacks may have seemed novel, but now these jabs have little sting. He's proven to be a one-trick phony. Oh, how he must miss Hillary Clinton.In light of that, one might argue that he's going to unveil some surprise attacks in the debates that help him actually land some punches. But keep in mind we are talking about a President who loves Tweet storming and television watching and has claimed he isn't keen on basic debate prep (though reports tell a slightly different story). The potential staging of these debates doesn't favor Trump either. Physical distancing will eliminate any possibility of Trump lurking and stalking behind Biden, the weird attempt at intimidation he appeared to pull on Clinton. That's assuming both men will even be on a stage together. The prospect that one or more of the debates might be held virtually must be a terrifying possibility for the Trump camp, given his robotic and wooden delivery when looking straight into a camera. Trump needs a crowd to play to; he feeds off the energy an audience provides. Without spectators, Trump has no one to gasp, laugh and dramatically react to his reality show shots, like telling Clinton in 2016 that if he were in charge, she'd "be in jail." It was the audience's audible reaction that made that zinger a memorable moment. Get our free weekly newsletter
Sign up for CNN Opinion's new newsletter.
Join us on Twitter and Facebook
The safe prediction is that Trump will attempt to bait Biden into a mud-wrestling match, since that's where Trump feels most comfortable. This potential trap is not lost on Biden who says he's determined to focus his efforts on the issues and not bitter, personal attacks. "I'm looking forward to getting on the debate stage with Trump and holding him accountable … I think I know how to handle bullies." So, while Biden might have appeared wobbly during the first two or three Democratic debates, keep in mind, that was 12 debates ago. Biden's much more prepared for this. Trump holding rallies and doing interviews with Fox News isn't even light sparring. Perhaps the only way Trump will win these debates is if he can get someone else to climb into the ring for him.
Source Link:
https://www.cnn.com/2020/09/24/opinions/trumps-amateurish-mistake-ahead-of-debatesi-bden-silva-mcgowan/index.html
[0,"neutral"]
Comments
comments