Michael D'Antonio is the author of the book "Never Enough: Donald Trump and the Pursuit of Success" and co-author, with Peter Eisner, of the upcoming book "High Crimes: The Corruption, Impunity, and Impeachment of Donald Trump." The opinions expressed in this commentary are his own. View more opinion on CNN.
(CNN)On Thursday afternoon during a news conference, President Donald Trump treated the country to a spin around his fantasyland, where he is a great leader besieged by meanies, and the needless death and suffering due to his failed response to the coronavirus pandemic are not worth acknowledging. Instead, he spoke about Fox News as if it is his security blanket and bashed Democratic presidential nominee Joe Biden for using a teleprompter during his speeches.
Nothing in Trump's attitude has changed even as the world has learned he lied, for weeks on end, about the gravest threat to public health in more than a century. The President's appearance in the White House press room was prompted by the shocking revelations in recorded interviews he gave to the esteemed journalist Bob Woodward for his upcoming book, "Rage," on the Trump presidency. In those recordings, Trump can be heard saying, on February 7, that the coronavirus is transmitted through the air and "It's also more deadly than even your strenuous flus."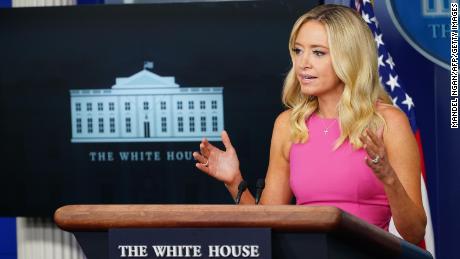 Kayleigh McEnany has crossed a line In the weeks that followed, he publicly suggested the coronavirus threat was no more serious than seasonal flu, that it was under control and could soon disappear. On March 9, he offered as food for thought a comparison of 22 known coronavirus deaths and the country's annual death toll from seasonal flu, which was 37,000 in 2019. "Think about that!" he wrote on Twitter. On March 10, he told reporters that "We're prepared, and we're doing a great job with it. And it will go away." Perhaps no one other than Woodward knew that for weeks the President held the opposite view. On March 19, the President told Woodward he had deliberately downplayed the threat and would continue this practice because he apparently didn't believe the country could handle the truth. "I wanted to always play it down," Trump told Woodward. "I still like playing it down, because I don't want to create a panic."Read MoreElsewhere around the world, leaders in countries such as South Korea, New Zealand, Taiwan, and Germany chose to mobilize citizens against the pandemic threat. People were required to wear face masks whenever they were in public. Officials shut down businesses and other settings where the virus could spread. The result was that many countries suffered far few deaths per capita than the US. At 584 deaths per million, the US is tenth worst in the world, far ahead of Canada, at 248, Germany at 112, and Australia at 31. It should be noted that as the President refused to wear a mask and downplayed the pandemic, federal agencies did recommend social distancing, masks and shutdowns of businesses and social gatherings. However, these responses, which other countries adopted nationally, were implemented in the US at the state and local levels. This patchwork approach contributed to the spread of the virus.Against this backdrop of Trump's own leadership in the US, which finds over 191,000 Americans dead and more than 6 million total cases, one might expect that the revelations in Woodward's recordings would've led the President to try to speak plainly to the American people. Heck, a reality-based adult might even apologize or hand over the reins of power to someone who hasn't produced so much misery. Instead, our President proved he won't apologize, and he won't assume responsibility.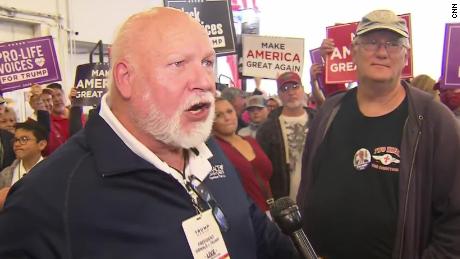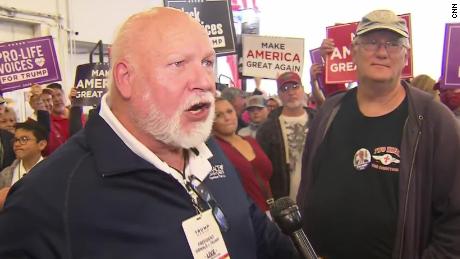 JUST WATCHEDTrump supporter on not wearing a mask: It's a fake pandemicReplayMore Videos …MUST WATCH
Trump supporter on not wearing a mask: It's a fake pandemic 02:47As always, Trump talked trash about his predecessor Barack Obama and tried to distract by telling a reporter his question about the Woodward revelations was "disgraceful." He then offered a patently false reply, "I didn't lie," before engaging in some classic pretzel logic to castigate Woodward for not making the recording public sooner if he thought Trump was doing something wrong. (This notion ignores the fact that the President is responsible for his own behavior, and journalists are not hall monitors.)About the pandemic he said, "We're doing very well all over our country," even though cases in Iowa and South Dakota are spiking and communities across the country are struggling over how or whether to reopen schools. To listen to Trump for the half-hour he stood in the press room was to hear a man so lost in his own mind that he allowed himself to drift into wistful musings about his favorite Fox News hosts mentioning, by name, Sean Hannity, Tucker Carlson and Laura Ingraham. The way that he said the words, "Fox and Friends" gave the impression that the TV personalities on the show really are his dear friends. Somehow, Trump managed to squeeze in criticism about former FBI Director James Comey, former bureau officials Lisa Page and Peter Strzok, calling all of them a disgrace to America. Then he called his former adviser Michael Flynn, who has twice pleaded guilty to felony charges, a "wonderful person." Get our free weekly newsletter
Sign up for CNN Opinion's new newsletter.
Join us on Twitter and Facebook
Later in the day, at yet another rally where social distancing was not practiced and masks were few and far between, Trump went to rhetorical extremes to compare his leadership to British Prime Minister Winston Churchill and President Franklin Delano Roosevelt during World War II. With bombs falling in London, and Pearl Harbor devastated, those leaders urged calm while acknowledging the threats their countries faced. The difference in leadership should be obvious: Churchill and FDR didn't deceive the public as Trump did.Altogether, the President spewed grievances, attacks, complaints and denials like he was producing a highlight reel of the last four years. Ever himself, Trump seemed to show no interest in sharing the reality the rest of us know, or to take a place in the adult world where leadership requires taking responsibility.
Source Link:
https://www.cnn.com/2020/09/11/opinions/bizarre-trump-response-woodward-book-dantonio/index.html
Bad Request
Your browser sent a request that this server could not understand.
Size of a request header field exceeds server limit.
Comments
comments