Washington (CNN)President Donald Trump made 48 false claims between Tuesday and Sunday last week as he used a barrage of dishonesty to try to sell his trade war against China.
Trump made 21 false claims about the economy, 12 about trade and 11 about China in particular. He also made five false claims about Democrats, three false claims about immigration. (These numbers do not add to 48 because some false claims are about multiple subjects.)Trump was most frequently dishonest during his August 21 exchange with reporters on the White House lawn before departing for a fundraiser and a speech to veterans in Kentucky. Over 35 minutes, he made 13 false claims. He made 12 more on Twitter and 9 during an exchange with reporters while meeting with the president of Romania on August 20.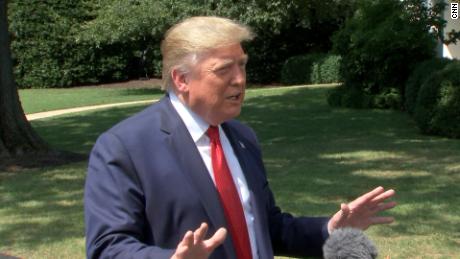 Donald Trump made 84 false claims last weekForty-eight false claims in six days is right about average for Trump this summer. He has averaged 7.7 false claims per day since July 8, when CNN started counting.A methodology note: We did the previous week's seven-day count (84 false claims) from Tuesday, August 13, when Trump had his first event that week, through Monday, August 19. Since we usually start our counting week at Monday and end Sunday, we're going Tuesday through Sunday this week to avoid double-counting the three claims from Monday.Read MoreWe'll get back to our normal Monday to Sunday starting next week. For now, a breakdown of last week's lowlights:Most egregious false claim(s): Up is downTrump, who famously declared last year that "what you're seeing and what you're reading is not what's happening," has tried to position himself as the only reliable source on his doings. On multiple occasions, including twice last week, he has tried to convince people to not believe their own eyes.Facing a mini-controversy over his claim to reporters that he is "the chosen one" to take on China's trade practices, Trump then claimed that he was "smiling" and "just having fun" when he made the comment.There is video. He was not smiling.Moments before he pronounced himself "the chosen one," Trump responded to questions about his trade war with China by claiming… it's not his trade war with China."Somebody said, 'It's Trump's trade war.' This isn't my trade war," he said. "This is a trade war that should've taken place a long time ago by a lot of other presidents."This just does not make sense.Most revealing false claim: Fentanyl deathsIn 2017, the Centers for Disease Control and Prevention estimates that 28,466 people died from overdoses connected to synthetic opioids including fentanyl.That's a lot of people. And yet Trump choose to exaggerate the statistic, claiming on Twitter last week: "Fentanyl kills 100,000 Americans a year."Estimates of overdose deaths are inexact, yes, but there is no basis for the "100,000" figure. Overdose deaths declined in 2018, according to preliminary data from the CDC.There are only two explanations here. One: The President has no idea what the real numbers are and doesn't feel the need to find out. Two: The President is doing his usual and exaggerating something that needs no exaggeration.Either way, it says something unfortunate about him.Most absurd false claim: Non-award #2Two weeks ago, Trump falsely claimed to once have been named "Man of the Year in Michigan." There is no evidence this ever happened.Last week, he was asked a tough question about his administration's actions to make it easier for companies to discriminate against LGBT people. He had a quick reply: he'd just gotten "an award and an endorsement" from the Log Cabin Republicans, an LGBT conservative group.We knew about the endorsement, but the "award" made us suspicious given Trump's past with "awards."And, yep, there was no award. "Just our endorsement," Log Cabin Republicans national spokesman Charles Moran told us.Here is the full list of 48:Hospitals and Dayton and El PasoTrump said of his visits to hospitals in Dayton, Ohio, and El Paso, Texas, after mass shootings in both cities, "Not only did they meet with me, they were pouring out of the room. The doctors were coming out of the operating rooms." — August 21 exchange with reportersFacts First: Doctors did not leave any active operating rooms, spokespeople for both the El Paso and Dayton hospitals said. The Dayton spokesperson said doctors did not even leave any patient rooms.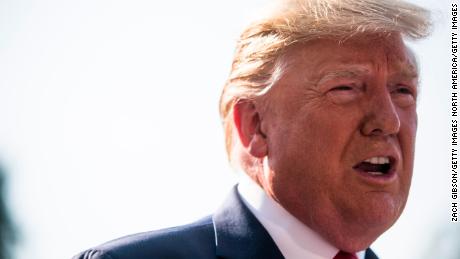 Fact check: Trump falsely accuses Sherrod Brown, Dayton mayor of misrepresenting his hospital visit"At no time did (or would) physicians or staff leave active operating rooms during the presidential visit. Our priority is always patient care," said Ryan Mielke, director of public affairs for the University Medical Center of El Paso."Our physicians and staff at no time leave an active operating room, procedural area, or patient room to greet anyone," said Ben Sutherly, director of system communications for the Premier Health network, of which Miami Valley Hospital in Dayton is a part.You can read our full fact check of this claim here.TradeUnions and the USMCA"So, we're going to be significantly expanding our trading relationship when the USMCA gets done and completed. Our farmers love it. The unions love it. The workers love it." — August 25 meeting with Canadian Prime Minister Justin TrudeauFacts First: On the whole, American unions do not "love" Trump's North American Trade Agreement. The AFL-CIO, a large labor federation made up of 55 unions, says changes must be made to the agreement before it can possibly be supportive.Asked by Politico in June about a previous version of Trump's claim that unions love the agreement, AFL-CIO president Richard Trumka said, "Maybe he's talking about the unions in some other country?" Trumka said he didn't have a "clue" where Trump had gotten that impression."Our position hasn't changed," AFL-CIO spokesman John Weber told CNN on Monday. "The only way this agreement will earn the support of the labor movement — and the only way it will have any chance of passing — is if it's enforceable. That won't happen without changes to the text of the agreement."As The New York Times has reported, the United Automobile Workers and United Steelworkers, among other unions, have also demanded changes to the agreement. Trade deficit with the European Union"We're the one that all these countries — including the European Union — wants to rob and takes advantage of. European Union — $200 billion." — August 21 exchange with reportersFacts First: The trade deficit with the European Union was $114 billion in 2018, $101 billion in 2017 and $93 billion in 2016.USMCA ratification"I think most Democrats like it. So, hopefully, that'll be put to a vote fairly soon. It's got tremendous support — both, I believe, Democrat and Republican. It has been signed and finalized, essentially, by Canada and, essentially, by Mexico. So we're waiting for that from the United States." — August 25 meeting with Canadian Prime Minister Justin TrudeauFacts First: The trade agreement has not been finalized by Canada. Just as it has not been put to a vote in the US Congress, it has not been put to a vote in the Canadian Parliament. The agreement is unlikely to be rejected by Parliament even if Trudeau's Liberal government is ousted in this year's election, since the Conservative opposition party says it will "reluctantly" vote in favor, but it's still a stretch for Trump to say the agreement has been finalized in Canada, even "essentially."Mexico's Senate ratified the agreement in June.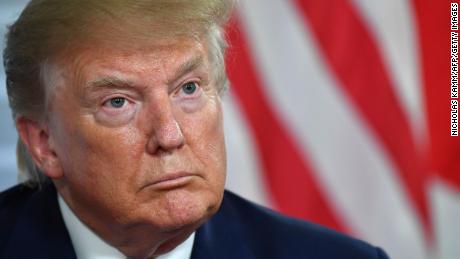 Fact check: Trump falsely claims Melania Trump has 'gotten to know Kim Jong Un'The 'chosen one'"When I looked up to the sky and jokingly said 'I am the chosen one,' at a news conference two days ago, referring to taking on Trade with China, little did I realize that the media would claim that I had a 'Messiah complex.' They knew I was kidding, being sarcastic, and just having fun. I was smiling as I looked up and around. The MANY reporters with me were smiling also. They knew the TRUTH…And yet when I saw the reporting, CNN, MSNBC and other Fake News outlets covered it as serious news & me thinking of myself as the Messiah. No more trust!" — August 24 tweet"Let me tell you, you know exactly what I meant. It was sarcasm. It was joking. We were all smiling. And a question like that is just fake news. You're just a faker." — August 23 exchange with reportersFacts First: Trump was not smiling when he made this remark, the video shows.While Trump's meaning is open to interpretation, there was no obvious physical sign that he was trying to speak humorously; he was in the middle of an impassioned defense of his trade policy. Here's the full quote: "Over the last five or six years, China has made $500 billion. $500 billion. Ripped it out of the United States. And not only that — if you take a look, intellectual property theft. Add that to it. And add a lot of other things to it. So somebody [crosstalk] — excuse me. Somebody had to do it. I am the chosen one. Somebody had to do it. So I'm taking on China. I'm taking on China on trade. And you know what? We're winning."The trade war"Somebody said, 'It's Trump's trade war.' This isn't my trade war. This is a trade war that should've taken place a long time ago by a lot of other presidents." — August 21 exchange with reportersFacts First: This is nonsense. Trump initiated the trade war with China. He defended his decisions in this very exchange with reporters, saying the conflict needed to happen because China has long taken advantage of the United States.Trump is free to argue that other presidents should have launched a trade war, but not to deny that he was the one who did.China's economy"China has had the worst year they've had in 27 years. And a lot of people are saying the worst year they've had in 54 years. OK?" — August 20 exchange with reporters during meeting with Romanian President Klaus Iohannis"They had the worst year in 27 years, but I think it was actually 52 or 54 years. It was the worst year they've had in half a century." — August 21 exchange with reporters"At the same time, China has had the worst — the worst year probably in anywhere from 30 to 50 years. Their worst year." — August 23 exchange with reporters Facts First: China's official second-quarter GDP growth rate, 6.2%, was the worst since 1992, 27 years ago. There is no basis for the "52 or 54 years" claim or the "50 years" claim. Trump has correctly cited this "27 years" statistic in the past without questioning it, but he then began doubling it for no factual reason.Trump also repeated other trade-related false claims he has made multiple times before, for which we'll offer shortened fact checks:Who's paying for his tariffs on China Trump claimed on two occasions that the revenue from his tariffs on China is coming in from China. (Facts First: Americans make the tariff payments, and economic studies have found that Americans have borne most of the cost.)The history of tariffs on China Trump said, "We never got 10 cents from China." (Facts First: The US government has been charging tariffs on imported Chinese goods for more than two centuries, and it took in hefty sums from such tariffs long before Trump's own tariffs; the Treasury received $14 billion from tariffs on China in 2014, to look at one pre-Trump year. Again, it is US importers, not China, who have paid these tariffs.)The trade deficit with ChinaTrump said on four separate occasions that the trade deficit with China has been $500 billion or more for years. (Facts First: It has never been $500 billion; it was $381 billion last year when counting goods and services, $420 billion when counting goods alone.)Google and the election"Somebody came in the other day and said the election that we had in '16 with Hillary Clinton, that it could've cost me anywhere from 2,600 — from 2,600,000 votes to, I think, it went up to close to either 10 or maybe 15 million votes." — August 23 exchange with reporters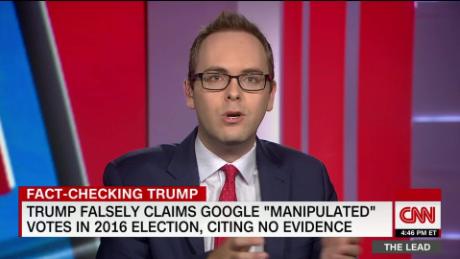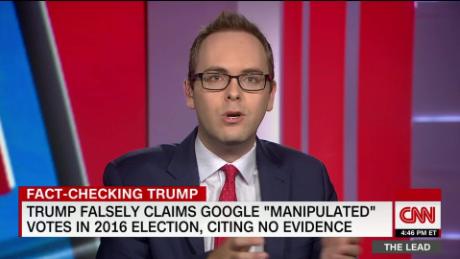 JUST WATCHEDTrump falsely claims Google 'manipulated' votes in 2016 electionReplayMore Videos …MUST WATCH
Trump falsely claims Google 'manipulated' votes in 2016 election 02:56Facts First: A hotly disputed study concluded that bias in Google's search results was sufficient to have swayed up to 10.4 million votes in Clinton's direction. In other words, even if you accept a study other academics say is flawed, there is no basis for the "15 million" figure.Trump did say "I think," acknowledging some uncertainty, but this is the second time he has cited a maximum figure far higher than the study did. You can read our full fact check on the study here.Fentanyl"Fentanyl kills 100,000 Americans a year." — August 23 tweet Facts First: Many Americans die from fentanyl overdoses, but Trump's "100,000" figure was not close to correct. The Centers for Disease Control and Prevention estimated that there were 28,466 overdose deaths connected to synthetic opioids, including fentanyl, in 2017, and that 47,600 overdose deaths that year involved any kind of opioid.The CDC's preliminary data found a decline in overdose deaths in 2018, so it is exceptionally unlikely that the number of fentanyl-related deaths has spiked from an estimate of less than 30,000 in 2017 to anywhere near 100,000 today.DemocratsDemocrat Dan McCready"Looking forward to soon being in North Carolina to hold a big rally for wonderful Dan Bishop, who is running for Congress. His opponent wants Open Borders, Sanctuary Cities, and Socialism. He likes the 'Squad' more than North Carolina." — August 22 tweet Facts First: Trump was referring to Bishop's Democratic opponent, Dan McCready, who does not support "open borders."McCready's website says he wants comprehensive immigration reform "that secures our border, respects our laws and protects our American values." He calls for the government to "reinforce physical barriers with the technology Dan used in the Marines, like infrared cameras and drones."We can't definitively fact check Trump's claims about how much McCready likes his state or other politicians, but it's worth noting that McCready returned a $2,000 donation from one member of "The Squad," Minnesota Democratic Rep. Ilhan Omar, after she was criticized for remarks both Republicans and many Democrats said were anti-Semitic.We tend to ignore Trump's claims that various Democrats support "socialism," since definitions of the term vary, but we'll point out that McCready advocates tax cuts for the middle class and opposes two of the policies Republicans have derided as "socialist," so-called Medicare for All health plans and the Green New Deal environmental proposal.Rep. Rashida Tlaib's conduct"Sorry, I don't buy Rep. Tlaib's tears. I have watched her violence, craziness and, most importantly, WORDS, for far too long." — August 20 tweet"And then, yesterday, I noticed for the first time, Tlaib with the tears. All of a sudden, she starts with tears. Tears. And I don't buy it. I don't buy it. I don't buy it for a second because I've seen her in a very vicious mood at campaign rallies — my campaign rallies — before she was a congresswoman. I said, 'Who is that?' And I saw a woman that was violent and vicious and out of control. And all of a sudden, I see this person who's crying because she can't see her grandmother." — August 20 exchange with reporters during meeting with Romanian President Klaus Iohannis Facts First: There is no evidence Tlaib, who became teary last week as she recalled how her family was treated during childhood visits to the West Bank, is "violent." (The Michigan Democrat did interrupt one of his 2016 campaign speeches, in Detroit, to protest him. When she tried to free herself from the grip of a security employee who had put his hands on her while escorting her out, she twisted her body, jumped and pushed him.)Tlaib spokeswoman Adrienne Salazar told CNN last week that Tlaib made the push to "gain footing, as she was walking backward while the agent was walking forward in front of her." Regardless, a push of a larger man who had grabbed her is insufficient to justify a general claim that she is violent; there is no evidence she has attempted to hurt anybody.Obama and the PhilippinesTrump said that he will not allow foreign countries to disrespect him or the US. He said that things were different under former President Barack Obama, who was treated "so badly," and he cited an example: "President Obama: when they wouldn't let land — let him land in the Philippines, when they treated him so badly in so many places. The Philippines is one that comes to mind…" — August 21 exchange with reportersFacts First: Obama was never prevented from landing in the Philippines, where he went twice while in office. Rather, Obama called off a planned meeting with President Rodrigo Duterte in 2016 — a meeting planned for Laos, not the Philippines — after Duterte delivered a profane and insulting rant about him.Trump could have accurately said that Obama was treated disrespectfully by Duterte, but there is no basis for the suggestion that Duterte stranded Obama in the sky.ImmigrationFamily separation"I am the one that kept the families together. OK? You remember that, right? Just remember I said it. And now it gets even better. President Obama and others brought the families apart. But I'm the one who kept the families together." — August 21 exchange with reportersFacts First: Trump did not inherit an Obama policy of routinely separating migrant children from their parents. Separations were rare under Obama. Trump made them standard.It is technically true that Trump ended the separation policy: in June 2018, he signed an executive order to detain families together. But he was ending his own policy, not Obama's, and he only signed the order after a furious public outcry.You can read a fuller fact check of this claim here.Trump also repeated other immigration-related false claims he has made multiple times before, for which we'll offer shortened fact checks:The border wallTrump said "tremendous numbers of miles of wall" and "large sections of wall" are being built on the Mexican border. (Facts First: No new miles have been built during Trump's presidency, though about 50 miles of replacement barriers had been built as of July, the Washington Examiner reported.)Mexican troops on the borderTrump said, "I want to thank Mexico. They have 26,000 soldiers at our border, and they're really stopping people from coming in." (Facts First: The approximately 26,000 troops are split between the US border and Mexico's southern border. Trump himself said in late July that 6,000 of the troops were near Guatemala.)Foreign affairs and militaryAfghanistan and the Soviet Union"And, remember, it's a tough place. The Soviet Union became Russia because of Afghanistan. That's what happened. Very simple. They became Russia because of Afghanistan." — August 20 exchange with reporters during meeting with Romanian President Klaus IohannisFacts First: It's not so simple. The Soviet Union's invasion of Afghanistan was perhaps one contributing factor in its collapse, but it was certainly far from the only reason, experts say. (And, of course, the Soviet Union dissolved into 15 separate countries; it did not simply turn into "Russia" with the same borders.)The Washington Post delved at length into a previous version of this Trump claim; it quoted two Russia historians who said Trump's history was overly simplistic. "I think most scholars would agree that Afghanistan was a contributing factor in the Soviet collapse, but I don't think anyone would go so far as to pin sole blame for the collapse on Afghanistan or to say that the Soviets went bankrupt fighting in Afghanistan," Sarah Cameron, a University of Maryland professor and historian of Russia and the Soviet Union, told the Post. "The moral, social and political costs of the war were substantial and contributed to the crisis of the Soviet Union, but it wasn't a decisive financial burden," Eric Lohr, chairman of the history department at American University and a historian of Russia, told the Post.The war in Afghanistan"But we've been a peacekeeper there, in a way, for 19 years. And at a certain point, you have to say, 'That's long enough.' " — August 20 exchange with reporters during meeting with Romanian President Klaus IohannisFacts First: This was a small exaggeration. The US invaded Afghanistan in October 2001, less than 18 years ago. This was not a one-time slip though; Trump habitually says "19 years."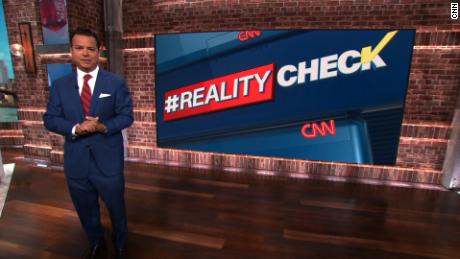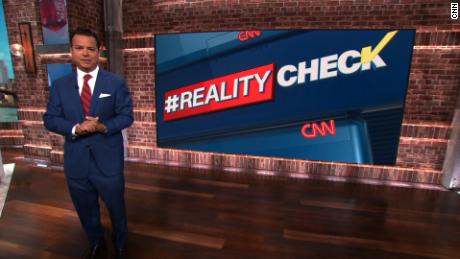 JUST WATCHEDAvlon: Despite what Trump says, it's all about the moneyReplayMore Videos …MUST WATCH
Avlon: Despite what Trump says, it's all about the money 03:01Russia, Obama and the G8″So it was the G8 for a long time, and now it's the G7. And a lot of the time, we talk about — we talk about Russia. We're talking about Russia because I've gone to numerous G7 meetings. And I guess President Obama, because Putin outsmarted him — President Obama thought it wasn't a good thing to have Russia in, so he wanted Russia out…But, as you know, for most of the time, it was the G8. It included Russia. And President Obama didn't want Russia in because he got outsmarted. Well, that's not the way it really should work." — August 20 exchange with reporters during meeting with Romanian President Klaus IohannisFacts First: The G8 suspended Russia in 2014 for annexing Crimea from Ukraine. The ouster was endorsed by not only Obama but the leaders of Canada, Japan, the United Kingdom, France, Germany and Italy.Trump is free to express an opinion that the real reason for the ouster was Obama being personally wounded by the seizure of Crimea. But we think he makes the claim false when he omits Crimea entirely from his account.Greenland and Denmark"…Denmark is losing $700 million a year with it (Greenland). It doesn't do them any good." — August 21 exchange with reportersFacts First: Denmark's annual subsidy to Greenland, an autonomous territory of Denmark, is for less than $600 million.According to a representative from Greenland's Ministry of Finance, Head of Division Anders Fonnesbech-Wulff, the grant for 2019 is expected to amount to 3.86 billion Danish kroner (DKK), which is approximately $575 million. The amount has increased slightly over the years, from $548 million (3.68 billion DKK) in 2016 to $554 million (3.72 billion DKK) in 2017 to $569 million (3.82 billion DKK) in 2018. All US dollar amounts are based on the Monday evening exchange rate.Greenland and Harry Truman"President Truman said, 'What about Greenland?' And he talked about it very openly and it was a big deal at the time." — August 21 exchange with reportersFacts First: Truman was not open about his desire to purchase Greenland. As the Washington Post reported, Truman's 1946 offer to Denmark, $100 million in gold, "didn't become public knowledge until 1991, when a Copenhagen newspaper came across declassified documents in the National Archives."Venezuela's wealth "We're helping Venezuela as much as we can. We're staying out of it, but we are helping it, and it needs a lot of help. It's an incredible tribute to something bad happening, and the something bad is socialism. And it's amazing because, 15 years ago, it was one of the wealthiest countries. Now it's one of the poorest countries." — August 20 exchange with reporters during meeting with Romanian President Klaus IohannisFacts First: Venezuela was not one of the world's richest countries 15 years ago.The International Monetary Fund's World Economic Outlook ranked Venezuela 67th in the world in 2004 by GDP per capita, at $4,019 (US) — better than more than half of the world's countries, but nowhere near the top."Venezuela was one of the richest countries in the world 60 years ago. The richest in Latin America 40 years ago. But not 20 years ago," Ricardo Hausmann, a former Venezuelan planning minister and central bank board member, said in response to a previous version of this Trump claim. Hausmann, now a Harvard University professor of economic development, was chief economist of the Inter-American Development Bank from 1994 to 2000.AccomplishmentsFiring people at the VA "…I proudly signed into law the groundbreaking VA Accountability Act…Now somebody mistreats you or mistreats people in the VA and we know what happens, right? It's called, 'You're fired…You're fired. Get out of here. Get out of here.' You couldn't fire anyone for virtually any reason. They could do anything. So we have the Accountability Act." — August 21 speech to the AMVETS national conventionFacts First: While Trump might have been exaggerating here for effect, it's not true that "you couldn't fire anybody for virtually any reason" prior to the Veterans Affairs Accountability and Whistleblower Protection Act he signed into law in 2017. The VA fired an average of approximately 2,300 employees annually from 2005 to 2016, based on data collected by the Office of Personnel Management.However, the Clarion-Ledger newspaper in Mississippi did find several instances where VA employees who were registered sex offenders or had been indicted for killing patients, for example, retained their jobs. The legislation Trump signed simplified and expedited the process of terminating VA employees.The opioid epidemic"And, as you know, we're down about 17% from what it was a year and a half ago, with the opioid, and opioid is a serious problem." — August 21 interview with Lawrence Smith of WDRB LouisvilleFacts First: Trump didn't explain what exactly he was referring to, but the most prominent statistic associated with the opioid epidemic, the number of overdose deaths, is not down 16% or 17% nationally, according to the latest available data.Overdose deaths were down an estimated 3.4% between January 2018 and 2019, according to preliminary data published by the Centers for Disease Control and Prevention. In New Hampshire, where Trump was speaking when he made these remarks, it was 6.6%. The Log Cabin Republicans Asked about his administration taking steps to make it easier to discriminate against LGBT people in the workplace, Trump said, "Well, you know, I just got an award and an endorsement yesterday from a — the exact group, a group. They gave — you saw that. They gave me the endorsement yesterday. And I was very honored to — is it Log Cabin? The Log Cabin group." — August 20 exchange with reporters during meeting with Romanian President Klaus IohannisFacts First: Trump did receive the endorsement of the Log Cabin Republicans, a LGBT conservative group, but "no award," Log Cabin Republicans national spokesman Charles Moran told CNN.The endorsement was announced in a Washington Post essay published five days before Trump's comments, not "yesterday." (Trump might just have briefly confused the endorsement for an "award," but he has invented accolades before.)Trump also repeated other accomplishment-related false claims he has made multiple times before, for which we'll offer shortened fact checks:Veterans ChoiceTrump claimed twice that he was the President who got the Veterans Choice health program passed after others had unsuccessfully tried "for 44 years," saying, "You know, before I came, you didn't have Veterans Choice." (Facts First: The Choice program was signed into law by Barack Obama in 2014; in 2018, Trump signed the VA Mission Act, which expanded and changed the program.)His approval ratingTrump said twice that he has a 94% approval rating among Republicans; he also said his rating is the "highest of any Republican" in "history." (Facts First: His approval with Republicans is very high, regularly in the 80s and sometimes creeping into the 90s, but it has not been 94% in any recent poll. Trump's Republican approval peak in Gallup polling ranks sixth out of seven post-World War II Republican presidents.)EconomyThe DowQuestion: "Six hundred and twenty-three points — that's what the Dow was down today because of what you tweeted. Do you have a responsibility for that?" Trump: "Not at all. Not at all. Because if you look at from November 9th — the day after the election — we're up 50% or more. We're up many, many points. We were at about sixteen or seventeen thousand. We're at 25,000, so don't tell me about 600 points." — August 23 exchange with reportersFacts First: The Dow was up almost exactly 40% between its opening on November 9, 2016, and its close the day Trump spoke here, August 23, 2019. Though Trump was correct that it closed above 25,000 points on August 23, it was over 18,000 points on November 9, 2016, not at "sixteen or seventeen thousand." Unemployment"You're talking about unemployment numbers that are the lowest in history, in many categories, and, overall, almost the lowest ever, in the history of our country. I think it was 1969. And we are set to surpass that number. I mean, our country is doing very well." — August 20 exchange with reporters during meeting with Romanian President Klaus IohannisFacts First: It is true that the unemployment rate is the lowest it has been since 1969 (other than months earlier this year), but it is not true that the 1969 rates were an all-time low. The low was 2.5%, in 1953.The unemployment rate in July was 3.7%, the same as the rate in June and up slightly from the 3.6% rate in May and April. It is possible that it will fall below the 1969 low of 3.4%. But there is no apparent sign that it will surpass the 2.5% low; it has not gone below 3.6% at any time during Trump's presidency and has not gone below 3% since 1953.The founder of General Motors"The Legendary Henry Ford and Alfred P. Sloan, the Founders of Ford Motor Company and General Motors, are 'rolling over' at the weakness of current car company executives…" — August 21 tweet Facts First: William Durant founded General Motors in 1908. Sloan became company president in 1923 and chairman of the board in 1937.Inflation"Strong Dollar, No Inflation!" — August 22 tweet"No Inflation!" — August 21 tweet"No inflation. Wake up Federal Reserve." — August 21 tweetFacts First: There is inflation: 1.8% for the 12 months ending in July, up from 1.6% for the 12-month period ending in June. Core inflation, which excludes food and energy costs, was up 2.2% for the 12 months ending in July, the highest level since January.Trump could fairly say that inflation is low, but "no inflation" is incorrect.The dollar"Yesterday we had the strongest dollar in the history of our country. Now in one way I'm honored by that, but in another way it makes it much harder to export goods, you understand. … It is much harder to compete. We had literally the strongest dollar in the history of our country." — August 21 exchange with reportersFacts First: The dollar is not the strongest it has ever been against other currencies.There are various ways to measure the strength of the dollar. The USDX dollar index, which compares the dollar to a group of other countries' currencies, is hovering around its highest level since 2017 — but the dollar was stronger at various points in 2015, 2016 and 2017, plus several points in the early 2000s and mid-1980s. The Bloomberg Dollar Spot Index, which compares the dollar against another group of currencies, is around its highest level of the year, but it too was higher in multiple years past.Trump might perhaps have been confused by the news earlier in the week that Bloomberg's measure had hit a new 2019 peak. Or, perhaps, he might have been looking at one measure that was at a high point: the nominal and "broad" version of the trade-weighted dollar index (which doesn't adjust for inflation and doesn't exclude minor currencies).Given how this nominal figure is affected by countries experiencing rapid inflation, like Venezuela, it is a "meaningless statistic," said Barry Bosworth, a senior fellow in economic studies at the Brookings Institution, who served in the Jimmy Carter administration. Jeffrey Frankel, professor of capital formation and growth at Harvard University's Kennedy School of Government, also said that the nominal figure is not a good measure of the dollar's strength; he too cited Venezuela."The various standard measures all show the foreign exchange value of the dollar was higher in 1985 than today…If you want to include all foreign currencies in the index, including hyperinflationary currencies like the Venezuelan bolivar, then it is necessary (and standard) to do the calculation in real terms. The answer comes out the same: the dollar is not as strong today as it was in 1985," Frankel said.Unemployment for veterans"Veterans unemployment has reached the lowest level ever recorded. You ever hear that? That's big." — August 21 speech to the AMVETS national conventionFacts First: The seasonally unadjusted unemployment rate for veterans was 3.4% in July, higher than the 2.3% low in 2000. Trump's boast would have been correct in April, when the rate fell to 2.3% again, but isn't anymore.The government recently began releasing seasonally adjusted unemployment data for veterans, but it does not date back further than 2003. (By the adjusted measure, the July rate was also 3.4%; the low for the 2003-to-present period was 2.4% in April of this year.)Asian American unemploymentTrump repeated his regular claim that Asian American unemployment is at its "lowest level ever recorded." (Facts First: While it hit a low earlier in Trump's term, the rate in July, 2.8%, was higher than it was in the last full month of Obama's term, 2.6%.)
Source Link:
https://www.cnn.com/2019/08/28/politics/fact-check-trump-weekly-tally-48-false-claims/index.html
[-0.424547]
Comments
comments