(CNN)Tropical Storm Olivia made landfall Wednesday on Hawaii's island of Maui, passed south of Oahu and weakened as it dumped moderate to heavy rain that flooded roads.
A tropical storm warning was in effect for Oahu and Maui County.The storm, which also passed over Lanai, had maximum sustained winds of 40 mph and was moving west at 20 mph, the Central Pacific Hurricane Center said.The Maui Police Department urged motorists to stay off roads because wind and rain had not subsided.CNN affiliate KHON said a few homes were evacuated in Maui County. Hawaii DOT tweeted photos of downed trees and flooded roads on the island. A flash-flood warning was in effect for much of Maui.Read More
Pali Lookout closed today due to high winds and fallen trees. Diamond Head Road near Makalei Place also closed due to a fallen tree. Stay wary, and if you don't feel safe, stay at home. #Olivia
— Kirk Caldwell (@MayorKirkHNL) September 12, 2018 Honolulu Mayor Kirk Caldwell asked residents to be patient during power restoration. About 1,140 customers were without electricity for a time.Olivia was forecast to weaken but will remain a tropical storm for the "next day or so," the hurricane center said. Flash-flood watches remain for all four Hawaiian counties. Maui and Honolulu counties have high-surf warnings.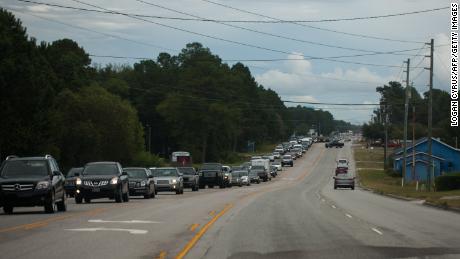 Hurricane Florence marches toward the Carolinas as residents flee"Remember that wind gusts can be much stronger near higher terrain, and in the upper floors of high-rise buildings," the center said. "Winds can also be especially gusty through gaps between mountains and where winds blow downslope."Residents were warned to prepare for an increase in rain over portions of the main islands. The storm is expected to produce 5 to 10 inches of rain, though some areas could see as much as 15 inches.
Here's a visible satellite loop of #Olivia from sunrise through sunset this evening. #hiwx pic.twitter.com/wzRqlSQ3Ld
— NWSHonolulu (@NWSHonolulu) September 12, 2018 The rainfall may produce "life-threatening flash flooding," the hurricane center said.Large swells from the storm also could "result in dangerously high and potentially damaging surf, mainly along exposed east facing shores," the center said.Gov. David Ige has requested a presidential emergency declaration for federal assistance.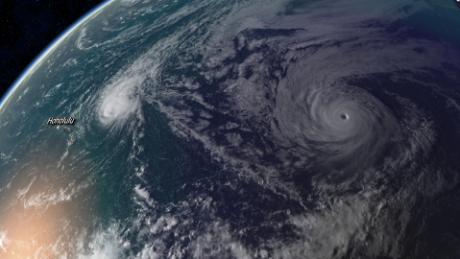 Another hurricane is barreling toward HawaiiThe letter also asked for "direct federal support from Department of Defense assets for strategic airlift between the islands; temporary power generation at evacuation centers; technical assistance related to points of distribution and debris management action planning."The Hawaii Tourism Authority warned that severe weather effects could extend statewide and said visitors and residents should ensure they have an adequate supply of food, water, medications and essential goods.All post offices and public schools in Maui County were closed, with a number of other Hawaiian schools and universities also closed, CNN affiliate KHON in Honolulu reported.Olivia follows Hurricane Lane, which dropped more than 50 inches of rain last month on Hawaii, the second-highest rainfall total from a tropical cyclone in the United States since 1950.
Source Link:
https://www.cnn.com/2018/09/12/us/olivia-hawaii-wxc/index.html
[-0.439026]
Comments
comments