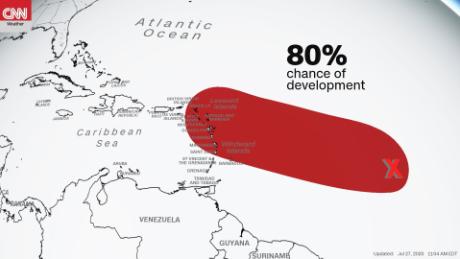 A storm system has an 80% chance of being upgraded to a depression or Tropical Storm in the next 48 hours.
(CNN)
A tropical disturbance in the Atlantic has an 80% chance of strengthening into a tropical depression or Tropical Storm Isaias (ees-ah-EE-as) within the next 48 hours, according to the National Hurricane Center. It would be the earliest storm to begin with an "I" on record. The previous record was set on August 7, 2005, part of the busiest season to date.This would continue the record-breaking pace of the 2020 Atlantic hurricane season. Hurricane Hanna smashed the record for earliest storm with an "H" name by 11 days.Get updates on the storm and check your local forecast with CNN WeatherDays after Hurricane Hanna brought torrential rain and flooding to South Texas, unusually warm sea surface temperatures are providing fuel for the tropical disturbance to strengthen. Read MoreTrack the progression of this storm with CNN's storm tracker"Every model that I looked at today develops this area into some form of tropical system and turns it toward or north of Puerto Rico," CNN meteorologist Chad Myers said.
Several models predicting the path of the storm are in agreement of where this system is likely to go.Even though the storm won't threaten land for a few days, the models are consistent in showing the storm tapping into warm waters and strengthening."Rarely do you see the convergence of models like you're seeing with this next storm," Myers said. "There's a consensus with this that the storm is going to do something and that it's going to get into that Bahamas area."The system will encounter favorable conditions allowing it to develop and strengthen as it tracks west, the National Hurricane Center says."The system is forecast to move westward to west-northwestward at 15 to 20 mph and could begin to affect portions of the Lesser Antilles on Wednesday or Wednesday night," NHC said. "Interests on those islands should continue to monitor the progress of this system."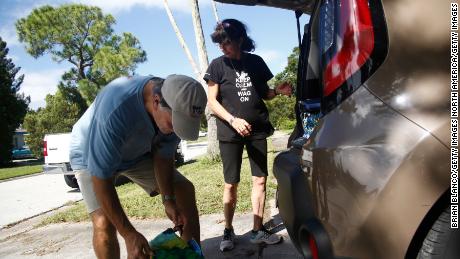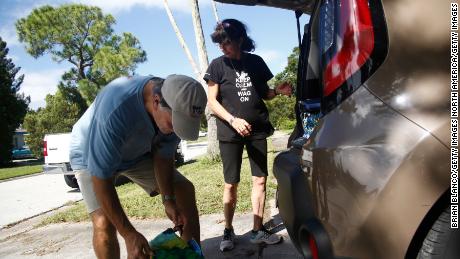 JUST WATCHEDHow to prepare for a hurricane during a pandemic.ReplayMore Videos …MUST WATCH
How to prepare for a hurricane during a pandemic. 01:45Covid-19 makes the pace of this hurricane season more dangerous, according to Myers. People are more reluctant to leave their homes, and when a major hurricane inevitably does make landfall, people will be forced to pack together in shelters, making social distancing impossible.
Source Link:
https://www.cnn.com/2020/07/27/weather/new-tropical-disturbance-busy-2020-hurricane-season/index.html
[-0.844795,"negative"]
Comments
comments