(CNN)The world watched on Monday as a fire engulfed the historic Notre Dame Cathedral in Paris, causing the collapse of the cathedral's iconic spire and the destruction of its roof structure, which dated back to the 13th century.
Travelers from all over the world shared cherished memories of their visits to one of the most beloved religious structures in the world with CNN. Here are their stories.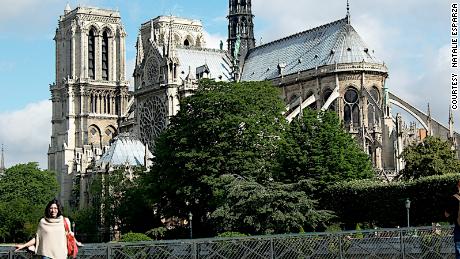 Natalie Esparza poses for a photo in 2007.Natalie Esparza, 35, Detroit, first visited in 2000 and was "absolutely spellbound." "This cathedral had so much meaning for me as a person interested in art history and medieval history. Outside of its religious connotations, it stands for the progress of man. Its lasting historical value to what we can accomplish in our artistic and mathematical endeavors will not be matched."The art major visited again in 2007 during her honeymoon.Read More"I remember the time we went on my honeymoon and as we were walking through the main doors we saw their choir singing, and to stand there and listen to a hymn that might have been sung centuries earlier was truly awe-inspiring. To this day I can still hear it and it sends goosebumps up my arms."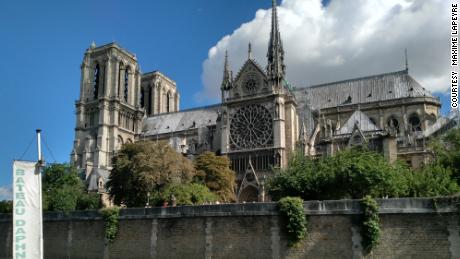 Maxime Lapeyre last visited in 2018.Maxime Lapeyre, 33, Angers, France, regularly visited Paris growing up and remembers his trip in 1996 with his family as they explored the cathedral."That day we visited the inside of the cathedral, I remember being impressed by the size of the two towers, and by the people inside. Years later, as an adult I moved to Paris for work and spent six years there. It always stood out as one of the most beautiful monuments in Paris. And to me it always meant good memories of that day with my family."Lapeyre now lives in New Zealand.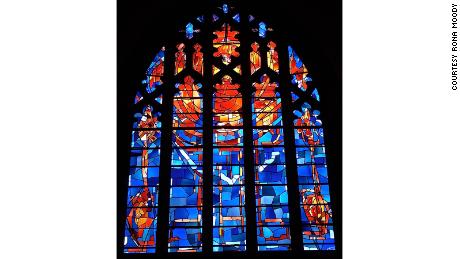 Rona Moody designed this stained glass in St Andrews Psalter Lane Church in the UK.Rona Moody, 64, Scotland, visited in 1974 to celebrate the end of her freshman year of college. She was inspired by art inside the cathedral and now is a stained glass artist in Pennsylvania."One day we had too much to drink and it was a hot day so we went in to the cathedral to find a shaded seat. As we sat there looking around, I was amazed by the glass and announced that this was what I wanted to do with my life. After I left university, I persuaded a stained glass artist to take me on. Now I make stained glass, I teach it, I research it and I write about it, and have done all my life (I am now 64 and still remember that excitement)."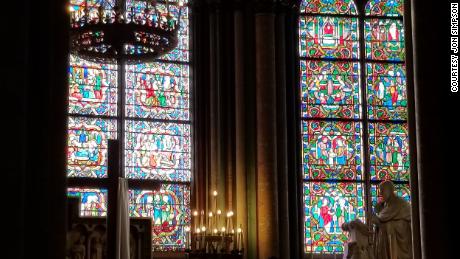 Jon Simpson captured this image from inside during his trip in April 2018. Jon Simpson, 55, Cedar Falls, Iowa, visited one year ago this week and said he was "in awe of the beauty.""While I saw many beautiful places on this trip, I was in awe of the Notre Dame cathedral the most….the detail, craftsmanship….the entire place is a work of art. I was amazed by what was accomplished with the technology and tools of the day, and it will probably always be the most beautiful man-made thing I've ever seen."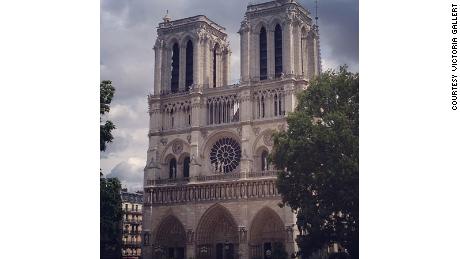 Victoria Gallert took this picture when she visted in 2012.Victoria Gallert, 33, Detroit, visited several times and most recently in 2017 with her 5-month-old son."It was just so breathtaking. When you walk around it, in it and just see the intricate thought that went into creating such a beautiful house of worship. The love that went into it, you can feel it when you visit. Every time we go to Paris we take the hourlong Seine boat tour — it never gets old as it's so relaxing and to see the beautiful iconic cathedral come around the corner brings a certain calmness in your heart."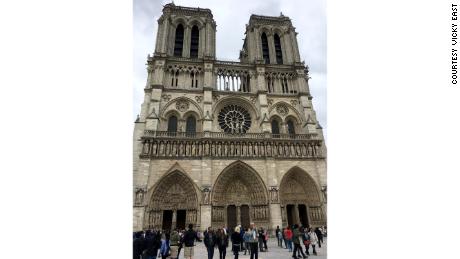 Vicky East visited with her granddaughter in May 2018.Vicky East, 50, Canada, visited last year to celebrate her birthday along with her daughter, who turned 21."We went to Notre Dame and sat and listened while a Mass was taking place one evening. It was a beautiful contemplative place that meant so much to so many. It didn't matter if you were French or not, Catholic or not; it was just a very special place. Seeing this iconic building so ravaged by this fire is truly devastating."Paula Bristol, 70, Quincy, Illinois, had visited the cathedral several times and shared the experience with her granddaughter, Hailey, in 2016."The first time I saw Notre Dame is etched into my memory. I was on a night cruise along the Seine river. It was incredibly moving. I attended mass on July 4, 1982, in the Notre Dame Cathedral. Of course I admire the beautiful architecture and the rose window. But more noticeable to me was the peace and serenity within the church."Do you have personal memories of visiting Notre Dame? Share your Notre Dame stories with us and tell us what the cathedral has meant to you.
Source Link:
https://www.cnn.com/2019/04/15/world/notre-dame-memories-trnd/index.html
[0.750773]
Comments
comments