(CNN)Every Sunday in Bogotá the streets echo to the whirring sound of cyclists weaving their way through the city's ciclovías — cycling paths.
Since the mid 1970s the Colombian capital has closed more than 100 kilometers of its roads to motorists making way for bicycles, rollerblading, walkers or runners at the weekend. It's been dubbed "the world's most successful recreation event."Follow @cnnsport Cycling is deep rooted in Colombian culture, a nation known for it's obsession with the sport. It's a passion that has helped nurture a number of contenders, notably Nairo Quintana, for the Tour de France — the most important race of the cycling calendar, which starts this Saturday. The 105th edition of the race begins in the Vendée region in the west of France.Key to any potential winner's hopes of winning the Tour is the ability to negotiate the mountainous stages in the Alps and the Pyrenees. And Colombia's mountainous regions provide the perfect training environment.Read MoreAs well as Quintana, Colombia will have a host of riders to cheer on at the Tour, notably Rigoberto Uran, who came second at the Tour last year and was also second at the Giro d'Italia in 2013 and 2014. Darwin Atampuma, Egan Bernal (winner of two stages and of the overall classification at the Tour of California this year), Fernando Gaviria and Daniel Martinez will also be there.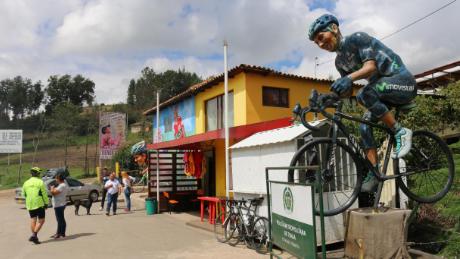 A statue outside Nairo Quintana's parent's house in Cómbita, Colombia (Picture courtesy of Nick Busca for CNN)Miguel Angel Lopez, who came third at this year's Giro d'Italia, Sergio Henao (winner of Paris-Nice in 2017), Winner Anacona and Jarlinson Pantano won't take part in this year's tour, but are other notable Colombian professionals, which provides a sense of the strength in depth of the sport in the South American country.The 28-year-old Quintana became a national treasure after winning the Giro d'Italia in 2014 and the Vuelta a España in 2016. When you're cycling on any Colombian road, passers by will cheer you on by saying "vamos Nairito!" ("go little Nairo!").In front of his parents' house in Cómbita — where they still work in the small family bar on the ground floor — two big statues of Quintana riding his bikes have been built in honor.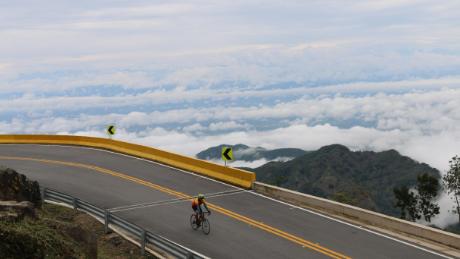 Hernan Acevedo of Pure! Colombia cycles towards Cambao from Bogotá (Photo Nick Busca).READ: Tour de France: How riders use the 'sticky bottle' to gain an advantageREAD: Tour de France: The history of the La Caravane Du TourREAD: Tour de France Fast Facts 'I was the one who took him to Europe to train and race'Luis Fernando Saldarriaga, who in Colombia is known as the "King Midas of cycling" — was Quintana's coach before he turned professional.Saldarriaga also coached Esteban Chaves, who was second at the Giro in 2016 and third at the Vuelta a España in 2016. Under Saldarriaga's guidance, both Quintana in 2010 and Chaves in 2011 won the Tour de l'Avenir, a "mini Tour de France" for young riders."They both came from a talent recruitment program that traced their physical, psychological and physiological factors," Saldariaga, who is now coach of the national team Manzana Postobon, told CNN Sport."Chaves was for five years under my preparation and I was the one who took him to Europe to train and race. "He was intelligent, with a good engine. Nairo showed extraordinary VO2 (the volume of oxygen processed in the body, often seen as the key metric to establish the "engine" of an endurance rider) and a recovery with unusual range. "He also had a wattage per kilogram that set a reference for the whole world," added Saldarriaga, referring to another a key performance indicator — a cyclist's power to weight ratio.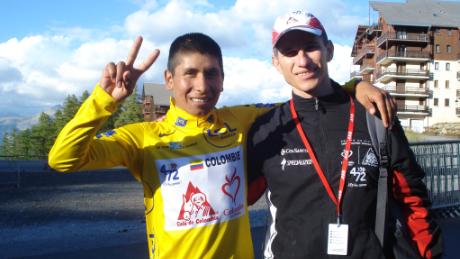 Nairo Quintana (left) with Luis Fernando Saldarriaga (right)However it's not just physical stamina that makes Colombian cyclists so competitive, according to Saldarriaga."The Colombian love for cycling comes from an intrinsic motivational factor, where the love for the family — and sometimes the pressure of the social environment — makes the youngsters dare to learn the discipline."From his successes with Quintana and Chaves, Saldarriaga is much in demand with farmers in different parts of the country wanting him to give their sons a trial. "Because they insist sometimes I do pick up some riders and select them with tests, but you have to select just the top ones."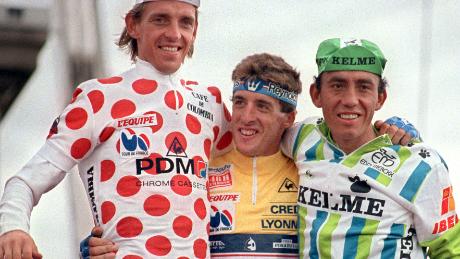 Colombian Fabio Parra, (right) came third in the 1988 Tour de France.Colombia breeds super climbersFormer cyclist and winner of the Tour of Britain in 2004, Mauricio Ardila says the high mountains of Colombia in the Boyacá and Antioquia regions helped breed Colombian riders of the 1980s and 1990s, such as Lucho Herrera and Fabio Parra."In those years there were great teams and emblematic riders that would have been stuck in the memories of every Colombian," says Ardila, who is now sporting director of the Paisa Pride cycling team."We always had the illusion of having results in the best world races, but we had to wait and now is that time. The national federation was also very important in this process and has motivated many youngsters to become pros."It's not just in the mountains where Colombians have excelled. Since 2015, they have also been successful in bunch sprints, a discipline which requires a different physical capacity and training schedule.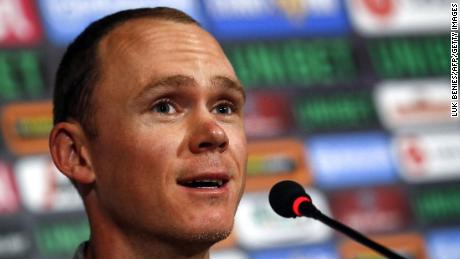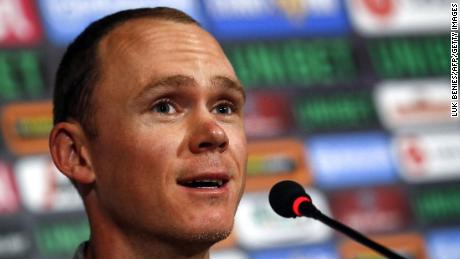 JUST WATCHEDFroome under scrutiny at Tour de FranceReplayMore Videos …MUST WATCH
Froome under scrutiny at Tour de France 03:21READ: Froome faces Tour de France securityNotably Fernando Gaviria, who won four stages at the Giro d'Italia in 2017 and has number of other professional wins to his name. If a historic first overall win at the Tour de France for Colombia may be just around the corner, also keep an eye on the next wave of Colombian cyclists.There's Sergio Andres Higuita (aged 20), Jhojan García (20), Hernan Aguirre (22) and Ivan Ramiro Sosa (20) for the general classifications, as well as Wilmar Paredes (22) for a one-day classic race, Juan Sebastian Molano (23) for the sprints and Álvaro José Hodeg (21) for sprints and one day races.They're coming fast and furious the Colombians.
Source Link:
https://www.cnn.com/2018/07/06/sport/tour-de-france-colombias-cycling-obsession-spt-intl/index.html
[0.61258]
Comments
comments