(CNN)Tornadoes, very strong winds and hail on Thursday threaten the Midwest and Southern Plains, including Oklahoma, a state warily familiar with tornadoes but where only one has struck this month.
This threat originates from the same storm system responsible for 25 reported tornadoes in the central Plains Wednesday. It was also an active day for the Northeast, with most of the 249 wind reports.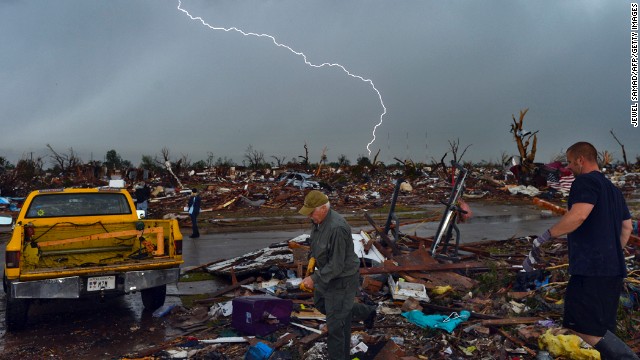 Tornado Alley isn't living up to its name with near-record quiet activity this AprilThursday's severe storm threat comes amid a rather quiet tornado season for Oklahoma. Only one tornado has been reported there so far this May; the state typically has 27 tornadoes in the month. The last time there were so few tornadoes in May in Oklahoma was almost a decade ago, in 2012, when a single tornado was reported, according to the Storm Prediction Center's database.Tornadoes threaten the Southern Plains and MidwestRead MoreThe tornado count could go up today in the Sooner State. There is a level 3 of 5, enhanced risk for severe storms in place for much of Oklahoma. That threat level also spans from northwestern Texas through southern Missouri and includes Oklahoma City, Tulsa, Norman and Wichita Falls.Isolated to scattered severe storms are possible across a large area in the central US, from West Texas through the western Ohio River Valley. Cities including Kansas City, St. Louis, Little Rock, Dallas and Jefferson City are included in the level 2 of 5 risk.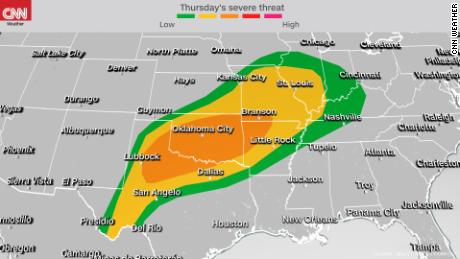 Storm Prediction Center's severe weather outlook Thursday into Thursday nightThunderstorms are already tracking Thursday through parts of Oklahoma, Kansas, Missouri and Iowa, with widespread rain across the upper Midwest.
We all saw it this morning, so see if you can beat our shot of this morning's shelf cloud. It'll be tough to beat, but let's see what you've got! pic.twitter.com/asyrncM3lj
— NWS Kansas City (@NWSKansasCity) May 27, 2021 A more significant threat will ramp up this afternoon, with more scattered thunderstorms forming over northern Oklahoma and southern Kansas, then eventually into parts of Missouri and Arkansas."Initial storms may […] produce some golf ball size hail and damaging wind gusts to 65 mph," says the National Weather Service in Wichita, Kansas.The storms will become more widespread by the evening, with the severe threat peaking around then. Thunderstorms will likely have formed across much of the severe weather risk area from Texas through the Midwest. Get your latest forecast here >>>The highest risk for tornadoes will be in central Oklahoma stretching back to northern Texas and into Missouri, while damaging winds and large hail are most likely in Oklahoma and Texas. Hurricane-force winds and baseball-size hail will be possible.Overnight, thunderstorms will track south and east in the general direction of the Gulf Coast states. Severe weather will remain possible, with winds and hail the biggest risks.These storms will likely weaken by Friday morning, but scattered showers and storms will persist into the day from Texas through the Ohio River Valley and into the Northeast.Isolated severe storms will be possible Friday from New Mexico from Maryland. The highest risk will be in southeastern New Mexico, extreme West Texas and in the greater Washington, DC, area.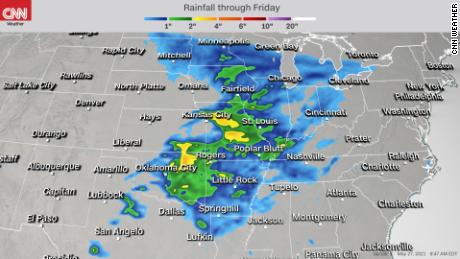 Forecast rainfall accumulation through Thursday nightIsolated flash flooding is possible with some of these storms, with a widespread 1 to 2 inches of rainfall forecast from northern Texas through Illinois. Isolated totals of up to 4 inches will be possible, especially in Oklahoma and Missouri.
Source Link:
https://www.cnn.com/2021/05/27/weather/severe-tornadoes-hail-plains-forecast/index.html
[-0.892721,"negative"]
Comments
comments