(CNN)More than $15 million.
That's what Tom Steyer has spent on television and digital advertising in less than two months as he has raced to make a name for himself as a Democratic presidential contender.But on Thursday, the results were clear. Despite filling the television airwaves and the Facebook feeds of voters in early voting states such as Iowa, New Hampshire and South Carolina, the billionaire hedge-fund founder had not cleared the last remaining obstacle to join next month's nationally televised debates: earning at least 2% support in four polls sanctioned by the Democratic National Committee.Steyer's troubles underscore a hard truth about politics: Money doesn't always matter — even if, like Steyer, you spend $365.6 million on political activities over the course of nearly a decade.The graveyard of American politics is littered with the doomed ambitions of the very rich. Just consider Linda McMahon, who spent a combined $99 million on two failed Senate bids. Or Meg Whitman, who plowed $144 million of her fortune into campaigning for California governorship in 2010 and still lost to Democrat Jerry Brown. Read MoreOr, more recently, Bob Hugin, a former pharmaceutical executive from New Jersey, whose $36 million investment failed to oust Democratic incumbent Bob Menendez from the US Senate last year."Part of it is that Americans fundamentally don't trust rich people," said Thad Kousser, a political scientist at the University of California, San Diego. "Another part of that is: They don't have that reservoir of familiarity and good feeling that some politicians enter any race with."But, as tax data released by his campaign on Thursday shows, Steyer is in a class of his own as a political donor-turned-politician.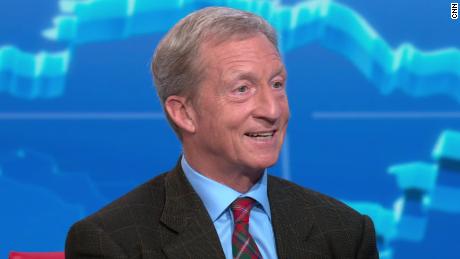 Tom Steyer likely to miss September debate stage after failing to hit 2% in new pollsSteyer and his wife, Kat Taylor, earned nearly $1.2 billion in gross income between 2009 and 2017 and plowed $365.6 million into political activities over that nine-year period, his campaign disclosed. That includes the millions he has invested into political organizations Steyer has created to fight climate change, engage young voters and, more recently, to encourage a reluctant Democratic establishment to begin impeachment proceedings against President Donald Trump. His Need to Impeach organization alone has drawn the support of more than 8 million people — voter contacts he's now using to advance his presidential ambitions.But the spending that made Steyer one of the Democratic Party's biggest donors in recent years hasn't always translated into results at the ballot box. In the 2014 midterm elections, for instance, Steyer deployed tens of millions of dollars into seven Senate and governors' races. Just three of his favored candidates won.Two years later, he became the largest disclosed donor to outside groups active in federal races, according to a tally by the Center for Responsive Politics. Republicans won the White House and retained their grip on Congress."Steyer is kind of famous for spending lots of money on lost causes," said John Feehery, a Republican political strategist in Washington. "I just don't think he has a constituency: There's only a certain number of billionaires who want to impeach Trump."Steyer's campaign officials did not immediately respond to an interview request this week. But Steyer and his allies have long argued that his behind-the-scenes work has paid off for his party. In the run-up to the 2018 elections that saw Democrats win back the House, Steyer boasted he had built the largest grassroots operation in the country, much of it focused on turning out the youth vote. His political groups employed 750 people during the midterms with operations on 420 college campuses.And Steyer himself has increasingly schooled himself in the art of retail politics.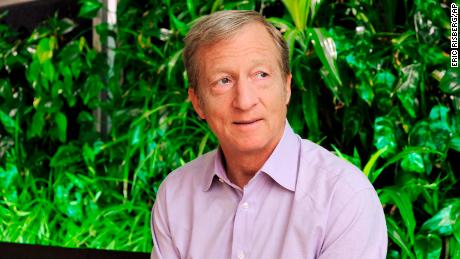 Photos: In photos: Presidential candidate Tom Steyer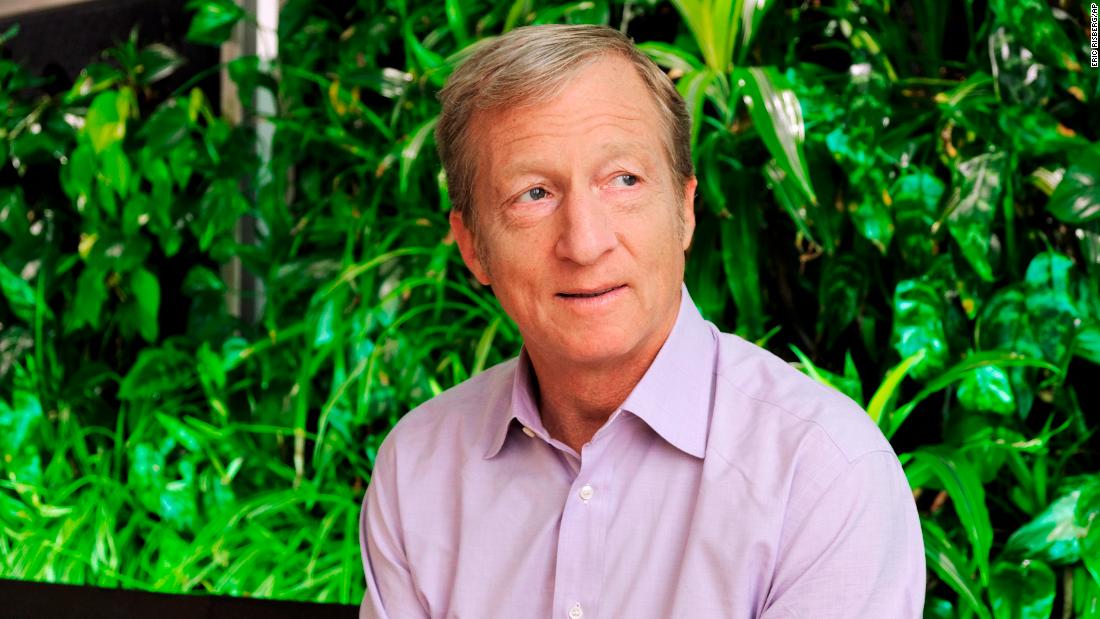 Photos: In photos: Presidential candidate Tom SteyerTom Steyer, seen here in June 2018, has teased political bids before.Hide Caption 1 of 13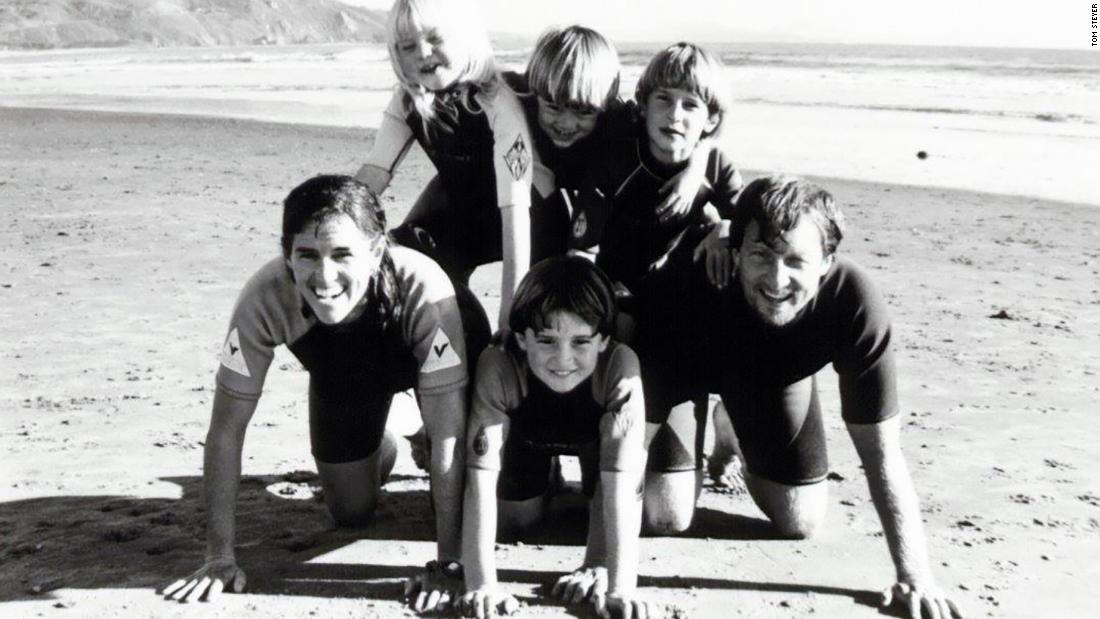 Photos: In photos: Presidential candidate Tom SteyerSteyer and his wife, Kat Taylor, have four children. Steyer posted this undated photo on his Facebook page in May 2016.Hide Caption 2 of 13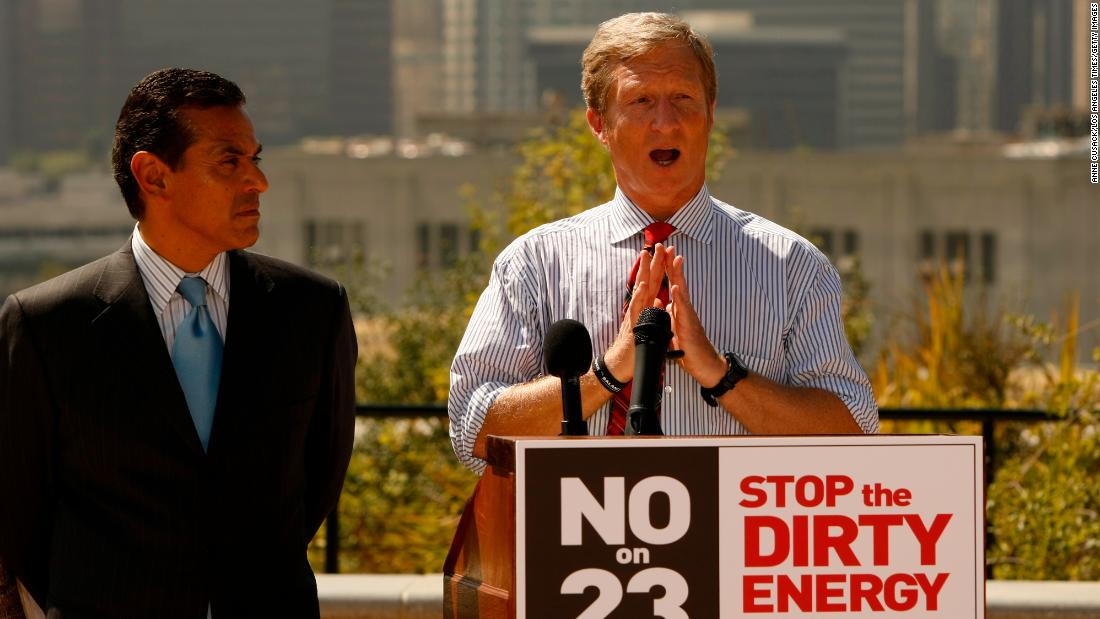 Photos: In photos: Presidential candidate Tom SteyerLos Angeles Mayor Antonio Villaraigosa watches Steyer speak out against a California ballot proposition in August 2010.Hide Caption 3 of 13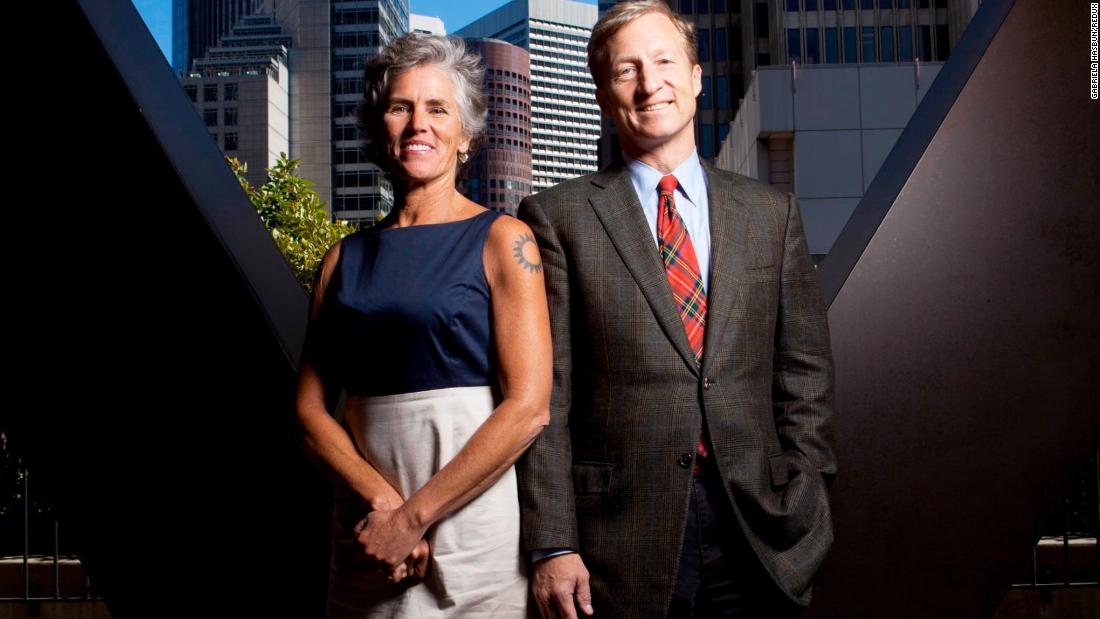 Photos: In photos: Presidential candidate Tom SteyerSteyer and his wife, Kat. Steyer's net worth reached $1.6 billion this year, according to Forbes. He began amassing his fortune in 1986 when he launched his hedge fund Farallon Capital.Hide Caption 4 of 13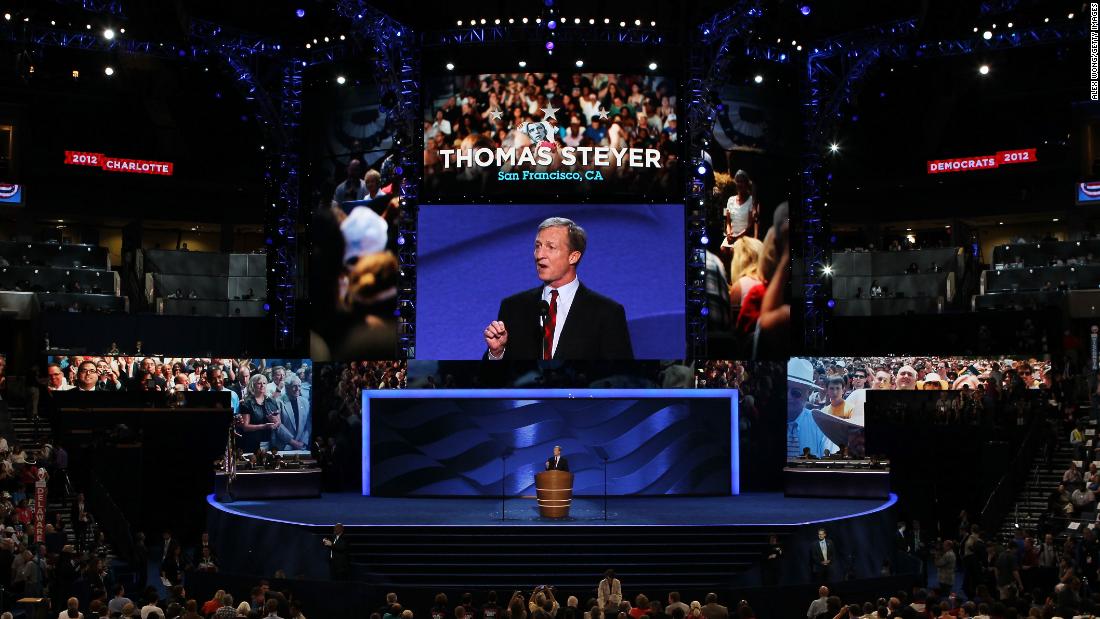 Photos: In photos: Presidential candidate Tom SteyerSteyer speaks at the Democratic National Convention in September 2012.Hide Caption 5 of 13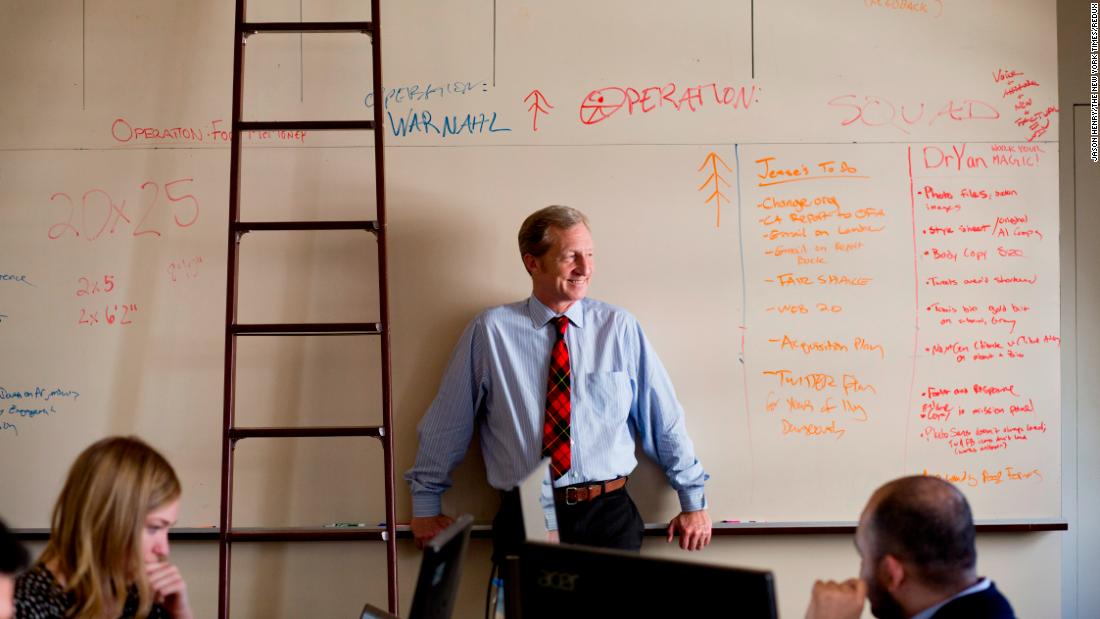 Photos: In photos: Presidential candidate Tom SteyerSteyer is photographed in February 2014 at the San Francisco office of NextGen Climate Action, a political action committee he founded.Hide Caption 6 of 13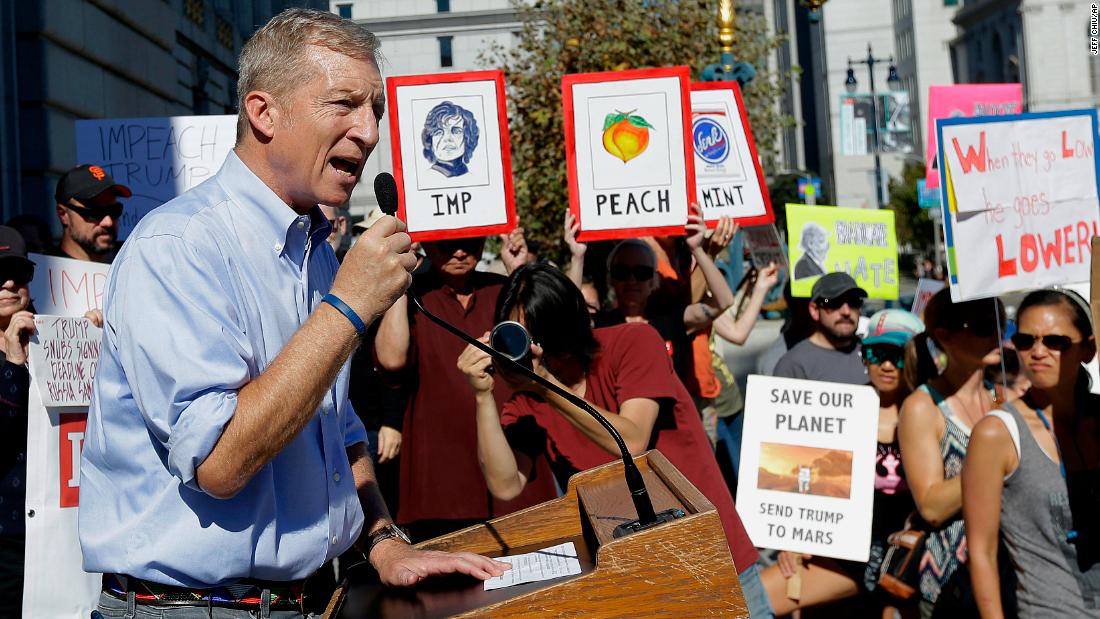 Photos: In photos: Presidential candidate Tom SteyerSteyer speaks at an October 2017 rally in San Francisco calling for the impeachment of President Trump.Hide Caption 7 of 13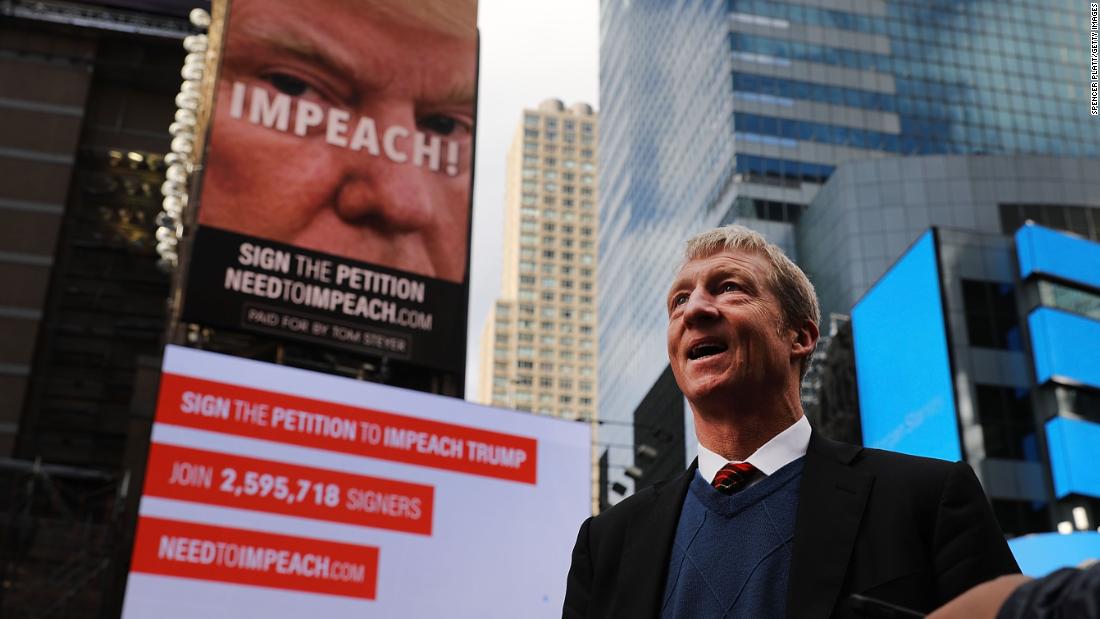 Photos: In photos: Presidential candidate Tom SteyerSteyer stands in front of one of the impeachment billboards he funded in New York's Times Square in November 2017.Hide Caption 8 of 13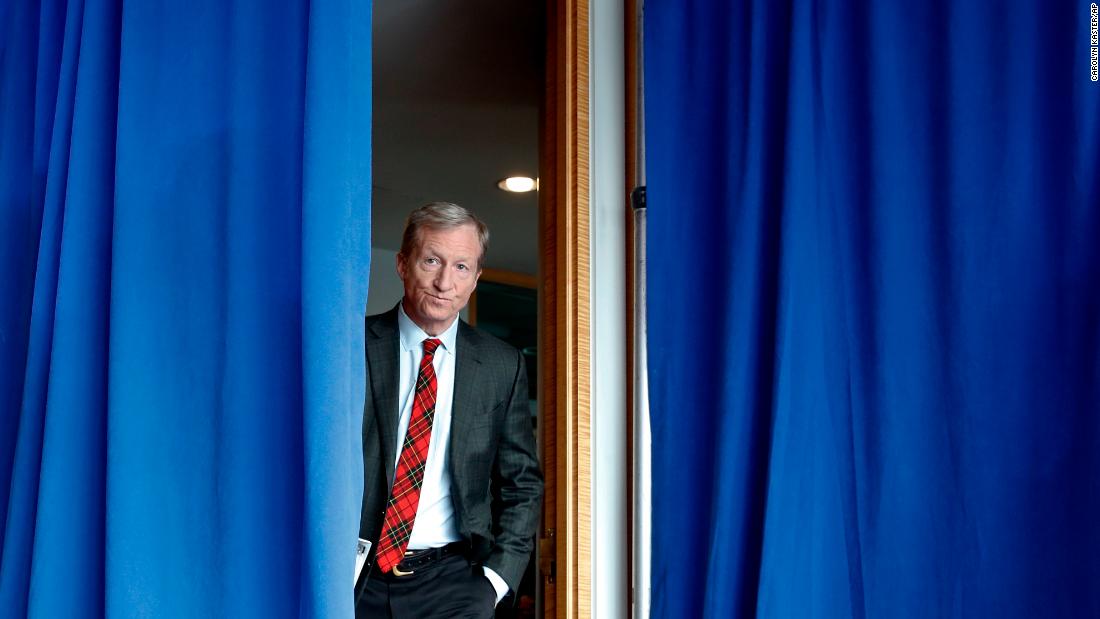 Photos: In photos: Presidential candidate Tom SteyerSteyer arrives to speak at a news conference in Washington in January 2018. He announced that he would spend $30 million to get young voters to the polls in the midterm elections.Hide Caption 9 of 13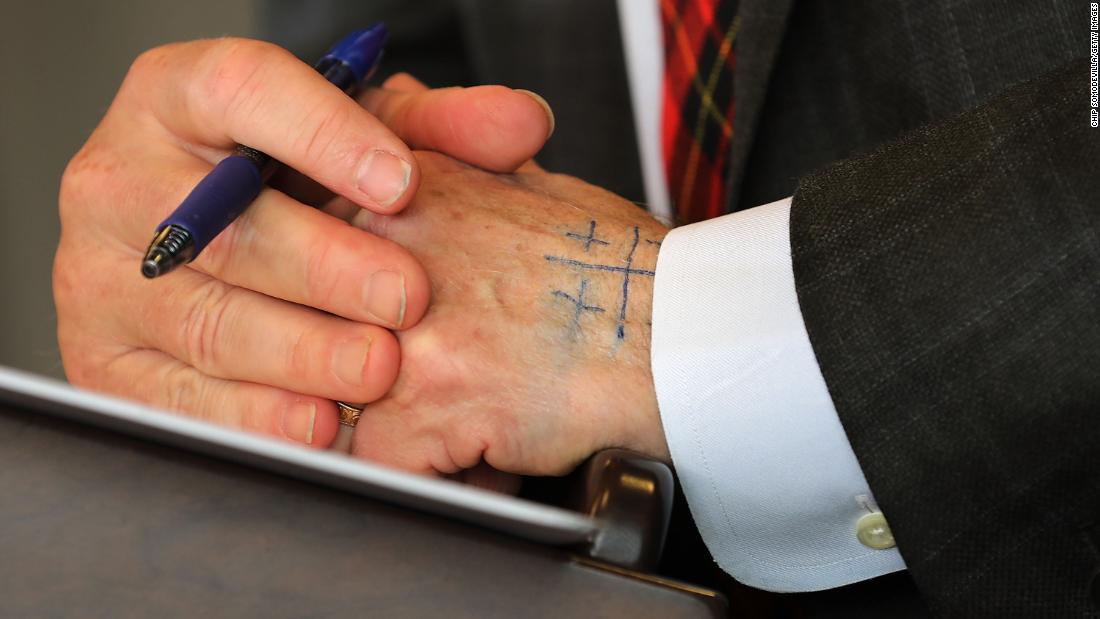 Photos: In photos: Presidential candidate Tom SteyerSteyer has a Jerusalem cross written in ink on the back of his hand during a news conference in Washington in January 2018. Steyer starts every interview by drawing the pattern on the back of his hand, Politico reported. It's reminds him to be humble and tell the truth, he says.Hide Caption 10 of 13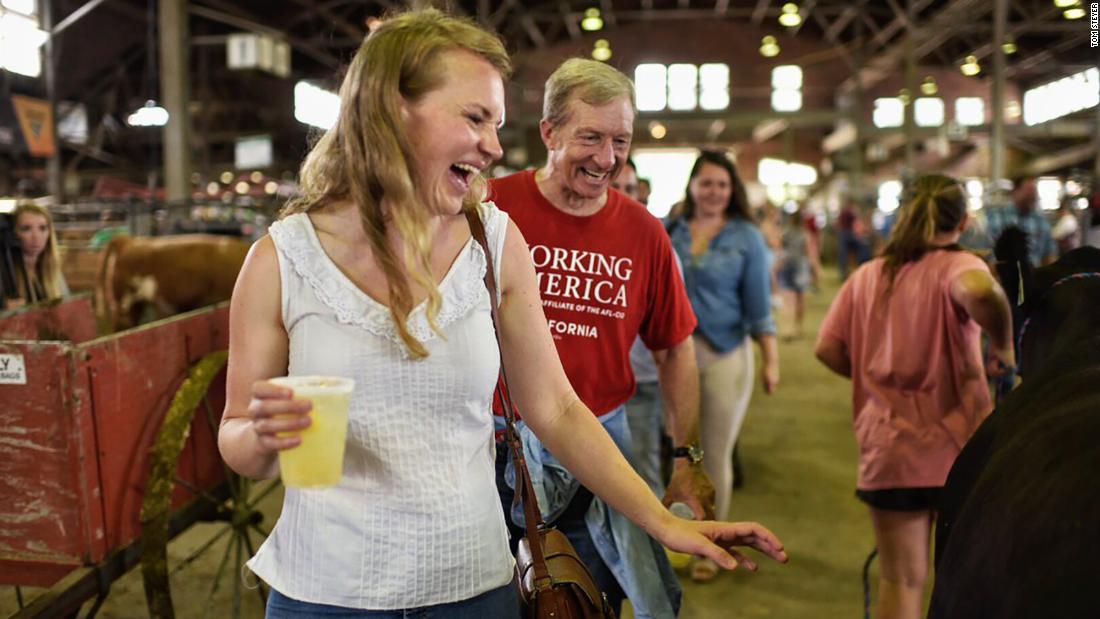 Photos: In photos: Presidential candidate Tom SteyerSteyer and his daughter, Evi, attend the Iowa State Fair in August 2018.Hide Caption 11 of 13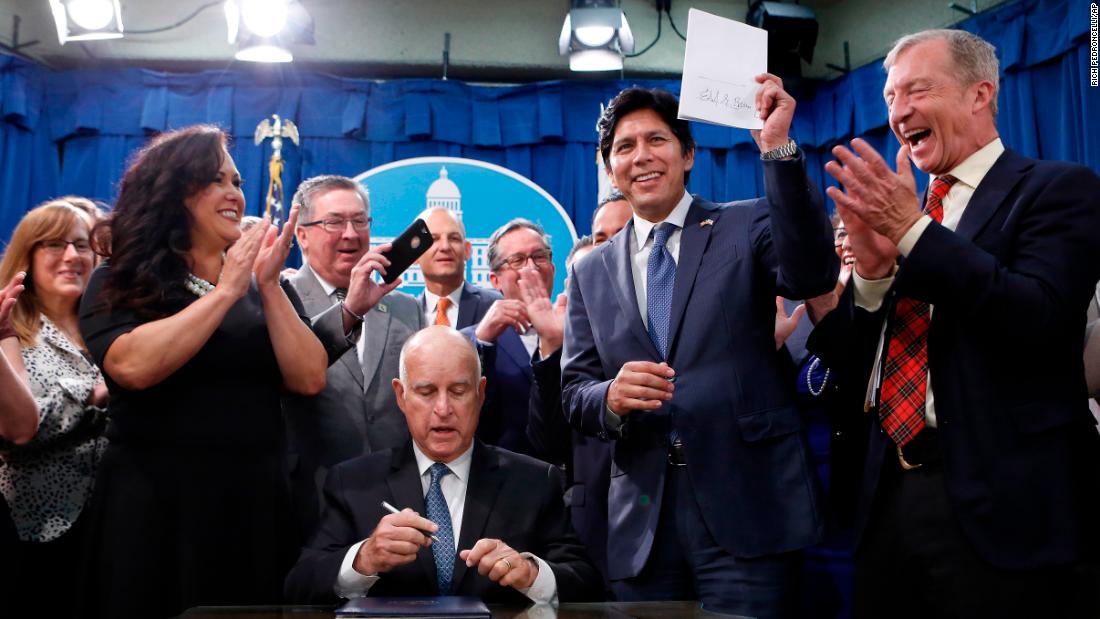 Photos: In photos: Presidential candidate Tom SteyerSteyer stands next to California state Sen. Kevin de Leon, who is holding a copy of State Bill 100 after it was signed into law by California Gov. Jerry Brown in September 2018. SB100 sets a goal of phasing out all fossil fuels from the state's electricity sector by 2045.Hide Caption 12 of 13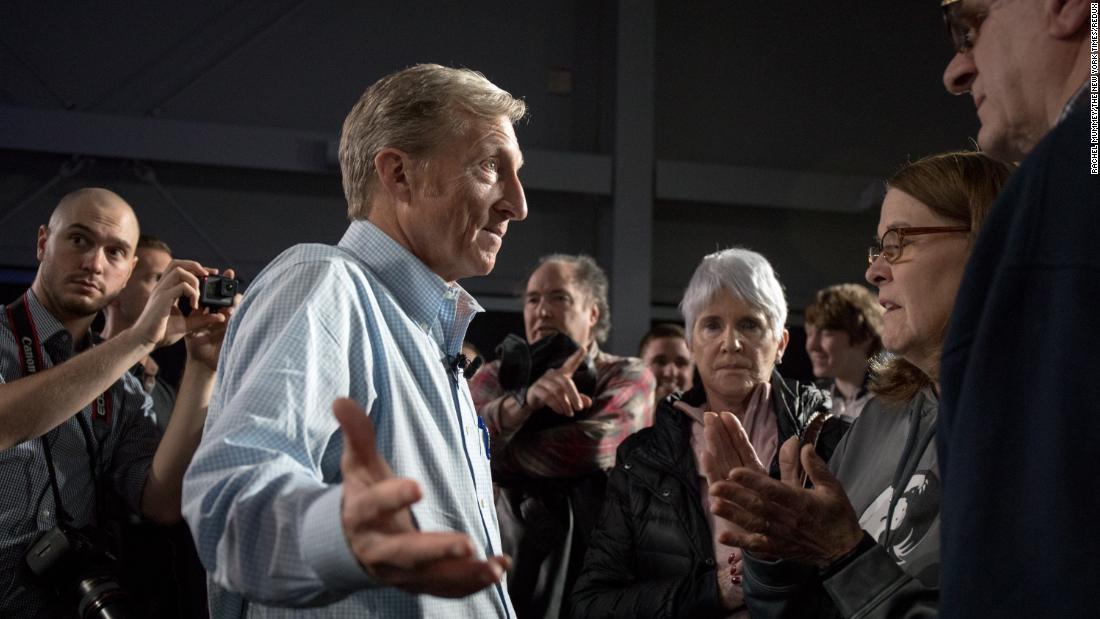 Photos: In photos: Presidential candidate Tom SteyerSteyer attends a town-hall meeting in Ankeny, Iowa, in January 2019. He ruled out a presidential run in January but then started his campaign in July.Hide Caption 13 of 13











Ahead of the midterms last year, Steyer, a 62-year-old with still-sandy blond hair and a penchant for argyle ties, hit the road to headline dozens of town hall meetings, introducing himself to voters and working to become the face of the impeach Trump movement. Now, Steyer's aides say he has committed spending at least $100 million on his presidential bid in the hopes of toppling another billionaire, Trump, who defied political conventions to win the White House in 2016.Trump plowed $66.1 million of his real-estate and branding fortune into his presidential race, but his unorthodox campaign and his fame from "The Apprentice" reality-show franchise set him apart from other wealthy contenders of years past."It's pretty bold to assume that you can come out of nowhere, never having held public office, and win the highest office in the land," Kousser said. "One person has done that, but that person came in with just a huge reputation."(Trump also didn't rely entirely on his real estate and branding fortune to win either. His money accounted for fewer than $1 out of every $5 that flowed into his campaign coffers in the 2016 election.)The other self-funder in the 2020 race for the Democratic nomination, former Maryland congressman John Delaney, didn't make the Houston debate stage, either — despite kicking off his campaign as early as 2017 and spending more than $19 million of his own money.Just 10 candidates will debate on a single night next month: former Vice President Joe Biden, Massachusetts Sen. Elizabeth Warren, Vermont Sen. Bernie Sanders, California Sen. Kamala Harris, former Housing and Urban Development Secretary Julián Castro, South Bend, Indiana, Mayor Pete Buttigieg, Minnesota Sen. Amy Klobuchar, New Jersey Sen. Cory Booker, former Texas congressman Beto O'Rourke and businessman Andrew Yang.But Steyer's spending spree still could pay off later this fall ahead of a planned October debate.He's just one survey shy of the requirement that candidates register at least 2% in four DNC-sanctioned polls. On Wednesday night, his campaign aides expressed dismay that the the national Democratic Party did not include any qualifying polls from the early voting state of Nevada.The Facebook ads Steyer has run this week echo that theme, asking Democrats in states like Iowa and Nevada to sign a "petition" with this message for the national party: "We need more polls."
Source Link:
https://www.cnn.com/2019/08/29/politics/tom-steyer-self-funding-debates/index.html
[0.283041]
Comments
comments