(CNN)The forced resignation of homeland security adviser Tom Bossert on Tuesday is the latest in an absolutely remarkable string of departures from Donald Trump's inner circle and Cabinet, a historic series of exits that amounts to a total overhaul of the White House just 15 months into the President's first term.
Bossert is the 32nd "A Team" — or most senior — member of Trump's staff to leave since January 20, 2017, according to statistics maintained by Brookings' Kathryn Dunn Tempas. There are only 65 "A Team" positions in the White House total. Which means that in the 445 days Trump has been president, he has lost 49% of his "A Team" staff. (For more on what constitutes an "A Team" staff member, read this from Tempas.)How does that compare to past administrations? Badly.In the 1st year of Trump's presidency, 34% of his top staff left. Although it's only April,15% more have left in his second year. In President Barack Obama's first two full years in office, 24% of his "A Team" staff departed. For George W. Bush it was 33%. Bill Clinton? 38%. And, these statistics don't even truly capture the full extent of the staff turnover within Trumpworld.Read MoreTempas' calculations don't take into account when an "A Team" job turns over more than once. So, the fact that Trump has had at least three communications directors — Mike Dubke, Anthony Scaramucci and Hope Hicks — only counts as one change in "A Team" staff in her count.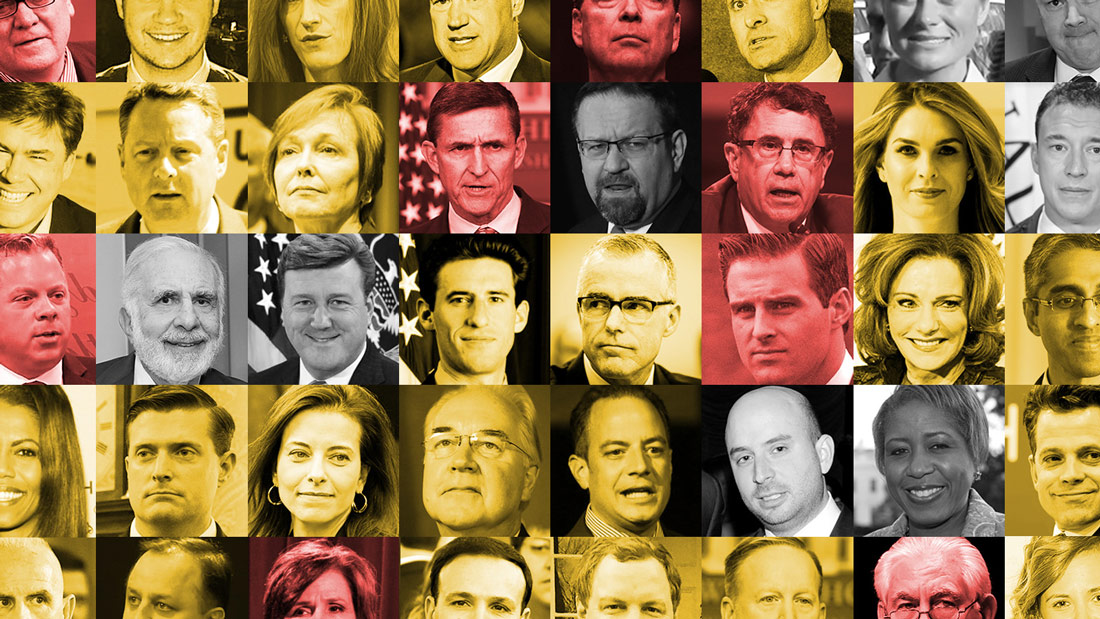 Who's left the Trump administration? And, the Brookings numbers also don't include members of the Trump Cabinet. So, the "resignations" of Bossert and chief economic adviser Gary Cohn count in Tempas' numbers but the departures of Secretary of State Rex Tillerson and Veterans Affairs Secretary David Shulkin don't. To give you that broader perspective, I asked Brenna Williams to build a list of every major departure from Trump orbit since January 1. Here it is.1. Omarosa Manigault Newman2. Dina Powell 3. Jeremy Katz4. Rick Dearborn5. Taylor Weyeneth6. Rob Porter7. David Sorensen8. Brenda Fitzgerald9. Rachel Brand10. Josh Raffel11. Gary Cohn12. John Feeley13. Andrew McCabe 14. John McEntee15. Rex Tillerson16. John Dowd17. David Shulkin18. Hope Hicks19. H.R. McMaster20. BossertAnd CNN's Sam Petulla has been maintaining a more exhaustive list of departures and time spent in the administration for top posts as well as cabinet officials. It's an even much longer scroll. I mean. That's incredible. Because it's not just the raw numbers. Since January, Trump has:Replaced his chief national security adviserReplaced his chief diplomatReplaced his chief economic adviserHe's also lost several people — Hicks, most notably — who he relied on heavily for counsel and calming. And seen others who remain at the White House — chief of staff John Kelly, I am looking at you — fall out of favor and/or lost the President's confidence.It's a stunning amount of turnover and turmoil. It is, in a word, chaotic. Or, in two words: Total chaos.
Source Link:
https://www.cnn.com/2018/04/10/politics/donald-trump-tom-bossert/index.html
[-0.090718]
Comments
comments