London (CNN Business)Happy Friday. A version of this story first appeared in CNN Business' Before the Bell newsletter. Not a subscriber? You can sign up right here.
The monthly US employment report is always a big moment for investors, who see the numbers as a crucial data point for interpreting the health of the world's biggest economy.And at a moment when fears of a US recession are growing, the numbers out Friday could draw even more attention than usual.The scene: The inversion of a closely-watched part of the US yield curve in August triggered a stock market selloff. Though a rally has been sparked by news that the United States and China are still talking on trade, markets have not been able to shake a lingering sense of dread.But the US jobs report, which hits at 8:30 a.m. ET, could embolden those who want to stay bullish through the end of the year. Economists polled by Reuters expect the US economy to have added 158,000 jobs last month. That's slightly lower than the July figure, but still positive. Read MoreMy CNN Business colleague Anneken Tappe in New York points out that number is also above the 140,000 three-month average."In a summer punctuated by trade-related market swings, the healthy US labor market has been a steady source of reassurance of the economy's strength," Nela Richardson, investment strategist at Edward Jones, told Anneken.Looking good: A readout of private sector employment on Thursday also looked healthy, while the Institute for Supply Management's non-manufacturing index for August rose. But problems in the manufacturing sector, which contracted for the first time in three years in August, could still rear their head. New jobs in manufacturing are expected to drop to 8,000 in August — half of what they were in July.On the radar, from Anneken: "Investors will also focus on wage growth numbers, looking for any signs of a rebound in inflation, one of the key metrics the Federal Reserve looks at in setting monetary policy."Good news on the jobs report could spell bad news for those expecting a Fed rate cut in September.About 91% of investors now expect a 25 basis point rate cut, according to CME Group's FedWatch tool. But the likelihood of no action at all is ticking slightly higher.A German recession could be 'all but confirmed'Readers of this newsletter know that Germany, Europe's biggest economy, is on the brink of a recession, as the US-China trade war, flagging global demand for autos and the specter of Brexit all combine to drag growth down.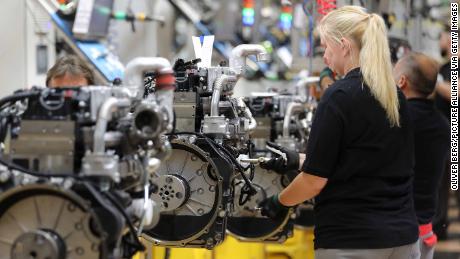 Germany's central bank issues recession warningFresh economic data released Friday did nothing to improve the picture. Industrial production fell 0.6% in July compared to the previous month. It's down 4.2% versus the same month a year earlier. One of the biggest issues, according to Carsten Brzeski, ING's chief economist in Germany, is the lack of demand.Claus Vistesen, chief eurozone economist at Pantheon Macroeconomics, pointed to the data as evidence that "Germany's recession is all but confirmed." That's in part because retail sales for July were also "dreadful," he said."The August and September numbers could still spring upside surprises, but we don't have high hopes," Vistesen wrote in a research note.Brzeski agrees. "Shrinking order books, high inventories and continuing external uncertainty do not bode well for the coming months," he said.US banks are in a position of strengthIt's fair to say that global banks are not looking forward to a period of even lower interest rates, which will eat into their lending margins. But it's worth remembering that US banks will enter the next phase of monetary policy with plenty of muscle. Fresh data from the Federal Deposit Insurance Corporation shows that banks insured by the agency brought in $62.6 billion in profit in the three months ended June. That's up 4.1% from the same period in 2018.It's a slower pace of growth than banks recorded throughout 2018, when the tax cuts and a humming economy sent profits higher and higher. That could hit stocks. The KBW Nasdaq Bank Index of major lenders is down slightly so far this year.But even if the Fed cuts rates three times before the end of the year, the biggest US players should be able to keep spending on areas like digital transformation. Their European competitors? Perhaps not so much.Up nextThe August US jobs report at 8:30 a.m. ET is the day's big event.Also today: Federal Reserve Chairman Jerome Powell speaks as 12:30 p.m. ET in Zurich. His remarks will be livestreamed.Coming next week: The European Central Bank makes its move, and Britain's Parliament weighs a snap election.
Source Link:
https://www.cnn.com/2019/09/06/investing/premarket-stocks-trading/index.html
[-0.336279]
Comments
comments