Colleges across America are banning access to TikTok on university-owned Wi-Fi networks as national security concerns with the Chinese-owned company's app.
The actions against TikTok that have been taken by colleges largely in response to executive orders coming from several governors in America.
During a speech to the University of Michigan's Gerald R. Ford School of Public Policy on Dec. 2, FBI Director Christopher Wray said that Chinese officials have broad access to TikTok, which allows them to "manipulate content, and if they want to, to use it for influence operations."
"All of these things are in the hands of a government that doesn't share our values, and that has a mission that's very much at odds with what's in the best interests of the United States. That should concern us," Wray said.
TIKTOK, OTHER SOCIAL MEDIA CONTROLLED BY OUR ENEMIES MUST BE BANNED NOW. WE CAN'T WAIT ANY LONGER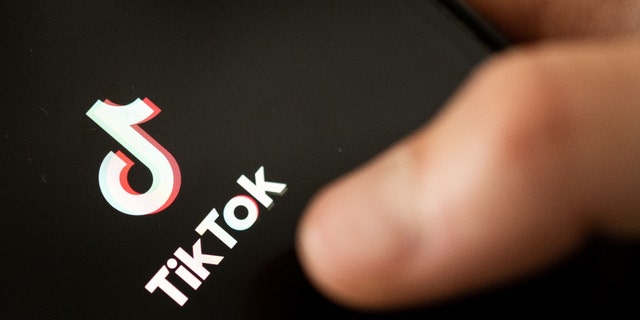 A teenager taps the TikTok logo on a smartphone. (Photo by Marijan Murat/picture alliance via Getty Images)
Governors of Texas, Alabama, Oklahoma, Arkansas, Idaho, Maryland, Montana and South Dakota all signed executive orders which limit the ability for individuals to access TikTok while using state-owned internet networks.
Jake Denton, a research associate at the Heritage Foundation's Tech Policy Center, told FOX Business that he thinks the move by universities is a step in the right direction, stating that TikTok has a mass amount of data on everyday Americans.
BILL TO BAN TIKTOK NATIONWIDE TO BE INTRODUCED IN SENATE
"I mean, a lot of people are familiar with the experience where something pops up, whether it be an advertisement or a link, and you click on it and it feels as though you're within Safari. They've replicated kind of that interface, but you're actually within TikTok's own browser and they're logging everything in that environment. So that prompted you to log into something. They have your password, they have your username. So it's, it's that level of concern," Denton said.
One aspect of TikTok that concerns Denton is its location tracking feature, adding that the Chinese government could use it to find whoever they want as long as they use the popular app.
JUDGE DROPS CASE AGAINST NYPD OFFICER ACCUSED OF SPYING FOR CHINA; PROSECUTORS SAY REASON IS 'CLASSIFIED'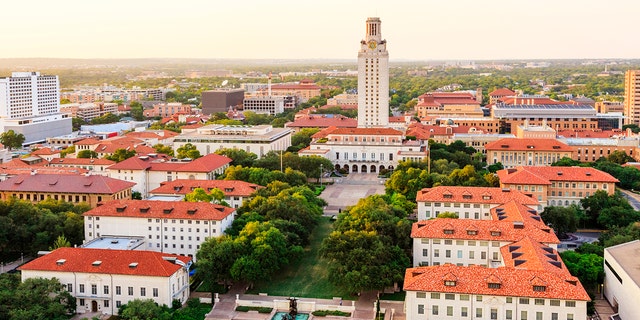 University of Texas Austin campus at sunset. (iStock)
"This really causes a concern about real world intervention, you know, in Chinese intelligence capacities. If they know you always go to, you know, a bar on a Tuesday night, they know they can find you there," Denton said.
Here's a list of colleges that have banned students from accessing TikTok on Wi-Fi networks:
Texas:
University of Texas at Arlington: After Texas Governor Greg Abbott signed the executive order in December, a university spokesperson told Fox News Digital that it "took immediate steps" to "restrict access to TikTok via university devices and networks."University of North Texas: After Gov. Abbott signed the executive order in December, the university began "blocking access via our networks" for students attempting to access TikTok, according to Chief Communications Officer Laken Rapier.
TIKTOK OFFERS MORE TRANSPARENCY TO AVOID SWEEPING US BAN: REPORT
University of Texas At Dallas: A message to the campus community states that TikTok will be blocked while using campus Wi-Fi, except university-owned housing because they use a third-party vendor.University of Texas at Austin: A message to the campus community states that the university is blocking access to TikTok on its Wi-Fi networks.Texas A&M University: The university is banning access to TikTok on Wi-Fi networks, according to KBTX.
Alabama:
Auburn University: Access to TikTok is blocked on-campus while using university Wi-Fi, according to a university spokesperson.
Oklahoma:
University of Oklahoma: On Dec. 20, students were sent an email stating that TikTok cannot be accessed while using university wireless networks.Oklahoma State University: The university blocked access to TikTok on Wi-Fi networks on-campus on Dec. 22.
CLICK HERE TO GET THE FOX NEWS APP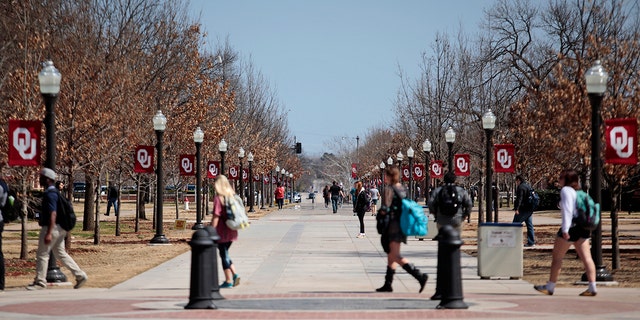 Students walk on campus between classes at the University of Oklahoma on March 11, 2015 in Norman, Oklahoma. (Brett Deering/Getty Images)
Idaho:
Boise State University In a message to students on Dec. 20, administration officials told students that TikTok is being blocked from "all university networks."
Maryland:
Morgan State University: The university told students that access to TikTok on university networks would be blocked beginning on Dec. 21, 2022.
Montana:
Montana University System: Effective Jan. 20, access to TikTok on eight public university campuses in Montana was blocked for students attempting to access the app on university-owned networks.
There does, however, appear to be a loophole through which students on campus can still access TikTok.
Cole Rather, a student at Texas A&M University, told Fox News Digital that he agrees with the ban, but states that students can simply disconnect from the university's Wi-Fi network to access the app.
"The funny thing is, though, if I'm on to talk on my phone on campus, I'll just disconnect from Wi-Fi networks with data, you know? I mean, it's that simple," Rather says of using the app. "if that's what we need to do to keep from the Chinese government spying on us or whatever it might be with algorithms and then I'm good with it."
Adam Sabes is a writer for Fox News Digital. Story tips can be sent to [email protected] and on Twitter @asabes10.
Source Link:
https://www.foxnews.com/us/tiktok-campus-colleges-nationwide-ban-popular-app-national-security-concerns-grow
Comments
comments