Story highlightsKarim's mother was killed in the attack that maimed him, an aid group saidHis supporters have been posting selfies of themselves covering one eye
(CNN)Karim Abdel Rahman — a Syrian infant who lost his left eye two months ago in an artillery attack — has become a symbol of the carnage and the humanitarian crisis in the Damascus suburb of Eastern Ghouta.
Karim's injury, a consequence of civil unrest that began seven years before he was born, sparked a hashtag social media campaign that has gone viral on Facebook and Twitter, with people — from sports stars to diplomats — posting selfies of themselves covering one eye. The photos have been tagged with #SolidarityWithKarim and #StandWithKarim.
Turkish aid agency reaches Syrian baby Karim | @yenisafakEN https://t.co/EBbBsJoeHw pic.twitter.com/CsdEdj6k47
— Turkish Red Crescent (@RedCrescentTR) December 23, 2017 "He and his mother came under an artillery attack in a popular market in Hammuriah, Eastern Ghouta. Karim's mother was killed in that attack, and Karim sustained severe injuries to his skull," said the Union of Medical Care and Relief Organizations, a group that provides humanitarian and medical assistance to "all Syrian victims of war."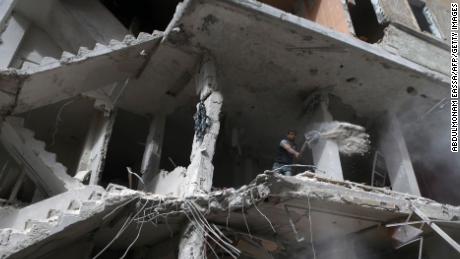 Child malnutrition soars in besieged Damascus enclaveThe Syrian Observatory for Human Rights said it witnessed the October 29 shelling in Hammuriah and in other places in the Damascus suburbs. The group monitored shelling by regime forces in an area of a kindergarten in Kafr Batna that left four children injured. A child died and three other citizens were injured in shelling in Saqba, it reported.The International Committee of the Red Cross describes a "critical" humanitarian situation in suburban Damascus.Read MoreThe #SolidarityWithKarim campaign has picked up supporters in the Middle East and across the globe, including private citizens, public figures and aid workers outraged that children have been the victims of attacks. Supporters of the campaign include the Turkish Red Crescent, the UOSSM and Syria Civil Defense, known as the White Helmets, Lebanese Prime Minister Saad Hariri, British Ambassador to the United Nations Matthew Rycroft, soccer player Franck Ribery, and Bana Alabed, the Syrian refugee who tweeted last year from besieged Aleppo.
Syrian orphans show support to #BabyKarim. pic.twitter.com/mDROuJie8m
— Turkish Red Crescent (@RedCrescentTR) December 23, 2017
In solidarity with Karim, A two-month-old Syrian Child who lost his eye, severely damaged his skull and lost his mother when they came under artillery bombardment in #EasternGhouta. #SolidarityWithKarim #SaveEastGhouta pic.twitter.com/pECRo0nnyd
— UOSSM Canada (@uossmCan) December 19, 2017
When we sit around the #UNSC & warn that inaction will mean more people are going to die. More schools bombed. More children scarred. This is what we mean.We must see an end to the bombardment & siege of #EasternGhouta.#SolidarityWithKarim pic.twitter.com/8Io85VlDdF
— Matthew Rycroft (@MatthewRycroft1) December 19, 2017
#SolidaritywithKarim pic.twitter.com/ZwemMxNqOz
— Saad Hariri (@saadhariri) December 21, 2017
We are in #solidaritywithkarim a two month-old Syrian baby who lost his eye and had his skull broken in addition to losing his mother when they came under artillery bombardment of the Assad regime on the #EasternGhouta.#WhiteHelmets in #SolidarityWithKarim pic.twitter.com/MNaS1inboS
— The White Helmets (@SyriaCivilDef) December 18, 2017
Dear friends , I stand with 2 months old baby Karim who lost his eye & mother in Syria . What is the crime of a baby? Please #StandWithKarim pic.twitter.com/IIWhSVRrIN
— Bana Alabed (@AlabedBana) December 19, 2017
#SolidarityWithKarim ❤ pic.twitter.com/4Ahwky16vQ
— Franck Ribéry (@FranckRibery) December 21, 2017 "The horrors faced by the children of Ghouta are unimaginable. Karim's story is just one of many that could have been prevented. He will have to suffer with this affliction his whole life," Dr. Ghanem Tayara, chairman of UOSSM International, said in a statement."The international community should be ashamed that this is allowed to happen with impunity," he said. "It must stop now!"
Source Link:
http://www.cnn.com/2017/12/23/middleeast/syria-karim-viral-hashtag/index.html
[-0.64286]
Comments
comments