Thomas Crowther is a professor of Global Ecosystem Ecology at ETH Zürich. Lucy Mulenkei is the executive director of the Indigenous Information Network, a Kenyan grassroots organizer and former journalist. They are co-chairs of the advisory board to the UN Decade on Ecosystem Restoration.
(CNN)Hundreds of thousands evacuated following floods in China, Pakistan, Nigeria, Turkey, Indonesia, the UK and Germany. Droughts across 40% of the USA, a record drought in Brazil leads to massive power cuts, while Madagascar is on the brink of famine. Record heat in Canada. Wildfires scorching Greece, Italy and Siberia, causing severe air pollution in Mongolia. We no longer need to state the obvious — this is a climate crisis of our own creation.
As the Executive Director of the UN Environment Programme (UNEP) said in response to the latest IPCC report: we've been told for over three decades of the dangers of allowing the planet to warm. The world listened, but it didn't act strongly enough. Now we must start acting to resolve it. What this may entail is particularly pertinent as governments and corporations make pledges in the build-up to the upcoming UN Biodiversity Conference, COP15, in Kunming, and the UN Climate Conference, COP26, in Glasgow. Nature must be repairedAs far as nature goes, we just don't have enough of it to sustain our current demands. Consider tree cover, for example; there are now approximately 3.04 trillion trees on Earth. That is 46% fewer than at the onset of agriculture, about 12,000 years ago. Read MoreTo rein in a climate catastrophe and mass extinction, nature must be repaired. The data behind this is laid out in a report by UNEP and the UN Food and Agriculture Organization: we are using the equivalent of 1.7 Earths to maintain our current lifestyle.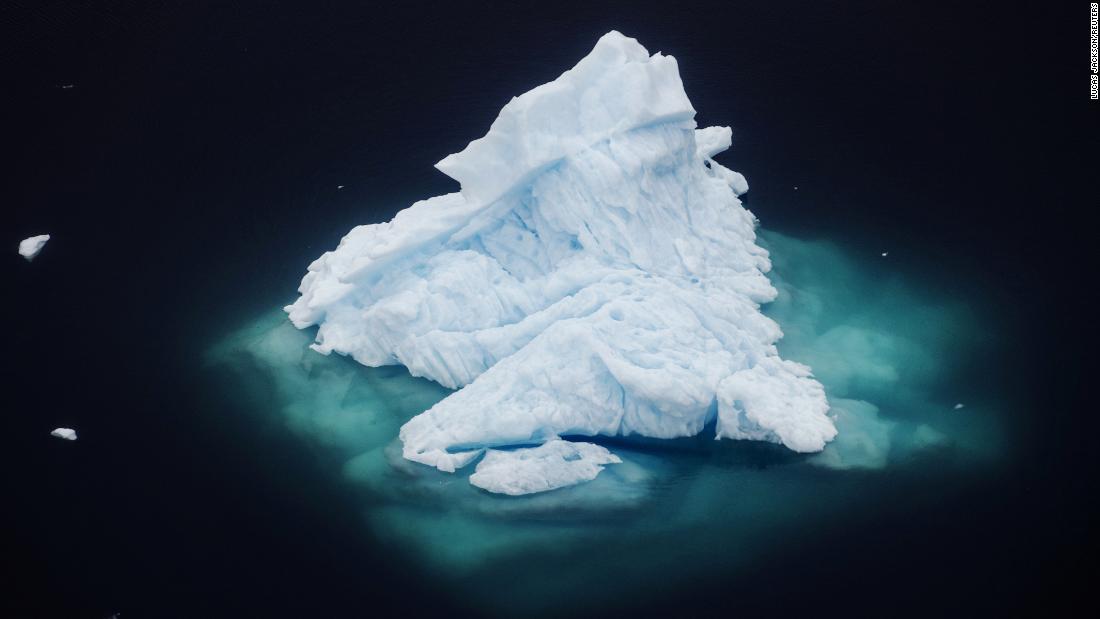 Photos: This is what climate change looks likeAn iceberg floats in a fjord near the town of Tasiilaq, Greenland, in June 2018. Greenland is often considered by scientists to be ground zero of the Earth's climate change. The massive island is mostly in the Arctic, which is warming twice as fast as the rest of the planet. Melting ice from Greenland's ice sheet is the largest contributor of all land sources to the rising sea levels that could become catastrophic for coastal cities around the world. "Seeing the size of these icebergs in the water was like looking at entire city blocks floating around," Reuters photographer Lucas Jackson said.Hide Caption 1 of 11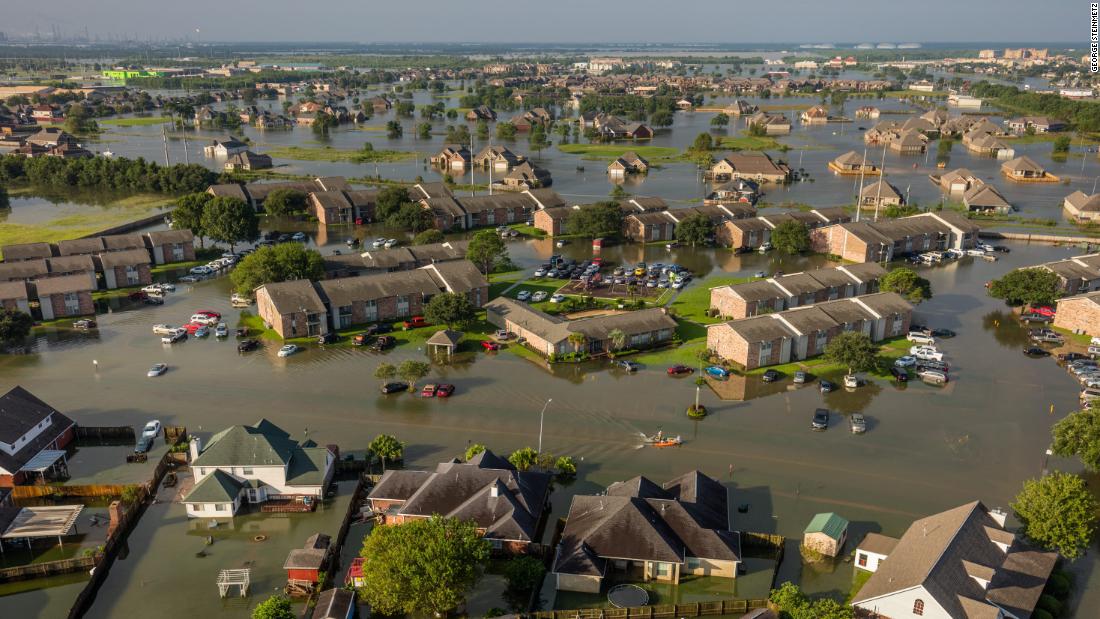 Photos: This is what climate change looks likeA neighborhood is flooded in Beaumont, Texas, a day after Hurricane Harvey came ashore in August 2017. The Category 4 storm caused historic flooding. It set a record for the most rainfall from a tropical cyclone in the continental United States, with 51 inches of rain recorded in areas of Texas. An estimated 27 trillion gallons of water fell over Texas and Louisiana during a six-day period. "Warmer sea water from our changing climate is causing tropical storms to be more wet and powerful," photographer George Steinmetz said.Hide Caption 2 of 11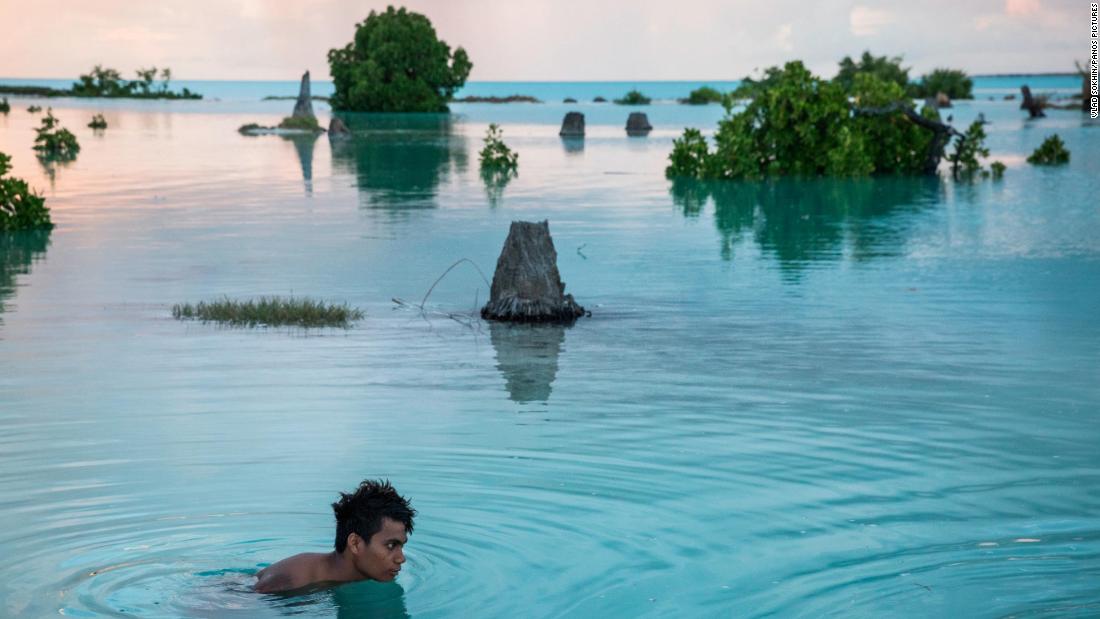 Photos: This is what climate change looks likePeia Kararaua, 16, swims in a flooded area of Kiribati's Aberao village. Kiribati is one of the countries most affected by sea-level rise, photographer Vlad Sokhin said. During high tides many villages become inundated, making large parts of them uninhabitable. This photo was taken in an area that, when dry, is a soccer field. "Prior to this, a man moved his vehicle from the lower part of the field to the higher point, and the vehicle ended up being parked on an 'island' when the water came," Sokhin said. "Young people started swimming there and playing when I took this shot. It was strange to see such a scene: happy kids swimming along the remains of the dead palm trees."Hide Caption 3 of 11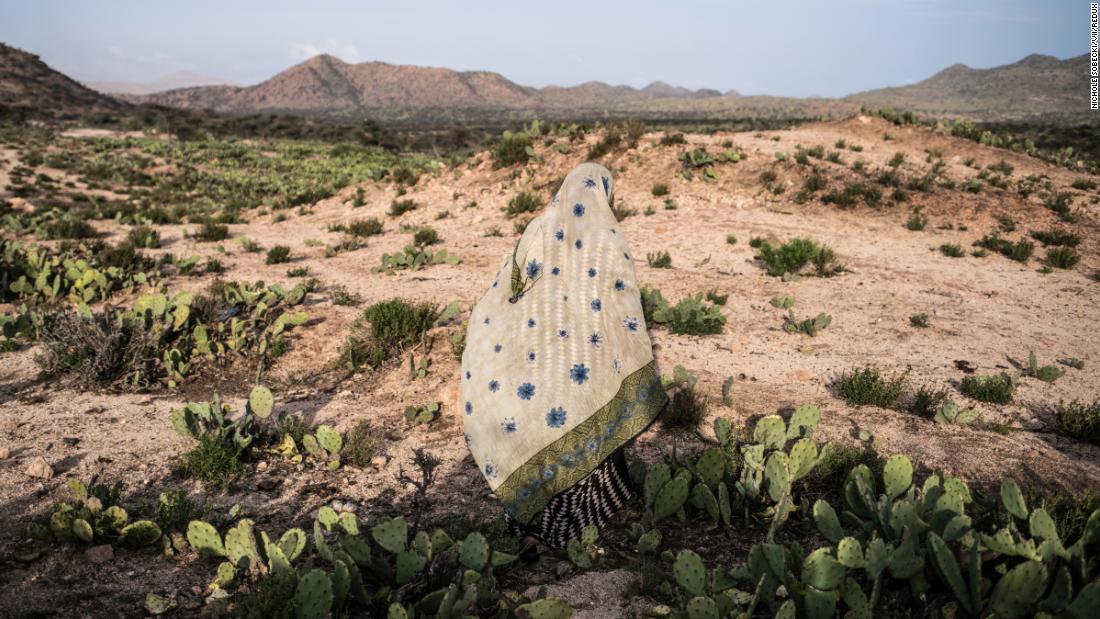 Photos: This is what climate change looks likeA woman walks through a cactus field in a drought-stricken area of western Somaliland, a breakaway state from Somalia. "In 2016 I came across a group of women washing their clothes in a roadside puddle — the only water they could find," photographer Nichole Sobecki said. "We spoke for a while of the challenges they faced, of the animals they'd lost in the drought, and the wells that had dried up. Somalia has long been a place of extremes, but climate and environmental changes are compounding those problems and leading to the end of a way of life."Hide Caption 4 of 11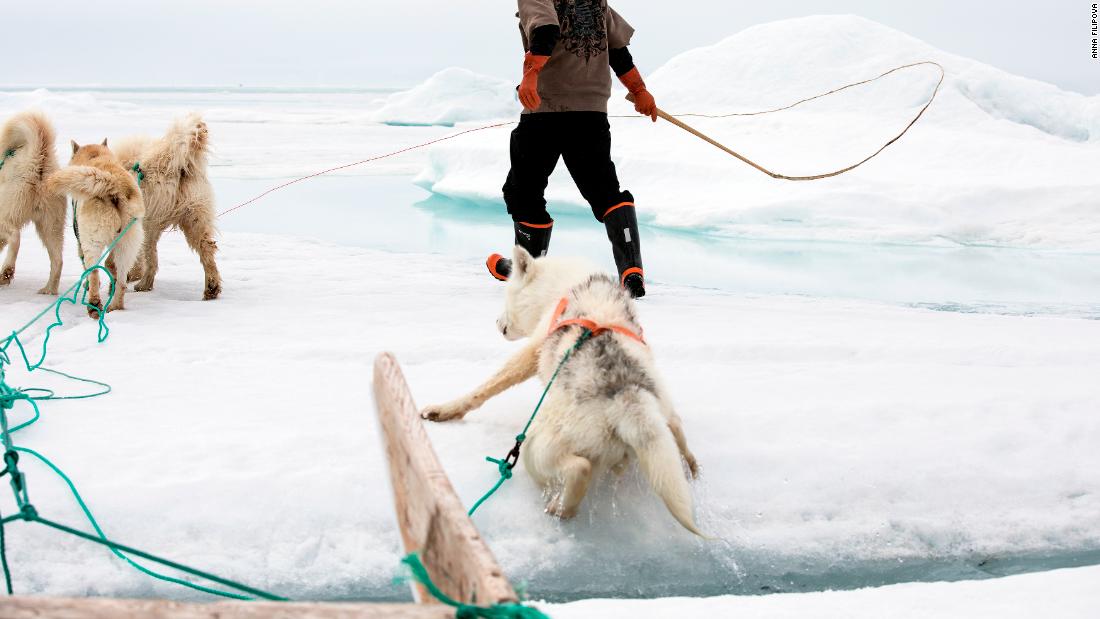 Photos: This is what climate change looks likeJorgen Umaq and his dogs traverse an icy area near Qaanaaq in northern Greenland. It is one of the northernmost towns in the world. Because ice thickness there has been declining, hunters like Umaq can't travel as far as they could before, said photographer Anna Filipova. "Navigating this terrain was dangerous and difficult," she said. "We needed to manually move the sledge and twice needed to rescue the dogs who had fallen into the cracks in the sea. … Each year, people lose their lives on the sea ice because of fast-changing conditions."Hide Caption 5 of 11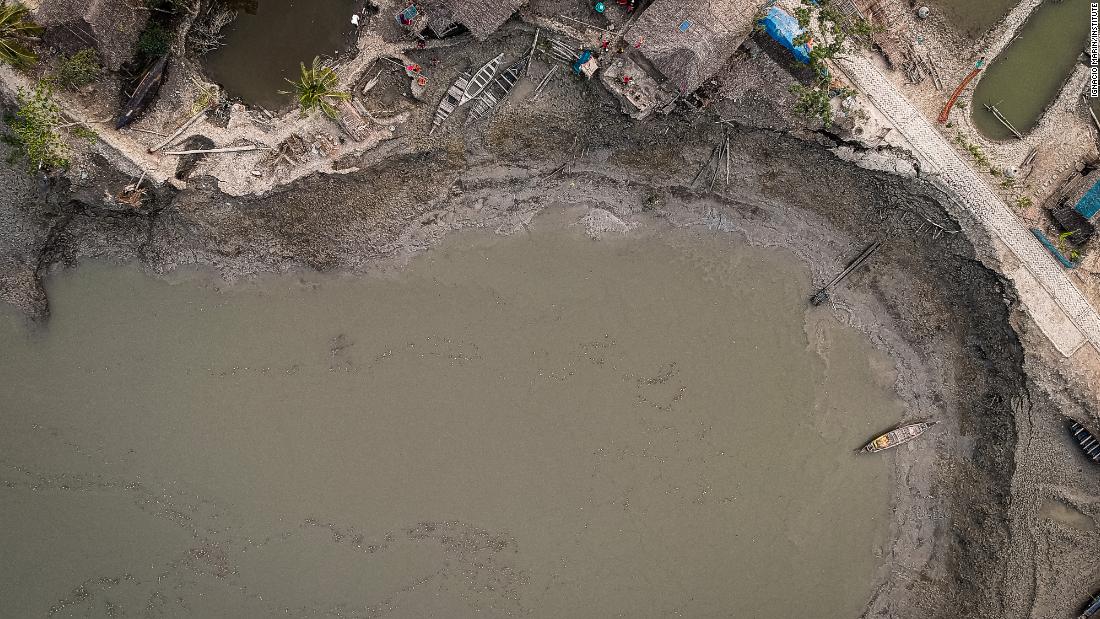 Photos: This is what climate change looks likeBangladesh was recently ranked by research firm Maplecroft as the country most vulnerable to climate change, due to its exposure to threats such as flooding, rising sea levels, cyclones and landslides as well as its susceptible population and weak institutional capacity to address the problem. This aerial photo, taken by Ignacio Marin, shows where some homes used to be before the river washed them away. "From where I was standing, at the riverbank, it was hard to imagine that there were nine houses where I could only see water," Marin said. "So I decided to fly the drone. Only then, watching the area from above, I realized the scale of the disaster."Hide Caption 6 of 11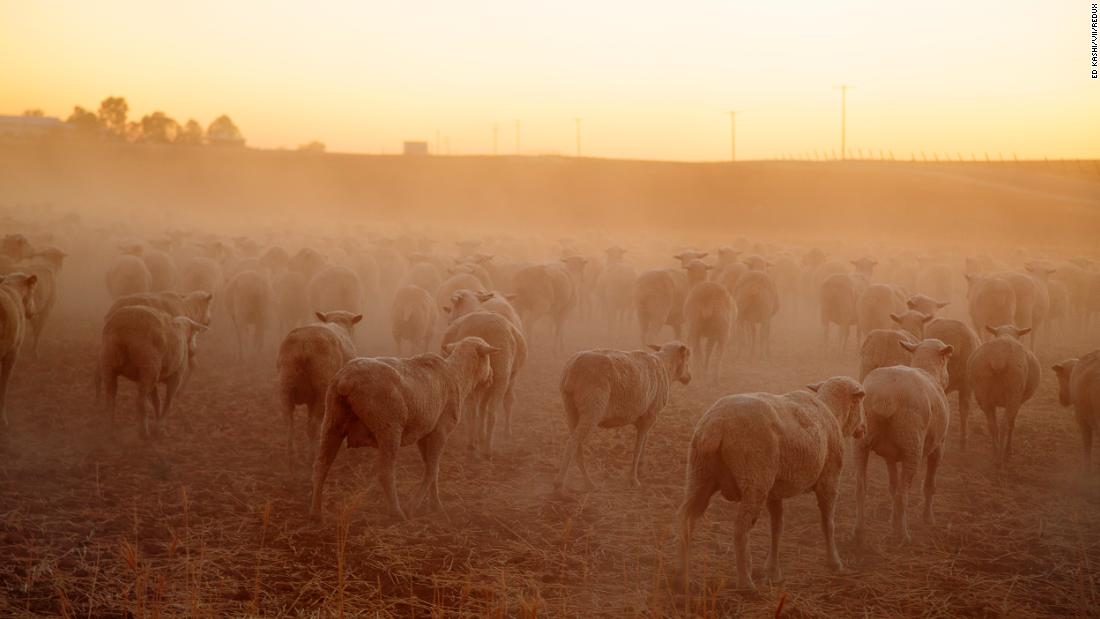 Photos: This is what climate change looks likeSheep graze in the dry, dusty fields of Farmersville, California. "This image was made in 2014 while working on a short film about the ongoing drought in California," photographer Ed Kashi said. "Tens of thousands of acres of arable land was turning to dust, massive orchards were being ripped out due to a lack of irrigation water, and farmers and ranchers who for generations had worked this land were wondering if their way of life was sustainable." Intense droughts like the one that plagued California this decade are becoming more likely due to global warming.Hide Caption 7 of 11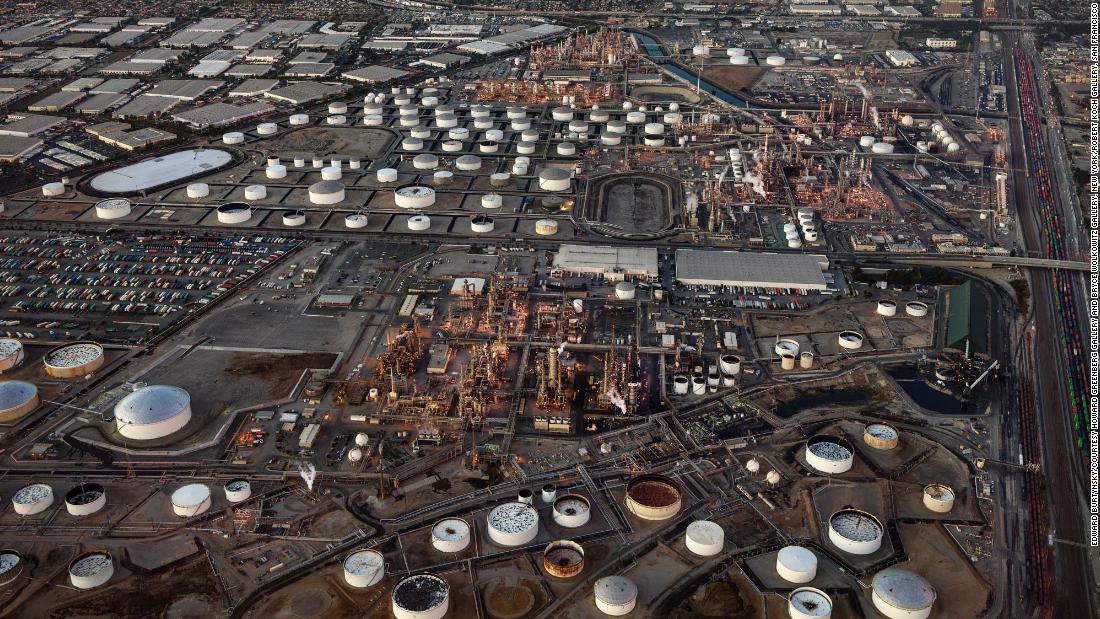 Photos: This is what climate change looks likeOil refineries are seen in Carson, California, in this 2017 photo taken by Edward Burtynsky for The Anthropocene Project, which explores how humans have contributed to climate change and the state the planet is in today. Part of the project includes a film, "Anthropocene: The Human Epoch," that opens September 25 in 100 theaters across the United States.Hide Caption 8 of 11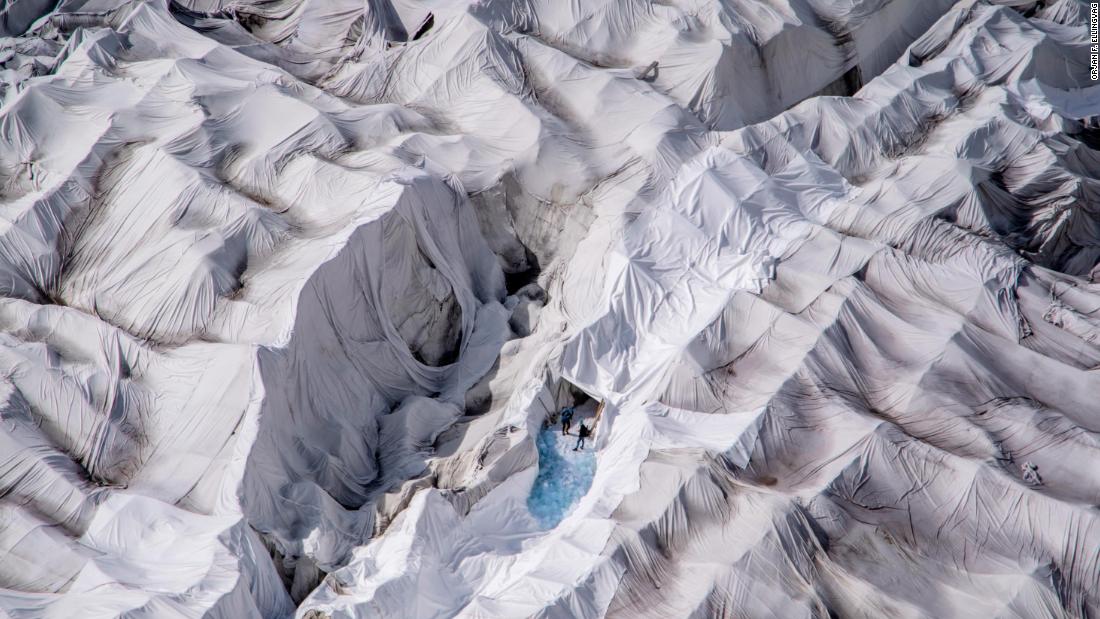 Photos: This is what climate change looks likeTwo people are seen at an ice cave entrance on the Rhone Glacier in the Swiss Alps. Every summer, the glacier is covered with huge sheets of white fleece blankets to slow down its melting, according to photographer Orjan F. Ellingvag. "The fleece-covered cave attracts more and more tourists worried about global warming and wanting to see the remnants of a dying glacier," Ellingvag said.Hide Caption 9 of 11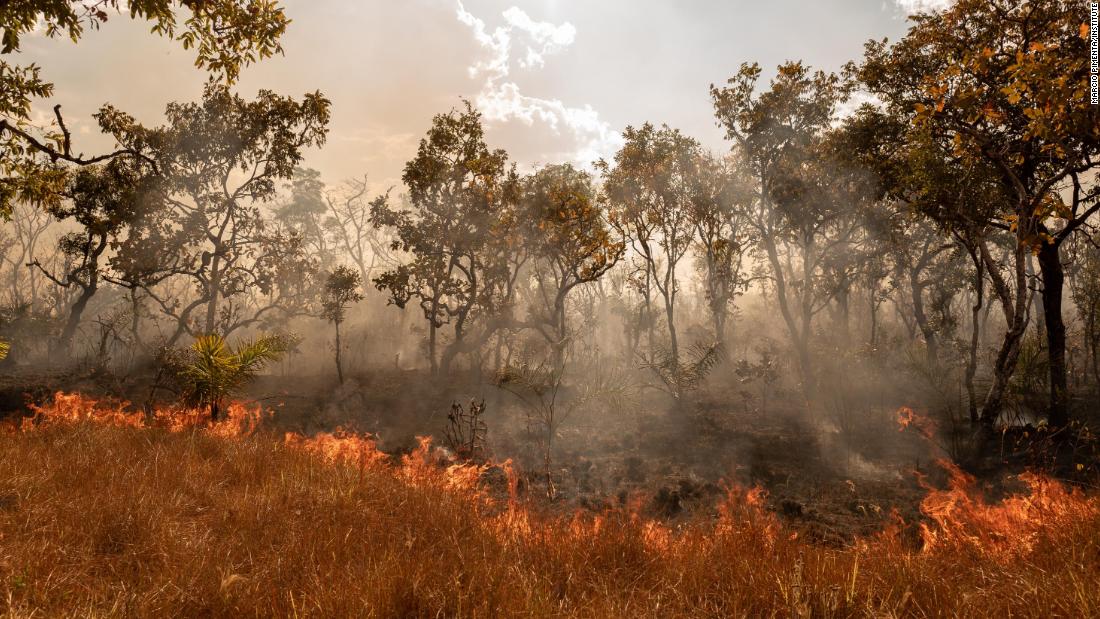 Photos: This is what climate change looks likeA wildfire burns in Tocantínia, Brazil, in September 2018. In the Cerrado region, wildfires are common for two reasons, said photographer Marcio Pimenta. One is extreme heat. The other is farmers clearing space for soybeans and livestock.Hide Caption 10 of 11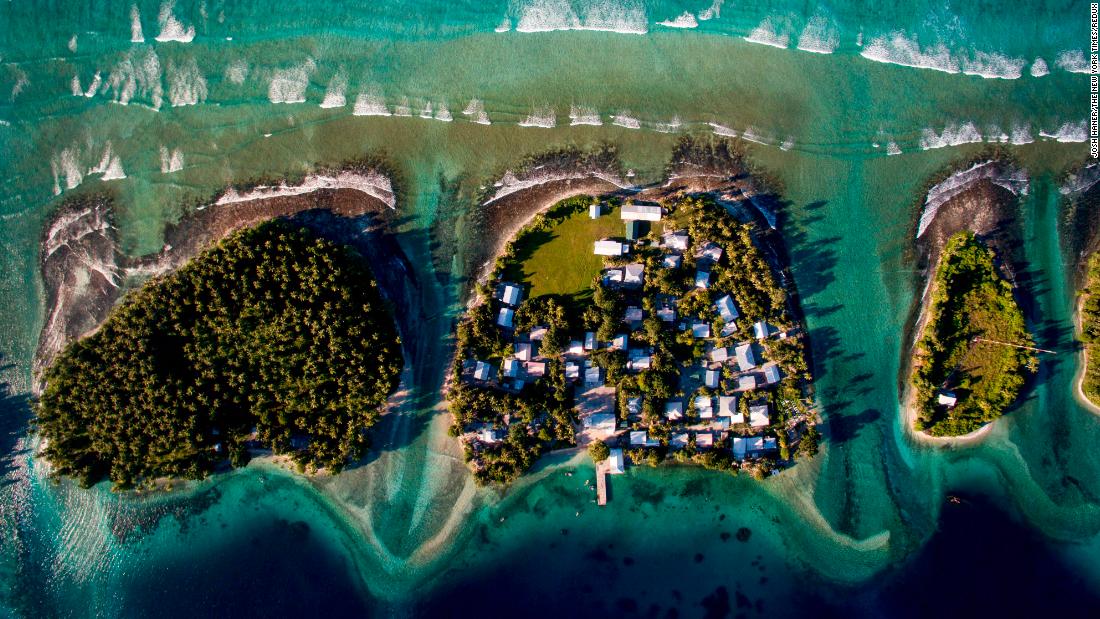 Photos: This is what climate change looks likeThis aerial photo shows Ejit, an islet in the Marshall Islands, in 2015. The islands are threatened by rising seas. "I flew a drone above the island showing just how precarious its location is: Homes clinging to the edge of an eroding coastline as unrelenting waves chisel away at what remains," said Josh Haner, a photographer with The New York Times. "After I saw what was happening on Ejit, I realized that climate change is not something nebulous that will only start affecting us in the future, but rather something happening right now. Residents are being forced to make the most difficult decision: Do they stay and build sea walls to buy some more time, or do they relocate?"Hide Caption 11 of 11











Repairing nature is key to preventing the next disaster, or at least to diminishing its impact. That isn't merely a nice-to-have after we're done with rebuilding infrastructure, damaged houses, schools, and hospitals after floods. Doing so on a global scale is key to meeting goals on climate, biodiversity, food security, poverty and health. While ecosystem restoration is not an alternative to climate action, it crucially supplements it, since nature supports all life on Earth. It is not only critical for addressing what the UN's Secretary-General calls a "code red for humanity," but also for adapting to its effects. Beyond the grim scale of current ecosystem degradation, there is an inspiring truth: progress is already being made on conservation of ecosystems and there is a strategy and a momentum in place to focus the coming decade on restoration. For restoration to be done well, it must be ecologically and socially responsible. Understanding the local ecology ensures restoration activities are effective. To be fair and sustainable, we need to work with local communities to find innovations that make nature economically viable in the long term. Wherever it is making progress, it is driven by a bottom-up movement empowered by local action. Trees and beyondIt is reassuring that the physical room to do so is there. Based on nearly 80,000 satellite photographs across Earth's ecosystems and machine learning, we know that there is a global area of 0.9 billion hectares (outside of agricultural and urban areas) available for tree restoration. And tree planting is just a tiny fraction of the potential for restoring ecosystems. Guatemala has been using agroforestry as a tool to restore degraded lands for years. Restoration of degraded grasslands is common practice, with success stories from the USA and Brazil to Australia. In Senegal, Haidar el Ali has been replanting mangroves, in one of the greatest restoration projects in the world. Even ecologically sensitive systems like peatlands are being restored.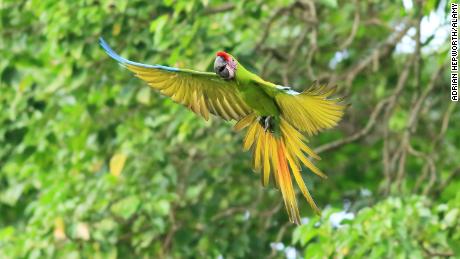 This country regrew its lost forest. Can the world learn from it?World governments have already committed to restore 1 billion hectares of degraded lands. But to move from doom and gloom to a restoration boom, we need to move from commitments to investments. Even when the opportunity came — with the Covid-19 pandemic and high public support for big government spending — only scant resources have been directed to building back a greener economy. Out of these, only minuscule budgets are allocated to ecosystem restoration. Instead, Governments continue to pour more than $4 trillion each year into subsidies for fossil fuel. Yes, you did read that right: much of our taxpayer money is currently spent on pulling us further into climate meltdown. If COP26 delivers mostly green grandstanding and opaque pledges from world governments, it will be as unbearable as temperatures this summer. Politicians have a plan before them. Will they seize it? Let's not rely solely on them. Ultimately, it's up for anyone to join a generational shift towards restoration.
Source Link:
https://www.cnn.com/2021/09/07/opinions/extreme-weather-build-back-nature-crowther-mulenkei/index.html
Bad Request
Your browser sent a request that this server could not understand.
Size of a request header field exceeds server limit.
Comments
comments