Story highlightsThe 2017 CNN Hero of the Year will be announced at 'CNN Heroes: An All-Star Tribute' on December 17 Celebrity presenters include Sterling K. Brown, Diane Lane, Alfre Woodard and Jim Gaffigan
(CNN)Emmy award-winning actor Sterling K. Brown regularly turns in three-tissue performances on NBC's "This Is Us." Now he'll help present the emotionally stirring stories of 10 regular people working to improve the world one community at a time.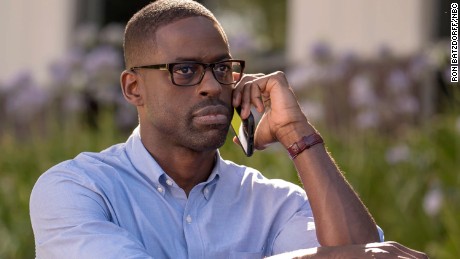 Sterling K. Brown in "This Is Us"Brown joins Oscar-nominated actress Diane Lane, Emmy-nominated actress Samira Wiley, Oscar-nominated actress Alfre Woodard and Emmy-nominated comedian Jim Gaffigan to commemorate the 11th annual "CNN Heroes: An All-Star Tribute" on Sunday, December 17.ABC's Kelly Ripa will join CNN's Anderson Cooper to host the show, which airs live on CNN at 8 p.m. ET from New York's American Museum of Natural History.Actors Amber Tamblyn of "Paint It Black," Gaten Matarazzo of "Stranger Things," Brooklynn Prince of "The Florida Project" and Iain Armitage of "Big Little Lies" are among the celebrity presenters helping celebrate this year's CNN Heroes.Related: Meet the top 10 CNN Heroes of 2017Read MoreThe event will be capped off by Grammy-nominated soul singer Andra Day and Grammy-winning hip-hop artist Common, who will perform their hit song "Stand Up for Something." You can vote for your favorite top 10 CNN Hero here. The hero with the most votes will be named "CNN Hero of the Year" during the All-Star Tribute and receive $100,000 for his or her cause.The top 10 CNN Heroes will be honored for these projects:Stan HaysStan Hays, a Grand Champion pitmaster, uses his barbecuing skills to feed people in need during disasters through Operation BBQ Relief.Learn moreSamir LakhaniSamir Lakhani established the Eco-Soap Bank, which recycles used hotel soap for better hygiene and job creation in Cambodia.Learn moreJennifer MaddoxJennifer Maddox's Chicago after-school program, Future Ties, provides a safe space for more than 100 children to learn, grow and succeed.Learn moreAndrew ManziAndrew Manzi's nonprofit, Warrior Surf, provides free six-week surf camps for veterans and their families, complete with therapy sessions on the beach.Learn moreRosie MashaleRosie Mashale and the organization Baphumelele provide care for more than 5,000 orphaned, abandoned or sick children, many of whom have lost parents to AIDS.Learn moreLeslie MorissetteLeslie Morissette's project, Grahamtastic Connection, gives computers, iPads and robots to ill kids so they stay connected to friends, family and school.Learn moreMona PatelMona Patel created the San Antonio Amputee Foundation, which offers peer support, education, recreation and financial help for prosthetic limbs.Learn moreKhali SweeneyAt Khali Sweeney's Downtown Boxing Gym Youth Program, around 100 children get training and academic tutoring five days a week.Learn moreAaron ValenciaAaron Valencia's nonprofit, Lost Angels Children's Project, is an after-school program that focuses on classic car restoration. Learn moreAmy WrightAmy Wright's popular North Carolina shop, Bitty and Beau's Coffee, employs 40 people with disabilities.Learn moreBeginning at 8 p.m. on Sunday, December 17, donations made to the designated nonprofit organization of each Top 10 CNN Hero, via CNNHeroes.com and crowdrise.com/cnnheroes, will be matched up to $50,000 per Hero. Now in its 11th year, the Peabody Award and Emmy-winning "CNN Heroes: An All-Star Tribute" has profiled more than 300 heroes and has received upward of 85,000 nominations from more than 100 countries."Like" CNN Heroes on Facebook, follow @CNNHeroes on Twitter, and use hashtag #CNNHeroes. Behind-the-scenes images can be viewed on the CNN Heroes Instagram account.And don't forget to vote!
Source Link:
http://www.cnn.com/2017/12/06/us/cnn-heroes-celeb-presenters-2017/index.html
[0.86921]
Comments
comments